The Government Deployed Civil Servants Across Europe In Anticipation Of A No-Deal Brexit That Never Happened
EXCLUSIVE: The Foreign and Commonwealth Office spent more than £800,000 training and deploying more than 200 civil servants to dozens of locations across the continent to help British expats and tourists.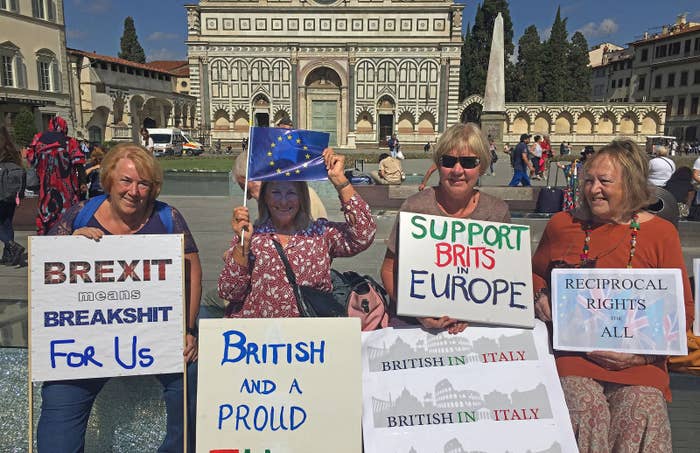 The government spent more than £800,000 training and deploying more than 200 civil servants to dozens of locations in European countries at the end of March and beginning of April in anticipation of a no-deal Brexit.

According to data released to BuzzFeed News under Freedom of Information laws, a total of 176 HMRC Operational Delivery Professionals (ODPs) were trained by the Foreign and Commonwealth Office, which also deployed 29 of its own staff.
After the seeing the data of civil servant deployments, opposition politicians criticised the government for the "unnecessary" spending and urged the next prime minister to "get a grip" on the Brexit process.
The FCO said that 81 ODPs were deployed from March 18 to provide support to consular staff in 45 locations across the EU and EFTA countries. A further 91 ODP staff and 29 FCO Rapid Deployment Team (RDT) staff were sent out to "key areas" on April 9, while further staff were trained and held in reserve.
All of the staff returned to the UK between April 12 and April 14, after EU leaders agreed to extend the Brexit deadline to Oct. 31.

They were deployed to the continent as Parliament was in the grip of trying to find a compromise on Brexit. With March 29 looming — the date that Britain was originally set to leave the EU — Theresa May was desperately trying to get her deal through while civil servants ramped up no-deal planning in the event that she failed.
Her Brexit deal was rejected at its second meaningful vote on March 12. The prime minister attempted to seek an extension with the EU until June 30, but she was offered only a short delay to April 12 — the date by which the UK had to say whether it intended to take part in the European Parliamentary elections — and no-deal planning continued.
However, at an EU summit held over April 10 and 11, it was agreed that Britain's new exit date would be Oct. 31 — or earlier if an agreement was reached — while the government and Labour leadership attempted to find a compromise.
Although government sources have said that no-deal planning has not stopped, it was no longer an imminent possibility, and civil servants were able to return from Europe.
The cost to the FCO of providing training to the staff was £95,000, which covered travel to London for HMRC staff from across England and Wales, and one day's subsistence whilst attending the course. It then cost a further £719,000 to deploy the FCO and HMRC staff overseas.
In April, the government stood down 6,000 civil servants — 4,500 of them new recruits — who had been preparing for a no-deal Brexit, at an estimated cost to the taxpayer of £1.5 billion.

The FCO said it had deployed the staff to European countries as it had "anticipated there would be an increase in activity in all EU Exit scenarios for both consular and non-consular work."
Jenny Chapman, Labour's shadow Brexit minister, told BuzzFeed News: "This is yet another example of taxpayers having to pay the price for this Government's mishandling of the Brexit negotiations.
"A no deal Brexit has never been a credible way forward and that's why it has been rejected by Parliament on numerous occasions.
"The next Prime Minister need to get a grip of the current crisis and stop wasting taxpayers' money unnecessarily ferrying civil servants around Europe."
The Foreign Office said in a statement accompanying the FOI data: "To help address increased workloads on non-consular issues, some existing FCO staff were re-allocated temporarily.
"Our plans to increase capacity in our consular network in EU27 and EFTA states included a no deal scenario where more complex enquiries, notarial work, and requests for consular assistance were expected from British people living, working and travelling in the EU.
"As part of this, the FCO secured additional support from the HMRC's Operational Delivery Profession (ODP), a team of UK civil servants able to offer additional resilience to other Government Departments. There were no FCO costs associated to retain and recruit these staff as they were existing HMRC ODP staff."
After talks between the Conservatives and Labour broke down, and with a race currently ongoing to find a new prime minister, it will likely be several weeks before Parliament attempts to address the Brexit question again.

BuzzFeed News asked the FCO whether the government currently plans to post staff overseas in October, if an agreement on Brexit has not been reached by the next deadline. The FCO has yet to respond on this point.
A UK government spokesperson told BuzzFeed News: "Leaving the EU with a deal remains the Government's top priority. However, a responsible government must plan for every eventuality.
"The FCO, along with all other Government departments, undertook detailed and wide-ranging preparatory work in the run up to 29 March to plan for all EU Exit scenarios."
"As part of this, additional staff were deployed to support our consular network in Europe, to help reassure British travellers and to offer support and guidance to those potentially impacted by a No Deal exit."