Boris Johnson Said Britain Is Beginning To "Turn The Tide" Against The Coronavirus On His First Day Back At Work
The British prime minister said it was not yet the time to ease up on restrictions, saying that now was the "moment of maximum risk."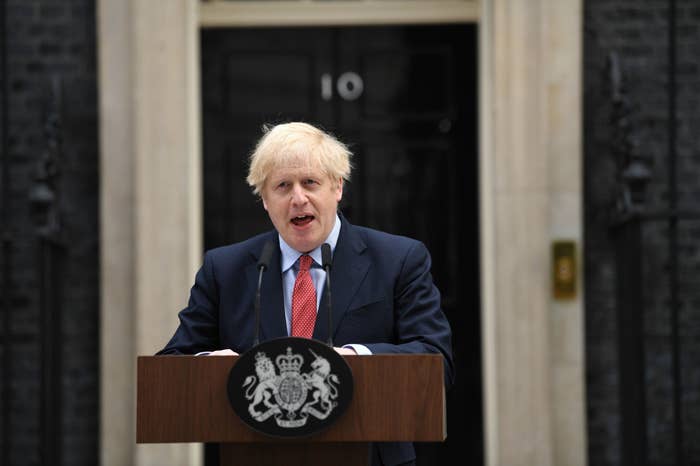 The journalists at BuzzFeed News are proud to bring you trustworthy and relevant reporting about the coronavirus. To help keep this news free, become a member and sign up for our newsletter, Outbreak Today.
Boris Johnson said now is not the time to ease up lockdown restrictions, urging the British public to "contain their impatience," in a defiant address to the nation.

Johnson returned to work on Monday morning, with a speech to the public outside Downing Street on his first day back in the office.

The prime minister had taken time out to recuperate after being hospitalised with the coronavirus. He first tested positive for the virus exactly one month ago and was admitted to hospital 10 days later.
Johnson thanked first secretary of state Dominic Raab for filling in in his absence before delivering a defiant message to the nation from the podium outside 10 Downing Street.
Giving a nod to his own experience having COVID-19, the prime minister said: "If this virus were a physical assailant, an unexpected and invisible mugger, which I can tell you from personal experience it is, then this is the moment when we have begun together to wrestle it to the floor."
Johnson said that while he was determined to get the British economy moving, he would not ease lockdown measures until it was safe to do so.
The prime minister said there were "real signs that we are passing through the peak," and that "we are now beginning to turn the tide," but said that it was not yet the time to ease up on restrictions, adding that now was the "moment of maximum risk."
He said to ease the lockdown would risk a second peak of the virus, and with it more deaths and greater economic damage.
"I know it is tough, and I want to get this economy moving as fast as I can," he said, "But I refuse to throw away all the effort and the sacrifice of the British people, and to risk a second major outbreak and huge loss of life and the overwhelming of the NHS."
"I ask you to contain your impatience because I believe we are coming now to the end of the first phase of this conflict, and in spite of all the suffering, we have so nearly succeeded," he added.
Johnson also pointed to some of the government's successes in tackling the virus, in a week that the government is coming under intense pressure over its testing strategy.
"We defied so many predictions," he said. "We did not run out of ventilators or ICU beds," he said. "We did not allow our NHS to collapse."