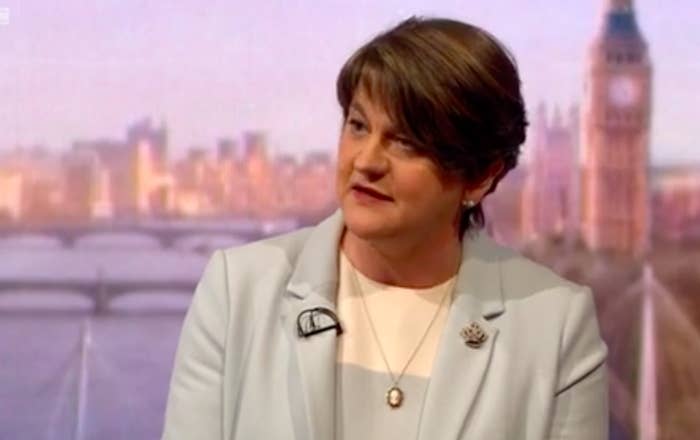 DUP leader Arlene Foster has said that her party will definitely not support Theresa May's Brexit deal when it comes before parliament, which could bring the government down if the deal goes through.

Speaking to Andrew Marr on Sunday morning, Foster said that if the prime minister does manage to get the deal through parliament, then her party would have to review its confidence-and-supply agreement, which props up May's minority government.
When asked by Marr whether there were any circumstances in which the DUP would vote for the deal, the party leader said: "No, there aren't", adding that the legal text of the treaty "makes a difference between Northern Ireland and the rest of the UK".
"There is very much a border down the Irish Sea as a result of this," she said. "That is why we can't support this deal."

At least 91 Tory MPs have already said they will not be voting for May's deal, and Labour has also said it will vote down the Brexit agreement, meaning the chances of May getting it through parliament when she first presents it are slim.
Without the support of the DUP in parliament, should it choose to end the confidence-and-supply agreement, May's minority government would be at risk of collapse.
"I don't see any circumstances at present where that vote would be able to go ahead in Theresa May's favour," Foster said. However, she added, if it did, the DUP would be forced to reconsider its position.
"The deal was signed to deliver on Brexit but to do that in a way that had shared principles between the Democratic Union Party and the Conservative Party," Foster said, "but the reality is there are many in the Conservative Party who don't like what's on the table today either."
She added: "If it came to the situation that parliament did decide, and there's no evidence that they're going to, but if they did decide to back this deal then obviously we'd have to review the confidence-and-supply agreement."

When pressed by Marr, Foster stopped short of saying that the agreement would definitely be ended, but she added, "what I can guarantee that if this is what's coming, and it looks like this is very much what's coming to parliament, we will not be able to support that deal".

Earlier in the weekend, Boris Johnson, speaking at the party's conference, urged the DUP to stick with the Conservatives and help the party renegotiate the Irish backstop.