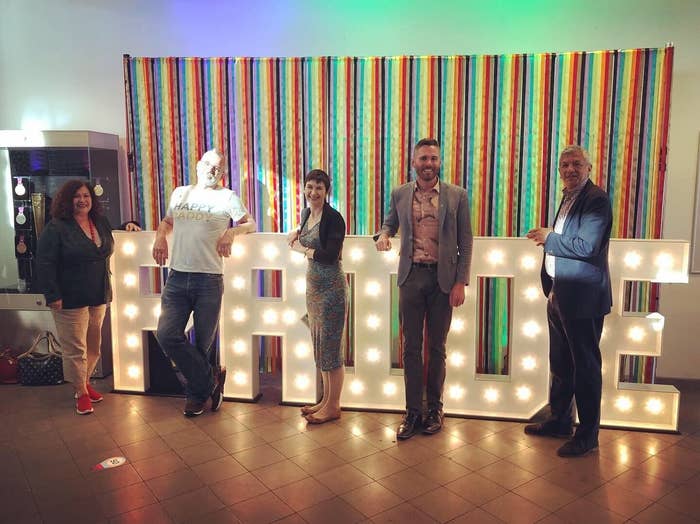 The Labour Party has been accused of changing its process for selecting candidates for the Greater London Authority (GLA) to benefit candidates backed by Momentum.
The new process could see Tom Copley, a vocal critic of Jeremy Corbyn's, lose his seat if he is placed below the Momentum slate of candidates.
Copley is the Labour group's only gay assembly member and the rule changes have been criticised by LGBT Labour, which said they had been made "for purely factional reasons" and were "kick in the teeth to LGBT+ Labour Party members during Pride month."

Momentum, however, has defended the change, saying the party has done away with "New Labour stitch-ups" and that the new process is more "open and fair".
For the first time, Labour is making sitting "list" assembly members compete for the chance to be on the ballot when Londoners vote to elect their representatives in 2020, by taking part in a full selection process.
List members represent the whole of London, rather than a specific geographic area within the capital, and candidates are ranked by each party, which receives a certain number of places depending on its vote share.

In the past, Labour members have not had a vote in the selection of assembly members, but in other selections, for example for MPs and MEPs, members have ranked candidates in order of preference.
However, under the latest rule changes, each person will only have four votes of equal weight when choosing their GLA candidates.

Should Momentum, which has large numbers of members in London, encourage its members to vote for four specific candidates, for example in an all-member email, it is likely that those candidates would place above others who are not on the slate.
One source alleged to BuzzFeed News that Momentum boss Jon Lansman, who sits on Labour's National Executive Committee, had been influential in changing the voting system, claiming it was to ensure that Momentum's candidates top the ballot.
BuzzFeed News understands that the selection rules were decided by the full NEC.

A Labour source said: "Implying any particular candidate is being targeted is completely untrue, and sitting GLA members who are seeking to re-stand will automatically be included on the ballot that goes to members."
Melantha Chittenden, cochair of LGBT Labour, told BuzzFeed News: "The changes to the way Labour members will be selecting their London Assembly representatives could see the only openly LGBT+ assembly member lose their seat. This manoeuvre has been made for purely factional reasons and is a kick in the teeth to LGBT+ Labour Party members during Pride month.
"When we are seeing protests against LGBT+ inclusive education, a significant rise in hate crimes against LGBT+ people and our services decimated over the past decade, LGBT+ representation in politics is more important than ever. Ensuring representation of minority groups should be a priority for our party, and should never play second fiddle to factional interests."
Fiona Twycross, deputy leader of the Labour group on the GLA, said: "Tom Copley has been a brilliant member and powerful advocate for LGBT+ rights in London as the only [out] gay Labour Assembly member."
She went on: "Choosing an assembly member is too important to decide by simply picking a slate you are forwarded by any faction within the party. Tom deserves reselection on his record in standing up for Londoners. It would be a backward step for Labour in London if he weren't among the winnable places on the list when members vote later in the year."

Copley declined to comment, but previously told BuzzFeed News about the importance of protecting diversity when concerns were first raised that the diversity of the GLA was under threat.
"The reason it's important," he told BuzzFeed News in May, "is because as much as we all like to think that as good socialists we can we can represent everyone equally well, people's different experiences based on their characteristics mean they can bring a deeper understanding of the issues affecting the community.
"Obviously you can't speak for everyone in that community, but it allows you to bring that perspective and understanding — a less diverse group makes that more difficult."
A Momentum spokesperson said: "We back open and fair selections at every level across the party and we're happy that conference did away with the New Labour stitch ups and actually gave members a say in who stands as a Labour candidate.
"We're also excited to back one of the most diverse slates of candidates for the GLA ever, which will be announced in the next week."

A Labour spokesperson said: "Widening party democracy to give all London-based members a say, rather than just a small committee, is an exciting step to ensuring the party selects the best possible candidates to represent the city."