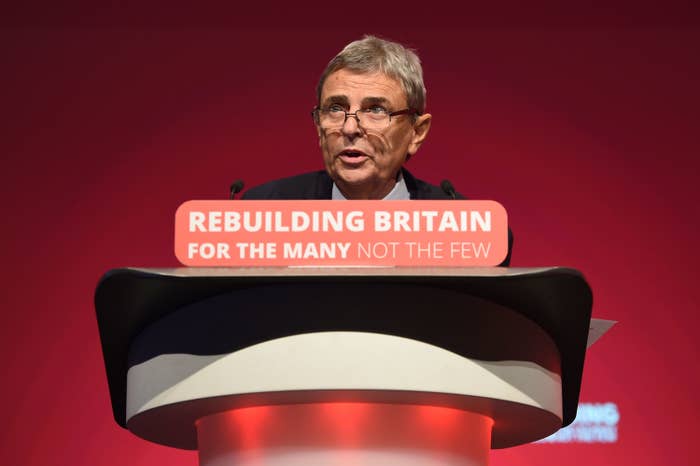 The boss of one of Britain's biggest trade unions has written to Jeremy Corbyn and urged him to intervene to protect women's representation in Parliament, suggesting that the safest Labour seats are currently being offered to "favourite sons."
Unison general secretary Dave Prentis claimed that he had been made aware of "discussions and 'negotiations' around the existing seats" where women MPs are standing down, suggesting that rather than replacing women's seats with women candidates, the party has been "trading them around for what appears to be favourite sons taking up the safest seats."
He said he found the practice "deeply concerning" and called on the Labour leader to personally voice his opposition to the deals, saying the party risked returning to the "bad old days of back room stitch ups."
The union is one of Labour's biggest donors, giving the party half a million pounds in the first week of the 2017 general election campaign alone.
In the letter, sent earlier today, Prentis wrote: "It has been the position of the Party for many years that where a woman is standing down, that seat remains an All Women Shortlist.
"In recent weeks, however, I am aware of discussions and 'negotiations' around the existing seats that seek to overturn that practice, flipping AWS seats and trading them around for what appears to be favourite sons taking up the safest seats.
"This I find deeply concerning and wish to flag up the inherent risks and dangers of meddling with a process that has served us reasonably well to date."
He continued: "What we are witnessing at the moment is the current All Women Shortlists being used as bargaining chips primarily for the convenience of men to take or monopolise promised seats. After all our work over the decades we cannot return to the bad old days of back room stitch ups and women being pushed further away."
BuzzFeed News previously reported that there are already concerns among MPs that deselections will harm the diversity of Parliament, and they have been asking the general secretary to guarantee that any woman who is deselected by her CLP will be replaced by another woman MP.
The Labour party is aiming to have a 50/50 gender balanced parliamentary party by 2020, and the party has selected 72 women candidates out of the 102 target early selection seats for the next general election.
Labour MP Liz McInnes backed Prentis's letter — but pointed out the union had supported a male candidate in a selection where a woman MP had stood down only last week.
She told BuzzFeed News: I'm not aware of the 'flipping' he describes but he is right to say that where a woman stands down or is deselected that it should be an AWS.
"There was Fiona McTaggart's Slough seat in 2017 which went to Tan Dhesi but that was rationalised as bringing more diversity into the PLP as Tan is a Sikh.
"However, Stockport, which used to be Ann Coffey, has gone to a man, NEC member Nav Mishra. He was backed by Momentum, Unite and Unison so maybe Dave needs to have a word with his own members as well as Jeremy?"
Her colleague Jess Phillips also backed the letter, telling BuzzFeed News: "I agree with it and I'm very pleased to see Unison fighting rightly for women.
"There are brilliant unison women such as Angela Rayner, Lillian [sic] Greenwood and Eleanor Smith in parliament because of Unison and all women shortlists."
A Labour party spokesperson said: "The Labour Party has more women MPs than all other political parties combined and we are committed to improving diverse representation at all levels of the Party.
"In the next General Election, women candidates will be standing in more than two thirds of our key target seats."