1.
A Briotech spray formulated with hypochlorous acid, a groundbreaking ingredient that strengthens the skin barrier, soothes inflammation, and is found naturally in our white blood cells. If you're loving the Tower 28 version but are having a tough time fitting it into your budget, this will stretch your dollar much further.
BTW, people also love this for helping heal piercings.
Promising review: "This is a [swap] for the Tower 28 spray that's 28 bucks for 4 ounces. I use this after cleansing my face before toners or serums. It's healed my acne. Also great for eczema. I have recommended this to so many people. Thanks Briotech for saving me money! Lifelong customer here." —Chey
Get an 8-ounce bottle from Amazon for $17.99 (available in four sizes and in packs of two and four).

2.
Some cleaning tablets that do more than clean retainers and night guards — you can also use them for deep cleaning water bottles and coffee tumblers. At just 5 cents per tablet, they do the same thing as the infamous Bottle Brights but for way cheaper.

I swear by this trick myself.

Some reviewers use these for cleaning vases, too.
Promising review: "These are absolutely wonderful in cleaning my thermos. I use these once a week, and doing so prevents my thermos from developing a weird, old coffee smell. Much cheaper than buying thermos cleaner tablets, and I understand that the ingredients are the same." –Santo Esmeraldo
Get a pack of 126 from Amazon for $5.74 (also available in packs of 44 and 90).
3.
Essence's Lash Princess Mascara, which gives truly dramatic length without clumping or flaking — for less than $5. With over 200,000 5-star ratings, it's a no-brainer swap for mascaras like Too Faced Better Than Sex and Dior Diorshow that cost literally multiple times as much.
Promising reviews: "The best I've tried so far and I used Dior, Tarte, Two Faced, you name it. I always have a problem with brand-new mascara because they have too much product on the brush, especially first few uses, and my lashes stick together. I didn't have this problem with this one. I could layer it without any product starting to fall off or my lashes sticking together. And I love that they don't test on animals." —Detti
"This product is fantastic; the best I've used in years! And the price can't be beat. It's [leagues] ahead of the well-known brand names that sell for five times as much and more!. Just one or two coats gives me length and volume. With the gloppy other brands, I'd given up wearing makeup at all. I have sensitive blue eyes — and did I say I'm old, which adds another layer of sensitivity — and this mascara don't bother my eyes at all, no redness or irritability." —Antonia Albany
Get it from Amazon for $4.99.
4.
A set of affordable, ridiculously popular wireless Bluetooth earbuds with great sound, a solid battery life, and a water- and sweat-proof design that makes them an excellent alternative to shelling out for a pair of AirPods.
These come with a wireless charging case that provides up to 45 hours of playtime when you're on the go — it'll fully recharge the earbuds in less than two hours. 
BuzzFeed Shopping editor Elizabeth Lilly vouches for these: "I was able to wear mine comfortably under my bucket hat while I slept on a very rocky bus ride from the Snæfellsnes Peninsula in Iceland. And while I was out exploring, the charging case easily fit in my coat pocket. I also use these on the reg in my everyday life to listen to Spotify and podcasts, and even talk on the phone. I have to charge them about once a week and always keep them in my coat pocket."
Promising review: "I bought these for the price and as a trial run on whether or not I could keep up with small wireless earbuds. I've had these for 6+ months now and they are pretty awesome for $25. Comes with a lot of different ear bud sizes, cancels noise well, the sounds is actually decent/better than I expected and I've accidentally thrown these into the washer and dryer and they still work the same. I was gifted AirPods and honestly find myself reaching for the Tozo buds more often because they're so much more comfortable in my ears. Definitely will buy another pair if these die on me." —Liubhard
Get them from Amazon for $23.99+ (available in five colors).
5.
A Simple Modern tumbler that has double-wall insulation to keep your iced drinks cold for hours on end, and a leak-resistant straw lid so you don't have to worry about spilling your drink on your laptop again (can't just be me). It's a great swap for the more expensive Stanley cup and comes in a bunch of pretty, aesthetic colors too.
Multiple reviewers said they find themselves drinking more water when they have a straw.
Get a closer look at it on TikTok.
Promising review: "Please do not run out to Targé and waste your money on a Stanley IF you're only using a cup for ice/cold drinks. This cup is just as good and far more affordable. I put ice in my cup over 24 hours ago during my shift at the hospital, and there is still ice in the cup! This product is BEYOND worth it at this price point. You won't be disappointed. If the cup isn't in your cart at this point, I don't know what's wrong with you: GET IT! 😂" —Marie

Get it from Amazon for $29.99 (available in 16 colors). Also available in a style without the handle!
6.
Or a vacuum-insulated Takeya water bottle if you, like me, can't bring yourself to shell out more than $50 for a 40-ounce Hydro Flask. This'll keep drinks cold for a full 24 hours (AKA longer than most makeup) and hot for 12, sans sweating or leaking, while letting your wallet live to see another day.
Bonus: You can still plaster it in stickers like so many do with their Hydro Flask.
Promising review: "I purchased this bottle to replace my 40-ounce Hydro Flask. I thought that no other bottle could replace it. Boy was I wrong! This bottle has kept my water cold for more than 24 hours. I love the fact it has a leakproof spout on it. My Hydro Flask had the straw and it didn't even reach down to the bottom of the bottle. With this bottle I get every ounce of water I filled it with." —TraMychael Ross

Get it from Amazon for $19.75+ (available in four sizes and in eight colors).
7.
Cosrx pimple patches for an uber-affordable hydrocolloid option compared to pricey brands like Mighty Patch and Starface. They suck the gunk out of acne that's come to a head while protecting deep, under-the-skin pimples from wandering or picking fingers, which can inadvertently inflame more blemishes by adding dirt and bacteria to inflamed skin. These are one of the best skincare purchases I've ever made, and reviewers agree.
I have used these for years, and I literally buy them in bulk so that I'm never caught without them. I really can't sing the praises of these enough — they make my cystic acne heal faster, whether by sucking puss out of active breakouts or by curbing the beginning of pimples through keeping my hands the heck off them. I like to keep them on overnight, and they're clear and unobtrusive enough that I'll usually use them during the day when needed, too. Different sizes are included so you can customize to different blemish sizes, or simply use smaller patches during the daytime and larger ones at night, lol. This is the product I'm constantly raving to my friends about, and TL;DR: It's my desert island item. You cannot go wrong with these. Plus, they're super affordable for the amount you get, and especially for the benefit they provide.
Promising review: "I have been using these hydrocolloid patches for years now. They are MILES better than the overpriced Mighty Patches. Great price for the amount. I use these over my pimples or blackheads instead of makeup now, and the difference in healing time is actually astounding. They blur the appearance of the blemishes so you don't need concealer, while drawing out all the nastiness and reduce inflammation. They are also great if you have anxiety and pick your skin like me. I will be purchasing these forever and ever :)" —Maya
Get a pack of four (96 pimple patches total) from Amazon for $13.99.
8.
A 20-pack of magic cleaning pads reviewers say are an excellent swap for the name brand Mr. Clean Magic Eraser. These are extra thick and durable, so they're just what you need to make even your toughest messes vanish.
Promising reviews: "These are the best. Sooo much better than Mr. Clean Magic Eraser. Won't buy those anymore and these will last me a very long time. I scrubbed and they got everything clean and didn't break apart!!! Can even reuse if I wanted." —miguel mendez
"I own a cleaning business and have spent a small fortune on the name brand. I clean everything from condo rentals to long-term lease/residential rentals and I have had to clean unimaginable NASTY, I mean 'pics or it didn't happen' kind of nasty, and these cut right through it. These work just as well as the name brand, if not better, and they seem to last a little longer!" —Keisha Marie
Get a pack of 20 from Amazon for $13.95.
9.
A pack of soft microfiber makeup removing towels that gently take off your makeup and lift away dirt using only water. They come out to just over $1 per cloth, making them nearly 20 times cheaper than the infamous Makeup Eraser. I'll never go back.
I only use these now to remove my makeup, including heavy mascara, and they are great for my sensitive skin. I do follow up with a gentle cleanser to cleanse my skin once all my makeup is off. They're big and dry quickly so you can use the same towel multiple times before having to wash it or switch to another one. 
Promising review: "These things are so soft! Great for taking off makeup. I was using the Makeup Eraser before, but these are 100x better. You just wet them, wipe off your makeup, rinse and hang out. I guess you could use a new one each day, but I they are very big so you can get a few days out of one. Great value for the money!" —Shopforbargains
Get a pack of 12 from Amazon for $13.95+ (available in nine color combos and in packs of 30). 
10.
A LuckyZ lightweight canvas backpack in case you want a cute daypack for school or an upcoming trip but don't want to spend MORE money on a Fjallraven Kanken backpack when you've already had to shell out for textbooks or tickets and lodging.
Reviewers report that their 13-inch and even 15-inch laptops could fit inside this bag!
Promising review: "I took this bag on a trip with me and I swore if it stayed intact I would write a review so here I am. This bag looks flimsy but it's really durable. I put my 15-inch MacBook, books, chargers, etc. It was filled to the brim and there's not a seam ripped off or anything. If you are looking for something similar to a Kanken at a lower price point this is a very good bag." —Nicky Miller
Get it from Amazon for $28.98+ (available in five colors). 
11.
A set of satin pillowcases if you want all the benefits of silky pillowcases without the, uh, staggering price tag. These'll reduce friction on your hair and skin as ya sleep, helping prevent split ends, frizz, tangles, and irritated, creased skin — and instead of paying nearly $70 for one, you'll get two.
They also keep your pillow cool if you sleep hot, which will help you sleep more comfortably.

I finally took the plunge and bought some satin pillowcases, and OMG, I wish it hadn't taken me so long! I have 2c–3a curly hair, and for years I'd go to sleep with intact curls and wake up to a nest of frizzy hair that was basically the ghost of curls past. For the first time ever, my curls now survive the night. Is this a *miracle*? No — you're likely to experience *some* frizz in the morning no matter what, if you're like me and toss and turn a lot at night. But there's truly a night-and-day difference in my hair when I do and don't use my satin cases. BTW, I haven't experienced any creasing on my face since I've made the switch, which is kinda unbelievable. And I honestly do feel a bit like a princess resting my head on cool, smooth satin after a long day.
Promising review: "My hair has never been better! I got this because of TikTok and it has done wonders for my hair. My hair isn't frizzy or dull looking when I get up in the morning." —Aaron Key
Get a set of two from Amazon for $9.99+ (available in 42 colors and five sizes).
12.
A tube of E.l.f. Wow Brow with a tinted, buildable wax-gel formula to give the appearance of fuller, thicker brows while sculpting and defining the ~frames of your face~ just the way you like it. It's a great swap for pricier brow products from Glossier and Anastasia Beverly Hills.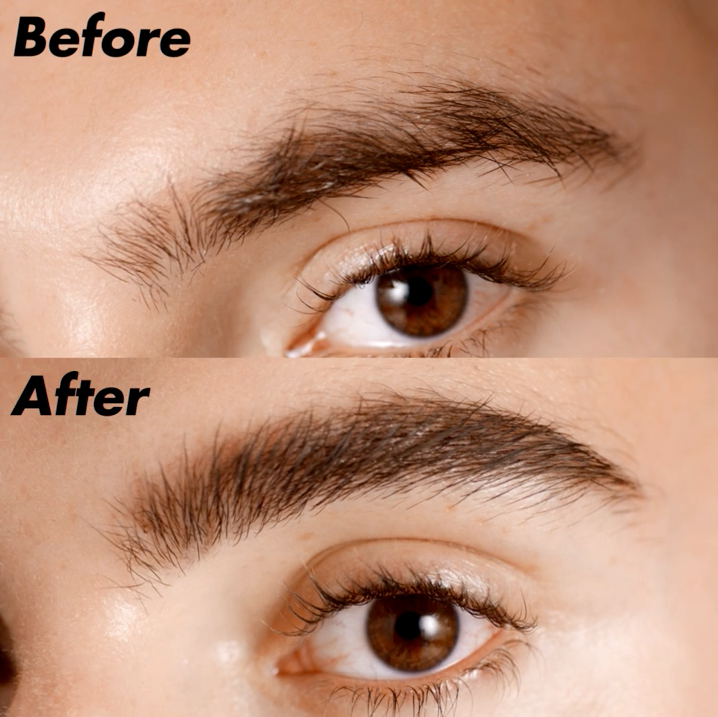 Check it out in a quick makeup look from TikTok beauty influencer Mikayla Nogueira, who succinctly describes Wow Brow as "the tinted brow gel that does the job."

Promising review: "This product has replaced ALL of my high-end brow products. This is the most amazing brow stuff I've ever used. I don't even have to fill in my brows because this has such great coverage. It's a game changer!!" —Isabella
Get it from Amazon or Ulta for $5 or from Target for $6 (available in four shades).