1.
A 50-count set of laundry soap sheets for keeping your clothes ~fresh~ on your trip without having to deal with packing liquid detergent or exceeding your budget with expensive hotel laundry services.
These work best with hand-washing!
Promising review: "This came SO in handy during my vacation to Europe! I was making lots of different stops to places with different types of weather. With these laundry soap sheets I was able to wash my clothes in the sink — letting me pack just the right amount of clothes for all the different places I went." —Katie Fujarski
Get a pack of 50 from Amazon for $11.08. 
2.
A sturdy, lightweight eight-compartment pill organizer to consolidate your medications and just-in-case medicines, because TBH their bulky bottles take up a *lot* of room — and opting to leave some of them at home is just not a good option.
Promising review: "These travel pill cases are totally worth it! We are always out and about traveling, and this case helps keep the travel pharmacy organized! No more clunky pill bottles. The pill case is very sturdy and has a clasp that stays tightly latched. The compartments on the inside are easy to open with plenty of storage for pills. I was able to fit about 10 larger pills into the smaller compartments. It's nice to have the larger compartments too. You can fit wrapped cough drops or other medications in those. Highly recommend!!" —Sydney Harsh
Get a three-pack from Amazon for $5.97+ (available in three colors).
3.
A set of travel compression cubes so you can pack as many outfits as you want and still fit everything into your carry-on — basically letting you have your cake and eat it too (because let's face it, I'm not a light packer and I never will be).
Promising review: "Must-have traveling accessory. Best way to pack a suitcase! I'll never go back to stuffing everything in on its own. These compartments held way more than I imagined and kept me organized. I will definitely add more to my collection. Makes a great gift for frequent travelers too!" —Lisa
Get them from Amazon for $18.95+ (available in eight styles and in packs of two, three, or six).

4.
A shoe bag to compactly store shoes in your carry-on with minimal space and without getting street dirt all over your clean clothes. It's designed to fit at least three pairs, but some reviewers say they fit up to five.
Promising review: "You can totally fit three pairs of shoes in this! (Women's size 6.5 shoe, fit heels, wedges, and sandals.) I bought two and will absolutely be buying more for my husband. 10/10 would recommend! I travel frequently, and I always overpack; this helped cut down space and stress immensely!" —Taylor
Get it from Amazon for $22.99 (available in nine colors and patterns). 
5.
A comfy, ergonomic Trtl neck pillow that won't take up any extra space in your bag like those big, puffy travel pillows do. It's scientifically proven (!) to prevent stiff necks and sore shoulders, so you can actually rest comfortably while you're sleeping upright, and it also doubles as a scarf. (Because good GRIEF, planes are COLD!)
It also easily attaches to backpacks and luggage handles (see the photo on the right), weighs less than half a pound, and is machine-washable!
Promising review: "I can't stop recommending this pillow to all of my friends! It has let me comfortably sleep on flights that take place on the most uncomfortable airplane seats. On long flights, I always need to prop up my hand and I rest my head on it. But this method always ends with my arm falling asleep and I end up waking up every 30 minutes. Now this pillow provides that exact same support without needing my arms to prop me up! It's small enough to fit in your bag and doesn't take up much space." —Simona Krifman
Get it from Amazon for $59.99 (available in four colors).

6.
A dual voltage mini steam iron for keeping your outfits crisp and smooth, because they'll probably be wrinkled from traveling inside your tightly packed carry-on.
Promising review: "Best travel iron available. I travel so much and hotel irons are just unreliable no matter what clothes you use them on. This one is a champ; it has a steamer option and fits in your weekender bag or business luggage. Security inspected my carry-on and they couldn't get over how small it was. Make this your travel go-to!" —Yesenia
Get it from Amazon for $34.99.
7.
A packing checklist to help you stay on track and bring *only* the essentials on your trip, which is key to having everything you need *actually fit* into your carry-on. Plus, it'll make sure you don't forget anything important — TBT to forgetting to pack any socks on a literal week-long trip (*slowly raises hand*).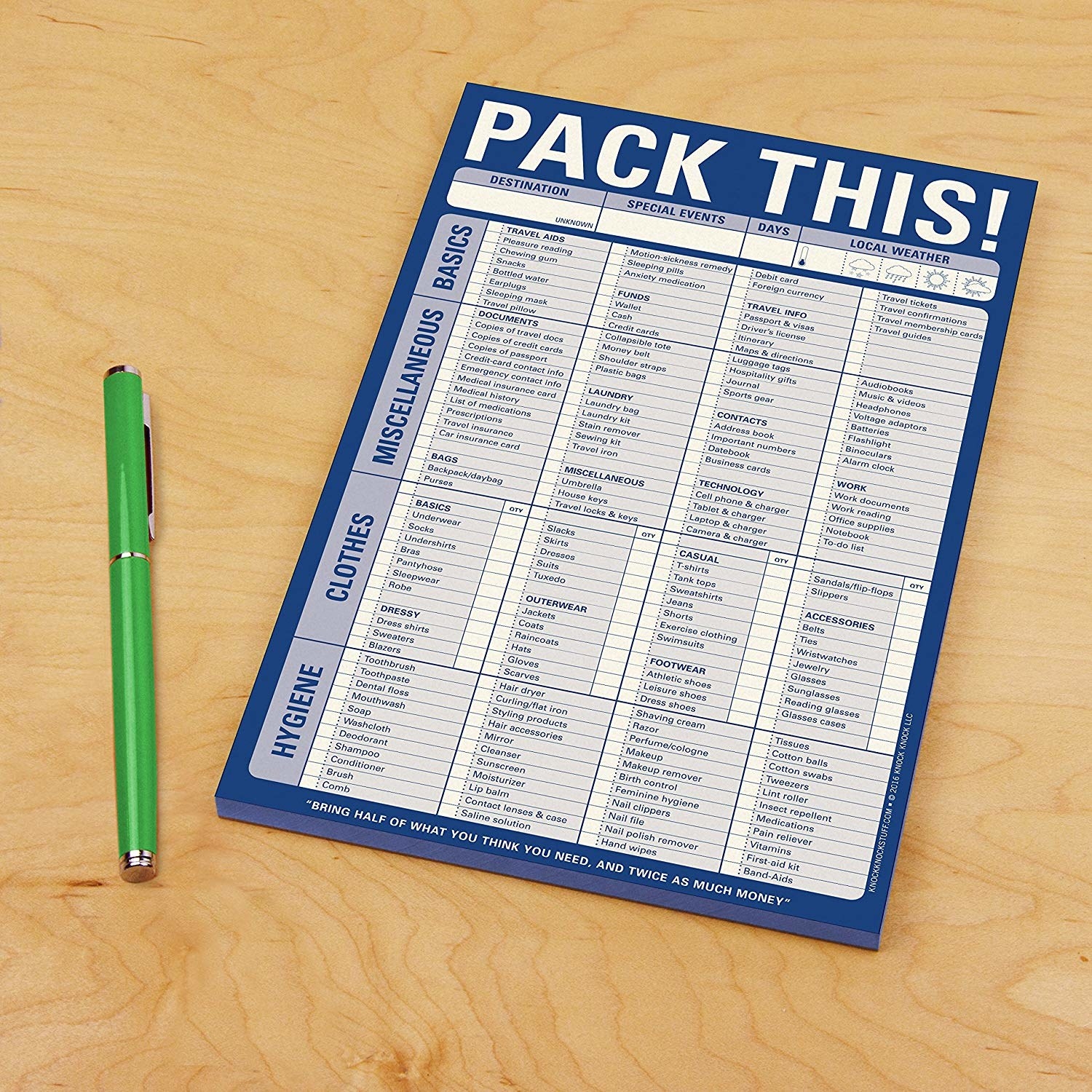 Promising review: "We travel frequently and have two children. As any parent knows, packing for yourself and your children can be overwhelming (especially for a trip longer than a few days). I have found this list to be a lifesaver and I also give it as a gift for other traveling families. It is easy to plan, organize, and list out items that are easily forgotten. You can also list the quantity of each item needed. It has a variety of clothing options and space to add more. Overall, wonderful purchase and has likely saved me many forgotten items!" —I-really-bought-this
Get it from Amazon for $7+ (available in three colors/styles).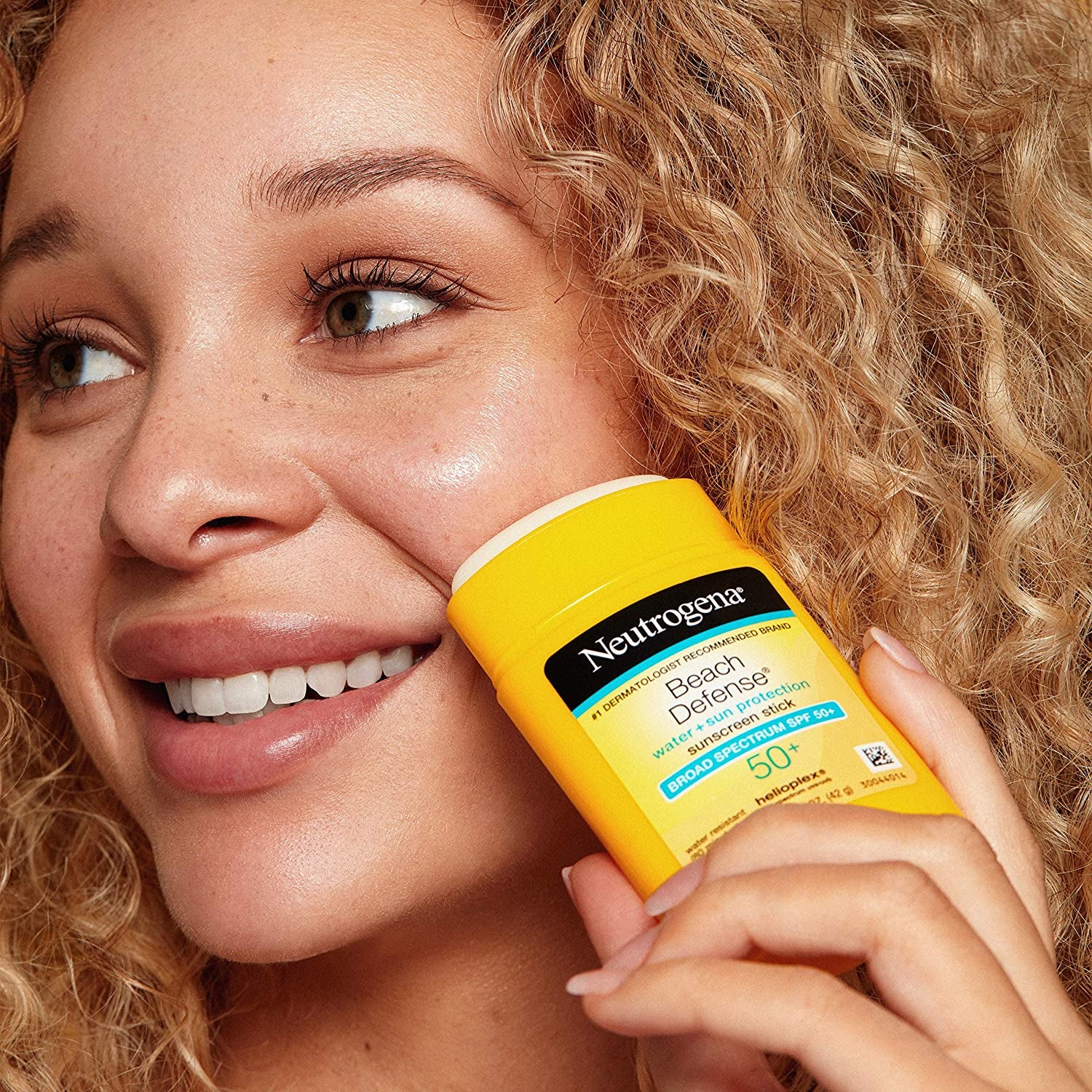 BuzzFeed Shopping editor Elizabeth Lilly brought this on an international trip and loved it: "I first bought this for a week-long Croatian vacation last year when I did carry-on, and as long as you are *thoroughly* reapplying, this stuff stays on pretty well. On a beach club afternoon, I did haphazardly reapply and missed a strip on one arm, but I tend to do that with spray-on or lotion sunscreen, too. Since then, I've packed this for any trip I've been on, including a two-day Disneyland trip where I toted this around in my bag and shared with friends. I sometimes carry it with me in my purse on my everyday adventures because I know it's so easy to apply. Also worth mentioning...I am about the palest lady you've ever seen and swear by daily application of sunscreen. But when on a beach trip, I'm constantly swimming in the water and sweating. So yeah, this stuff works. And if you're a bit hesitant about jumping on the solid sunscreen bandwagon, you can pack a stick of this, knowing you have enough sun protection to get you through to finding some spray-on or lotion SPF at your destination."
Get it from Amazon for $9.05.
9.
And an all-in-one universal wall adapter so you don't have to pack a plethora of different adaptors if you're traveling between multiple countries.
The charger can be used in Europe, the UK, US, Australia, Canada, Russia, Asia, Central America, South America and the Middle East.
Promising review: "If you travel a lot, especially internationally, this is a must-have because you have every kind of adapter on one plug and don't have to worry about constantly buying a certain adapter every time you travel to a different country. This has it all." —Abby Santiago
Get it from Amazon for $11.99 (available in four colors).
10.
Orrrr a 3-in-1 foldable magnetic wireless charger travelers swear by for saving a ton of space in their luggage. It has a spot for your iPhone, AirPods, and Apple Watch to charge all at the same time, and when you're done, you fold it back up into a neat little square.
Check out a TikTok of the foldable 3-in-1 charger in action. 

Promising review: "This is a MUST-HAVE!! I love this charging station - it literally is the best! I use it every day at home and bring it with me when I travel. It's super functional and space friendly. I love how you can feel the magnetic connections to confirm that your device is attached and charging. I appreciate how you can fold it into a triangle to allow your phone to charge while you watch your favorite show too." —Shawna Heck
Get it from Amazon for $39.99+ (available in nine colors). 
11.
Silicone travel bottles because trying to sneak a full-sized conditioner bottle past TSA will not work, and having to throw out your favorite (and expensive!) moisturizer because it's over 3.4 ounces will break your heart (and the bank). 
*Plus* decanting your creams and liquids into these babies will free up space in your carry-on and spare you weight. 

PS: It also comes with pre-printed labels and a handy, clear zipper pouch!
Promising review: "Just took a trip to the Dominican Republic and used carry-on luggage only throughout the entire trip, never once was questioned about the size. The bag they are in seems thin but it worked great to put bottles back in as well as some smaller items fit in the bag too, like lip gloss, mascara, and such. The holes are big enough to get your product in to the bottles without any complications. My fiancé and myself had plenty of shampoo, conditioner, sunblock and lotion for seven days. Highly recommend these bottles, they are perfect for carry-ons!!" —Stephanie Miller
Get a set of four 3-ounce bottles from Amazon for $11.99+ (available in three sizes and a variety of colors).
12.
A Tide stain-removing pen since you'll be without your full-size stain-fighting pods while you're on the go, so you'll be *very* relieved you packed these when you inevitably spill food or coffee on yourself. They may be little, but trust me, they pack a huge punch — I swear by them myself.
Promising review: "Liquid unicorn magic for the clumsy. These were a lifesaver. I was walking to the bus and decided it was a great decision to drink coffee while walking. Like a scene from an infomercial, I spilled coffee all over my white shirt. Yes, the classic coffee on the white shirt. Luckily I had one of these in my bag (I put one in each of my most-used purses in anticipation of my clumsiness). I went into a store bathroom and quickly scrubbed the Tide To-Go on my shirt. All of the coffee blobs went away and once the awkward wet splotches dried up, my shirt was perfectly white again. You've got yourself a big fan, Tide." —NAD
Get a pack of three from Amazon for $7.88.
13.
A carry-on friendly travel Gillette razor so you can keep up with your personal care routine (if you do choose to shave!) without sacrificing space or quality — because TBH, trying to use just a literal razor head with no handle will not get the job done (speaking from regrettable experience).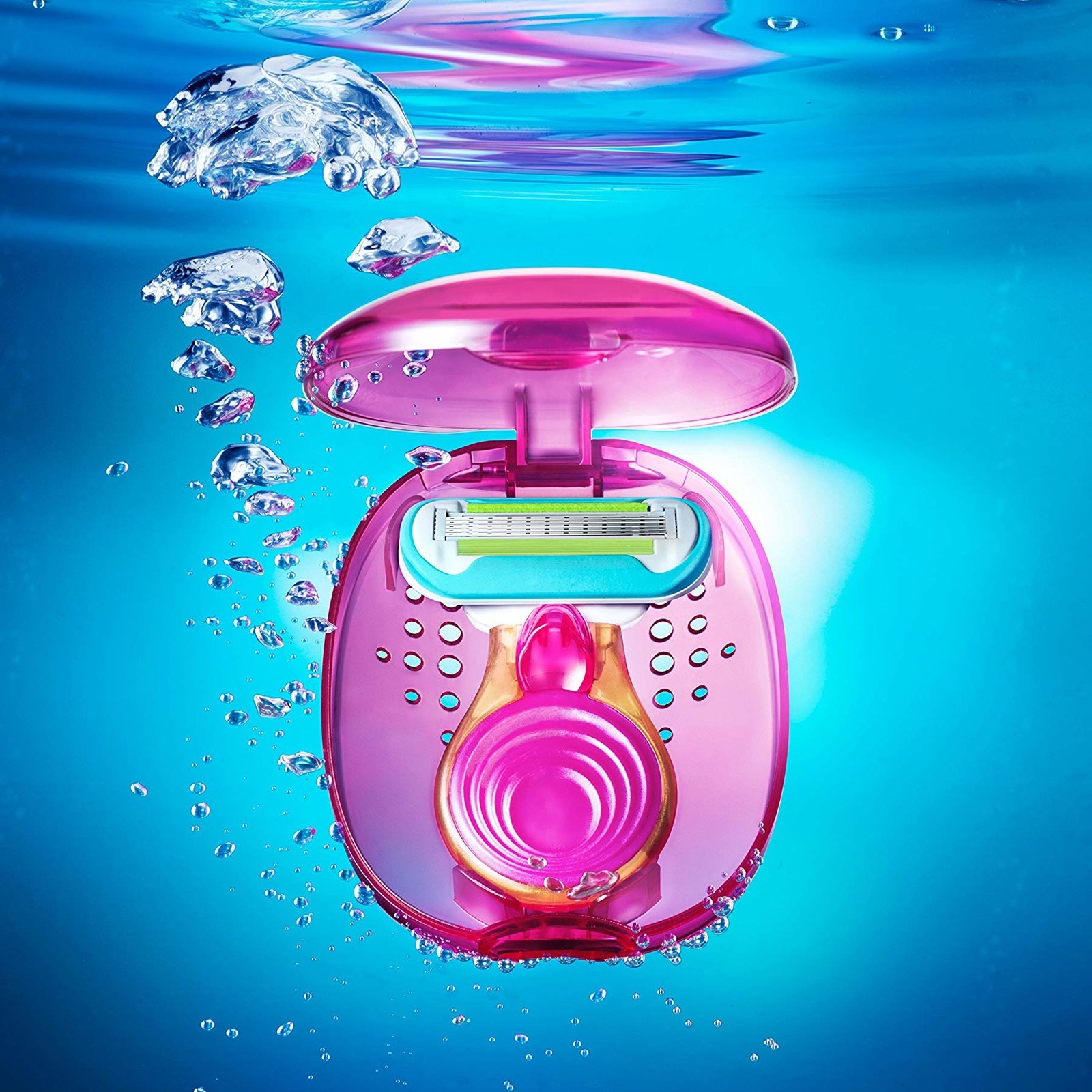 It comes with one handle and one blade refill!
Promising review: "I got this for a vacation and it was great! The little carrying container is awesome, and keeps you from having a weird, loose razor floating around in your suitcase. Plus, the heads are the same as a regular-sized razor, so you can keep using it when that one is worn out!" —Tegan H
Get it from Amazon for $9.99+ (also available with a case and refills).
14.
An AirFly Pro wireless transmitter that connects your wireless earbuds to the headphone jack on the flight so you can watch the free entertainment without having to bring two sets of headphones — or waste money buying the crappy ones they sell on the plane.
You can even pair two sets of headphones at once to the AirFly! They work on gym and gaming equipment, too.
Promising review: "Worked beautifully on a recent eight-hour flight from New York City to Frankfurt! Really easy to pair with my Bose noise-canceling earbuds and charges quickly. The sound quality was excellent. I'm so excited about this product that I'm going to buy one for each of my family members!" —emily p murray
Twelve South is a husband-and-wife-owned biz based in Charleston, South Carolina! They've been designing accessories inspired by and made for Apple products since 2009.

Get it from Amazon for $54.99 (also available in two other styles).