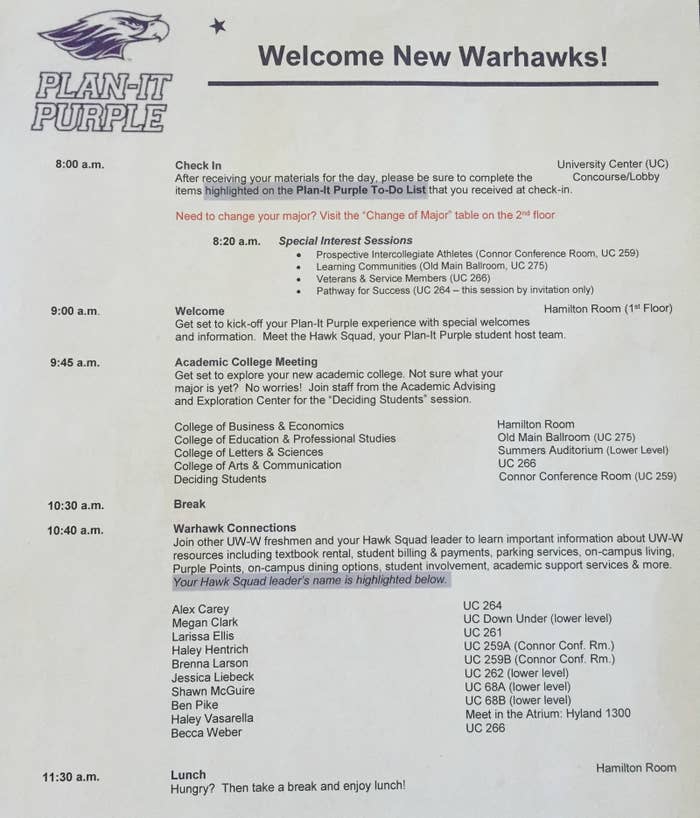 Schedule Time
Today's expectations!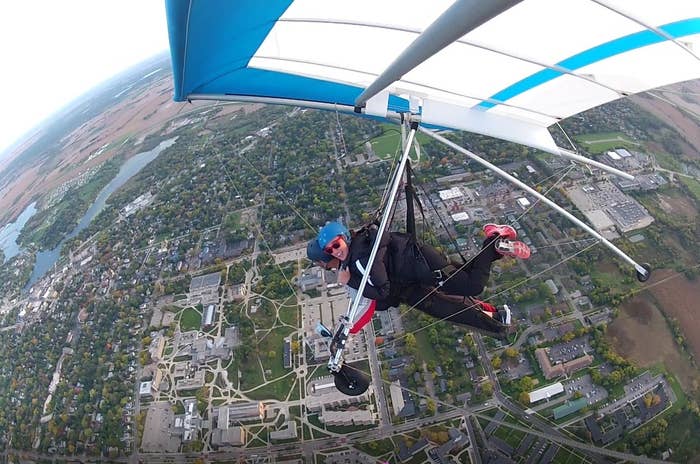 Hello, It's me…..
I'm Haley! I'm a Human Health and Performance Major from Kenosha, WI. I cannot believe I'm already a senior! I hope to go to grad school for physical therapy in the future! My biggest passions are pursuing my bucket list and I absolutely love the outdoors!
* Name
* Hometown
* Major
* Fun Fact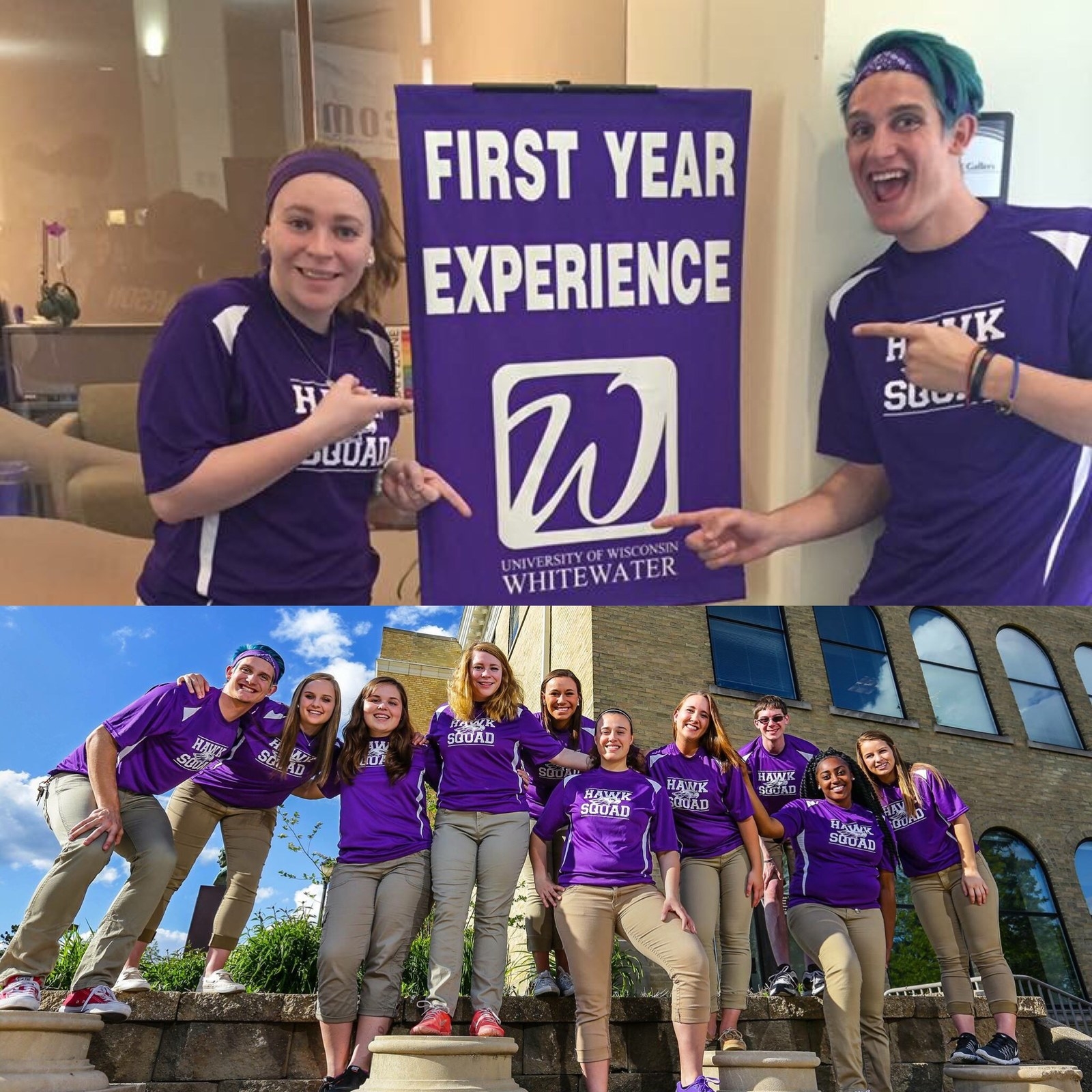 The First Year Experience
The First Year Experience office is dedicated to making your first year at Whitewater amazing. They offer a 1 credit class called New Student Seminar.
The Hawk Squad are your orientation leaders guiding you throughout Plan-It Purple and the rest of your transition! We created FYE4U YouTube videos, that will be sent out to you each Monday starting in August about everything we thought you should know before you get to campus!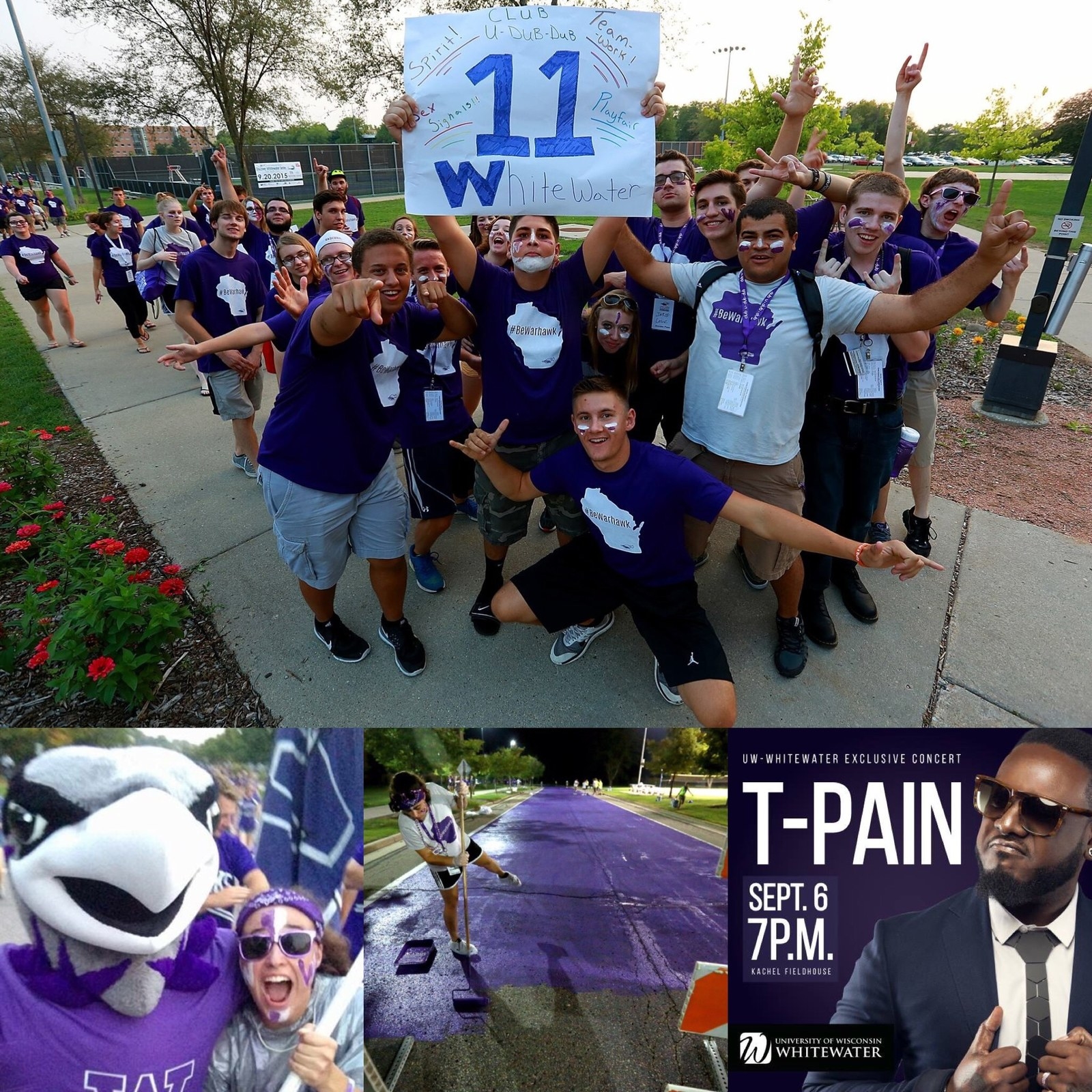 TRANSFERmation
TRANSFERmation is the spring orientation the takes place on Monday September 4th - 5th. There you will meet your Team Transfer Leader and your group who will guide you through the week and get you acclimated to campus so you're ready for the first day of classes. You will participate in tons of awesome activities like Warhawks at Night! There you will be able to play bingo, bowl for FREE, partake in some epic crafting and belt out your jam at Karaoke! My personal favorite has got to be the Hypnotist!
Don't forget classes start September 6th!!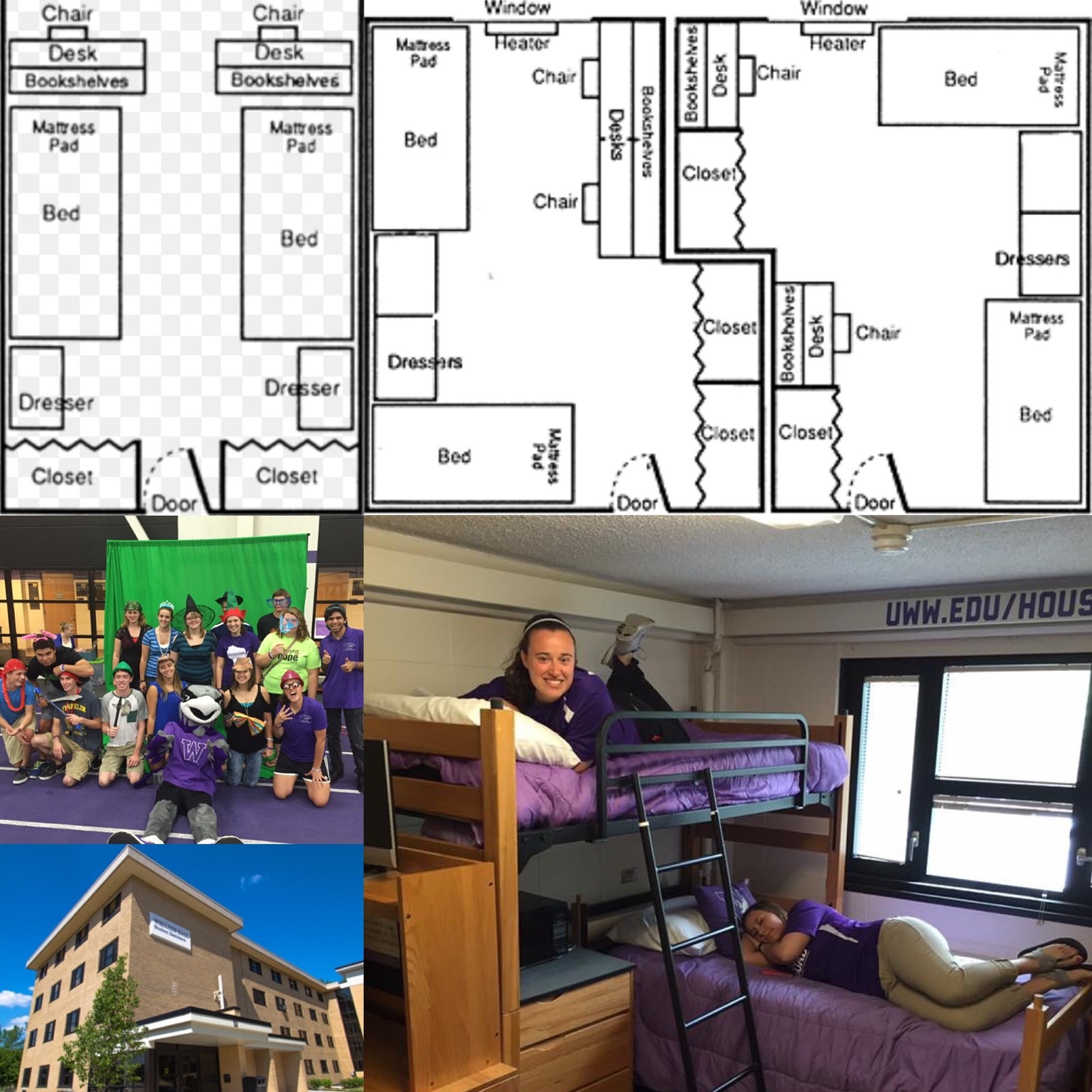 Warhawk Cribs with University Housing
Roommate Information can be found on the housing contract portal.
Students can bring a 900 watt microwave and a 4.7 Cubic feet fridge that's about waist high.
Beds can be lofted by renting a loft through bedloft.com (as seen in picture above), bunked, or raised.
Every floor has 1-2 Resident Assistants who are there to be a resource for you for anything from how do I get my T.V. to work to more serious issues like roommate disputes. They are supervised by Complex Directors and Assistant Complex Directors who over see conduct in the halls.
NEW: Laundry is now built into your on campus housing fees sooooooo….it's FREE!! Move-in Day: Sunday September 3rd
The Most Important Piece of Plastic You Will Ever Own… Your Hawk Card!
Don't lose it! It is your residence hall access, meal plan, library card, gym membership, access to all Varsity sporting events, and more! You can also upload purple points to use at various off campus locations like Culver's and Cost Cutters.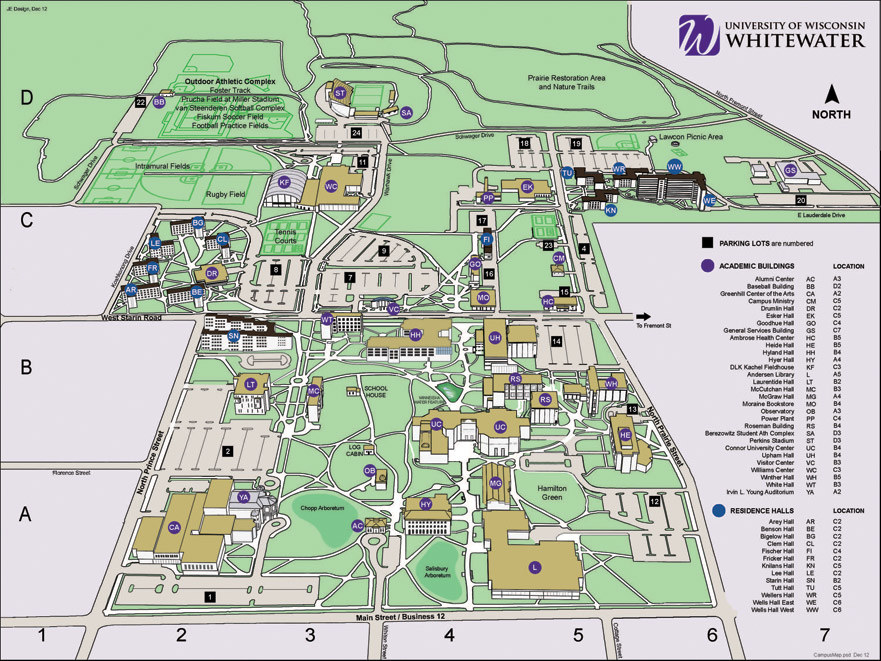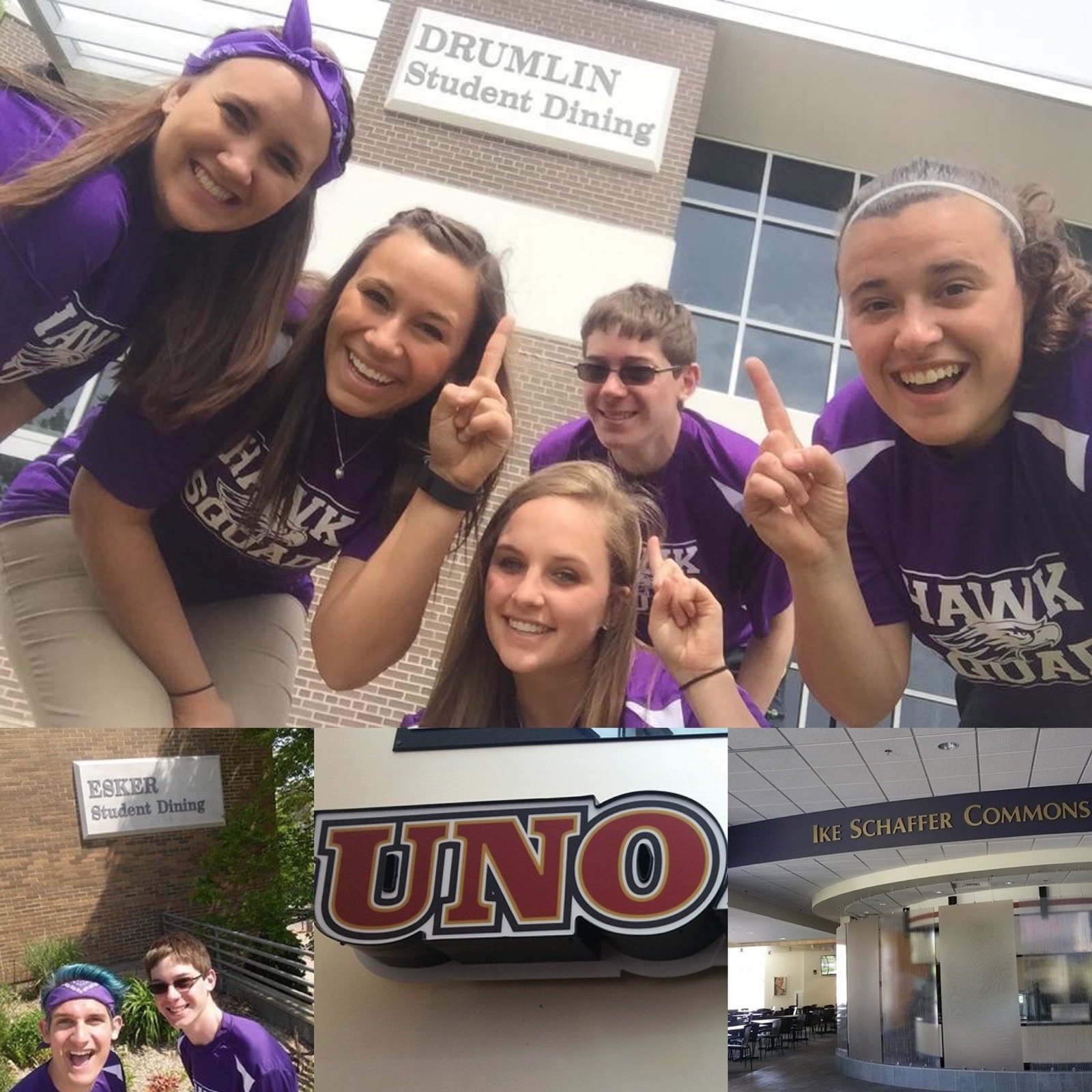 You Will Never Starve When You Dine On Campus
There are 14 different dining locations on campus including 2 all you care to eat buffet style dining halls on campus, Esker and Drumlin, both have sandwhich shops and convient stores in the basement of those buildings, plus many others located in the University Center and various academic buildings.
The most common fixed meal plan on campus is 14 meals and $100 dining dollars. Meals do NOT roll over reset every Monday morning at 4:00 am. Dining dollars expire at the end of spring semester. If you bring guests to campus, you can use a meal swipe on them starting on Thursday! Meal plans can be changed during weeks 2 and 3 of fall semester.
My Meals are also a great option for students not living on campus. They have less restrictions than the traditional meal plans because they can be used at any dining location and you can have as little as 25 for one semester and add more!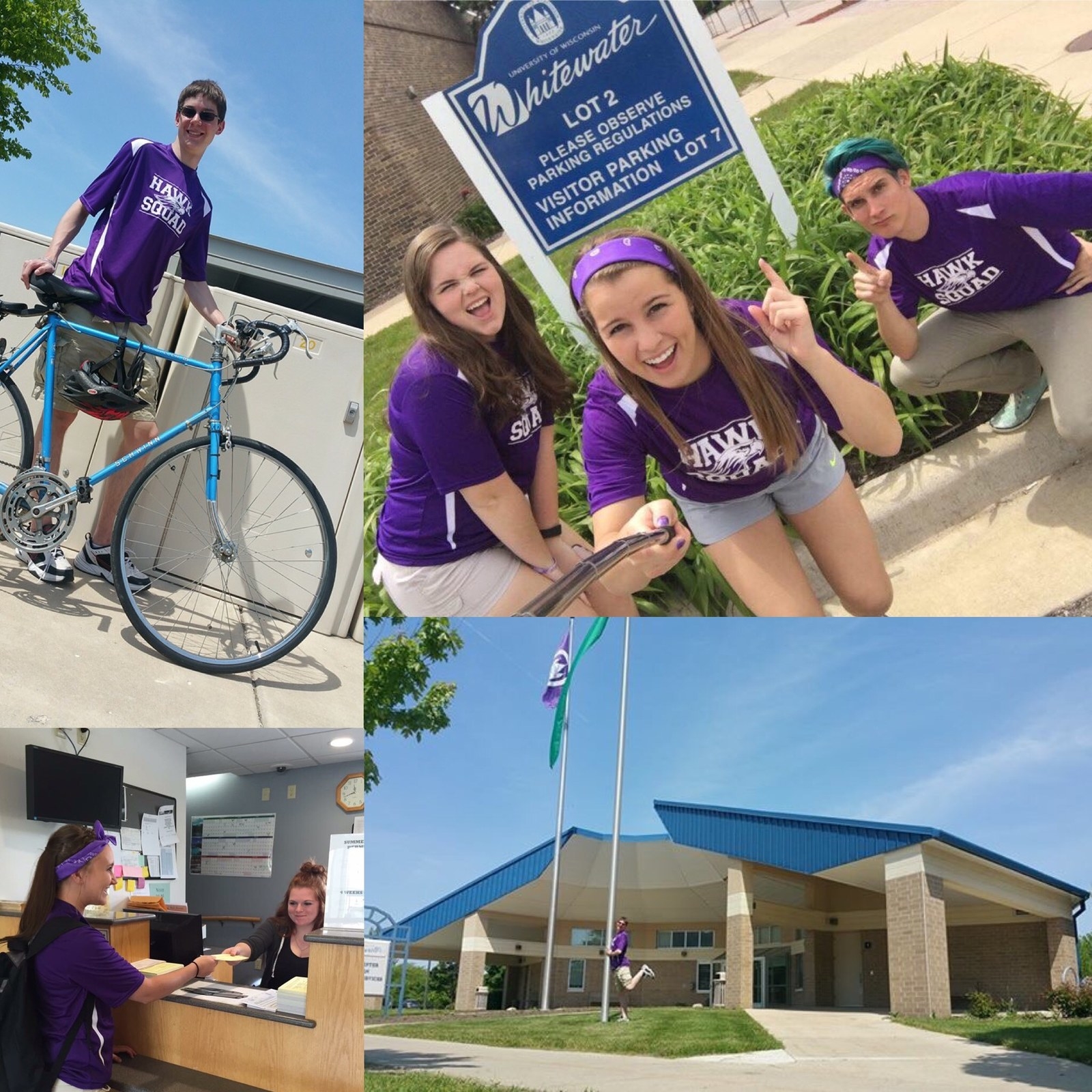 Parking at UWW!
Resident lots: $208 for spring semester
Lot 24: Sold out this spring
Commuter lots: $80 for spring semester
Mopeds and Motorcycles: $30
Bikes: FREE…..Bike lockers are $50 to use during the academic year and can help protect your bike against the elements!
FREE parking on weekends!
No car? No problem!
There are many other transportation services offered at low cost to students like bus lines to Madison and Milwaukee, enterprise rent-a-car system and the Varsity Vans.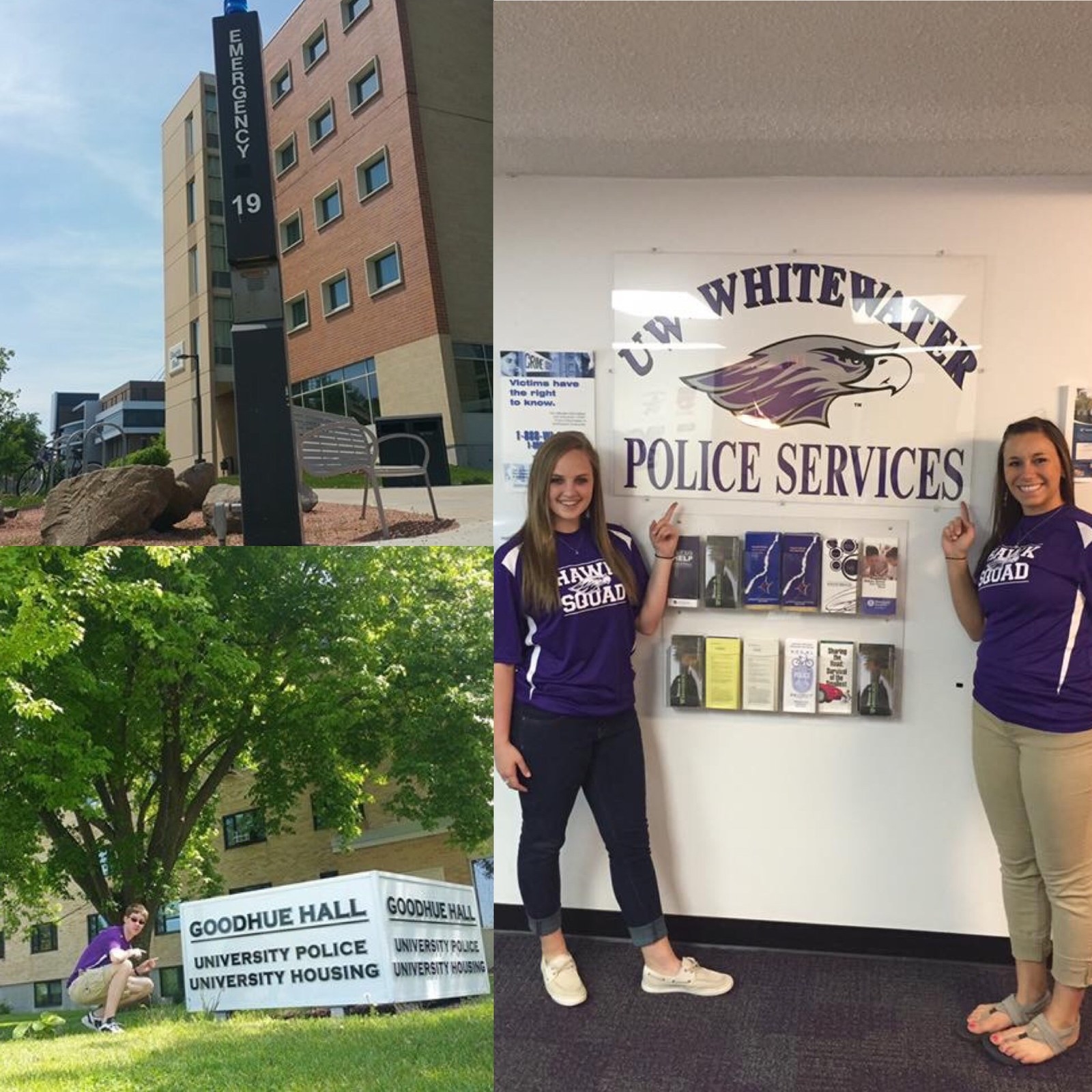 Safety First!
University Police are a great resource to utilize when you need them. They can be reached at (262) 472-4660.
* 22 Blue Light Phones
* Escorts
* Lock outs
* Jump car
* Bike Registration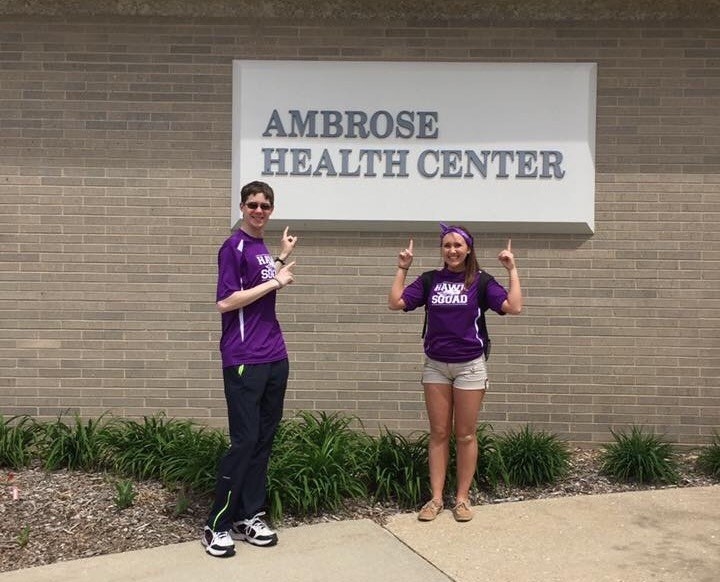 Staying Healthy
UWW offers FREE health and counselling appointments that you can schedule online! The only costs to you are if you need any lab tests done or a massage.
Warhawk Fitness
The weight room, pool, field house and gymnasiums are located in the Williams Center. Weight Room memberships for the spring semester are $65 and they include access to the weight room and all the fitness classes! If you would like to purchase a membership, go to Room 100 in the Williams Center. Also the Equipment Desk allows you to rent out all sports equipment for free!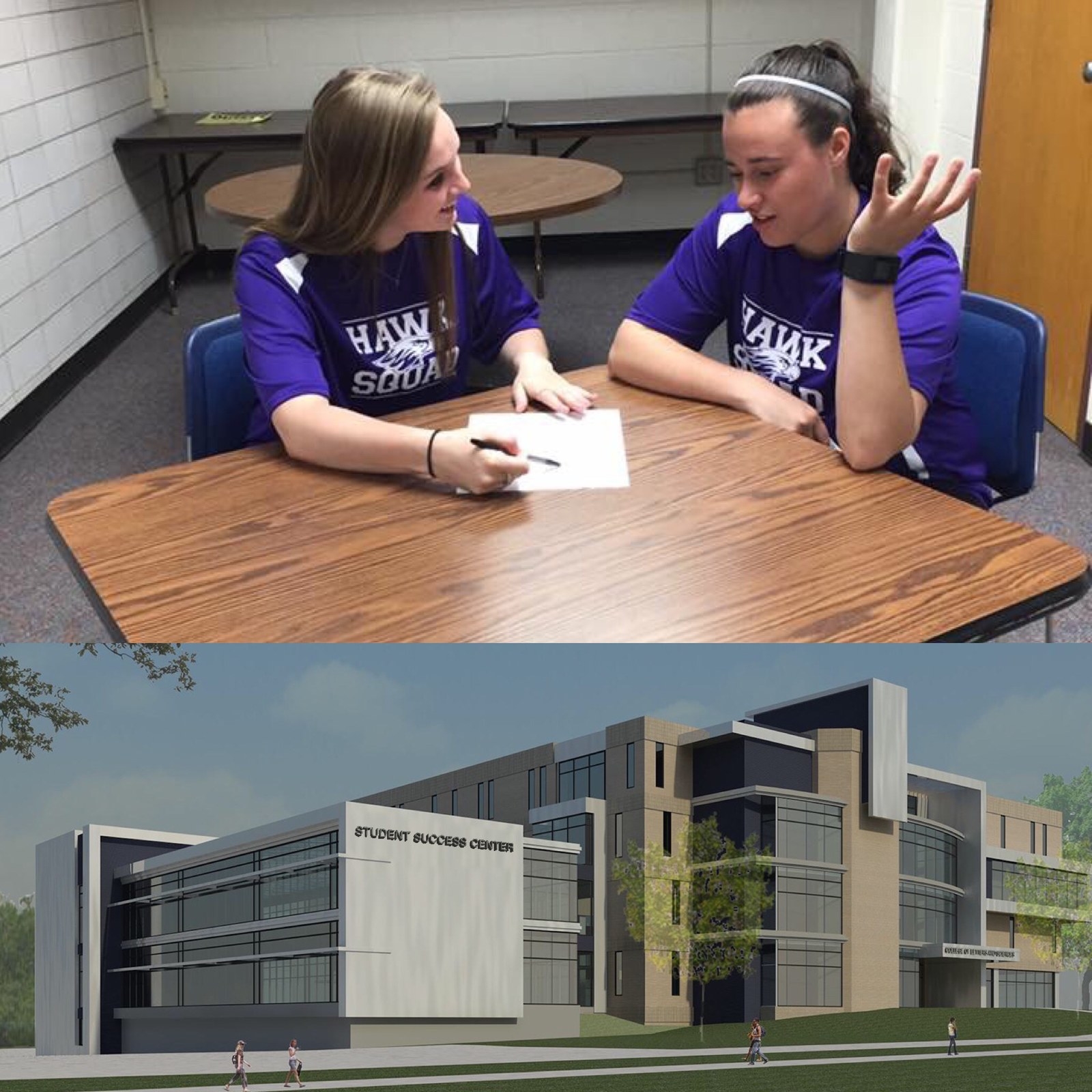 Academic Support Services for Success
UWW offers….FREE Tutoring! There are also Supplemental Instructors that sit in on classes and provide study sessions outside of class to help you understand the material! There's also a math lab and writing lab in the tutoring center!

Coming Soon: New tutoring center!!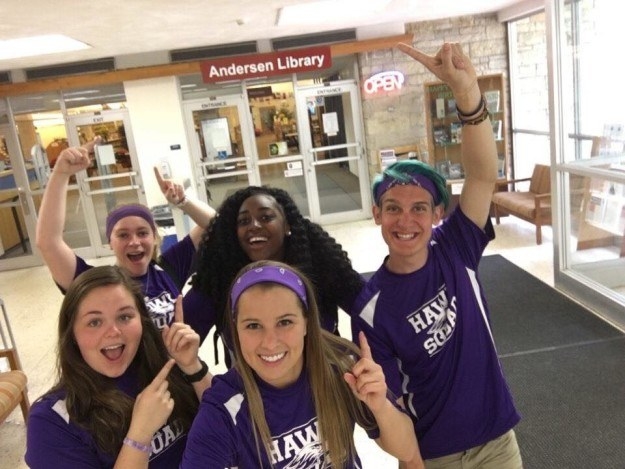 Your second home….the Library!
Anderson Library has great resources for students like…
* 2 Quiet floors and 1 talking floor
* A cafe
* Circulation desk that helps you find any book you need
* collaboration rooms for group projects
* technology to rent out for presentations or making videos
* free black and white printing
* treadmill desk!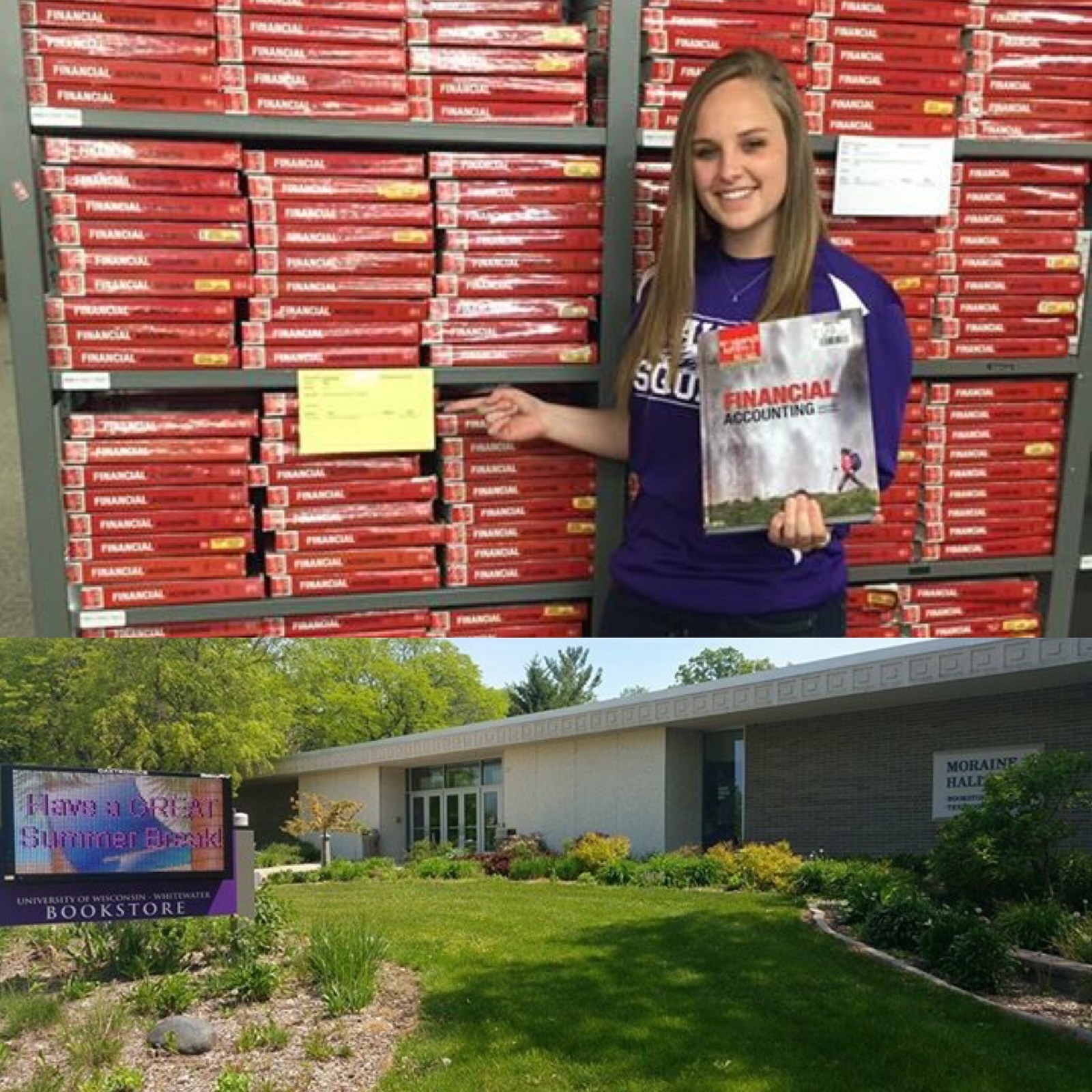 Textbook Rental
Yes…. it's fo FREE*!!!
*Built into tuition
Team Transfer can show you where to go!
Do Your Thing on Campus!
There are over 200 student organizations, 30 different Club Sports and 30 different Intramural sports to join on campus! Involvement Fair, Club Sports Awareness Day and UWWConnect are great ways to find these orgs.
Put yourself out there! You never know what might spark your interests!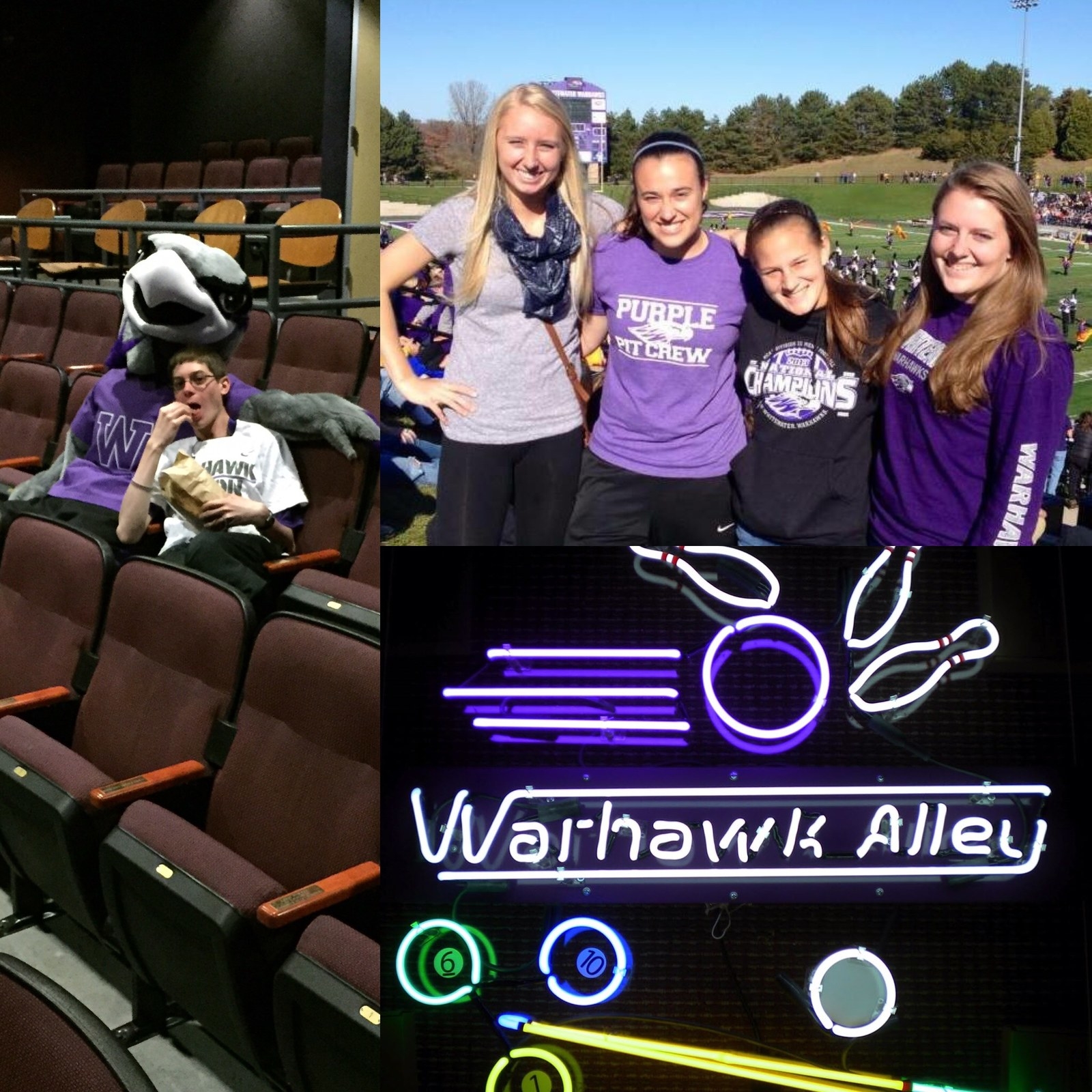 On Campus Activities!
There are numerous activities on campus like attending Varsity sporting events…and did I mention there are free with your hawk card!
Every weekend the University Center has movies for $1, karaoke and other live performances, plus other events like laser tag, comedians, hypnotists, or mini golf.
Plus students get discount tickets for shows at Young Auditorium!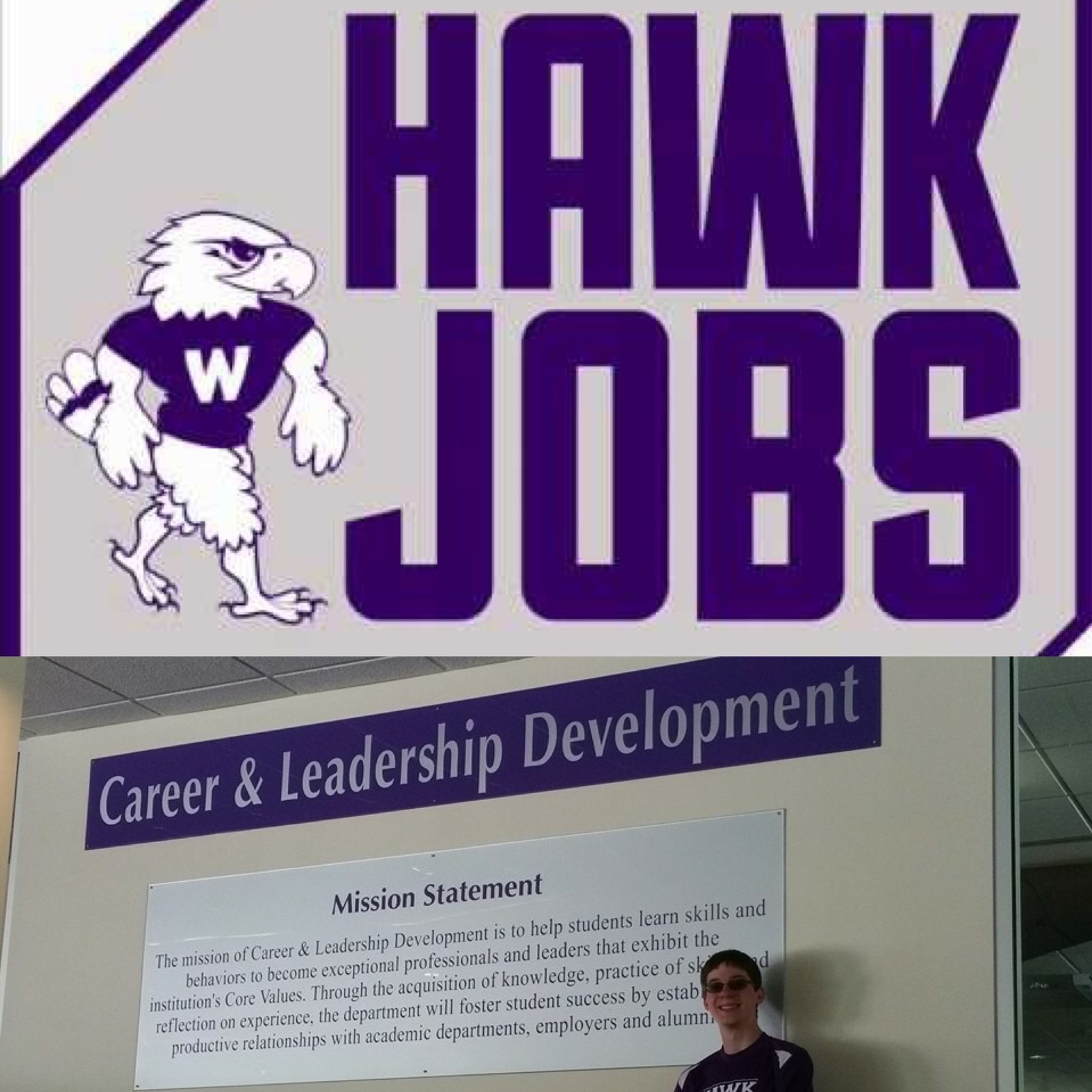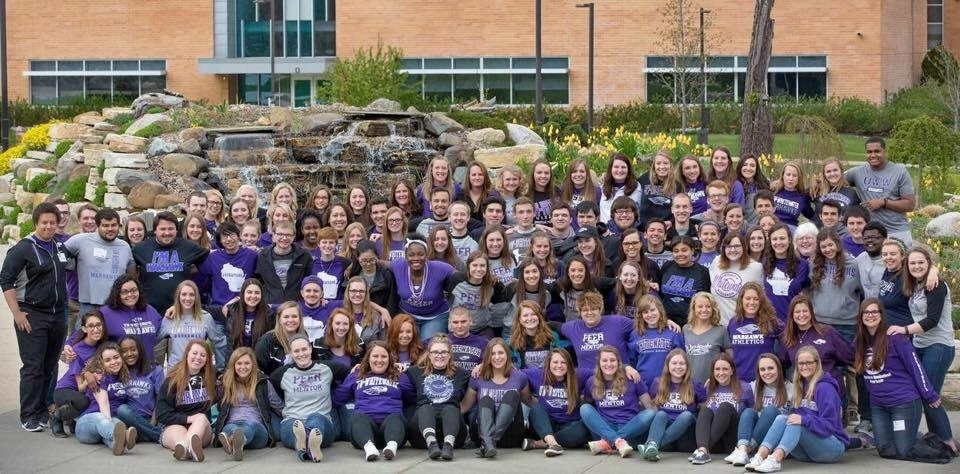 Transfer Student Seminar
1 credit class offered to Transfer students taught by their Team Transfer Leader and a faculty member. It helps teach college success strategies, build connections and introduce resources.
*Look for Intrauniversity 104 on WINS!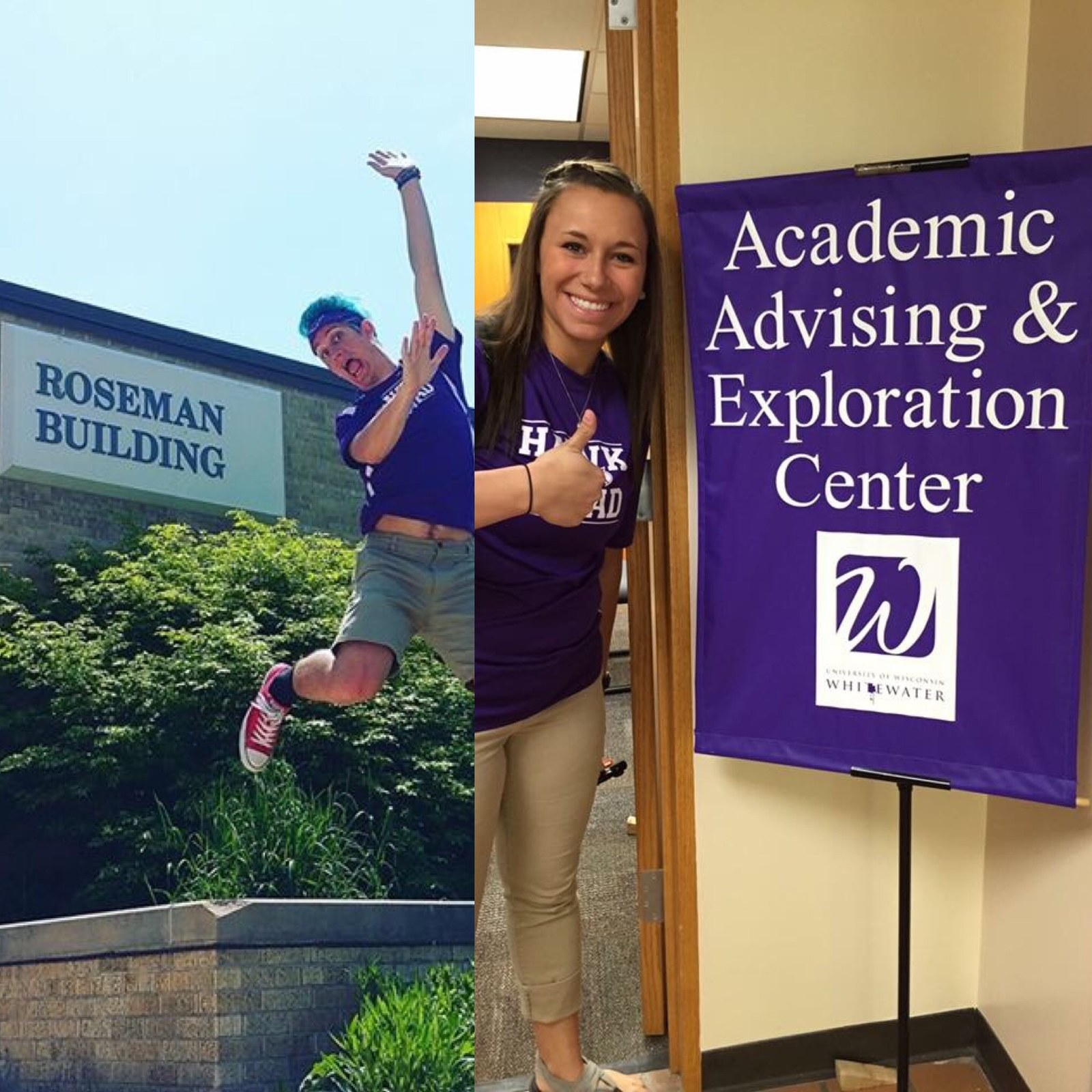 What's an Academic Advisor?
Academic Advisors are Master-level professionals out of the AAEC. They will help you navigate your AAR later today. There are advising holds on your account that won't let you register for classes until you meet with them so it's super important to talk with your advisor! In the spring you will have 3 appointments: Jumpstart, Pre-advise and Advise. Don't miss them!
*The only students that will not be meeting with AAEC are Theatre, Music, Art and MAGD majors, or if you have more than 24 credits you will be advised with your college.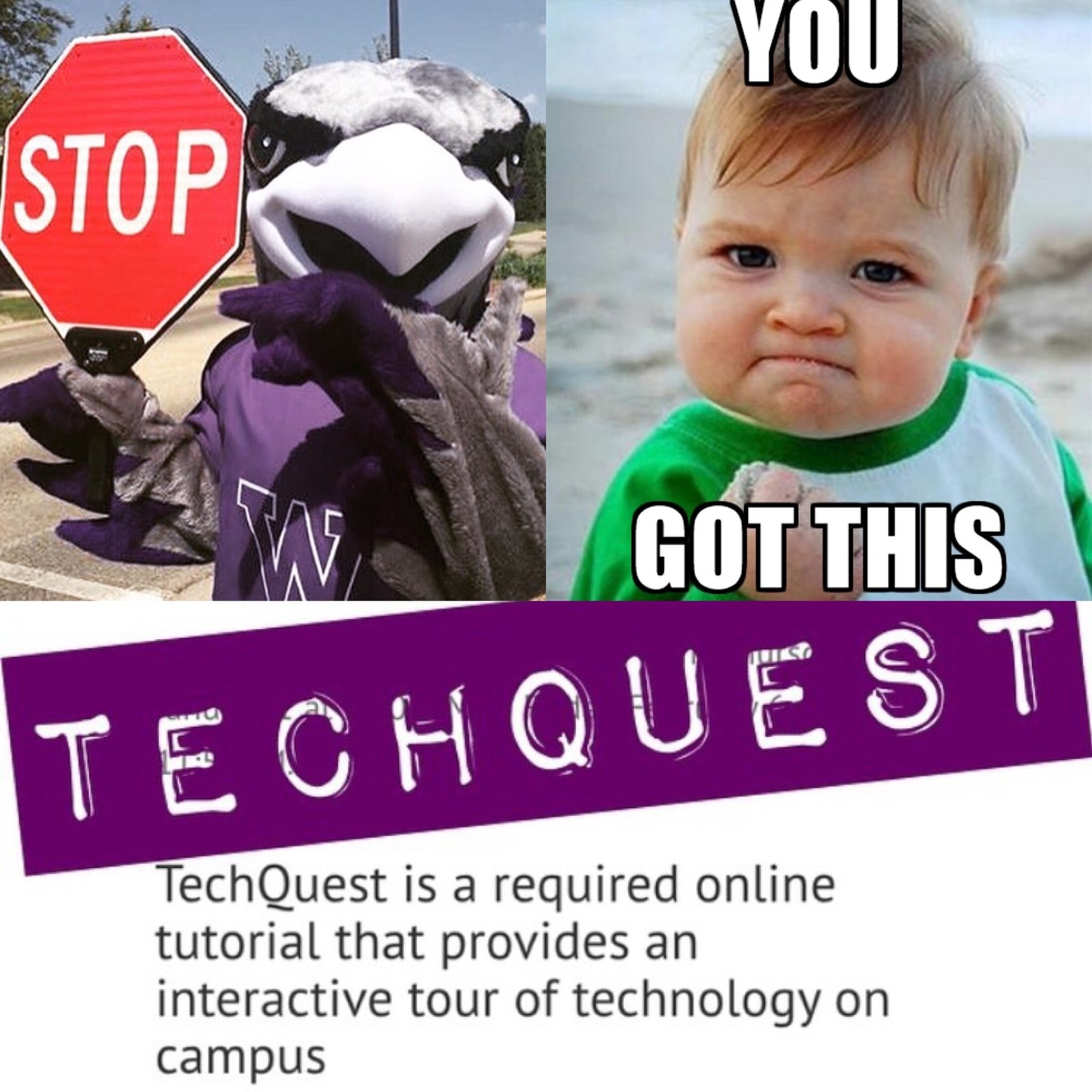 To Do Before Fall...
Tech Quest and You Got This are interactive programs transfer students are encouraged to take before fall semester starts. Tech Quest is a quiz based learning tool to help you understand how to utilize technology on campus. You Got This is a interactive training program teaching everyone how to be effective bystanders.
Opens on August 1st!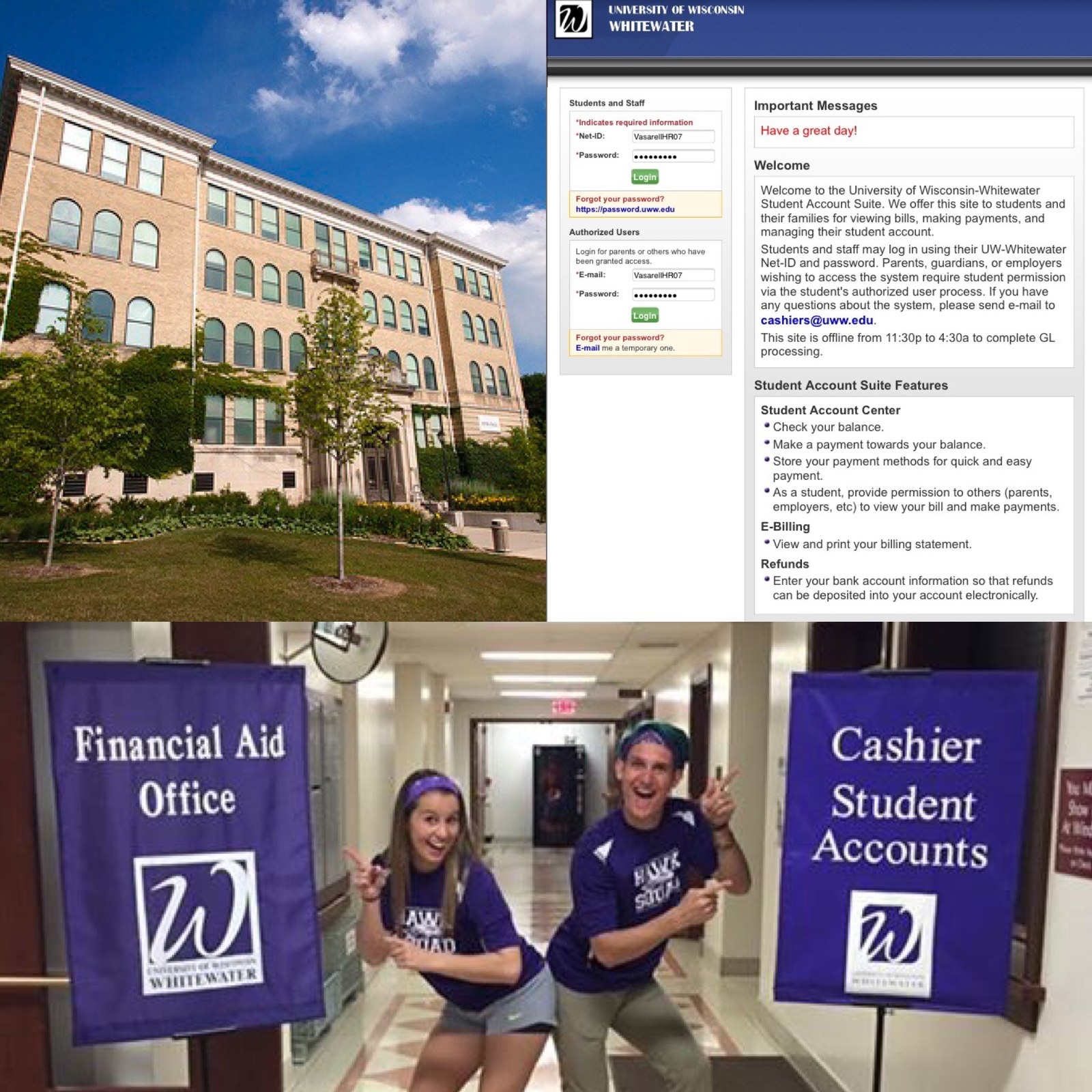 Paying for College
FERPA form
Terms and Conditions and the payment plan
Student Bill is due on September 15, 2017
Bills can be payed in person with cash, credit card or check at the cashiers office on first floor Hyer Hall or online using the ebill TouchNet system.
Authorized users can also create TouchNet accounts and help pay your bill as well!
If you have any questions about Financial Aid and the FAFSA visit the Financial Aid office.
If on payment plan, everything that isn't charged on your student bill is due: February 24th and March 24th with 1.875% activation fee.