 Hello, world. I'm Gyan, and since I've been wearing bras, I have absolutely hated bra shopping. And so I have grown accustomed to a life where I own one bra at a time.
This is just how I roll. I have one good bra - usually black - and pretty much wear it until it needs to be thrown out. Then, I buy another one.
Of course, I also own a token strapless bra and a few ~sexy~ ones, but honestly, these are so bloody uncomfortable they're reserved for special occasions only.
Now, I'm completely aware that this is no way to live. I know people are supposed to have more than one bra - just like we're meant to have more than one pair of shoes.
I'm constantly reminded of my weird ways when I read articles that suggest you "wash your bra every day", and for a second feel as though the writer is suggesting I free-boob every second day.
Tired of this life I decided I'd bite the bullet and finally get a bra fitting, in hopes of finding more than one bra I can stand. Yes, I decided to go on a bra crawl. The fitting: To give this fitting more context, I went into this challenge absolutely positive that I was a 12DD. However, after being measured by a lady with a tape over my bra and clothes, I was told to my shock/dismay that I am actually a 10F. WHAT A TIME.
After being assigned this wild size, I was told two brands - yes, TWO brands out of the whole Myer lingerie department - that would have my cup size in a 10. They were Pleasure State and Freya.
The bras: I chose a bra from both brands and took them into the changing rooms. The Pleasure State bra (left) was perfect. It actually fit. And it fit good. I bought it for $89.95AUD.
The Freya bra (right) was a bit big, and with a semi-padded cup really wasn't my vibe. Since I'd already found my dream bra, I wasn't too sad.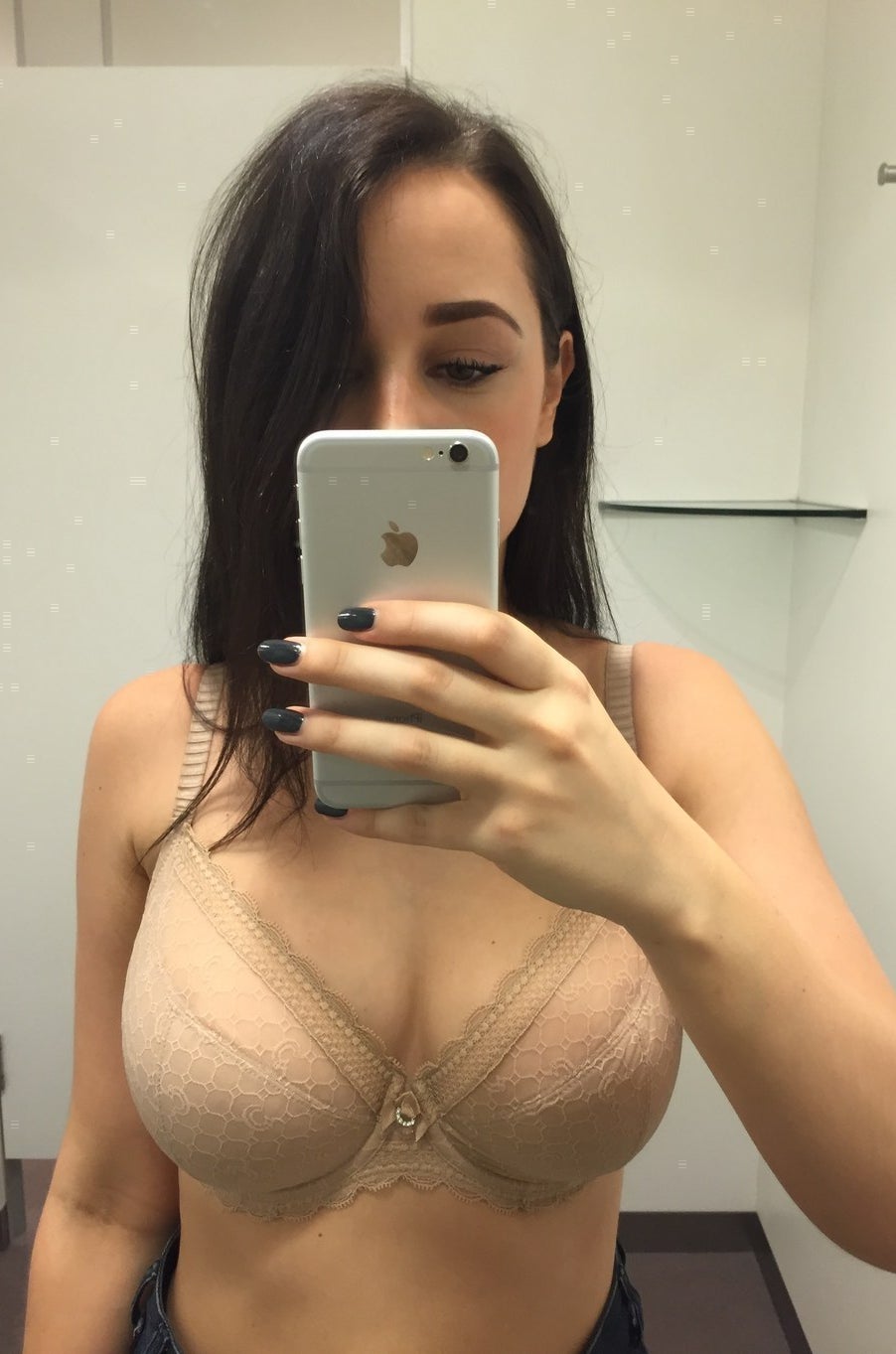 The fitting: As soon as I arrived to my appointment I was told they don't test with tapes. Apparently that measuring method is pointless since every brand's bras are different sizes. Instead, I was asked the size of the bra I was wearing, and given a Berlei bra in that size to try on.
When I had it on, the fitter had a look and told me it was all wrong. Just like the woman at Myer, she predicted I was a 10F. I think this woman has magic powers.
The bras: I was only given one bra to try on here. It was a nude bra that definitely isn't ~cool and sexy~ but felt comfy af, and shaped my apparent F cups nicely. I bought it - but not before getting confirmation that this was, again, one of two brands that actually stocked my size. This one was $99.95 from Chantelle. Goodbye, money. The fitting: Again, I was told by the fitter that measuring tapes aren't accurate. As an alternative, I was asked what bra size I was wearing, and then asked whether I thought I needed a smaller or bigger size. Since I'd just learned I was an F cup I said bigger, so was given two bras sized 12E.
The bras: Honestly, the first bra (left) could possibly be the biggest bra I have ever seen. If you squint it looks like a crop top. This giant bra was not for me.
The second bra (right) hurt. The cups weren't big enough and dug into all the wrong places. After being completely abandoned by my fitter, I left empty-handed.
The fitting: They were back at it again with the tape at Target. As in Myer, I was measured over my clothes. The result? 12B. Yes. A B cup.
Obviously, I am not a B cup. In fact, I don't remember ever being a B cup. I told my fitter that I normally wear a DD and she responded with: "Well, the tape says B". How helpful.
The bras: Honestly, the photo of me in this semi-padded B cup is borderline offensive. Nobody needs to see that, let alone the people of the internet. As an indication of how much I am not a B cup, please see this image of my boob claiming ownership of my armpit.