A student protest outside Parliament House in Canberra on Friday morning demanded governments and universities better address sexual assaults on campus.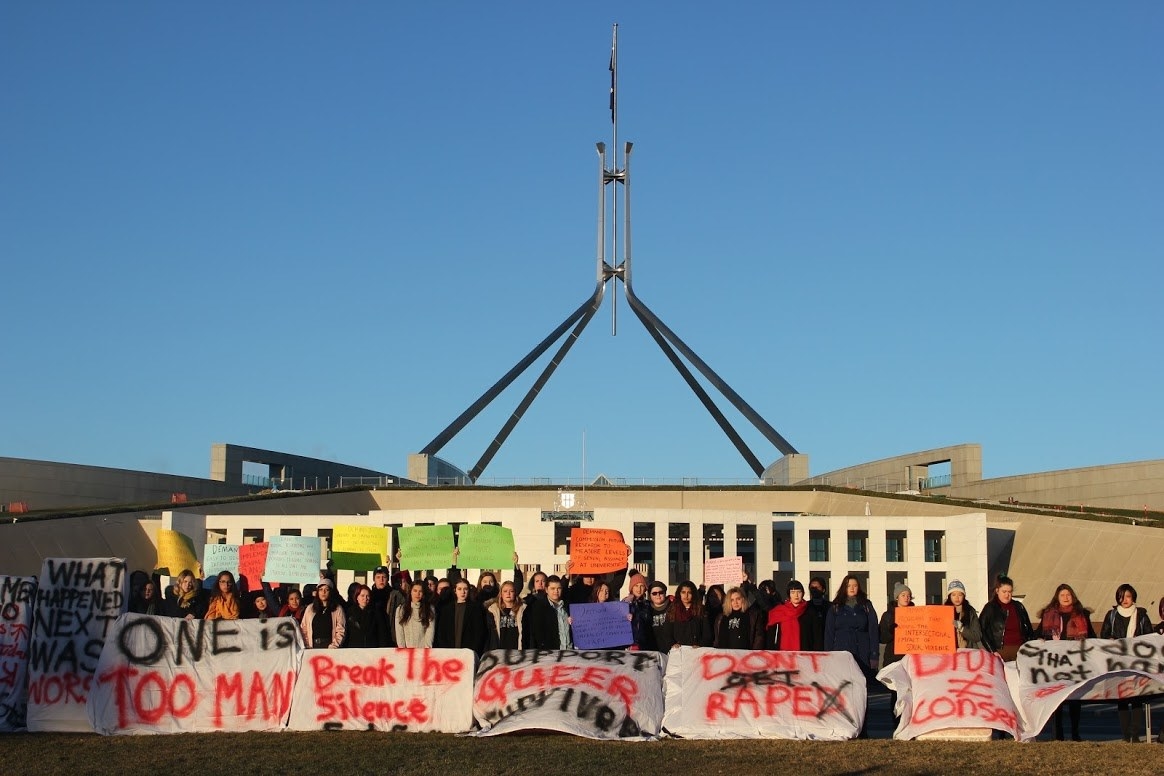 The protesters had a list of 12 demands including: a permanent 1800 hotline that deals specifically with sexual misconduct at universities; on-campus reporting and support services with specialist trauma counsellors; greater education for students and staff on consent and bystander training; and an overhaul of reporting procedures to make them more accessible and "survivor-friendly".
They called on the federal government to establish a Commonwealth complaints compliance mechanism for sexual assault, which would allow survivors and advocates to report universities that mishandle disclosures of sexual misconduct.
The mattresses, emblazoned with slogans such as "break the silence, end sexual violence", were dragged in front of Parliament House to symbolise the burden that sexual assault survivors carry with them on campus.

University student Freya said she understood the burden universities placed on sexual assault survivors during the incident reporting process.
"I am a survivor of sexual assault," the 20-year-old told BuzzFeed News.

"Within my first six months [at university] I had already heard horror stories about the experiences of reporting [sexual assault] and the unfamiliarity of that process was really off-putting for me."
Freya was a women's officer at her university and guided other survivors through the reporting process.
"I saw some of the things administrations do and I can only describe them as horrific and re-traumatising for survivors," she said.
Freya said on one occasion she asked the residential accommodation's administration to take over supporting a sexual assault survivor, as it was taking a toll on Freya's mental health.
"[The administration] delayed making contact with her for 10 days and I later find out in that time they had made time to meet with the perpetrator after hours to offer him support," Freya claimed.
The existing pastoral care systems in universities and colleges were "peer networks", she said, which meant that often the first respondents to a disclosure of sexual assault were students themselves.
"I was 19-years-old [while working as a women's officer] and I was given a $2,000 reduction for my accommodation fees for the whole year, but I did about 10 to 15 hours a week, including as a first respondent to the disclosure of sexual assault," she said.
"The burden was very much on students to deal with these very critical incidents as they arose."
Freya said she hoped the survey findings would show that the issue of sexual assault on campus was a "national problem" and not specific to a particular college or university.

"I also hope it shows that universities and residential accommodations have been failing in their duties so far, and no one college or university is innocent of re-traumatising survivors."
In the past five years, more than 500 official complaints of sexual assault and harassment were made to universities, according to data released by advocacy group End Rape on Campus earlier this year.

From 2011 to 2016, 575 formal complaints of sexual harassment or assault - including 145 rape allegations - were reported across 27 universities, the data, based on multiple Freedom of Information (FOI) requests, found.
Records obtained under FOI also showed that in the same 2011-2016 period 153 sexual assaults were reported to police from the addresses of universities in NSW, the ACT, Victoria and WA.
Only six students were expelled over the allegations.
The demonstration, organised by the Network of Women Students Australia (NOWSA), End Rape on Campus Australia (EROC) and the National Union of Students (NUS), built on similar "mattress protests" at universities across the world, including at the University of Sydney last year, and Columbia University, New York, in 2014.