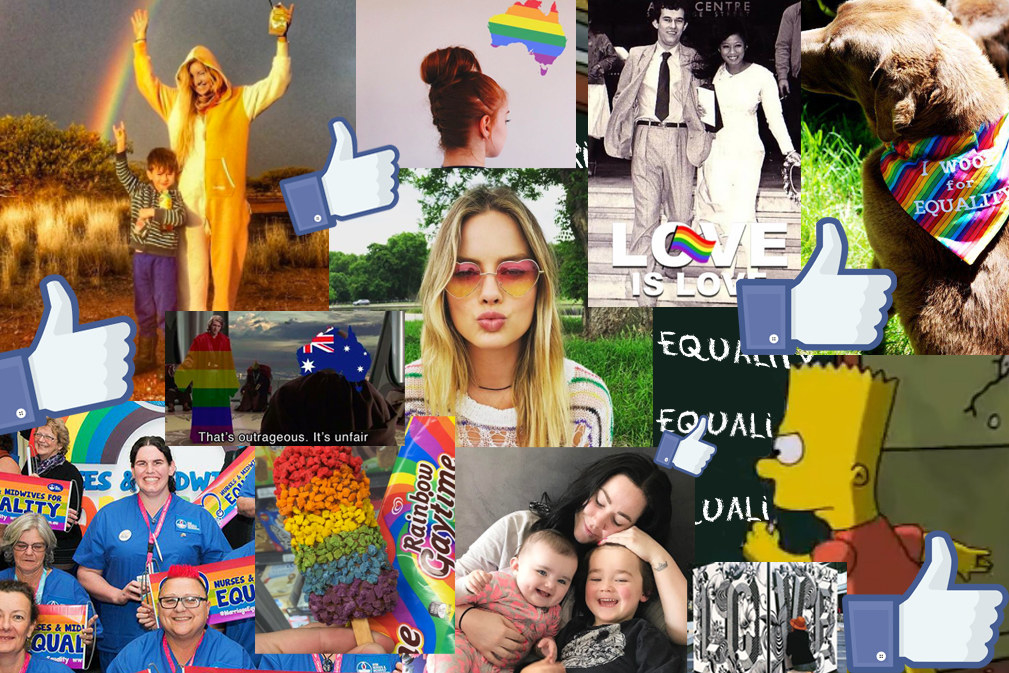 Yesterday, the Australian Electoral Commission said almost 55,000 people had joined the electoral roll since the survey was announced on Aug 8, and that over half a million people had updated their details.

So we looked at which Instagram posts, tweets, and Facebook statuses asking Australians to enrol or update details (via the Commission's website) have had the most interactions.
Overwhelmingly, the sentiment in the posts weighs heavily in favour of the "yes" campaign.
Five of the top 20 posts are from the Equal Marriage Rights Australia Facebook page, according to social monitoring platform CrowdTangle.
But it turns out marriage equality advocates have allies in less obvious online places.
The widest-reaching share of the Commission's landing page was an Instagram post by Queensland-born actress Margot Robbie.
"LOVE IS LOVE ," the Suicide Squad star wrote in the post, which has garnered 1.3 million interactions.
The next most popular post was a tweet from 22-year-old Australian musician and YouTube star Troye Sivan, who came out to his fans in a 2013 viral video.

The tweet has had over 20,000 interactions.
The next most impactful post was from a Facebook page dedicated to sledging the government via Simpsons memes.
"The Simpsons against the Liberals" page encouraged fans to tag a mate who hasn't yet enrolled to vote, in a post which has attracted more than 16,000 interactions.
"Show them that you count, because I'm sick of old straight white men telling us they know what is best for Australia," the page's administrator wrote.
Vintage rock singer Jimmy Barnes also potentially redirected thousands of Australians to enrol to vote.
The Facebook post featured an old picture of him with his wife Jane.
Popular Star Wars fan page "Just Jedi Things" reached thousands with a very dank set of memes and a link to the AEC site.
Top-ranking posts with the AEC's homepage included one from teenage Instagram star Ashleigh Ross, a post from denim retailer Levi's, and this update from the Facebook page of children's program Captain Planet.

"THE POWER IS YOURS!"
The other link shared widely was the AEC's "Check Enrolment" page.

Australian mummy blogger Sophie Cachia also reached a large audience.
More than 13,000 Instagram users interacted with her post: "If he likes girls or he likes boys or if she likes boys or if she likes girls or they both like both or they both don't know who they like I DON'T CARE.
"I want everybody of today to be able to marry who they love."
A post from an animal shelter in Melbourne reached more people than federal politicians campaigning for marriage equality.
As did a Facebook post from the NSW Nurses and Midwives' Association.
Australian fashion label Tibbs & Bones — which, aptly, specialises in rainbow clothing — earned thousands of interactions for this post of a multicoloured Golden Gaytime.
Even Labor senator Penny Wong's post on the issue couldn't attract as many interactions as a post by a former star of The Bachelor, Tiffany Scanlon, who found love last season with a female competitor.
Whether Australians agreed or disagreed with the postal survey they "must register to vote", Scanlon wrote.
You have until midnight on Thursday to enrol to vote or update your details.

If you're enrolled, you will receive a paper form in the mail in late September asking the question: "Should the law be changed to allow same-sex couples to marry?"
You will have to return it by Nov 7.
Do you have questions about Australia's upcoming postal survey on same-sex marriage? Same. Here's a list of everything you need to know, and more.