A refugee who died at an offshore detention centre run by the Australian government was first placed on a psychological support program almost four years ago.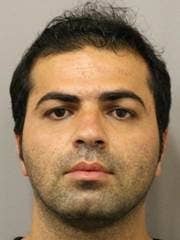 Iranian man Hamed Shamshiripour arrived at Manus Island detention centre in Papua New Guinea on August 14, 2013, according to documents obtained by BuzzFeed News.

Just a week shy of his fourth anniversary in offshore detention, Shamshiripour's body was found in a forest near the centre. He had been missing for two days. The circumstances surrounding his death are yet to be determined.
An intake form from the day of his arrival at Manus, written by the Salvation Army, listed "friends" in the emergency contact section — no name was provided. The form showed he had volunteered to assist at the centre in the canteen and classroom, and to help with gardening and cleaning.
His mental health was categorised as "average".

He enjoyed classes run by his English teacher David. He asked for a Farsi dictionary to help his English and sought an MP3 player. Although he enjoyed playing sports, he found it difficult due to a knee injury. He played card and board games instead.

Shamshiripour had a diploma in IT from Iran. He previously worked at an oil company as a technician in heating and cooling systems.
In 2013 he listed as his goals: "To Complete my education in IT also interested to do some farming as well."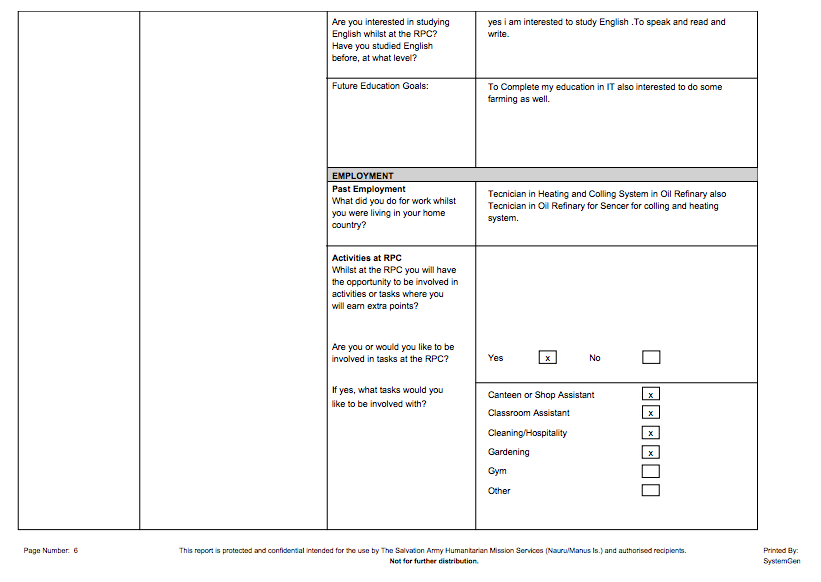 But the island soon eroded his hope.
It started with a feeling and a brief case note.

On December 6, 2013, his case officer observed that Shamshiripour felt "stressed being away from his family." He was referred to the psychological support team.
A month later his symptoms had worsened. In January 2014 his case manager wrote that Shamshiripour had reported "having nightmares and is feeling stressed". His case worker encouraged him to speak to an IHMS (International Health and Medical Services) psychologist.
By February events on the island had deteriorated. There were two days of unrest and rioting in which local residents clashed violently with asylum seekers. Dozens were injured. One man, Reza Barati, was murdered.
But Shamshiripour wasn't a troublemaker. When protesters began to gather and organise in early February — just days before Barati was murdered — he approached a case worker saying he was concerned about his safety and the safety of other asylum seekers.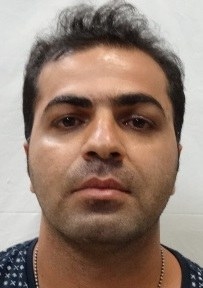 "He stated that he and others do not want to be part of the protest and would like to be considered for moving out of Oscar [compound]," the notes read.
"He stated that whilst there is no direct pressure on him from the organisers and other followers to participate, he feels intimidated when asked why he is not participating."
During this time, Shamshiripour was in constant pain. He arrived on Manus Island with a serious knee injury. His knee swelled, locked up and kept him awake at night. He walked with a limp.
In December 2013 case notes show Hamed said he needed "shoes to help with the pain in his legs and a blanket because he sleeps under the air conditioning".
On February 2014 a doctor gave Shamshiripour a cortisone injection in his knee which "relieved the pain for a couple of days" but it soon returned and impeded his ability to walk or even stand in line for meals.
The case notes made by IHMS workers offered a glimpse into how quickly his mental state shifted.
On July 1 workers noted Shamshiripour was "settled", "cooperative" and "compliant with medications".
He just wanted to be able to "have a shave, wash clothes, access money and be with his friends".

When his requests were refused, the worker noted that Shamshiripour simply "walked away".
But the next day staff noted he was "completely different", "grandiose, uncooperative and argumentative", and that he "refused to take his prescribed medication".
Another staff member noted Shamshiripour was "agitated, aggressive, verbally abusive" and police were required to bring him back to the accommodation.
Hamed was allowed to have a haircut and a phone call and the day after he presented as "calm, relaxed and polite".
On July 5 staff wrote that Shamshiripour had "stayed in Lorengau jail" where he was sentenced to six weeks incarceration.

He was supplied with food packages but staff members were unable to give him linen or towels. He would be jailed again after suffering mental episodes defined by aggressive and erratic behaviour in the lead-up to his death.

"This guy was mentally ill for a long time; he was thrown in jail instead of a hospital," Iranian refugee Amir Taghinia told BuzzFeed News.

In January this year, Shamshiripour was jailed again following an acute mental breakdown and wandered the streets upon release, according to refugees on the island.
A spokesperson for Australia's Department of Immigration and Border Protection said the department was "aware of a death in Lorengau Township".
"PNG authorities are investigating the matter," the spokesperson said.
Manus Province police commander David Yapu said the 28-year-old's death was not being treated as suspicious, but a post-mortem death was still underway.
If you need to talk to someone, you can call Lifeline Australia on 13 11 14 or Beyond Blue Australia on 1300 22 4636. Anxiety UK on 08444 775 774, or Hopeline America on 1-800-784-2433