17 Epic News Fails From 2016
Oops.
1.
When SBS news presenter Janice Petersen applied lip gloss on air.
"And apologies for that, ah, technical problem there," Petersen said.
2.
When a woman answered a call from Sunrise with a catchphrase from the Today show.
Lynette from Bendigo almost lost $20,000 when she answered a call from Channel Seven's Sunrise Cash Cow with a catchphrase from a rival breakfast show: "I wake up with Today".
David Koch told Lynette to "get stuffed" but she still won the money.
Channel Nine Melbourne weather presenter Rebecca Judd was about to take time off on maternity leave when she narrowly avoided a goodbye kiss from her colleague Tony Jones.
5.
When a Yahoo!7 reporter caused a murder trial to be aborted.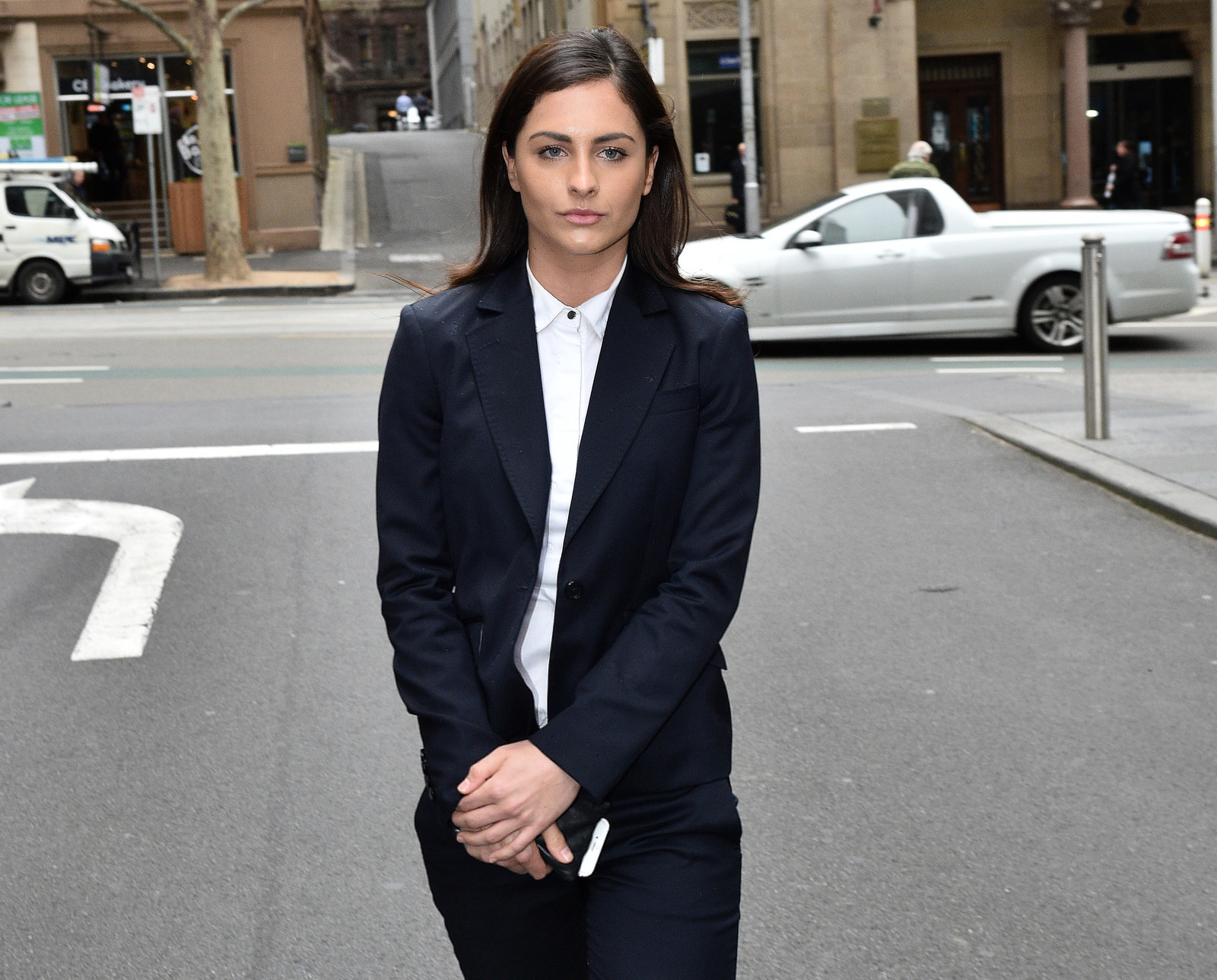 During the first week of a Supreme Court murder trial, Krystal Johnson published an article that contained information that had not been presented to the jury.
The reporter told the court that she forgot a jury was involved in the case.
Supreme Court Justice Lex Lasry referred the matter to the Director of Public Prosecutions, John Champion, SC, to consider charging Johnson with contempt of court.
Victorian Supreme Court Justice John Dixon found Johnson and Yahoo7 guilty of contempt for publishing details about a defendant that could prejudice a jury. The decision was not made public until mid-December.
Decisions on penalties and costs will made in the new year.
6.
This slow news day.
"Finance minister Mathias Cormann holds press conference in Canberra undeterred by fly on his face," read a Sky News banner.
7.
When a guy vacuumed a model's hair while she politely cried.
TV tradie Rob Palmer tried to style a model's hair into a bun with a vacuum cleaner but it was obviously super painful so she just smiled as tears welled in her eyes.
Kruger later defended her comments: "Following the atrocities of last week in Nice where 10 children lost their lives, as a mother, I believe it's vital in a democratic society to be able to discuss these issues without being labelled racist."
9.
When Warnie and Waleed had beef.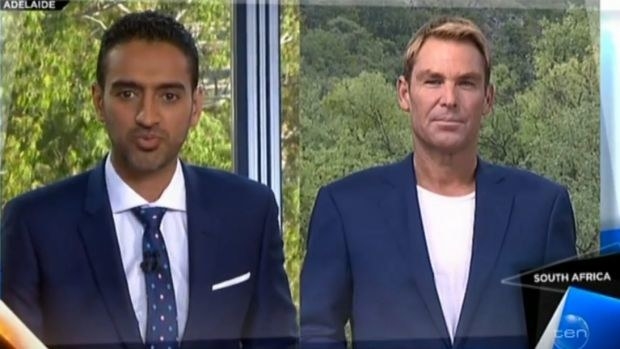 When Shane Warne went on The Project Waleed Aly grilled the cricketer about his charity foundation, which had an impending independent audit regarding alleged financial inconsistencies.
"You can all get stuffed if you want to have a go at us for it, but we are very, very proud of what we have been able to achieve," Warne said.
When Aly said he would wait until the results of the audit to pass judgement, Warne responded: "You doubting me, mate? You think we've got something to hide?"
Warne then tweeted: "Disappoints me some journo's [sic] think in an interview being a dick is cool. Tip, if u [sic] want people back don't be inappropriate, arrogant or smug."
10.
When the late, one-time Growing Pains star Alan Thicke found out one of his "great influences" was a jailed paedophile.
"In my early-20s, as a writer, I was a big fan," Thicke said of Rolf Harris, who was jailed in 2014 on four counts of indecent assault. "I just loved his playfulness and what he was able to do with music."
The actor then sang one of Harris' hit songs before telling journalist Angela Bishop, "Well, that's the last time I'll sing that song".
Thicke died suddenly in mid-December, while Harris will face new indecent assault charges in Britain at a trial due to begin in January, 2017.
11.
When Carrie Bickmore told people they were going to watch a "big breast".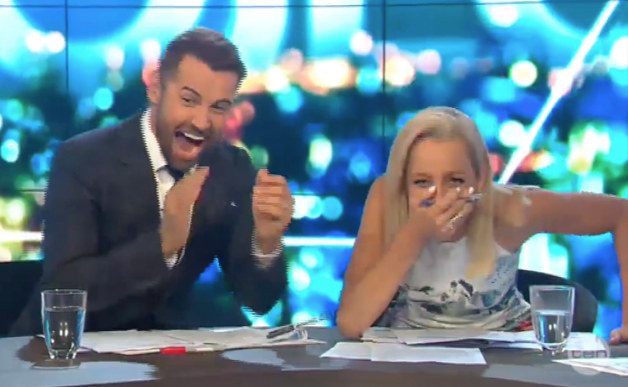 "Adelaide we're going to leave you here, you're going off to watch the Big Breast," Bickmore said right before an ad-break.
She meant to say Big Bash League cricket.
12.
When Eddie McGuire insinuated he would like to see a female journalist drowned.
The game show host and Collingwood Football Club president was live on Triple M from the AFL's "Big Freeze" event when he made the joke about holding sports journalist Caroline Wilson under water.
The fundraiser involved celebrities sliding into a pool of ice-cold water.
"I reckon we should start the campaign for a one-person slide next year," McGuire said. "Caroline Wilson. And I'll put in 10 grand straight away… make it 20. And if she stays under, 50."
13.
Retired AFL player and TV personality Sam Newman then jumped to McGuire's defence, costing The Footy Show its Nissan sponsorship.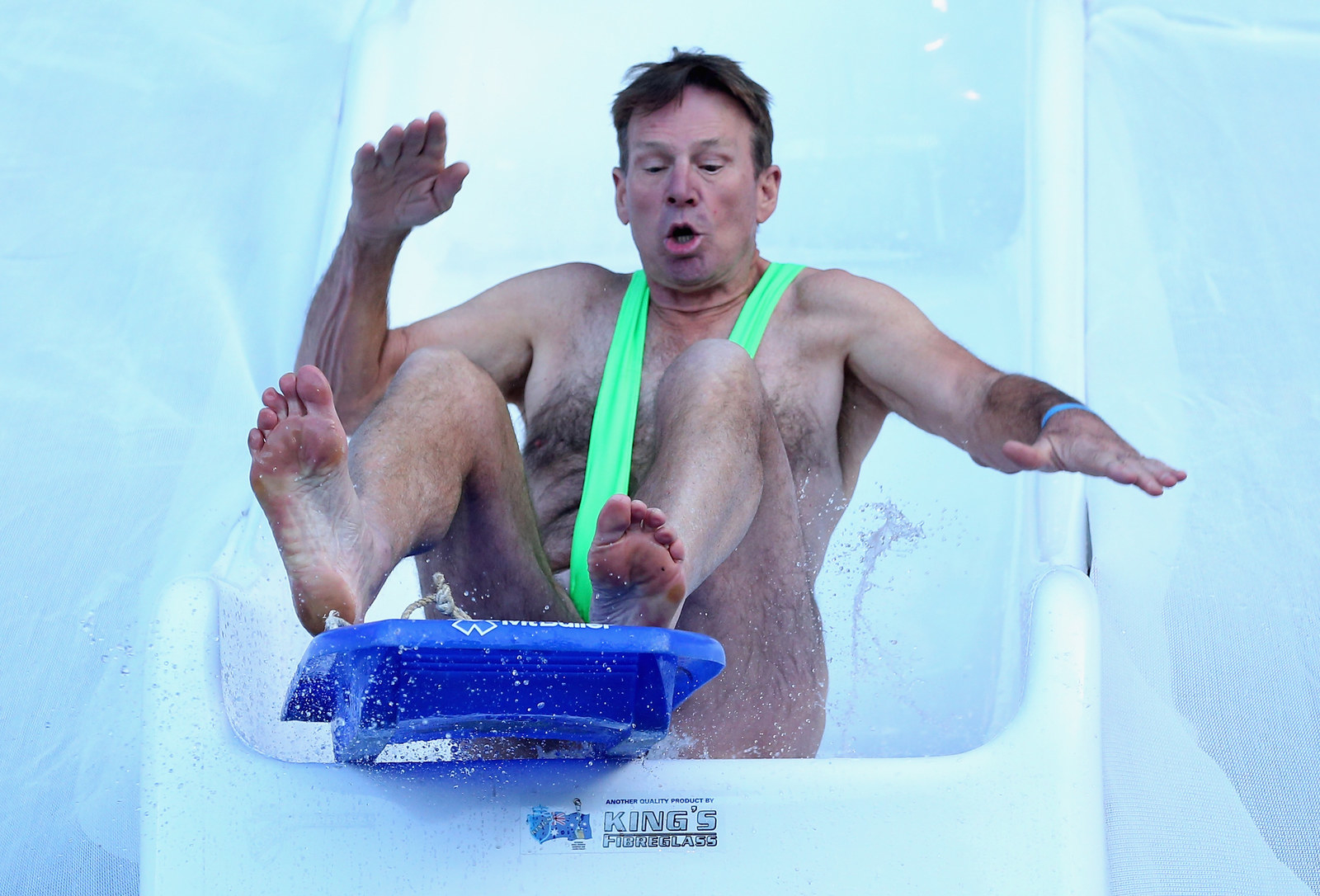 "The jig is up Caro, honestly and truly. You've become an embarrassment. Even if you were underwater, you'd still be talking," he said, a comment that Nissan said did not "align" with its values.
A Channel Nine reporter described people who attacked her and a cameraman as "a group of transvestites".
Stefanovic called the drag queens, cross-dressers or transgender women - it was unclear which they were - "trannies" for the segment.
He offered a heartfelt apology the next day.
15.
When Sunrise newsreader Talitha Cummins said prime minister Malcolm Turnbull would be delivering a "pig bitch".
Turns out he was actually gearing up for a big pitch.
Daily Mail Australia published a story about Sam Armytage going "make-up free", sporting a "loose-fitting dress", under which she "dared to bare" her "giant granny undies".
"The TV personality's oversized granny panties showed through the garment with a clearly visible line," the story read, before noting that other gossip publications had romantically linked her to several colleagues during the previous week.
They later apologised.
17.
The 60 Minutes botched child kidnapping attempt.
The most serious of this year's news fails happened when the current affairs program financed the attempted recovery of Australian mother Sally Faulkner's kids in Lebanon.
The stunt landed Tara Brown, Faulkner and three other Nine employees in a Beirut jail and cost the network plenty in legal costs and other payments.
Child recovery expert Adam Whittington was left in jail for almost four months after the others were released, and then did an exclusive interview with rival network Seven.
In the interview, he alleged Nine paid $115,000 in fees, boat hire and expenses to his Child Abduction International Recovery organisation, which the network has denied.
Brown said her reporters were "just doing their jobs" but the show's producer Stephen Rice was sacked after an internal review of the debacle.
Want more proof that Australia is like no place else on earth? Sign up for BuzzFeed's "Meanwhile in Australia" newsletter!