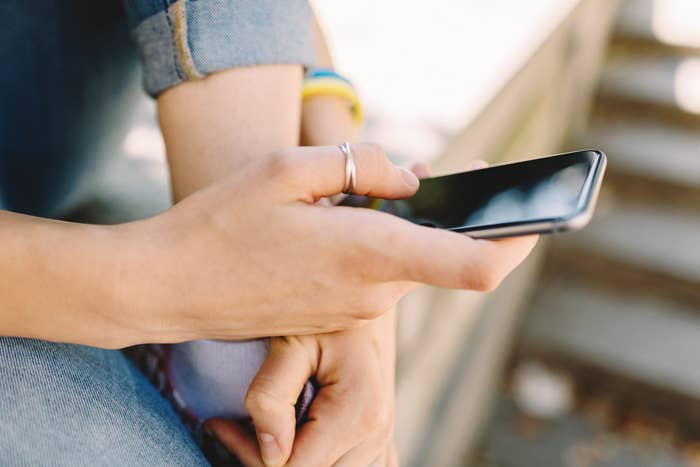 Marie is a cautious online dater.

"I usually go through a long vetting process of talking with them online first," the 32-year-old told BuzzFeed News. "I like to think I'm really careful with people and I don't do one-night stands."
Marie — a pseudonym to protect her privacy — lives in a sharehouse of single women who always share a man's details, sometimes even licence plate numbers, with each other before going on dates.
But safety measures were of no use to her when she was allegedly sexually assaulted in July by a man whom she had matched with on the dating app Bumble. After making a police report, she was given three options by a detective: drop it, make another statement and press charges, or allow the detective to pay the alleged perpetrator a home visit to explain a complaint had been made against him.
Marie chose the third option, grateful she had been given a path forward that spared her a potentially lengthy investigative and legal process, but held the promise of deterring the man from sexually assaulting any future dates.

But after she contacted a BuzzFeed News journalist, wanting to tell her story publicly, the police reneged on the option they had offered to Marie, claiming at first it was not routine, and later that it would not have been offered. If Marie wanted the man to know she had made a police report, the detective eventually told her, she could contact him herself.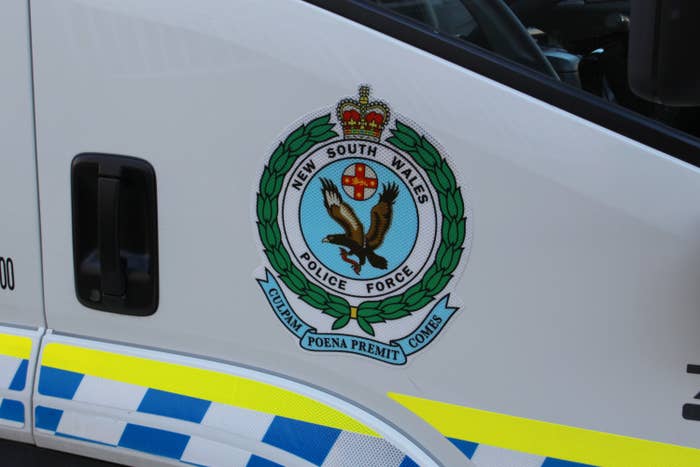 Marie met David — a pseudonym — on Bumble. After talking for three weeks, first on the app and then via text, she decided to go on a date with him.
Marie lives in the Riverina region of southwestern New South Wales, and said the pool of men in her regional city who are "single by choice" is small. "It can be hard to find people you can relate to," she said, adding as a joke, "It is practically a miracle if the person isn't holding a beheaded pig or fish in their profile photo."
David arrived at Marie's house half an hour earlier than she thought they had agreed. She dashed out of the shower, dressed in a hurry and got into his car. Marie said she quickly noticed red flags: he made a comment that he would "always remember" she was late for their first date, and then revealed he had lied about his job.
"Already I'm kind of like, 'This is the last date I'm having with this person, this is really awkward'," Marie said.
But she relaxed at the restaurant as they chatted about their jobs, and David's dog. He insisted on paying for the expensive meal. When they walked back to the car David tried to hold Marie's hand and kiss her, she said. It was "awkward and forced" and felt like he was already misreading her body language, which wasn't "warm or inviting".
David invited her back to his house to meet the dog. Marie said yes, adding that she couldn't stay long as she had an early start the next day. "I didn't want to be rude," she said. "There was a lot of expectations that came [with him paying for dinner] and maybe that is why I was feeling a little uneasy about it all."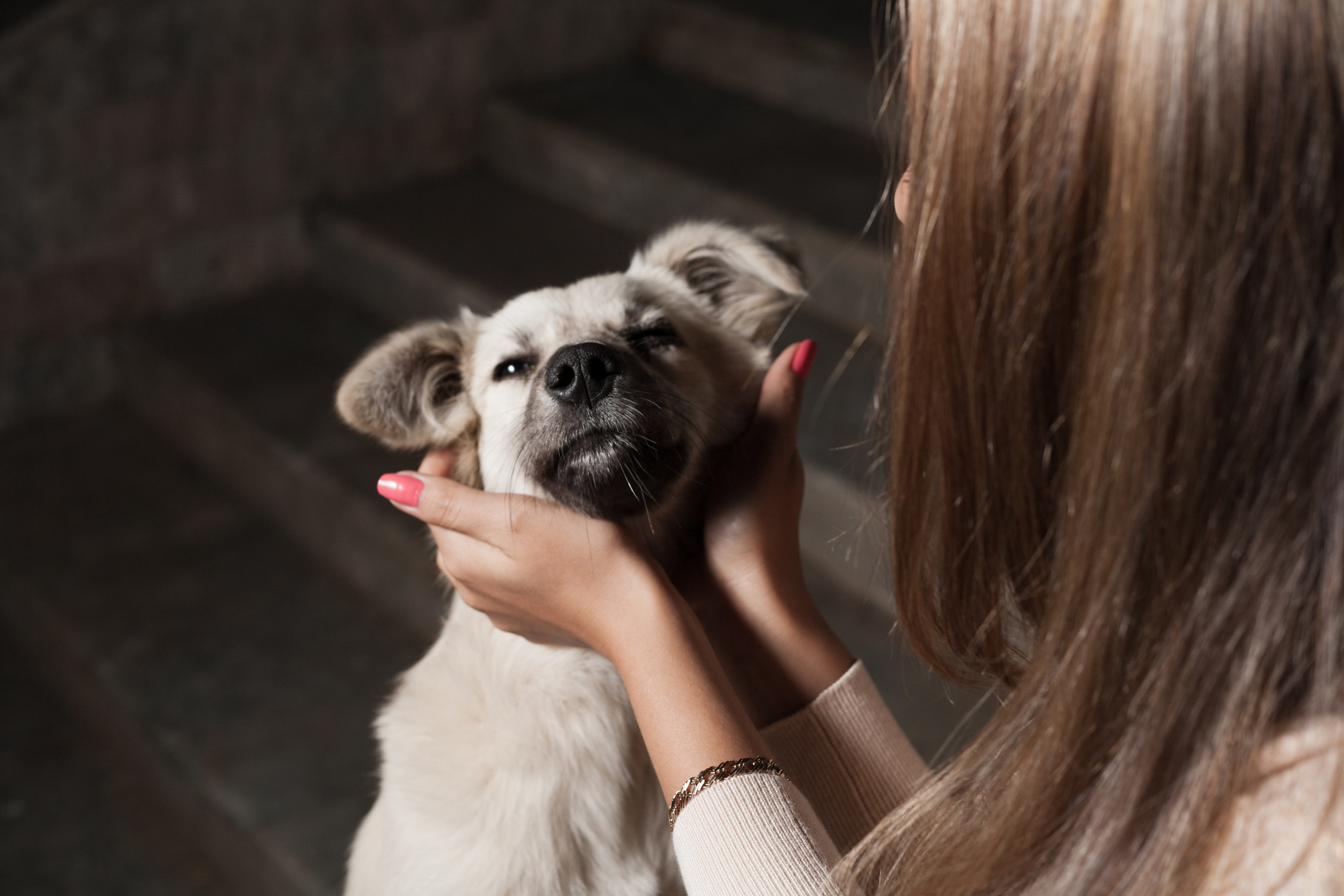 Back at David's house, they played with the dog, and then he tried to kiss her again and offered to take off her jacket. Marie said she decided at this point to explicitly say she wasn't interested in hooking up with him.
"I said, 'This has been really nice and thank you but I probably need to head home now, if you wouldn't mind driving me', and he goes 'okay' and takes my hand and walks me to the front door, but then pulls me off into his room and I was like 'No, no, no, this is not happening tonight'," she said. "He took his shirt off and starts to take his pants off and I'm like 'Look this is not happening'."
Marie said David didn't listen, and wouldn't stop trying to kiss her and take her top off. She decided the safest course of action was to tell him that she wasn't up for anything physical tonight, but that it could happen another day — and then to "never call him again".
Marie said she expressed this same message in different ways but that David ignored her, and then mounted her. Once he was sitting on top of her, Marie said she started making calculations — about his strength, the distance between her and the front door, how he would respond if she screamed.
"I didn't know how he was going to respond to me saying 'Fuck off'," she said. "I didn't know if that would end with his hands around my throat."
Next, Marie said, he tried to take off her pants, and she zipped them back up, repeating, "Look I'm not doing this tonight, this is going beyond my boundaries for a first date," while he continued to kiss her.
As the situation escalated, Marie considered trying to "scream and yell" but knew that David lived by himself. She had seen him lock the front door earlier in the night and didn't know where the key was.
"I said, 'I have rules and I don't do anything on the first date, I'm sorry', but he still proceeded to stick his hands down my pants'," she said. Marie said David put his fingers inside her vagina without her consent.
"He then took my hand and put it down his pants…he told me to do something [oral sex] with my mouth and I took my hands out and off his penis and I said 'I want to go home'."
Marie said she stood up fully clothed, and he stood there naked. Eventually he agreed, "not angry but disappointed", to drive her home.
The next morning, Marie messaged David saying thank you for the dinner and that she did not want to see him again because he did not respect her boundaries. He said he wished he could "change her decision".
He apologised and said it wouldn't happen again and that his intentions were not bad, in screenshots of the messages provided to BuzzFeed News. "You were very polite, I agree," he wrote. "I have learnt my lesson."
A month later he messaged "Hey" then "how r u?" then "just thought about saying hello". Marie wrote back and said: "what you did to me was not consensual and it was not ok".
"I thought the guy was a fucking loser obviously but I couldn't believe how hard it was for me to get myself out of that situation, and this is me, who is outwardly quite an outspoken feminist," she said.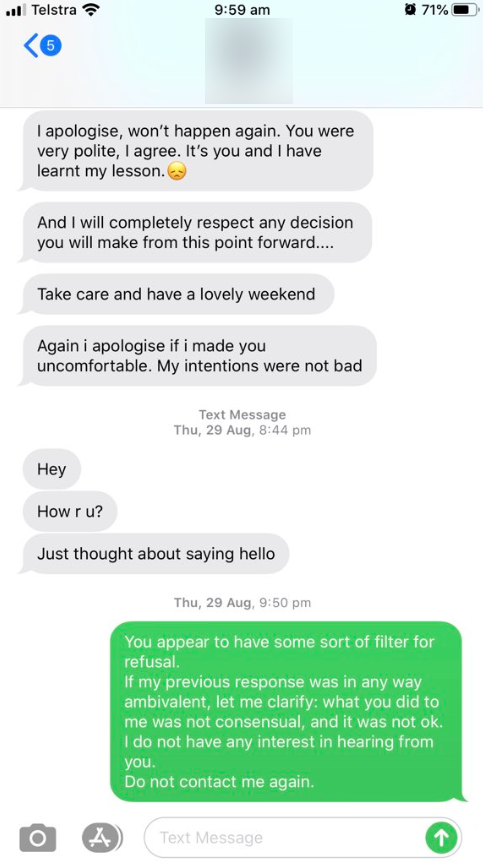 "I guess that is why for a while I didn't talk about it. I felt embarrassed that that was the best I could do."
Marie didn't go to the police until mid-October. "I was scared he was using his [online dating] profile to do whatever he wants and it was the thought that this person could be a serial predator that made me feel like, 'I need to do something about this'," she said.
Marie said she was yet to properly acknowledge, even to herself, the severity of what had happened.
"I know what sexual assault is, but hearing someone else say it had a different gravity to it," she said. "I told [the police] I don't have an axe to grind with this guy, I'm not here for any other reason than that I sincerely believe he will do it again."
When Marie experienced sexual trauma as an adolescent — "a far more serious thing than what happened with [David]" – she never reported it, fearing she would "get in trouble". This time would be different, she thought.
"The best possible outcome in a bad situation like this is you could potentially prevent someone else from getting hurt by reporting the crime," she said.
A week after she had gone to the police, Marie approached BuzzFeed News. She was undecided as to whether she would press charges, but was interested in telling her story, wanting to talk about consent and the anxiety of making a report of sexual violence when your alleged perpetrator lives in the same suburb.
More than a month after making her report, Marie was contacted by a local detective and the pair met to discuss next steps. BuzzFeed News has chosen not to identify the detective, who was approached for comment, as NSW Police refused to confirm her name or respond to specific questions about her conduct.
Marie said the detective gave her three options. The first option was to "leave it" and abandon the investigation. The second was to make a formal statement and consider pressing charges. The third option was that the detective would "drop in to the offending person's home" and explain that a complaint had been made about him.
"[The detective] said 'I would approach the person and knock on his door and have a frank conversation about what he's done. I'll be telling him what he shouldn't do and that he is on notice and needs to be very careful about how he conducts himself," Marie said. "She was really good. She said, 'I'll give you a bit of time to think about what you want to do and we can go from there'."
For a few days Marie mulled over her options. She wanted accountability, but knew that going through a sexual assault investigation and legal process would be time intensive and threaten her privacy. She felt the system was "stacked against victims" and it might not even be successful. But she didn't want to drop the whole thing altogether.
That same week, Marie contacted Bumble offering screenshots of her messages from David and his profile. Bumble removed him from the app.
Marie told the detective she would take the third option.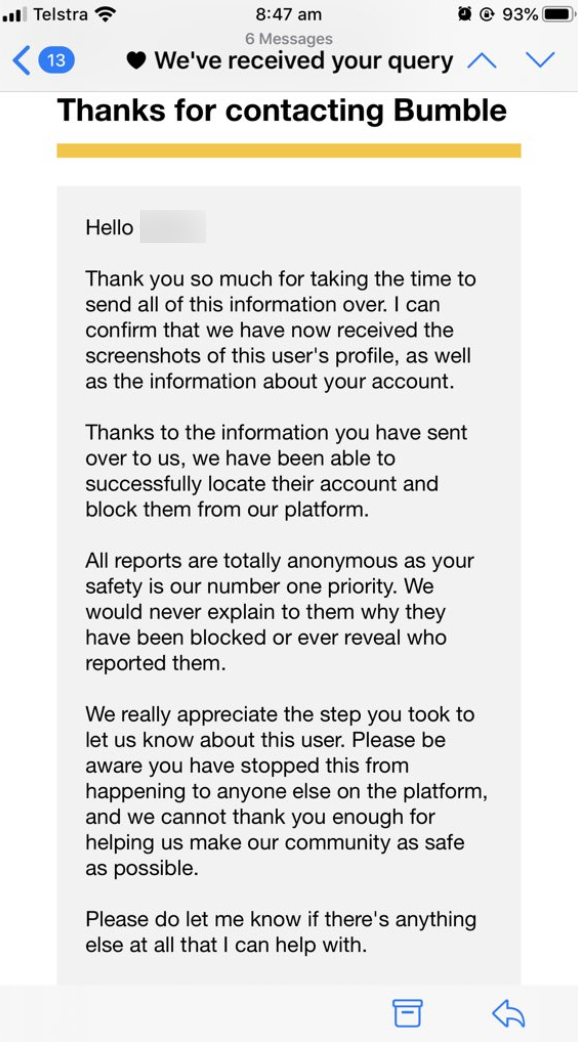 But on Nov. 22, BuzzFeed News contacted the NSW Police media unit with questions about Marie's experience, seeking further information on the doorknock option and other alternatives to pursuing criminal charges. Three days later a media officer called BuzzFeed News and said the option offered to Marie was not routine and that it was at the "officer's discretion".
In the meantime, the detective left Marie two voicemails. When she called back, the detective asked if Marie had spoken to the media and she confirmed that she had.
"I said I wanted to tell a story about the issues around consent and that it was going to be anonymous," she said. The detective told Marie she might not be able to offer her the third option anymore.
Within the hour of Marie hearing from the detective, the media officer called BuzzFeed News and claimed Marie was never offered this option. NSW Police refused to provide a written statement laying out the detective's version of events.
The next morning, after BuzzFeed News sent through another, more detailed, media request, Marie said the detective called again and said she could not offer the doorknock option due to media attention.
"[She said,] 'It is up to you if you decide to let him know that there has been a complaint raised against him. If you want to send him a message or something'," Marie said.
A week, multiple calls, and more than a dozen emails later, NSW Police sent a three-sentence on-the-record statement to BuzzFeed News. It said police did not comment on individual cases and denied Marie's options had been impacted by media attention.
"Police action and response is not dictated or affected by media enquiries," the statement said. "In regards to sexual assault cases, the needs of the victim are first and foremost the most important consideration throughout the investigation."
In this case, the alleged victim is confused and disappointed. Marie said the whole situation has left her feeling "cynical".
"I didn't think the police had offered me anything outside of what was legal," she said. "This is why so many women don't report sexual assault. The system is never going to work in their favour."
Sydney solicitor Thea Deakin-Greenwood said the criminal justice system could be a "very blunt tool" when trying to deliver accountability for sexual assault survivors.
"We know that the vast majority of people who experience sexual assault don't report the incident to the police for many valid reasons," Deakin-Greenwood, who has worked with survivors for 15 years, told BuzzFeed News. "Even if the matters are reported, a minority go forward with charges, a minority go forward to prosecution, and a smaller minority get a conviction; in fact, it is the smallest rate of conviction for any type of crime, but this is the only justice mechanism we currently have to address what has occurred."
Deakin-Greenwood and social scientist Dr Jane Bolitho are collaborating to establish for NSW sexual assault survivors a restorative justice process, in which a victim, offender, and sometimes individuals or community members affected by a crime, participate together in the resolution of matters arising from the crime with a third-party mediator.
"The literature says even when there has been a guilty conviction, people don't necessarily feel that the process was what they needed," she said.
Marie decided against pressing charges because it wasn't worth it for her to go through multiple draining months, potentially years, of engaging with the criminal justice system. She wasn't seeking retribution but instead an acknowledgement that someone had disregarded her consent. She wanted David to reflect on his actions and reconsider how he would behave towards future dates.
Deakin-Greenwood, who was last year awarded a Churchill Fellowship to explore victim-centred restorative justice programs for sexual assault, said there were some restorative justice initiatives in Australia, but that in NSW there was no formal accreditation for restorative justice practitioners.
"We need to keep listening to what survivors and victims want," she said. "We don't have all the answers but we need to keep asking people what they want, and they need to make sure that we have the resources in the community to be able to respond appropriately to what those things are."
Marie feels as though her only option is to drop the case, at least for now.
"They cannot punish people for wanting to tell their story," she said. "Now that this has all happened, they've just changed their mind, it means that in this case I'm not going to get justice."
If you or someone you know is experiencing violence and needs help or support, there are national and state-based agencies that can assist you 24 hours a day, seven days a week. Call 1800 RESPECT (1800 737 732).