This Female Politician's Sex Life Has Been Discussed In Parliament, And On TV And Radio. Now She's Talking To Her Lawyers
"As a woman, sister, and a mother, I have a responsibility to stand up against this treatment," she said in a statement.
Greens senator Sarah Hanson-Young has said she is "seeking legal advice" about commentary made on television and radio by the male senator who she said yelled "stop shagging men" at her in parliament.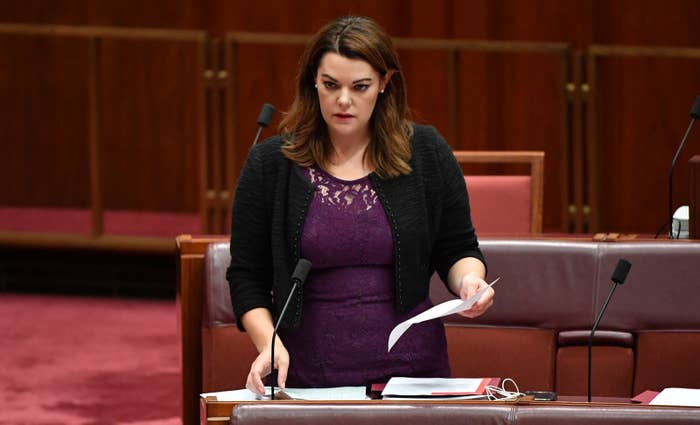 Hanson-Young accused Liberal Democrat politician David Leyonhjelm of yelling "stop shagging men, Sarah" across the floor of the Senate during a debate about whether women should protect themselves against violence with pepper spray on Friday.

She told the parliament that she confronted the senator to check she had heard correctly and he confirmed it, so she called him a "creep".
"His reply was to tell me to f-dot-dot-dot off," she told the Senate in a speech later that day.
Leyonhjelm claimed Hanson-Young had said something about "all men being rapists".
"I responded by suggesting that if this was the case she should stop shagging men," he said in a statement.
He has also claimed, via tweets, to more than a dozen journalists and politicians that he was responding to Hanson-Young's "misandry".
A spokesman for Hanson-Young denied that she had said anything about men being rapists but had said "putting tasers on the street isn't going to protect women from men".

On Sunday morning a strap at the bottom of the screen during Sky News' The Outsiders program read: "Leyonhjelm: Sarah Hanson-Young is known for liking men. The rumours about her in parliament are well known."
People were very angry.
"This is far from the first incident of slander and offence," journalist Peter van Onselen, who has hosted multiple shows on the network, tweeted. "Allowing it on air unfettered erodes the morale of hard working decent people who cringe at being associated with it."
Journalist Shannon Molloy started a petition calling for airline Qantas to stop screening Sky News in lounges and on planes.
Sky News has suspended a producer for allowing the words to appear on the show, which is hosted by former Coalition politician Ross Cameron and commentator Rowan Dean.
On Monday morning Hanson-Young released a statement that she was "seeking legal advice" in relation to the commentary between Leyonhjelm and the hosts of Outsiders as well as the hosts of 3AW Weekend Breakfast broadcast.
"Comments made by Senator Leyonhjelm about me and broadcast on these two shows are reprehensible, hurtful, and no woman, whether in public or in the privacy of her own home deserves them," the statement read.
She called on Leyonhjelm to "do the decent thing" and resign.
"As a woman, sister, and a mother, I have a responsibility to stand up against this treatment."
Education minister Simon Birmingham and former prime minister Tony Abbott have both called for Leyonhjelm to publicly apologise for the comments.