People Are Pissed Because They Burned Half As Many Calories As Their Expensive Spin Class Told Them They Would
"Wow so I bust my butt to only burn like 300 calories?" one member tweeted.
Flywheel Sports, the indoor cycling studio and at-home bike workout business, has faced a backlash from members after revealing its technology was overestimating how many calories people were burning in a class.
Flywheel, a favourite of Ivanka Trump and Jessica Alba, provides 45-minute spin classes on stationary bikes in studios where patrons can watch their performance on a large screen.
The company sent an email to its members on Sunday informing them their "post-ride average calorie burn" would now be more accurate.
Members were not impressed.
This woman claims she isn't burning half as many calories as she supposedly was before.
Others don't think the new calorie burn is worth the hundreds of dollars in monthly membership fees.
Some people emailed to complain.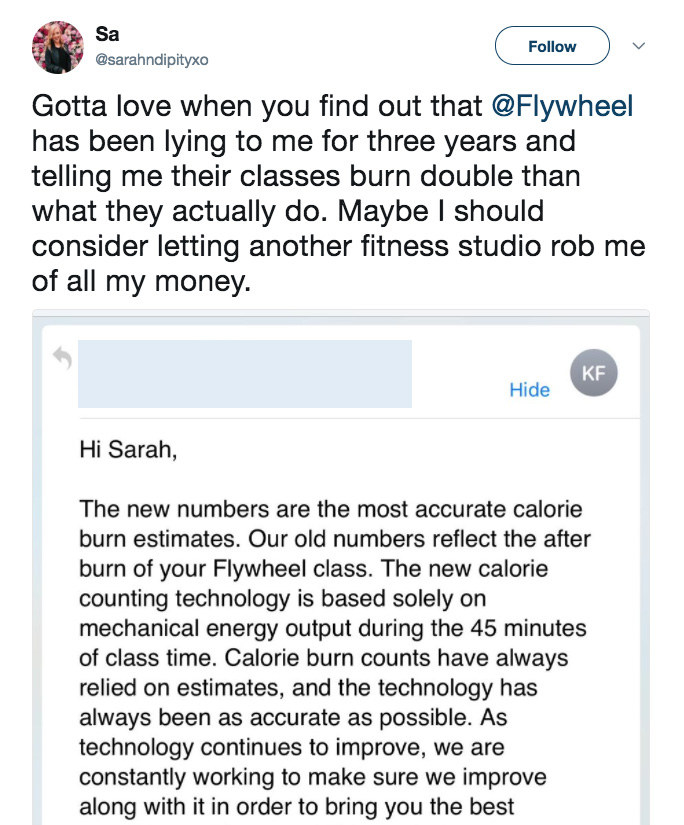 The workout isn't cheap. In-studio memberships range from US$220 to $340.

Prices for the at-home bike start at US$1,699, along with a monthly class subscription fee of $39, while the bike with a built-in screen costs $2,099 plus the same monthly expense.
"We have moved to a more accurate calorie measurement to match the experience both inside and outside of the studio," a Flywheel spokesperson told BuzzFeed News.

"We strongly believe this supports the same results-based workout our Never Coasters know and love."
"Never Coast" is the Flywheel motto and is featured on the company's merchandise.