The mother of Fariborz Karami, the Iranian asylum seeker who killed himself on Nauru earlier this month, has written to the Australian government asking for her son's body so she can bury him, in a letter published by Guardian Australia.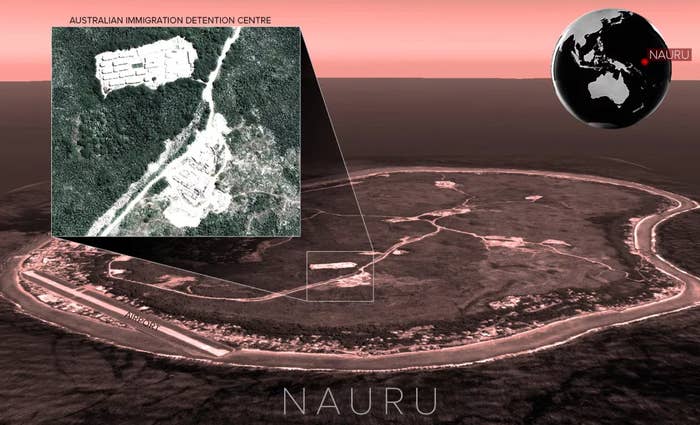 An autopsy has been completed on the body of Karami, 26, who killed himself a fortnight ago. He had married recently and had been held in detention at the offshore detention centre run by the Australian government with his mother and younger brother, for five years.
His mother, Fazileh Mansour Beigi told Guardian Australia it could be three months before she is told the results of the autopsy and receives the body for a burial.
"My 26-year-old son had his last breaths in your mouldy tents and closed his beautiful eyes to your abomination, injustice, and disgusting policies," Beigi writes in the letter to the Australian Border Force.
"Where in the world would they keep a young corpse in the fridge for long time, inside a connex [container] near a place his mother is living? Are you even scared of our dead bodies? Do you hate us that much that you are afraid of us alive or dead? You still disrespect us."
Guardian Australia previously reported Karami had asked for medical intervention with his mental health almost since he was taken into immigration detention in 2013.
"The thought of suicide doesn't ever leave me," a doctor's notes read. "I am suffering intensely every day."
BuzzFeed News has contacted the Department of Home Affairs for comment.
"For five years you incarcerated me and my innocent children in Nauru and ignored us," Beigi wrote in the letter signed "Fariborz's mournful mother". "I know that your violence and cruelty is deeply rooted and against that I am a powerless woman. You even deprived me from having a mobile phone, lest I speak up? But I always told you if any harm befell my children, I wouldn't remain silent."
Cabinet minister Simon Birmingham was asked about this situation on Thursday and said he sympathised with anyone who faced "personal family tragedy".
"It's important in all of these different cases to understand the different facts and the importance as well of the border protection policies that have ensured lives have been saved, drownings at sea have stopped and ultimately that we have secure borders in Australia," Birmingham said.
Twelve refugees and asylum seekers have died while in Australian immigration detention on Manus Island and Nauru.

This week a refugee with terminal lung cancer was flown to Australia for palliative care after more than 2,000 Australian doctors signed a letter to immigration minister Peter Dutton.
If you need to talk to someone, you can call Lifeline Australia on 13 11 14 or Beyond Blue Australia on 1300 22 4636.