Australian opinion and lifestyle website Mamamia this morning deleted an article about post-abortion syndrome (PAS), a condition that is oft-cited by anti-choice groups and church-backed "crisis pregnancy centres", but one which is widely discredited by scientific research and medical professionals.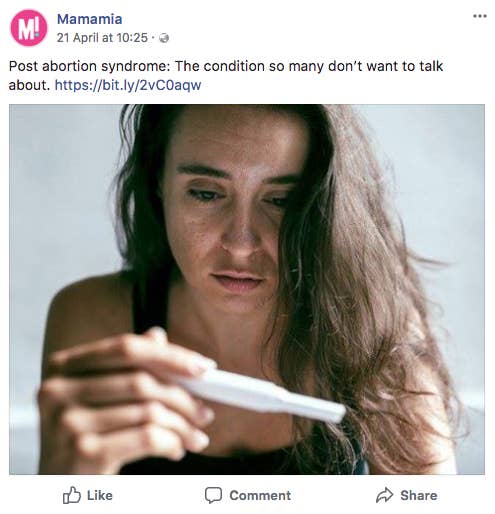 "Mamamia has always been well known for its pro-choice stance and we have an 11-year history of content and advocacy in this area," managing editor Leigh Campbell told BuzzFeed News on Monday morning.
"We have made the decision to remove this story while we further investigate its provenance."
The article, anonymously written by "Mollusc Media", says post-abortion syndrome is a "condition" that people "don't want to talk about".

PAS was coined by United States anti-abortion campaigner Dr Vincent Rue. It is not recognised as a diagnosis in the Diagnostic and Statistical Manual of the American Psychiatric Association.
Mamamia's article claims "psychologists and mental health providers are extremely divided on the issue", but fails to interview a single psychologist or mental health provider on the issue.
Mamamia, which claims it attracts 75 million content views every month, did not respond to questions about whether the author received payment for the piece, or whether it was a sponsored post in which the author paid to have it published on the site.
The article quotes Julie Cook, national director of "Abortion Grief Australia", and directs people to the organisation's website, which has no affiliation with any medical organisation, but offers resources on how a woman might seek forgiveness from God for terminating her pregnancy.
Cook is quoted in the article: "Abortion trauma has historic parallels to child sexual abuse and post traumatic stress disorder suffered by war veterans."

In 1989, the American Psychological Association (APA) concluded that legal abortion of an unwanted pregnancy did "not pose a psychological hazard for most women".
In 2008 it reached a similar conclusion in an exhaustive review from which it created this 107-page document.

Based on a comprehensive review and evaluation of the empirical literature published in peer-reviewed journals since 1989, the APA concluded: "The most methodologically sound research indicates that among women who have a single, legal, first-trimester abortion of an unplanned pregnancy for non-therapeutic reasons, the relative risks of mental health problems are no greater than the risks among women who deliver an unplanned pregnancy."
Reproductive Choice Australia president Jenny Ejlak pointed to this report.
"Their review of 44 published studies spanning over 20 years finds that it's unplanned pregnancy, not abortion, that is stressful for women," Ejlak told BuzzFeed News.
"Trying to create a syndrome specifically relating to abortion when there is no evidence for such a syndrome, nor support from mental health professional bodies, is unhelpful and potentially stigmatising."
"We believe that adequate, person-centred, non-directive counselling should be available for women and couples for all pregnancy outcomes."
Kate Marsh of Queensland pro-choice counselling service Children by Choice said ​she was "disappointed" Mamamia published the story "without questioning any of the assertions made in it".
"The article is wrong when it states that professionals are 'extremely divided' on whether post abortion syndrome exists or not, and misrepresents the studies it quotes," she said.
"Risk factors for adverse psychological effects are consistently identified – by science - as: perceptions of stigma, need for secrecy, and low or anticipated social support for the abortion decision; a prior history of mental health problems; and ambivalence about the decision, or a belief that an abortion is in conflict with her personal values."
Marsh said there was a misconception that pro-choice groups don't support women who do struggle after an abortion.
"We offer post-abortion counselling for the small numbers of women and pregnant people who'll require it, but it makes up less than 5% of our work," she said. "This is demand driven, not because we've decided to only devote a small amount of time to it."
Marsh said the most effective support was provided before an abortion, by making sure the decision is made by the pregnant person, and that they have access to all the information about the procedure and their options.
Research frequently quoted by religious groups and anti-choice activists is a 2009 study published in the Journal of Psychiatric Research in 2009 which claim to show a causal link between abortion and subsequent mental health problems.
This research has been repeatedly and emphatically debunked as it fails to distinguish between mental health conditions that existed before the abortions and those that occurred afterward.
There are, however, longitudinal studies which deal with this issue to discern whether abortion has longterm effects on a woman's mental health by incorporating the participants' mental health history.
A recent study published in The Journal of the American Medical Association found that denying a woman access to abortion services has more of an impact on her mental health than the procedure itself.
In the mid-1990s, a study by the Royal College of Obstetricians and Gynaecologists and the Royal College of General Practitioners in the United Kingdom tracked more than 13,000 women with unintended pregnancies over an 11-year period, controlling for any history of mental illness.
The study concluded that among women with no history of mental illness, those who delivered a baby had a significantly higher risk of having a psychotic episode than those who had an abortion.
To learn more about mental health, check out the resources at BeyondBlue Australia on 1300 224 636, Kids Helpline on 1800 551 800 or ReachOut.