New Zealand women are tweeting selfies wearing lipstick because the nation's new opposition leader, Jacinda Ardern, was asked by a male leader of a minority party to prove she was "more than lipstick on a pig".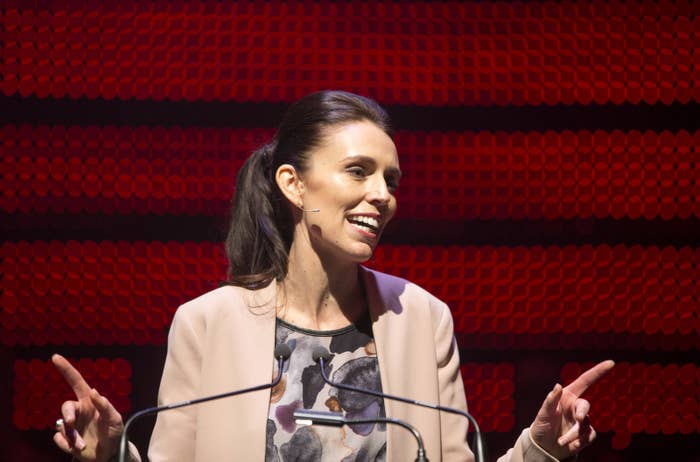 Opportunities Party founder Gareth Morgan made the comment during a Twitter conversation about whether the popularity of NZ Labour's new leader was a distraction from policy.
"Jacinda should be required to show she's more than lipstick on a pig," he tweeted.
Ahead of the nation's September election, Labour surged 13 points to 37% in a poll released last week, while Ardern's rating as preferred PM (30%) is the same as current PM Bill English.
Kiwi television presenter Hilary Barry took to Twitter to tweet a selfie of her applying lip gloss, accompanied by the hashtag #lipstickonapig.
Others followed suit.
"Even if a phrase is commonly used, it doesn't somehow make it any less sexist," this woman tweeted with her selfie.
"Gareth was never getting my vote anyway."
It wasn't just women tweeting selfies.
Morgan later released a statement on his party's website in which he "assured everyone" the comment was "not a personal attack".

"'Putting lipstick on a pig' is a euphemism for a meaningless face lift or makeover," he wrote. "And until such a time that we see real change from the Labour Party we think that the euphemism is appropriate."
Prime minister Bill English condemned Morgan's description as "deliberately appalling", but Ardern said she was "not particularly bothered by it".

Earlier this month, just hours after Ardern was unanimously elected leader of her party, she was asked by a TV host about whether she had made a decision between "having babies and having a career".

The next morning, co-host of The AM Show Mark Richardson asked her whether New Zealanders had a right to know whether a potential prime minister might take maternity leave.

"It is totally unacceptable in 2017 to say that women should have to answer that question in the workplace, it is unacceptable, it is unacceptable," Ardern told Richardson.