Men detained at an offshore detention centre run by the Australian government on Manus Island say the decision to shut parts of the complex and move detainees into a transit centre is a tactic to encourage them to resettle in Papua New Guinea.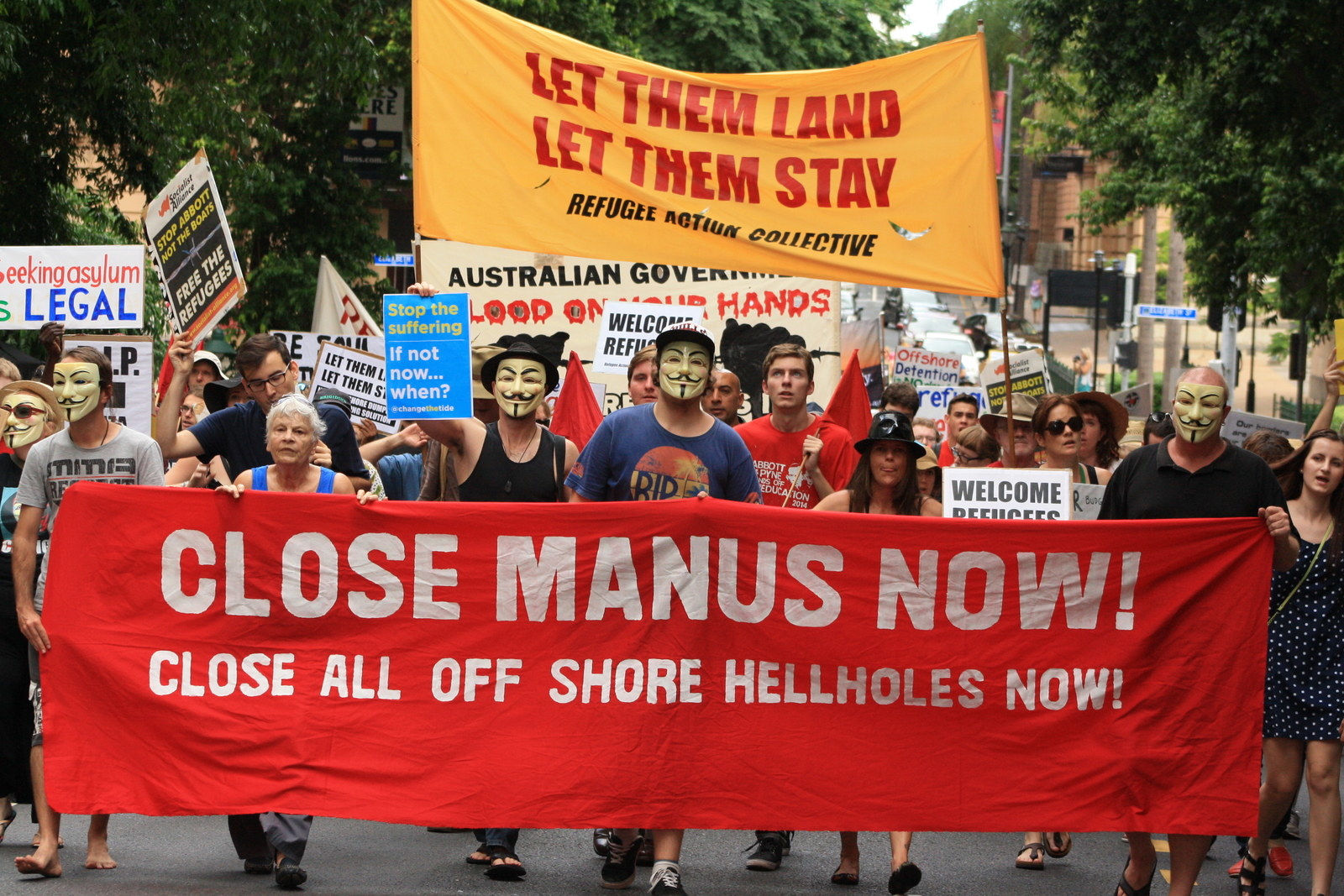 PNG immigration officials yesterday told 861 detainees that an area of the Manus camp would close next Sunday, with the rest of the compound to be shut on June 30.
The complex was last year slated for closure on October 31 this year, after PNG's Supreme Court ruled it illegal.
Iranian refugee Amir Taghinia told BuzzFeed News the move was a ploy by the Australian government to pretend the centre had "closed" while still detaining asylum seekers on the other side of the island.

"Once they kick us out of this detention centre then they can lift the responsibilities off their shoulders," said the 24-year-old Taghinia.
"They've told us we will move to a transit centre in East Lorengau, but that only has a capacity of 280 people.
"If [the Australian government] really wanted to close the camp they would find us a solution and settle us in a safe country as soon as possible," a Sri Lankan refugee, who lives in the Foxtrot compound, told BuzzFeed News.
Immigration minister Peter Dutton said the government had been "consistent in the message" that refugees would not settle in Australia.
"The centre won't close drop dead on the 31st of October, they will start to decommission parts of the centre in the run up," Dutton told 3AW on Tuesday.

In an audio recording sent to BuzzFeed News by detainees, a man who introduces himself as "Jeffrey from PNG Immigration" is heard making an announcement on behalf of the PNG government "regarding the closure of Manus Regional Processing Centre".

"You cannot stay at the regional processing centre," the man said. "You need to consider your options. No one will be resettled in Australia.

"Refugees can move to accommodation in [the] PNG community, temporarily relocate to East Lorengau Refugee Transit Centre, return home voluntarily with reintegration assistance or move to a third country where you have a right to reside.
"Non-refugees can return home voluntarily with reintegration assistance or be removed from PNG by the government of Papua New Guinea, without any reintegration assistance. Non-refugees have no other options."
He confirmed the arrangement to resettle refugees in the United States remained in place.
This leaflet was distributed to detainees.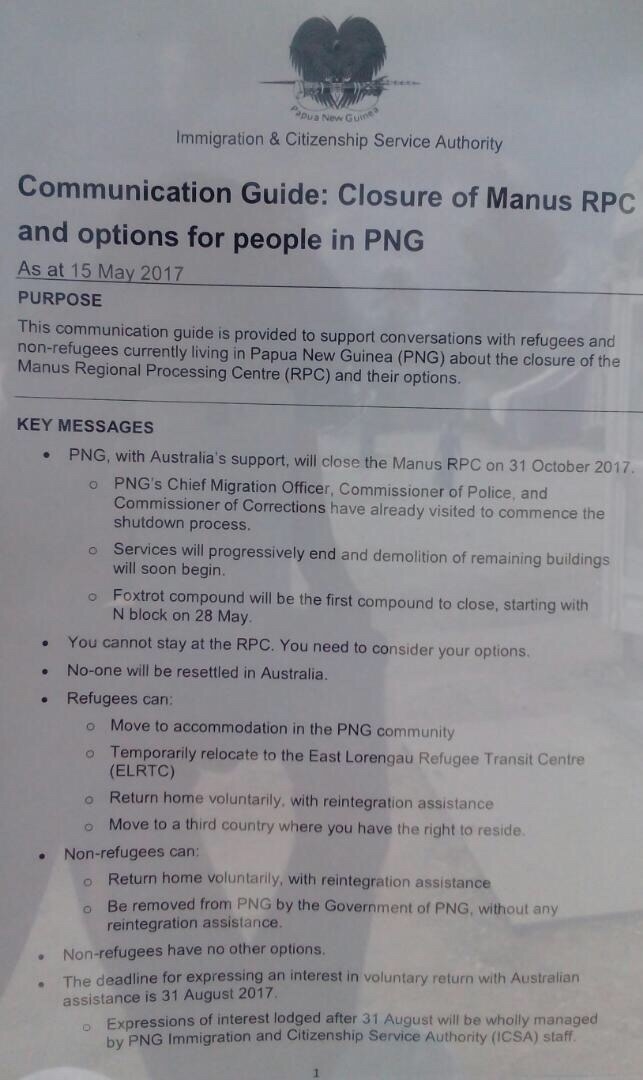 It stressed the "importance of good behaviour".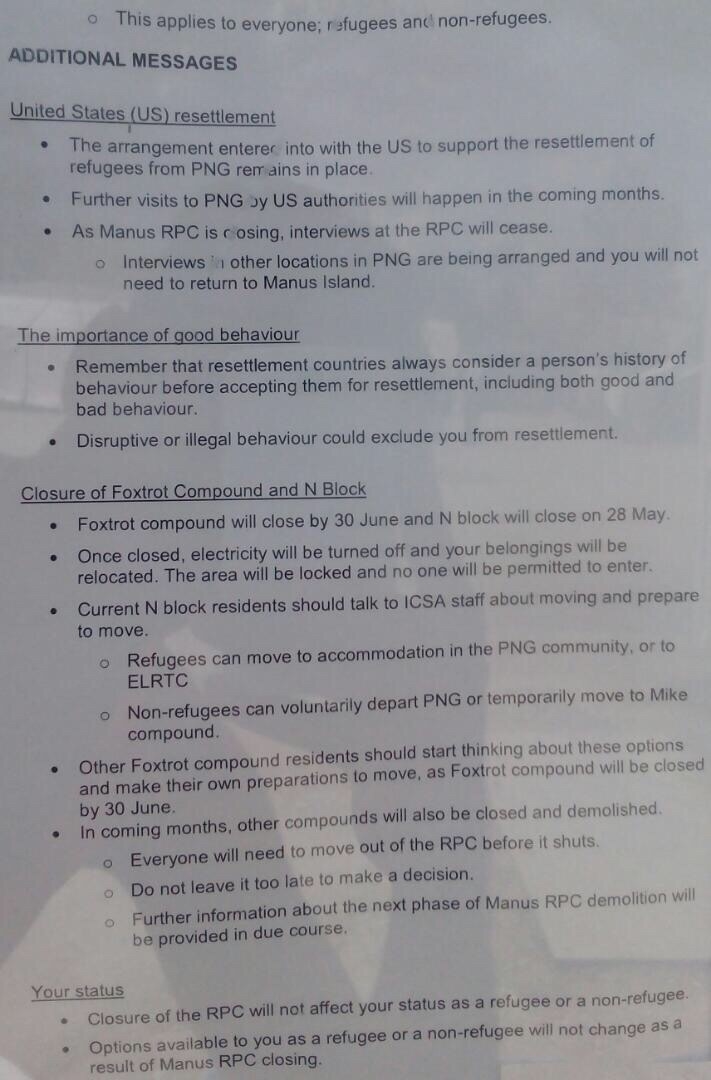 And encouraged the men to consider their options.

BuzzFeed News has sought comment from the Department of Immigration and Border Protection.