They Sold Their Car To Buy Flights Home After Being Laid Off In The Pandemic. Now The Flights Are Cancelled, And They're Being Evicted.
An email telling jobless foreign tenants they were "IRRESPONSIBLE" for staying in Australia caused a ruckus last week. But it revealed an impossible situation.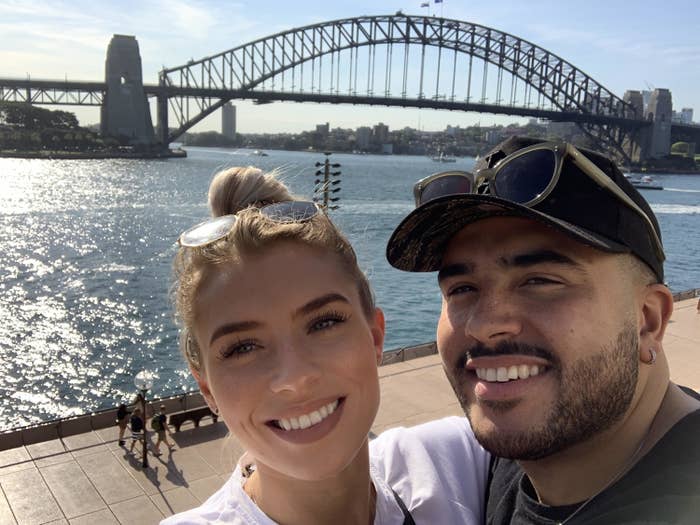 An email sent by Sydney-based property management group Sweet Potato Living caused a stir last week when it instructed foreign national renters who have lost their jobs due to the new coronavirus pandemic to immediately leave the country. Those who didn't do so, the email read, were "IRRESPONSIBLE".

Londoners Connor Collins and his partner Jessica, who live in a Sweet Potato Living property in Sydney's inner west, tried to do exactly what the email said — after losing their full-time jobs in hospitality, they gave notice they were leaving and sold their car to pay for flights home.
But then their flights were cancelled and their money is now tied up with airlines as they wait for a refund so they can rebook. Sweet Potato Living at first agreed they could stay on after the flights were cancelled but the company has now given them until April 20 to vacate the eight-bedroom, 10-person share house. They have nowhere to go and no way of paying the bond on a new lease.
Collins said he couldn't believe the email from Sweet Potato Living accusing him of being irresponsible for not leaving the country once he was laid off.
"The day we got let off we booked flights home," the 23-year-old told BuzzFeed News. "The day after we booked the flights they got cancelled. To have $3,000 tied up elsewhere when you're skint as it is… we have no other choice but to stay where we are."
Collins said three of his housemates, all Italians, left the house after they were laid off as they knew they couldn't pay rent. He says they're now living together in the one car.
"Everyone in our house has been laid off from their jobs except one person," he said.
"We all gave [Sweet Potato Living] a heads up but they still took the payment anyway and we all went into overdraft. The Italian boys aren't allowed back to Italy [as many airlines have halted flights to the country]; they just built a bed in their car and left one morning."
Prime minister Scott Morrison has announced a six-month moratorium on evictions, but it is being enacted by the states and has not yet been implemented in New South Wales.
Collins says all members of the eight-person share house were originally given 10 days notice verbally and then Sweet Potato Living extended it to three weeks notice in writing, shown in emails provided to BuzzFeed News.
"It is no longer viable for Sweet Potato Living to continue operating this property as there are no new occupants seeking rooms in Sydney," the email reads.
Under the NSW Residential Tenancies Act 2010, tenants must be given at least 30 days notice before terminating a lease. Sweet Potato Living insists it is not a landlord and the people who pay rent to reside in its properties are "occupants", not tenants, so they do not have to give this amount of notice.


The tenancy academic and tenancy union policy offer BuzzFeed News consulted for this article were in agreement on two main points.
First, under NSW law, you don't need to own a property to be deemed a landlord. People subleasing properties to tenants are deemed landlords for all intents and purposes.
Second, there are a few exemptions to this: serviced apartments, retirement villages, and two that might be relevant to Sweet Potato Living: boarding or lodging houses and properties that provide three-month leases for people holidaying in New South Wales.
BuzzFeed News asked Sweet Potato Living for evidence that it fits into either of these categories. The company's director Roger Gambotto said the company "operates as a boarding house" but could not provide evidence of this such as documentation of development approval to operate a boarding house.
The company's name or address could not be found on the state's boarding house register.
As for whether the company was acting as a property for people on three-month holidays, BuzzFeed News understands multiple tenants have been residing in Sweet Potato Living properties for longer than that. Gambotto conceded some tenants might stay beyond three months but "only after a new agreement has been entered into" or the original three-month term had been extended, which "is not a common situation".
Chris Martin, a senior fellow at UNSW's City Futures research centre, said a landlord doesn't need to be a property owner, and that a tenant can become a landlord if they enter an agreement granting others a right to occupy the property.
Sweet Potato Living might be operating in that blurry area, he said.
"If you're a lodger, you're not covered by the act," Martin added. "If you're a tenant, your tenancy agreement can only be terminated as provided by the [Residential Tenancies Act] which means the landlord must give a termination notice and if it is without grounds then the termination notice could be 90 days."
Gambotto said his company was "bending over backwards" to make sure everyone remained housed: "No doubt you must understand that with the COVID-19 pandemic, we are doing the best we can under the current circumstances to ensure our occupants have a place to stay, and our employees maintain their employment with us.
"Our vacancy rates have risen to more than 50 per cent since the onset of the coronavirus crisis," he said. "Accordingly, we must make many quick and urgent decisions, otherwise, we will not survive, resulting in all occupants losing their accommodation and all employees losing their employment."
Gambotto said a "definitive decision" had been made to "close" the property where Collins and his partner currently live.
Tenants' Union of NSW senior policy officer Leo Patterson Ross said to be covered by the Residential Tenancies Act, you don't even need a formal lease sometimes as the terms of the document are less important than "the material way you get treated" as a tenant.
"Even if you had contact that said 'this is not a tenancy' but everything else about it looks like a tenancy, then the tribunal says that is a tenancy," Patterson Ross told BuzzFeed News.

A notice period can be shorter if the terms of the lease are breached, but Sweet Potato Living did not identify any such breaches.
"If you've done nothing wrong and they just want you to leave it is usually a 90-day notice period," Patterson Ross said.
Collins and his partner missed a single rent payment last week as their money was tied up with airlines, which they warned Sweet Potato Living about the day before rent was due.
Patterson Ross said it usually takes 28 days to be served a notice for missed rent (as most people pay two weeks in advance) and for it to therefore be used as a reason to terminate a lease, "and COVID-19 doesn't change that".
He noted that if tenants are physically removed from a property by a landlord without tribunal orders, the landlord can face a $22,000 fine.
Morrison has said the moratorium on evictions "doesn't mean there is a moratorium on rents" and that rent is governed by state and territory legislation so it is up to the states to now enforce that. Patterson Ross said his organisation had been swamped with requests for help from tenants.
If Collins and his partner are forcefully evicted they will have nowhere to sleep as they sold their car to pay for their flights.
He was offended at the idea that tenants weren't taking the pandemic seriously.
"I know people back home are getting [COVID-19] and passing away," he said. "Do you not think anyone in their right mind would not want to be sitting on the sofa with their loved ones rather than in a house with a bunch of strangers?"