"We Are Bending The Curve": Australia Has Released Its Coronavirus Modelling
"We have so far avoided the horror scenarios that we have seen overseas," the prime minister said.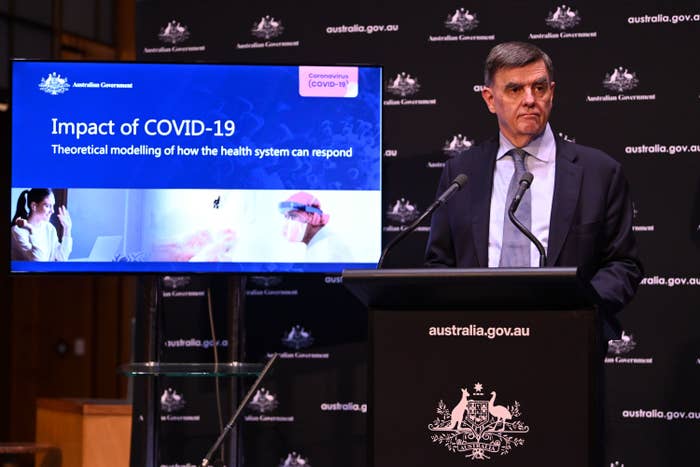 The Australian government has released to the public the scientific modelling it has relied on to make decisions about how to stop the spread of the new coronavirus.

Modelling from the Peter Doherty Institute delivered to national cabinet earlier this year was presented in a press conference on Tuesday afternoon by the prime minister and chief medical officer.
It showed a worst case scenario where if 90% of the Australian population was infected by COVID-19, the disease caused by the new coronavirus, only 15% of those who needed a hospital bed in the intensive care unit (ICU) would get one.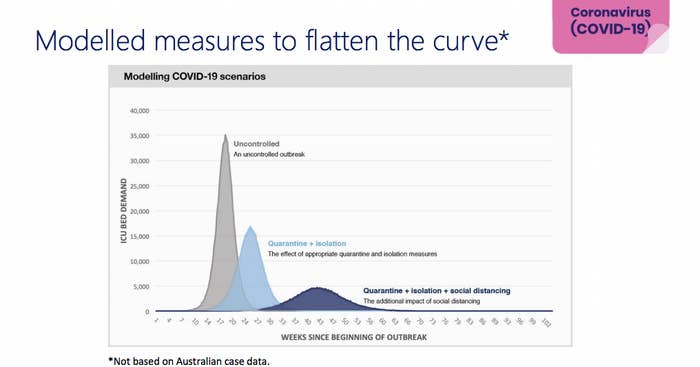 But chief medical officer Brendan Murphy said this "horrendous scenario", in which an extra 35,000 people each day would need a bed in an intensive care unit, had been avoided thanks to the social distancing measures rolled out across Australia over the past month.
Murphy explained that a scenario in which we practise both quarantine and self-isolation would still result in a situation where "most people who need the ICU won't get it". A third scenario in which Australians practised quarantine, self-isolation and social-distancing measures is one in which Murphy said Australia could meet ICU bed capacity.
Murphy said it was a "positive" sign that Australia's "curve was bending".
"We are on a life raft while the United States and Italy are in the water," he said.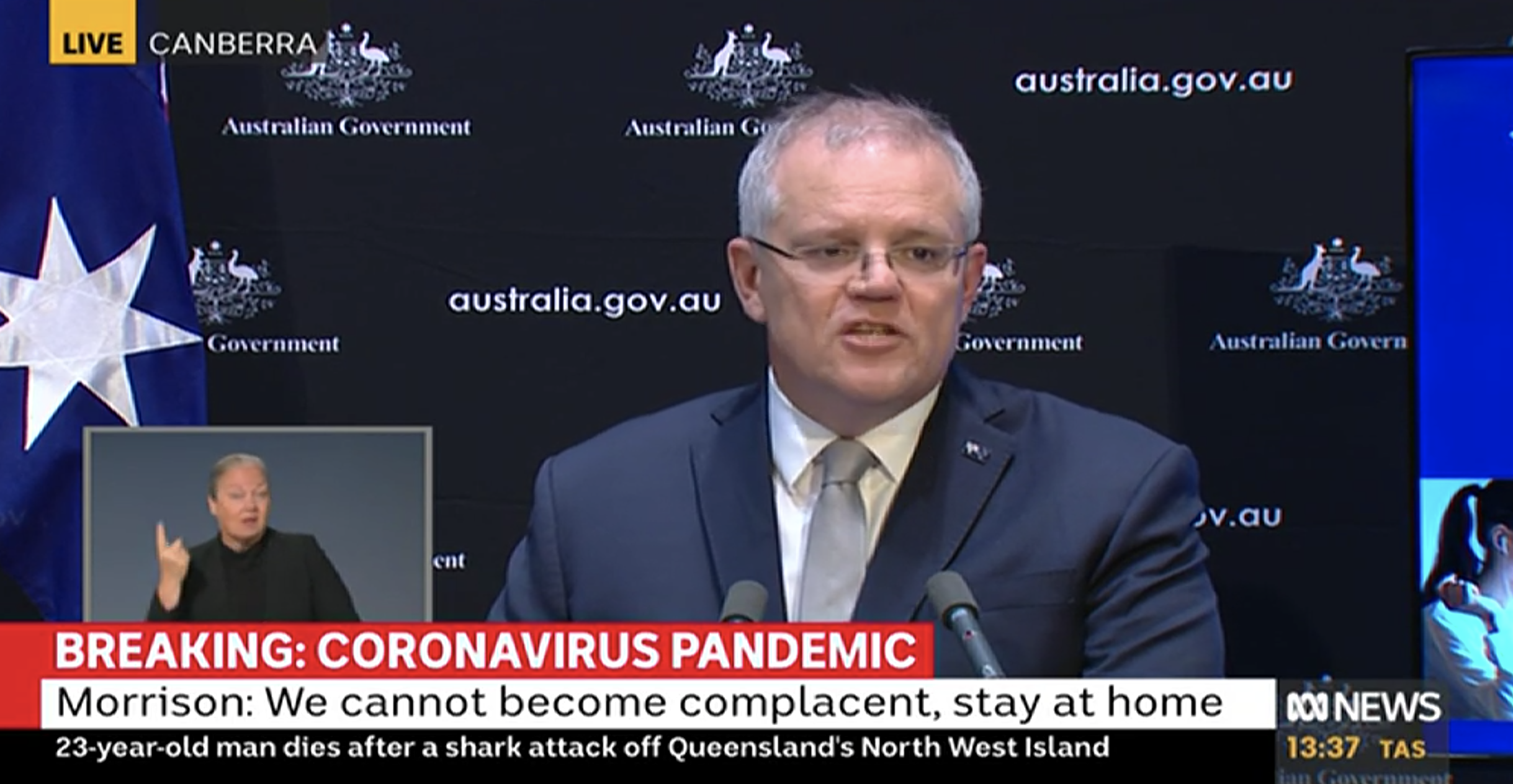 Prime minister Scott Morrison stressed that the highly anticipated modelling was "theoretical" and not based on Australian cases.
"The modelling does not predict what will happen in Australia," he said. "It does not tell you how many Australians will contract the virus or how many will succumb to the virus or how long it will last in Australia."
Public health experts had been calling on the government to release the modelling his cabinet was using to make decisions about shutdowns, arguing it would give people more clarity about, and faith in, the measures.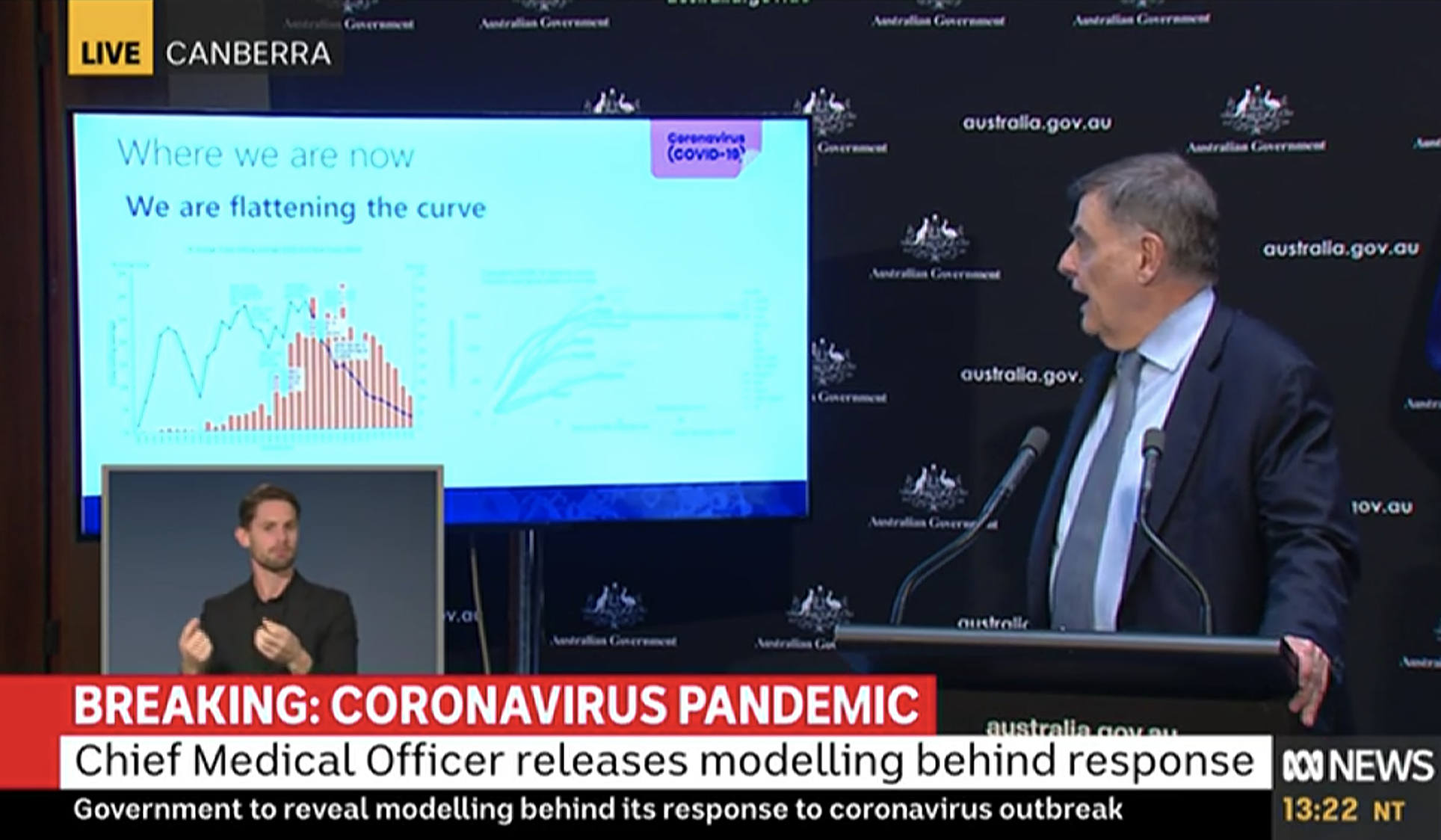 Morrison said Australia's "health and economic responses" to the pandemic had bought the nation "valuable time".
"We have so far avoided the horror scenarios that we have seen overseas whether it be initially in China and Wuhan, or in New York in the United States, or Italy or Spain or even the United Kingdom," he said.
As of 2pm on Tuesday, Australia had 5,844 confirmed cases of COVID-19 and 44 recorded deaths. Across the country there are just under 100 people in intensive care units, and fewer than 40 on ventilators.
The majority of people in Australia with confirmed cases were infected overseas. New South Wales has a higher number of confirmed cases and deaths than any other state or territory.
Morrison said it was important Australians abided by social distancing measures this Easter long weekend.

"Stay at home," he said. "Failure to do so this weekend would completely undo everything we have achieved so far together and potentially worse."
Australia's neighbour New Zealand last week released its coronavirus modelling which predicted that country is facing up to 33,600 deaths, with 6.8% of the country's population requiring hospitalisation, due to the coronavirus.

The journalists at BuzzFeed News are proud to bring you trustworthy and relevant reporting about the coronavirus. To help keep this news free, become a member and sign up for our newsletter, Outbreak Today.