Melbourne's biggest single group of stencils by anonymous British street artist Banksy has been destroyed by builders constructing a doorway in the city's iconic AC/DC Lane.
Meyer Eidelson​, who runs personalised walking tours of Melbourne, said the stencils were drilled into and discarded in a skip, never to be seen again.
"There are holes being punched into the walls of the lane, but I was surprised because this hasn't happened in years," Eidelson told BuzzFeed News. "The walls are unprotected by heritage but no assessment was done of the walls to see what was on the wall."
Banksy painted the set of his trademark rats with Australian street artists during a visit to Melbourne in 2003, which Eidelson believes was a "seminal historic event" and marked the "start of the city's street art movement".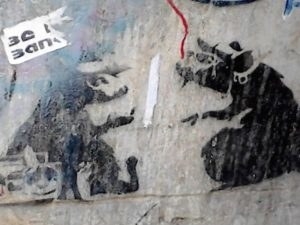 "These Australian and international stencils recently destroyed were as seminal to the modern street art movement as the Aboriginal paintings destroyed on the Papunya school wall in 1973," Eidelson said.