Penny Wardroper has baked a cake to mark the impending arrival of tropical cyclone Debbie, which is heading towards her home in Queensland's north.
"We thought, 'Ah well, let's have a peace offering to Debbie so she doesn't smash us'," Wardroper, who lives in the Whitsundays, told BuzzFeed News.
When Cyclone Debbie hits land on Tuesday morning it is expected to reach Category 4 – the second most severe level of tropical cyclone – and bring what the Bureau of Meteorology describes as "very destructive winds".

At noon on Monday the event was upgraded to Category 3.
"We're going to lose power, so we're just waiting to see if it gets up to a Category 4 or 5, and then we'll head to the neighbours' [house] because my house will be ripped apart if it hits."
Thousands of people have been evacuated from their homes and all others urged to tie down loose objects around their properties, ensure their cars are full of fuel and prepare emergency kits.
Cyclone Debbie is expected to make landfall between 7am and 9am on Tuesday morning in the 100km stretch between Ayr and Bowen. The Bureau of Meteorology's "warning zone" extends to Cardwell in the north and St Lawrence in the south, including Townsville, Mackay and the Whitsunday Islands, and inland of Bowen including Charters Towers.
"We've been copping the winds and the rain," said Wardroper. "There isn't much else we can do but watch the reports and wait."
Some Queenslanders have decided to tackle Mother Nature head on.
Chloe Lewty painted a "FUCK OFF DEBBIE" sign with her friends in the town of Ayr, where the cyclone is expected to cross the coast tomorrow morning bringing winds of up to 260km/h.
Others were just grateful for a day off.
Tim Rees posted an Instagram photo from Townsville, where schools and university campuses have closed, with the caption: "thanx to #cyclonedebbie I got the day off work so now for the all important cyclone prepping aka drinking beer because the gym is already closed."
In Bowen one resident had spray-painted their fence with a war cry: "CYCLONE DEBBIE BRING IT ON BOWEN IS NOT A PUSSY TOWN."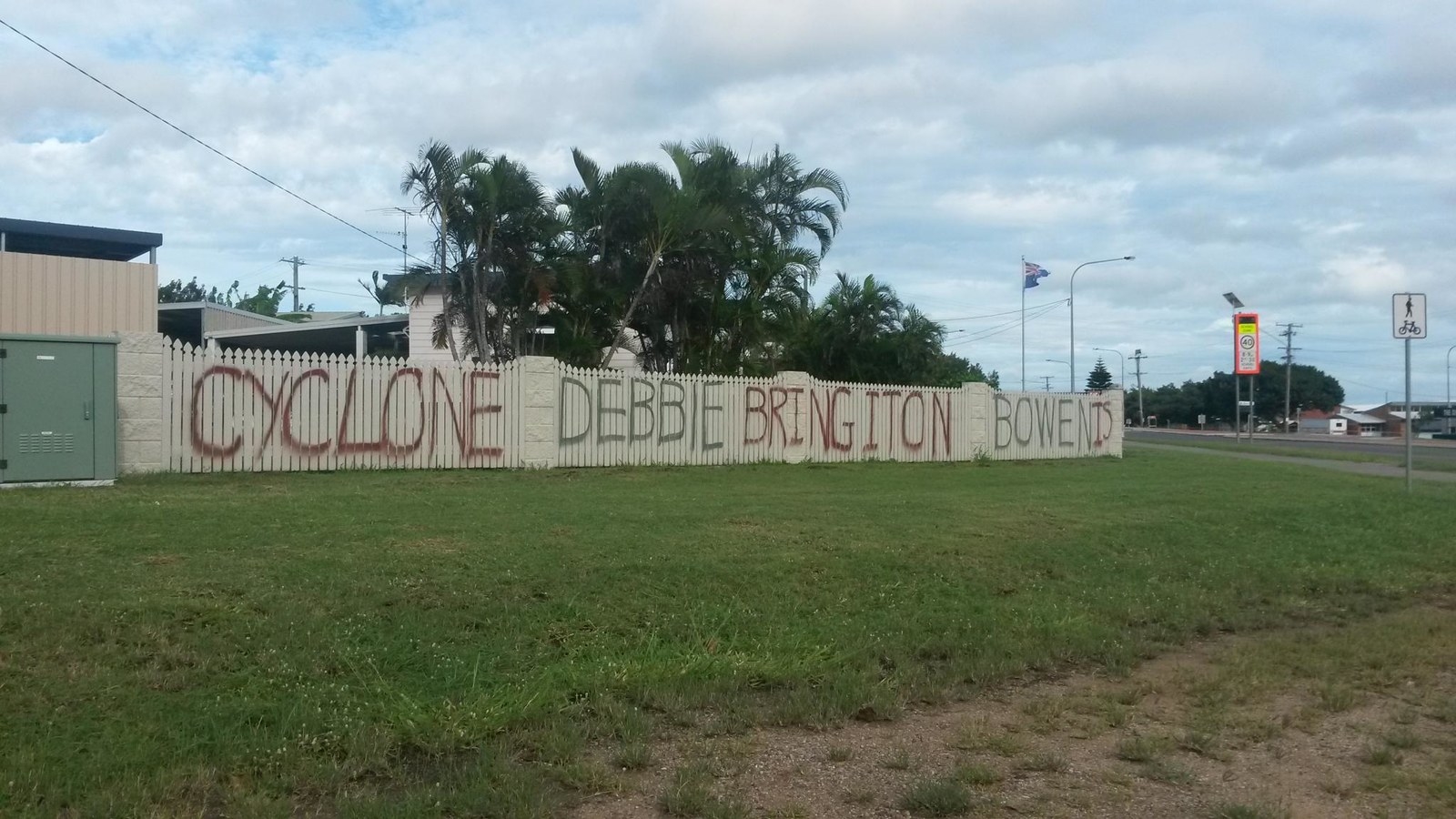 "We have packed everything we had outside, like pot plants and our neighbour's motorcycle, undercover," Bowen resident Mel McGregor, who photographed the sign, told BuzzFeed News.
"We've tied down everything else and put plywood on the front window."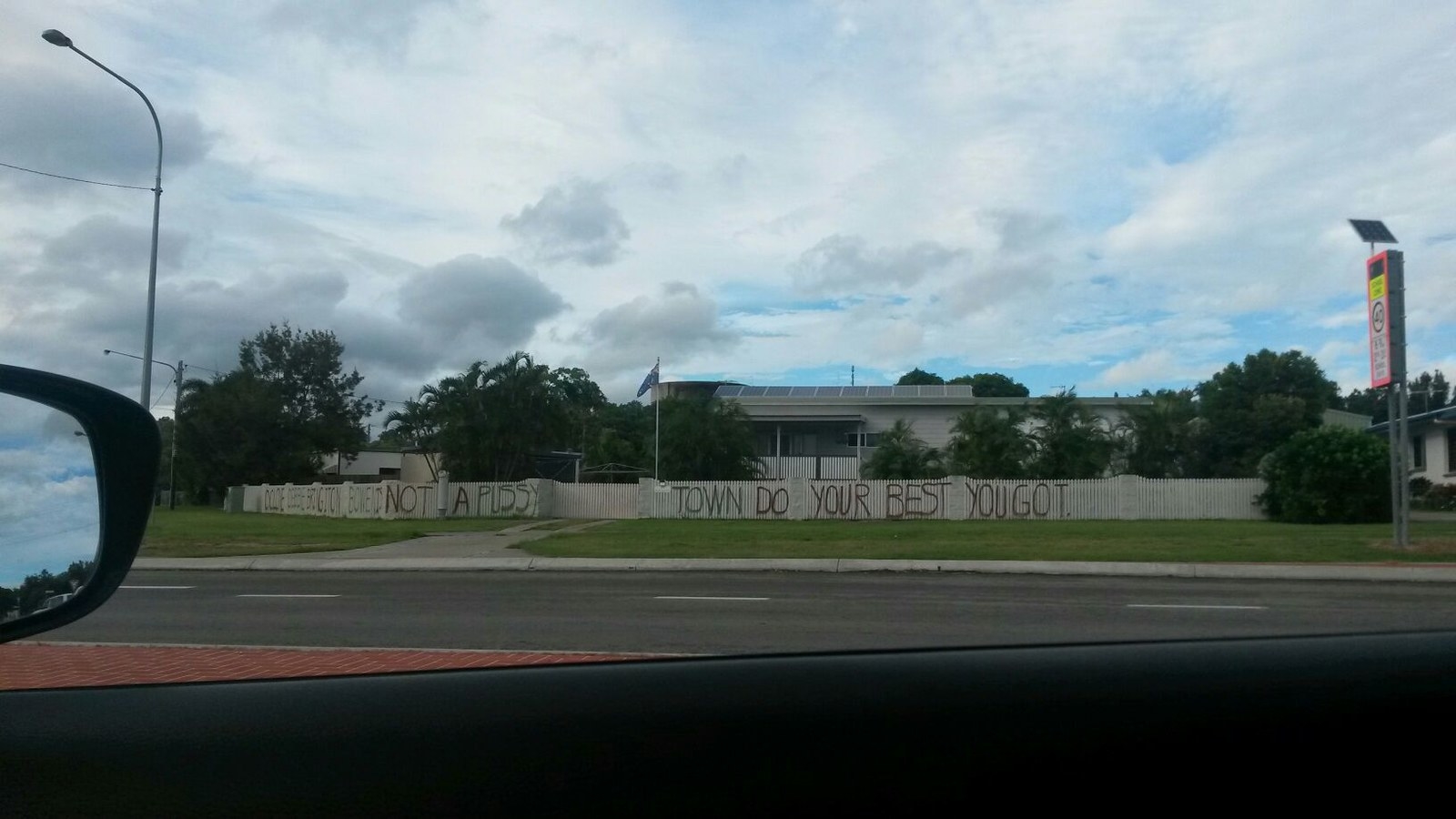 Supermarket shelves have been stripped bare as residents stockpile food.
And the essentials.
ALL of the essentials.
But even in a crisis, gluten-free bread remained on the shelves of this supermarket.
"Cyclone still isn't bad enough to risk gluten free bread," Mackay woman Juanita Jade posted.

A Townsville hairstylist invented the hashtag: "if I'm evacuated I'll be evacuated pretty" as she bunkered down with face products and nail polish.
This cockatoo in the Whitsundays didn't seem so concerned about the storm heading its way.
But these Townsville possums broke their nocturnal habits to scope out the danger.
"CATEGORY 5 COUNTER MEALS (THEY WILL BLOW YOU AWAY!)" one restaurant promised.
Looks like there are no comments yet.
Be the first to comment!