A Student Just Sent This Letter To An Anti-Abortion Politician Who Wanted Her Disciplined Over An Abortion Rights Protest
"Suck on that, Greg."
A 21-year-old student who risked suspension from the University of Sydney for protesting against an anti-abortion stall has written to the Labor politician who urged the university to investigate her behaviour.
"It's difficult to put into words just how profoundly terrifying it is to find out that there's someone in parliament that is doing their best to have you expelled so let's just say that you really got me good on this one," Madeline Ward wrote in a letter to NSW Labor MP Greg Donnelly. Donnelly had previously written a letter to the university's vice-chancellor admonishing the VC for delays in investigations into the behaviour of Ward and other abortion rights protesters.
Madeline Ward, who is also the university's women's officer, and other members of the university's women's collective, held a counter-protest outside an anti-abortion group's stall during orientation week in March. In July, Ward said she was told by university administrators she'd been suspended for an entire semester following an investigation that ruled her behaviour "misconduct".
Three weeks later, during which she said her mental health deteriorated, she was issued instead with only a written warning.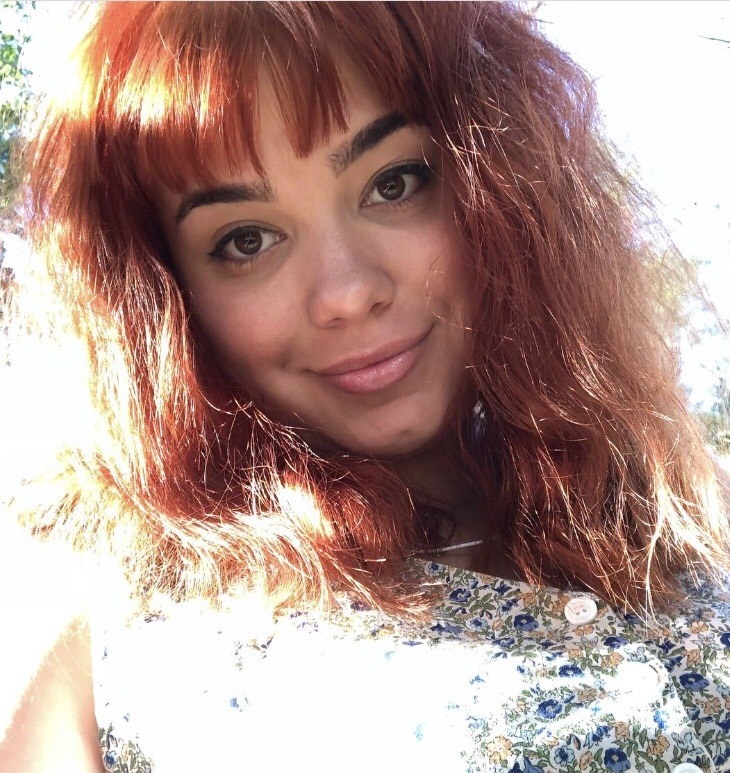 Ward received an email in early May from an investigator from Work Dynamic (the firm the university employs to investigate workplace disputes) informing her she had been accused of "taunting" LifeChoice stall members.

"LifeChoice have been protested yearly by the Women's Collective since [LifeChoice's] affiliation with the USU [University of Sydney Union] in 2012," Ward told BuzzFeed News. "We gathered a small group of members and supporters and spent a couple of hours protesting the stall while also engaging passers by with free condoms and flyers about abortion."
The email alleged Ward and another person "made faces", "shook their backsides", "exposed their chests" and gave stall members "dirty looks".

When Ward asked the investigator to clarify what was meant by "exposing chests" she was told it meant lifting up her shirt to expose her bra, which Ward does not deny.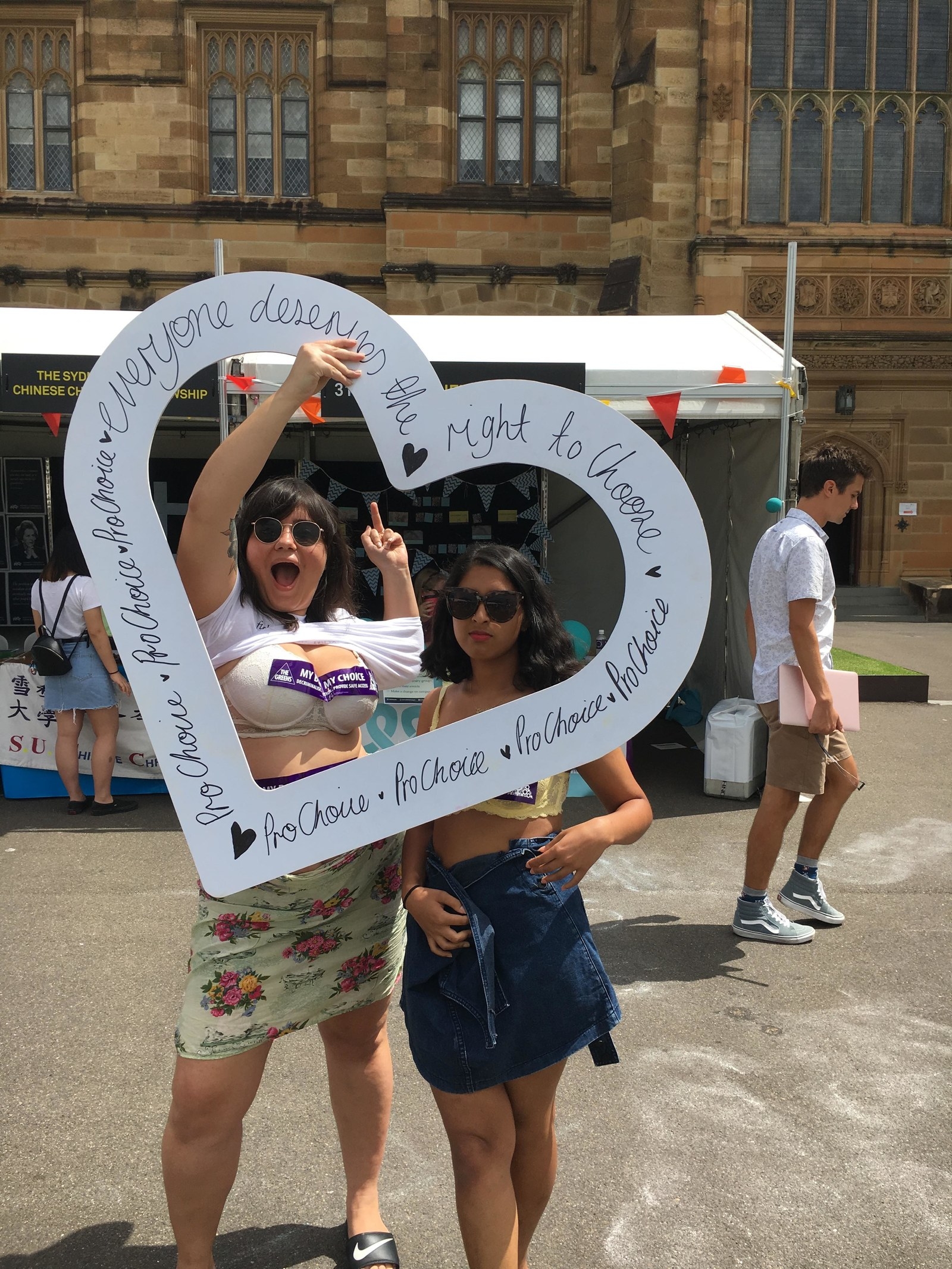 "My bra was exposed to a friend that was taking the photo, and was intended as a cheeky feminist statement for my private Facebook page," she said.
"Protests are a regular part of student life and political discussion on campus."
In June, Ward received a "notice of alleged misconduct" in which misconduct is defined as prejudicing "the good order and government of the University" and "good name or academic standing of the University". Misconduct also included, the email read, "intimidating, abusing or threatening another member of the University community".
The notice said it was alleged Ward had her photo taken with her "middle finger raised", with her "t-shirt pulled up to expose your bra" and "held up a love-heart-shaped sign which read 'everyone deserves the right to choose' and 'ProChoice'."
The notice detailed how Ward had posted the picture on her Facebook page with the caption: "FUCK LIFE CHOICES. ABORTION SHOULD BE FREE, SAFE AND LEGAL."
The notice also alleged Ward approached and spoke with members of the stall in a "loud, abusive and intimidating matter".
Ward has never denied speaking with stall members but denies it was in any way rude or aggressive: "I explained to [investigators] that the presence of their stall at O-Week was incredibly distressing for students who have had abortions, including myself."
The notice said Ward's behaviour meant LifeChoice stall volunteers struggled to have audible conversations with O-week attendees who approached their stall, and that "O-week attendees were deterred from approaching" the stall.
Ward said the investigation was "incredibly isolating and stressful".
"I was unable to tell anyone what I was going through, whilst there were multiple instances during the process that I was not awarded the procedural fairness students are supposedly entitled to," she said.
Ward believes confidentiality was breached when details of the investigation were made available to Donnelly.
Donnelly, who last year tabled a petition against decriminalising abortion in the state, gave a speech in parliament in June criticising the university and its management for taking too long with the investigation into the counter-protest.
Donnelly read out a letter he had written to the university's vice-chancellor.
"As we now move towards the fourth month mark since the incident, LifeChoice Sydney and many others both on and off the campus wait to see what the Chancellor and the university are going to do," he said.
He then warned the university that: "This matter is not going to go away".
He said members of the women's collective ("armed with megaphone, chalk and various props") intimidated, harassed, disrupted and bullied those working on the LifeChoice stall.

Donnelly then read out the hyperlink to this footage compiling parts of the counter-protest posted from LifeChoice Australia's Facebook page.

"While the students of LifeChoice Sydney engaged in open and peaceful dialogue with people both for and against abortion, protesters attempted to shut down discussion during O-week," the organisation wrote.
Ward said: "They cut together a heavily edited video of the counter-protest and it got over 40,000 views and shares, which came with thousands of people commenting really disgusting and misogynistic things, including threats to my physical safety."
In her letter sent to Donnelly today she wrote: "The combination of going through this process for five months and knowing that I had the full weight of the Christian Lobby pressuring the university for a harsh and fast outcome is what really fucked me up."
Ward said another intimidating part of the process was that during the investigation she was volunteering as a clinic escort in Surry Hills to protect patients being harassed by anti-abortion protesters.
"I was literally escorting people past the same group that had lodged the complaint against me," she said.
Ward believes the university's misconduct process is "inherently flawed" and in need of a "complete overhaul".

"I will always be passionate about reproductive rights activism but this process nearly broke me," she said. "It is unacceptable that my degree and future has been compromised as a result of me exercising my right to express my political opinion."
BuzzFeed News has approached the University of Sydney and Donnelly for comment.

The full letter is here below:

Dear Greg,
We've never met. You might not even know who I am, although I'd hope that after all you've put me through this year you've at least taken the time to google me. A cheeky facebook stalk even? I guess it's probably easier to totally fuck someone's life over if they're just some faceless university student and not a real person with feelings. But I digress.
My name is Madeline, and I am the current co-women's officer at the University of Sydney. Earlier this year I organised a protest against Lifechoice, a protest that was then filmed and uploaded to facebook. It went pro-life viral. It was fun being pro life famous for about 5 minutes, and then I read the hundreds of comments calling me a fat bitch and I logged off. I thought the whole thing was done there, but I guess you're all a lot more persistent than I am.
After the video had done its rounds, Lifechoice made a complaint about me to the University of Sydney. You know this of course. Did you know that complaints proceedings at the University of Sydney are supposed to remain confidential? I guess not, because you raised it in NSW Parliament. You also raised that you'd been lobbying the University about the complaint, which at that point pretty much meant lobbying against me personally. It's difficult to put into words just how profoundly terrifying it is to find out that there's someone in parliament that is doing their best to have you expelled, so let's just say that you really got me good on this one.
I thought it was pretty much over, until a few weeks later I received a media request from the Australian informing me that you'd written a letter to each member of the University of Sydney's Senate. That's a lot of effort, and honestly it would be flattering were it not so scary. Shortly after this I had a meeting with the Student Affairs Unit at the University of Sydney, and they told me that they were recommending that I be suspended for a semester. At this point the process had affected my mental health to the point that I relapsed into my depression and absent failed a semester of my studies. Thanks, Greg.
To be fair, this isn't entirely your fault. The University of Sydney's student code of conduct is an outdated and poorly constructed policy that seems to mainly be used for silencing the voices and actions of left wing students on campus. The system that the University uses to investigate apparent cases of misconduct is unethical, incompetent and overly punitive. To allow a right wing organisation such as Lifechoice to exploit the internal complaints resolutions of the University to bully and intimidate a student was a major failing in their duty of care to me as a student enrolled at the University of Sydney. The combination of going through this process for 5 months and knowing that I had the full weight of the Christian Lobby pressuring the university for a harsh and fast outcome is what really fucked me up.
I guess what I'm really asking is why you thought it was appropriate to personally intervene in a case against a student that was of no relevance to your work as an MLP. Is this the price that I must pay as a young woman with public political opinions about abortion in 2018?
As it turns out, the University of Sydney decided that there was no finding of misconduct against me. Suck on that, Greg.
Kind Regards,
Madeline Ward