After Getting Hit In The Face With A Pie, This CEO Vowed To Fight Harder For Marriage Equality
Alan Joyce said a plebiscite on marriage equality would encourage incidents "similar" to the pie smash.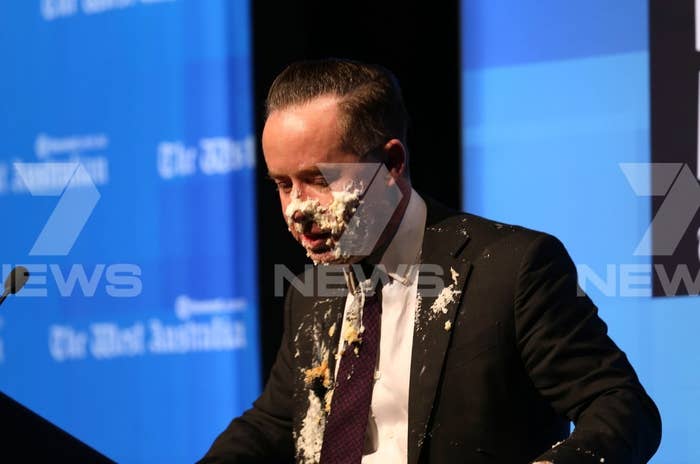 The Perth man, Tony Overheu, said he was opposed to Qantas' campaign in favour of same-sex marriage and used the West Business Leadership Matters conference in Perth to make a statement.
"From my reading, it would appear that Alan Joyce is very much part of a network trying to subvert the federal parliamentary process around the issue of marriage equality," the 67-year-old said.
But Joyce was in good spirits when he greeted a pack of reporters in Canberra today and joked: "Is this a pie free zone?"

Joyce said the "reasons for the incident" seemed to be to suppress his, and other corporate leaders', views on social issues.

"I have every intention to continue to be vocal on those social and community issues," he said.
"I am a big believer in the great Australian expression of 'fair go'. It is all about giving people equality.
"Qantas has always been vocal on gender issues, on LGBTI issues, on Indigenous issues
"No attempt at bullying or suppressing our voice will work."
In the federal Budget handed down on Tuesday, $170 million for the plebiscite appeared again.
Joyce said national plebiscite on same-sex marriage was a "bad idea".
"It is very clear to me is that a plebiscite would bring out the worst behaviours and would encourage the type of situation we saw yesterday where people's views aren't respected," he said.
Joyce said he would press charges against the man who had offered an apology.
"Certainly what happened yesterday has reinvigorated me in actual fact," he said.
"It's really encouraged me to be out there and to continue to be out there and express my views even more strongly than I have done in the past."