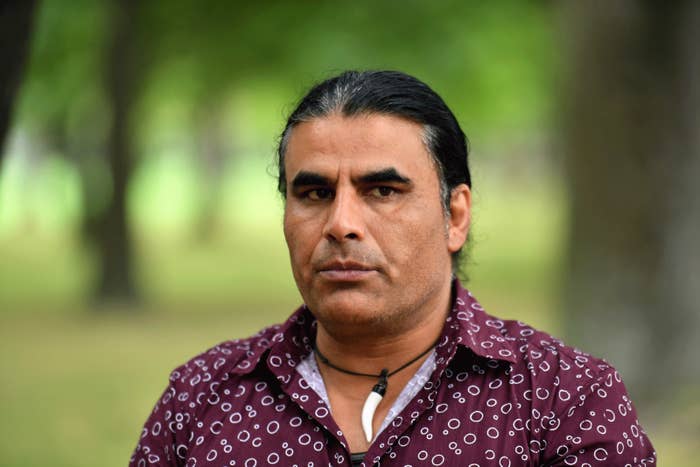 Abdul Aziz saw a man in military-style gear carrying a large gun outside the Linwood mosque in Christchurch where seven people were gunned down just before 2pm on Friday.
Aziz, 48, initially thought the man was from the military but then noticed two bodies and heard the gunman shouting obscenities, AP reported.
"I realised this is something else. This is a killer," he said.
Aziz said he yelled at the congregation of more than 80 people to get down and they hesitated until a shot rang out, a window shattered and a body fell.

"I could hear my two boys were saying, 'Daddy please come back inside'," Aziz told Reuters.
"I told them, 'You go back inside, I will be alright'."
He ran outside hoping to distract the gunman. When the man returned to his car to get another gun, Aziz threw a credit card machine at him.
When the gunman returned and opened fire, Aziz said he weaved between cars to avoid him.
Later, after the gunman returned to his car once more, Aziz said he threw a shotgun he had found on the ground through the vehicle's window, smashing it, and causing the man to drive off.
The mosque's acting imam Latef Alabi said the death toll would have been far higher if it hadn't been for Aziz's actions, AP reported.
"My only concern was to help other people," Aziz said.
In total, 50 people were killed during a rampage at the two mosques in what New Zealand officials have called a right-wing, extremist terrorist attack and one of the deadliest mass shootings in the country's history. The victims have ties to Pakistan, Turkey, Saudi Arabia, Bangladesh, Indonesia and Malaysia, among other countries, according to prime minister Jacinda Ardern.
Originally from Kabul, Afghanistan, Aziz said he left as a refugee when he was a boy and lived for more than 25 years in Australia before moving to New Zealand a couple of years ago.
"I've been to a lot of countries and this is one of the beautiful ones," he said.