Unless otherwise specified, all sizes in this post are listed in women's.
1.
Printed bike shorts so comfy and perfect for hiking, running, and walking. They come in fun patterns (like the leopard-print one below) and have moisture-wicking fabric that'll help you stay dry, even if you're sweating a little from working out.
Promising review: "This product is perfect for all outdoor activities! I recently got into bike shorts because I was tired of my thighs chafing when I run, hike, and bike. These shorts are shorter than other bike shorts, but long enough to prevent chafing. The patterns are perfect and vibrant and the cloth is so soft. They are incredibly breathable and comfortable for lounging in, or taking on a long run or bike ride." —Amazon Customer
Get them from Amazon for $18.99+ (available in sizes XS–XXL, in sets of two, and in 15 colors and patterns).
2.
A UPF 50+ long sleeve shirt to wear over a sports bra *or* swimsuit. Protect your back, arms, and stomach from the sun and avoid feeling like a sweat puddle, thanks to lightweight material that won't cling to your body. 
Some reviewers recommend sizing up if you prefer a looser fit!
Promising review: "I decided to try this and so far, I'm incredibly happy. It's VERY lightweight. I actually rode in it the other night and it was warm outside, but it didn't bother me. Let me say that we're riding, not just out for a stroll on the bike, so we're working pretty hard. I will say I took the advice on other reviewers and ordered a larger size, and I am glad I did. I don't like my shirts super tight and this is great. I could layer if I decide too and it would be fine. Overall, totally recommend." —C. Weber
Get it from Amazon for $23.95 (available in sizes XS–3XL and in 12 colors).
3.
A pair of patterned leggings so gorgeous, you'll forget you're getting dressed to ~work up a sweat~ outdoors. In addition to a vibrant red, green, and blue design, you'll love the comfy elastic waistband and overlock seams that'll provide comfort and feel great for cardio or strength training exercise.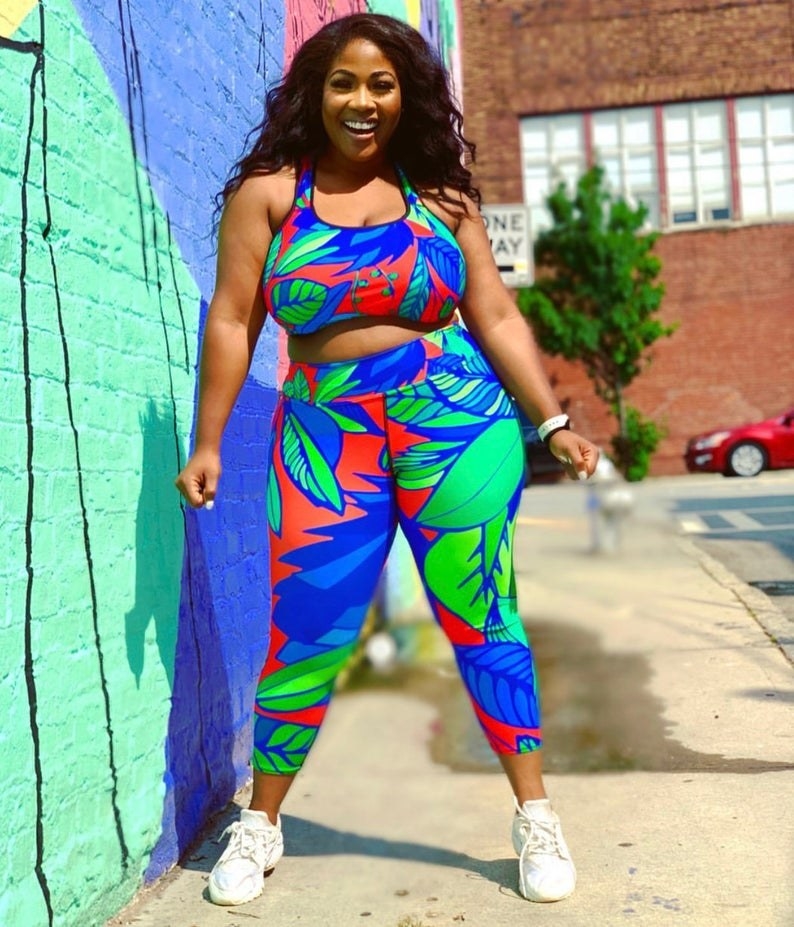 Rochelle Porter Design/Etsy
Rochelle Porter Design is a small business that's known for their bold print clothes. If your activewear wardrobe needs some chic pieces, you'll find gorgeous bike shorts, bras, and leggings that'll elevate your gym OOTD.

Promising review: "These leggings are so soft! The quality is great and they are super comfortable. I would say they are light- to mid-weight and have been wearing them on hot summer days without issue!" —Etsy Customer
Get them from Rochelle Porter Design on Etsy for $72 (available in sizes 2XL–6XL).
4.
A strappy high-impact sports bra that'll provide you with amazing support, thanks to crisscross straps and molded cups that keep your boobs in place. Wear this workout essential alone or under a breezy tank top for an easy and chic outfit.

Promising review: "I like to run a lot (specially long distances) and I do HIIT every day, so a high-impact sport bra is a necessity. I had the idea that in order to get a good sport bra that works for me, I needed to spend a lot of money and I was used to spend twice (or even more) for a bra that did half the job that this one does. It's comfortable to wear (and easy to take off after working out) and as soon as you put it on you will feel that everything is in place and makes you feel good." —Amazon Customer
Get it from Amazon for $34.99 (available in sizes S–5XL and in nine colors).
5.
Or a moisture-wicking sports bra you'll want to wear for your next outdoor workout. A stretchy and lightweight fabric helps you stay comfy and dry, plus there's removable padding. You'll also love the cool design that features silhouettes of women in yoga poses.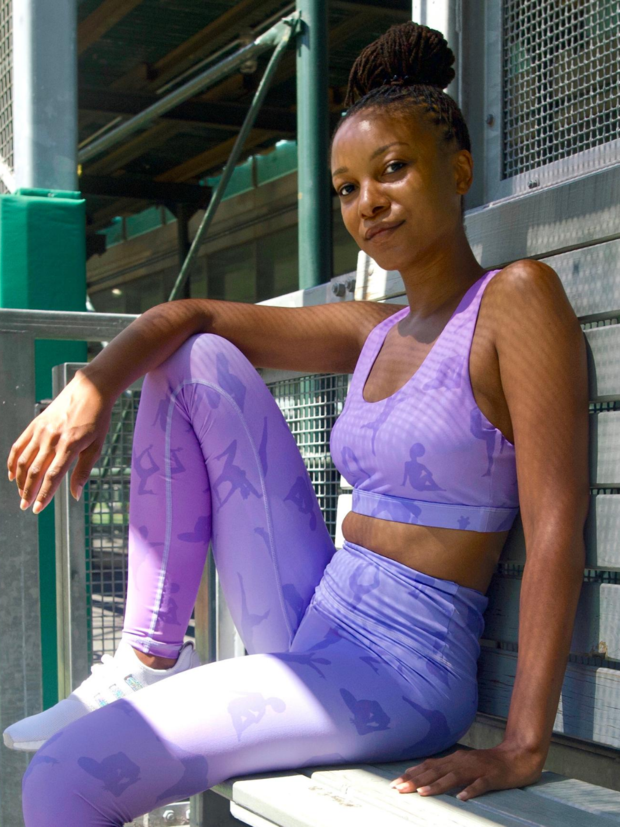 Lukafit is a Black woman–owned business known for their chic activewear. From squat-proof leggings to moisture-wicking sports bras, each piece combines style and functionality for your fitness routine.
Promising review: "This bra has a beautiful fit and feels wonderful on! The padding in the cups is removable, and the racerback is low enough in the back to give great support and help my posture. It's fully lined, no uncomfortable seams. I fell in between sizes L and XL (I'm usually a 38DD for reference) so I sized up to XL for comfort, as I mostly do yoga and low-impact workouts and like to wear sports bras around the house. If you fall between sizes and do higher-impact workouts I would size down for a snugger fit. This is THE bra!" —Lukafit Customer
Get it from Lukafit for $40 (available in sizes XS–3XL and in two colors).
6.
Quick-dry running shorts for times when it's too warm for leggings. They have an elastic waistband, a comfy underwear liner (no more riding up or down!), and breathable material that dries quickly. 
My colleague Emma Lord owns these and said: "I recently bought these shorts because I'm in love with the similar ones you can get at Old Navy, but they sell out so fast. Turns out I love these even more! I love the huge range of colors you can buy these in (at other places they often sell out too quickly to get to pick!), love that the high-waistedness of them meets about where my running crop top ends so I don't have to get bonkers with sunscreen, and love love loooooove the side pocket for my keys or face mask. I only have them in purple so far, but I'm excited to try other colors!" Read more of her running shorts review (it's #49). 
Promising review: "These shorts are PERFECT for running! They stayed in place the whole time, they are the perfect lightweight, sweat resistant material, and a good length! Definitely recommend! Waist is a bit snug and otherwise true to size!" —Katie Micc
Get it from Amazon for $26.99 (available in sizes XS–3XL and in 34 colors). 
7.
An Outdoor Voices exercise dress that'll be there when you want to go hiking and go out for food and drinks. It has built-in shorts for windy weather, straps you can adjust, and a versatile design that's stylish and functional.

BuzzFeeder Rachel Dunkel owns this dress and said: "I wore the exercise dress on a camping trip and absolutely loved it. It's tight enough that you feel agile but not SO tight that it's restricting. It was great for hiking, too! I even scaled some big ole' rocks and exposed mountain faces, and it fared really well. Despite me literally sliding down a giant rock on my butt, the dress never got caught, ripped, or showed wear. It's a trooper."
Get it from Outdoor Voices for $100 (available in sizes XXS–XL and in 16 colors and patterns).
8.
A mesh tank top so you can stay sweat-free during running session or bike ride. Mesh material in the back helps wick away perspiration, while a racerback-friendly shape works with multiple types of sports bras.
Promising review: "This is a really great workout tank! The material is really lightweight and keeps you cool. I got the size medium but I probably should wear a size small. It still works for me, just isn't form fitted. I've worn and washed this tank a lot and it still looks new." —Amazon Customer
Get it from Amazon for $25+ (available in sizes XS–XXL and in 42 colors).
9.
Squat-proof leggings with a body-hugging fit and a high-rise waist that'll let you power through a trail hike or park workout. You can bend, lunge, twist, and squat without having to pull them up constantly. 🙌
Promising review: "Actually perfect: so soft, fit well, and SO COMFORTABLE. They also have just the right amount of compression. The first time I wore them was on a hike/rock climb, and they performed perfectly. Amazing to move around in, never slipped around or sagged, and didn't pill or thin out — even when climbing and moving around on the rocks. Definitely squat-proof!" —Kali
Get them from Amazon for $29.99 (available in sizes XS–XL and in 24 colors).
10.
A high ponytail running cap that has UPF 50+ protection and looks cute with your entire activewear look. Shield your face from the sun and keep your hair up at the same time. This style comes with two different openings, making it easy to wear a mid *or* high pony when you exercise. 
Vimhue is a woman-owned business based in Arizona that sells running hats designed for performance *and* style.
Promising review: "Love it! Fun color, and functions well for what I'm looking for (hiking in hot weather). Would love if there were floral patterns in the future!" —jemusebouche
Get it from Vimhue on Etsy for $29 or from Vimhue's site for $29 (available in 18 colors). 
11.
A pleated tennis skirt because you can hit the tennis court or go on a relaxing bike ride and let your legs BREATHE. An elastic high waist won't restrict your movement, inner shorts prevent your underwear from showing, and an adorable pleated design will complete whatever cute top you have on. 

It also has pockets that'll hold your keys, wallet, and cell phone!
Promising review: "I love these skorts! I have one in another color and they are my go-to when I don't feel like wearing shorts in the summer. I was so excited to see it in my favorite color, orange, as it can be hard to find. They are cute, breathable and very comfortable. I wash on delicate and tumble dry low with no issues. They are perfect for when I'm working out or just as daily wear. " —Charlee
Get it from Amazon for $20.99+ (available in sizes XXS–XXL and in 19 colors and patterns). 
12.
A twist-front crop top with a lightweight design that'll keep you comfy and cool. Instead of sweating in a short sleeve shirt, you can dress in this piece of activewear and pair it with bike shorts or leggings.
I own this crop top and I love wearing it for lots of workouts, including running and walking outside. It doesn't roll up when I'm moving, it's super breathable, and it's not too tight on my chest. Plus, it easily layers under a hoodie or sweatshirt in case you feel a bit chilly. 
Promising review: "I love this workout tank! The material is very breathable. I do wear a sports bra under it because it doesn't have any padding in the tank but it's the perfect cropped tank for pairing with leggings, tennis skirts, bike shorts, etc." —CC
Get it from Amazon for $17.98 (available in sizes XS–XL and in 18 colors).
13.
A moisture-wicking tee that'll keep perspiration stains at bay, because sweating too much while you're exercising ~is the pits.~ You'll love this top for so many activities, including hiking, walking, and trail running.
Promising review: "These are perfect workout shirts. I got one in orange and one in lime green for visibility. They are super moisture-wicking during the hardest run/bike ride and look dry and fantastic even if I am soaked. They also seem nice enough to wear with a pair of jeans for a casual day out." —Amazon Customer
Get it from Amazon for $18.95 (available in sizes XS–4X and in 15 colors).
14.
A two-tone bodysuit with long sleeves, a flexible fit, and a *chef's kiss* amazing design that'll get you excited for outdoor yoga class and your day ahead. You'll be so comfy in this warm sand and mocha mauve number while you flow from pose to pose. 
Solely Fit is a Black woman-owned business that sells gorgeous activewear. You'll find sports bras, leggings, bodysuits, more great pieces you can wear for workouts, running errands, and lounging at home.

Get it from Solely Fit for $144 (available in sizes XS–XL and in two color designs).