As I dipped into one last squat, I looked into the mirror and thought, I look like the kid who has forgotten her gym kit for a PE lesson. Then I realised, well, that's kind of the point, isn't it?
It's a Monday, and, instead of sitting at my desk, I'm at a kickboxing studio working out in jeans. Yep, you read that right: jeans. But I'm not alone; my two colleagues are similarly denim-clad and, thankfully, struggling just as much as I am.
Gap came to us with a new line of jeans called GAP Sculpt Denim that are supposed to be super comfy while also being flattering on the bum. And we thought: Let's do all the things that are terribly uncomfortable to do in jeans to see whether they lived up to their promises! Pray for us – truly.

Steph, Antonia, and I all took part in a full day's schedule of physical exertion while wearing the jeans, with each activity designed to test a different aspect of the jeans' comfort levels as well as how we looked in them. The activities included:
1. Bouldering to test waist and bum stretch
2. Kickboxing to test durability
3. Yoga for general flexibility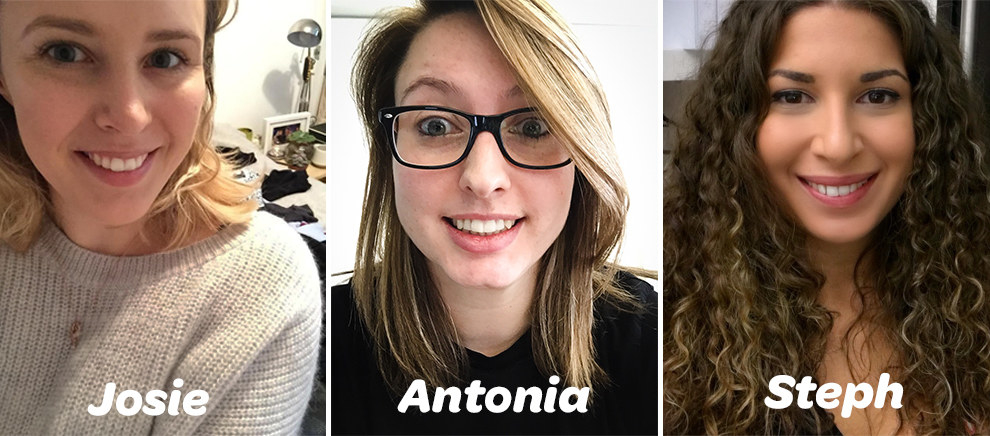 Josie: I'm the kind of girl who despises jeans shopping. I've silently cried in various changing rooms across London while a pair of jeans in "my size" fails to rise above my thighs. Once I find a pair that fits me, I will buy a few at a time and wear them over and over again until they are riddled with holes and my mum forces me to chuck them away. As for exercise? I'm partial to spin class – but apart from that, I tend to count walking over to the snack cupboard in the office as cardio.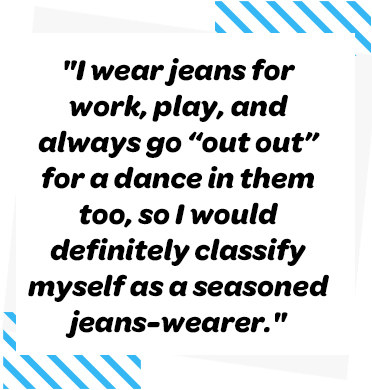 Antonia: I wear jeans for work, play, and always go "out out" for a dance in them too, so I would definitely classify myself as a seasoned jeans-wearer, but I HATE jeans shopping with a passion. Even though I am pretty sporty, I'm incredibly body-conscious because I don't feel I have a body that shows my athleticism, and I get anxious at the thought of it.
When I'm shopping for jeans, I try to find something that won't restrict my movements, whether that's sitting down at my desk all day (ouch, waistband) or if I have to run for a bus (quite often, because I am always late). Comfort is definitely my number one concern.
Steph: When I first heard of this challenge, I wasn't that worried about the jeans ripping, actually. I mean it would have been bad but also...probably quite funny. I was more worried about how gross it would feel wearing them while sweating, especially if they're tight and don't have much give.

Antonia: Honestly? I was most worried that I wouldn't be able to fit in the jeans in the first place, let alone while taking part in the different activities – but my first thought in the changing room was "Oh crap, they fit!" And not just that they fit, but they fit well and comfortably. I ended up with a 32 regular fit in black. I love my big bum, so I was happy to see that the jeans kept it looking shapely and gave it an extra little lift.
Steph: When I wear jeans, it is always the skinny kind, so I was glad when I found out we'd all be in my favourite style. I ordered a (waist-size) 30 in a tall dark wash as I find that light colours accentuate my thunder thighs. Usually when I go jeans shopping, I end up trying on 50 pairs just to find one that fits right, so I was surprised when these fit perfectly on the first go! I'm a bit of a giant at 5-foot-10, so I was worried about how short they would be...but I was even able to roll them up, which was nice! I also need jeans to be stretchy but still be jeans – not jeggings – and these definitely fit my needs.
Josie: After experiencing a few too many tears in changing rooms, I've developed a so-far failsafe tactic for jeans shopping. Basically, I pick up a wide range of sizes and then try on the largest size first (for a confidence boost) before making my way down. I like to think of myself as a solid 30, but I was surprised to find that I fit into the 28s.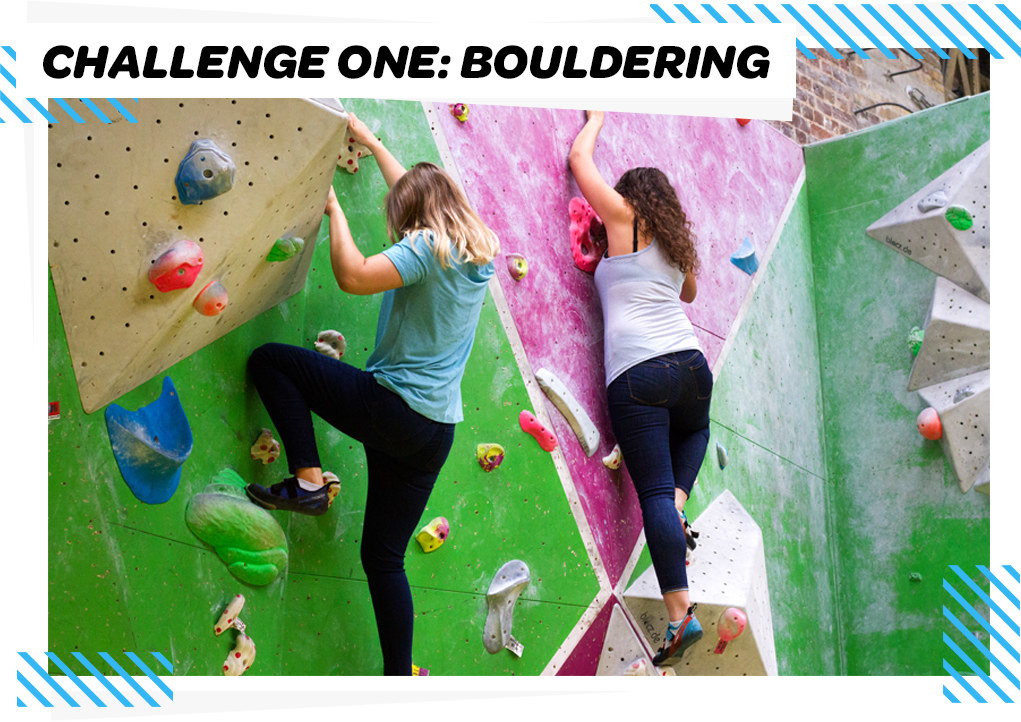 Steph: I had bouldered once before and then vowed to never do it again after I found myself at the top of a wall but couldn't get down. So I was slightly dreading this challenge, and to add to the fear, I only found out we'd have no ropes when we arrived at The Castle Climbing Centre.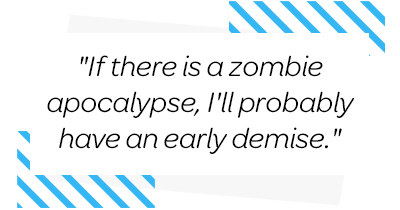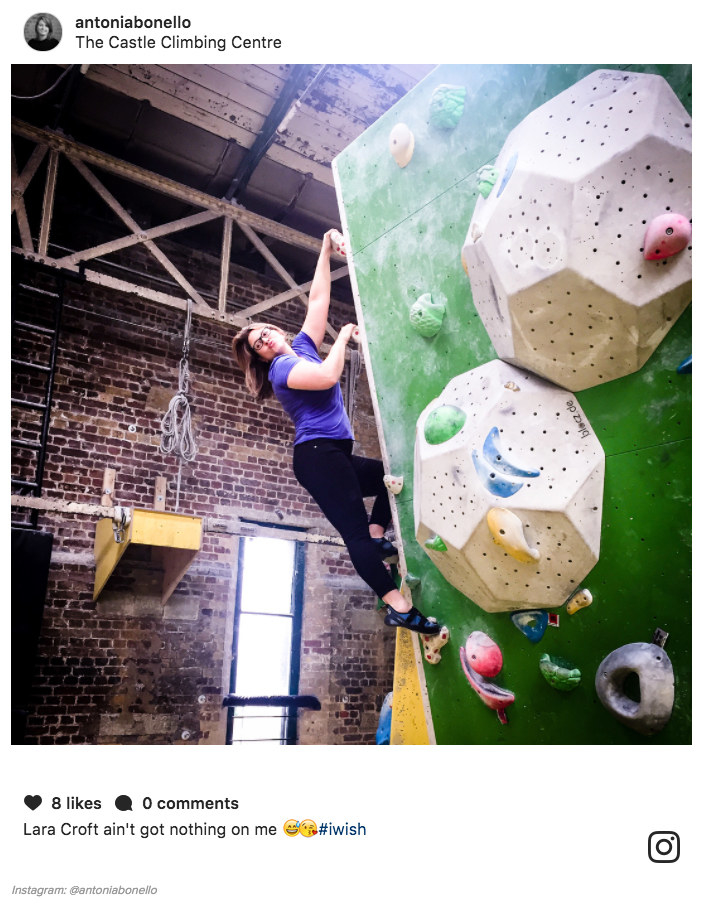 Once I actually got going, I started to forget how high I was, and the fear went away (until I had to get down). I could blame my lack of risk-taking movements on the stretch of the jeans, but, really, it's because I'm lazy and will try to do the bare minimum of movement possible in life.
Antonia: I've been bouldering twice before, and both times, my hands ripped, so I was hoping that my new jeans would fare better than my palms! There are so many different positions that you find yourself in when climbing – from your knees being at your chest to practically being in the splits. You also have to hold these positions while you plan your next move, and thankfully, I didn't feel like I had to quickly move on from a wide stretch before my jeans split. If anything – and controversially (sorry, any keen boulderers) – I felt they actually helped me.

I've worn sports leggings and shorts the previous times, and I've come away with snagged and threadbare leggings or my legs grazed and sore. This time my legs didn't have a scratch on them, and my jeans still look brand new, apart from the chalk. *quickly pats away the bright white chalk patches*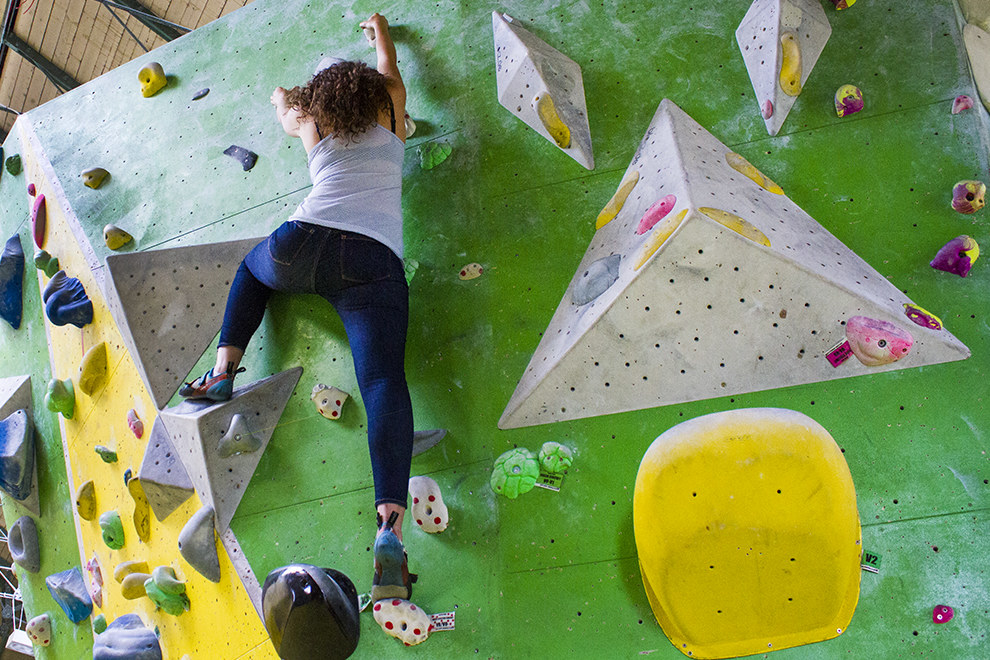 Josie: I'm not a climber. I've already accepted that, if there is a zombie apocalypse, I'll probably have an early demise as I won't be able to climb any fences to get away from an onslaught of the undead. With that said, I did manage to scale one wall successfully. It may have been a kids wall, BUT that still counts!
Once I got up there though, it dawned on me I wasn't quite sure how to get down, and the fear stepped in. After clinging onto the wall for longer than my arms really wanted to and on the advice of our resident pro, Antonia, I said my prayers and jumped off. Thankfully, I'm still here to tell the tale. The jeans were supportive throughout this whole ordeal.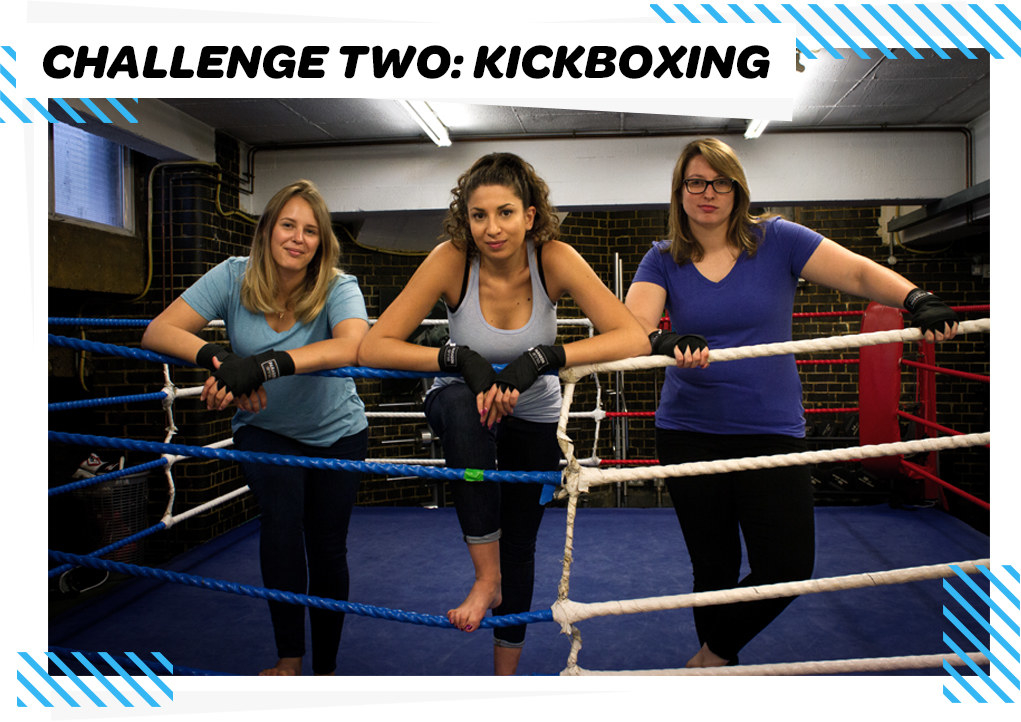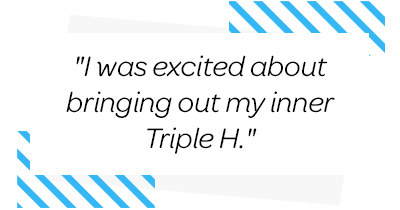 Steph: I grew up with two brothers and we would fight and wrestle all the time (usually instigated by yours truly), so I was excited about bringing out my inner Triple H in our kickboxing session at Paragon Gym. Our coach, Ori, had us doing so many squats and drills that at first I was on the edge, waiting for the jeans to give up on me – but there wasn't even one little rip! There was probably more muffin top in jeans than if I was to wear leggings or shorts, but they were comfy and made my legs look good while roundhousing. So...you win some; you lose some.
Antonia: I LOVE kickboxing and other martial arts. I am a first dan black belt in two styles of karate, and I have dabbled in kickboxing and a bit of Muay Thai, so if there were any challenge that I could really test these bad boys in, this was it. In all the years I've been training, I have never trained in jeans before, so I was definitely apprehensive and aware of the beating they would take. To be prepared, I made sure I wore decent underwear in case of any awkward splits.
What really changed things though was the SWEAT. Ori took us through a tonne of drills, including warm-ups, floor work, pad, and bags, and made me werk. At one point, I went to the toilet and was stuck in there for 10 minutes because I couldn't get my jeans back on properly as I was so sweaty. But thanks to the supportive nature of the jeans, instead of worrying about what I looked like, I just had to be concerned about the drills that I was being shouted at to do.
Josie: I'm definitely more of a lover than a fighter so going into this class I was a bit...nervous that I'd have to get into the ring right away! But thankfully, it was more about learning the moves and a few different drills than punching my desk buddies. There were a couple of moves where I felt the need to have a quick hoick before giving them a go, but other than that (and the sweat!), I almost felt like I was wearing gym leggings rather than denim. At least I now know that I could roundhouse someone while wearing jeans if I really needed to.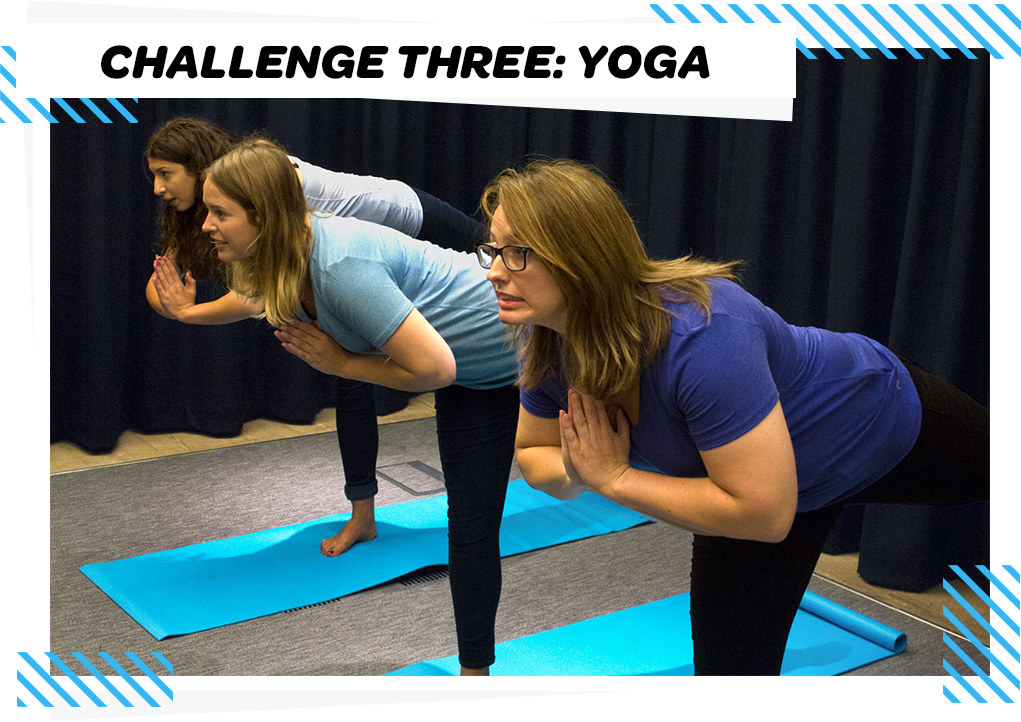 Josie: For our third and final class of the day, we headed back to the office to meet the very zen Kate Lister who hosts a biweekly class in one of our meeting rooms.

I've never been much of a yogi since my balance isn't exactly stellar (I've already fallen over four times today), but the stretches were definitely what I needed. Sometimes the worst part about buying a pair of jeans is realising that wearing them while sitting down is a form of torture, but in these babies I could sit cross-legged all I wanted without getting that annoying waistband red stripe on my midriff.
Antonia: By this point in the day, my arms were on fire, my legs were wobbly, my back was starting to ache, and my arse felt like it had been thoroughly kicked.

Yoga was so different to the other challenges we did, as you have to bend and flex in all sorts of ways that feel awkward and unnatural to me, so I was still skeptical of the jeans' ability to keep up even after the beating they had already taken. There's a move where you're sitting down with the soles of your feet together and you push your knees down to the floor. Usually I can easily do this, but with the jeans on, my knees were a couple of inches above the ground, which was kind of expected. Despite this, my jeans held me together, and I felt supported throughout the whole session.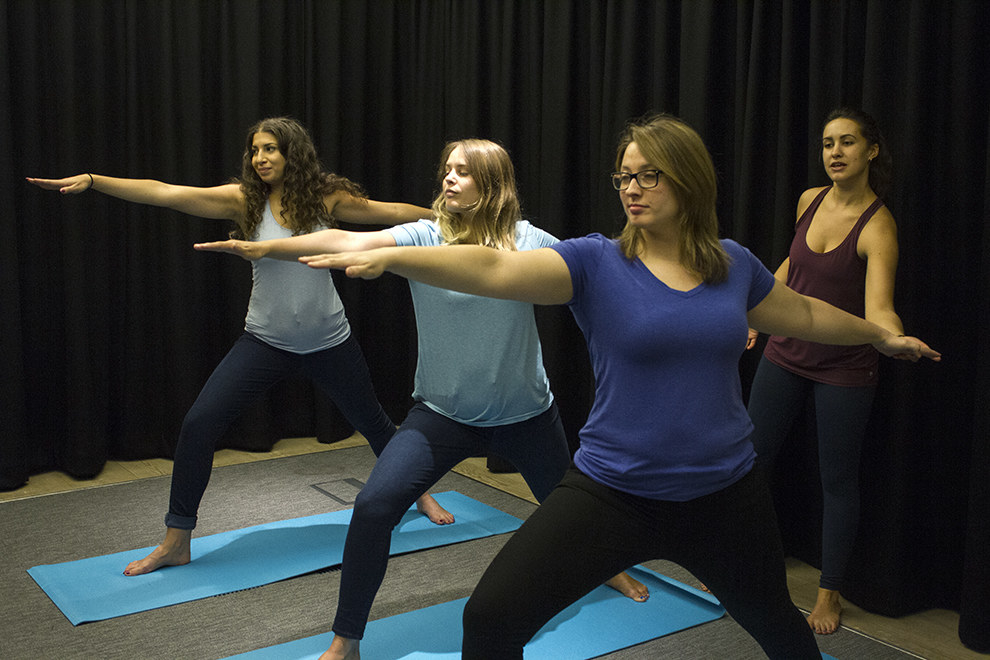 Steph: My mum has desperately tried to get me into yoga because she loves it, so I've done it loads of times, but I still think it is boring AF. If I'm honest, as soon as we stepped into the room, I was trying to think of an excuse to get out. My whole body was hurting. My arms were so dead from bouldering that I could barely give a high five, and my legs were so gone from kickboxing that I didn't want to get up. But Kate's class was a godsend after our hectic day. By this point in the day, I had complete faith in the jeans, and, this was probably the part of the day where I mostly forgot I was working out in denim!

Josie: I hate being uncomfortable, so I almost want any clothes I wear to make me feel like I'm not wearing anything at all, and these jeans came pretty damn close to the freeing sensation of nudity. They were supportive, fit like a glove, and withheld everything we threw at them. While it is safe to say I won't be throwing away all my gym leggings anytime soon, I wouldn't be averse to doing some quick lunges in these jeans if it were truly necessary!
Steph: I'm hoping I'll never ever have to exercise again in general, and, if I do, I won't be wearing jeans. BUT I've already ordered another pair of the GAP Sculpt jeans for my normal, non-bouldering life. I loved them because they were so soft and comfy, but mostly because they didn't flatten my ass like some jeans do – instead, they made it look better than ever.
Antonia: I'm pretty boisterous and up for all fun and games, so I hate being held back by what I'm wearing, and because of this, I am prone to destroying my clothes very quickly. What I loved about these jeans was that I never felt like I couldn't move the way I wanted to. I really pushed them as far as I could, and okay, some movements might have been a little restricted, but it's not like I'm going to want to crack out the splits or do some mountain climbers on the Tube. The best bit? They were flattering! I feel like they accentuated the parts of my body that I wanted to show off, such as my butt and calves, but also held together my thighs which I am very self-conscious about. They made me feel damn confident.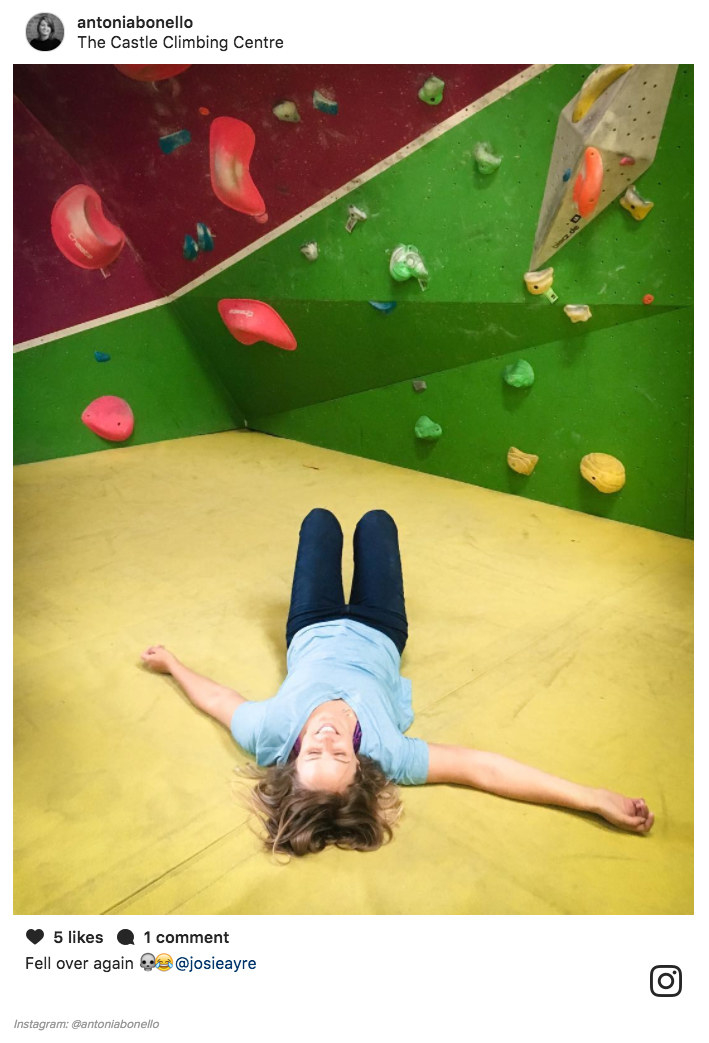 Frankly, if I could, I would do a trial like this for every new clothing purchase. Not only would I end up buying more quality items, but I would know I'm going to be able to escape a zombie apocalypse without needing to hoick my jeans up at an inopportune moment or, you know, actually feel confident that I'm not going to experience a cringe-inducing wardrobe malfunction in my day-to-day life.
So I guess what I'm saying is that if you're going to go jeans shopping, get out of the changing room and try doing some squats, a bit of climbing, and maybe even a few kicks. And then – and *only* then – should you make your decision.

It is safe to say that our new jeans definitely passed our ridiculous test, and while we ended up on our knees after a hard day of relentless exercise, we at least knew that we were supported and we looked damn good.
Thanks to their unique high-stretch fabric, which contours and supports your shape, GAP Sculpt denim ensures you'll always look great. Meanwhile, the GAP Denim Addict service allows you to customise your jeans with patches, studding, hemming, and distressing. No more knee holes in the wrong place!
Find your nearest denim addict store here.

Images © BuzzFeed / Ben Armson / Antonia Bonello / Josie Ayre / Stephanie Toumazis.
Thanks to: The Castle Climbing Centre, Paragon Gym, Ori Lungu, and Kate Lister