Ammar Al Beik was born in 1972 in Damasacus and read Business Administration at the city's university. He produced his first film, Light Harvest, in 1997, followed by a number of shorts and his first full-length work. I Am The One Who Brings Flowers to Her Grave (2006), co-directed with Hala Alabdulla, which won the Bronze Muhr in the documentary section at DIFF 2006. But above all he is a Syrian and proud of it.
"As a filmmaker I am forbidden to make independent films that speak about politics, sex or religion" says Al Beik "they (the government) are disrespectful to both citizenship and to the cinema."
Al Beik is the only native artist to have represented Syria twice at the Venice Film Festival, an accomplishment he describes as like "participating in The World Cup."
"When my 2 films got selected to participate at the official selection in 2006 and in 2011, my films and I were actually competing with those of Spike Lee, Madonna and Alexander Sokurov, amongst others. I was very proud" he says. Not only was Al Beik competing with world renowned names, he was also contending with big budgets.
Spike Lee's 2006 Horizons Documentary Award winning film 'When the Levees Broke: A Requiem in Four Acts' had a large budget of $2,000,000 US. However Al Beik's Doc/It Award winning submission 'I Am The One Who Brings Flowers to Her Grave' had a shoe string budget of "just a few hundred dollars."
His work is often long, achingly slow and beautifully shot and mixes traditional narrative with conceptual ideologies. The resulting back catalogue of films and photography has received international acclaim, providing stark insight into the issues faced by Syrians outside of mainstream news footage.
In May of 2011 Ammar Al Beik created the film The Sun's Incubator, just two months after the beginning of the Syrian uprising. The film premiered at the Venice Film Festival in August that very same year.
Al Beik was the first and only filmmaker to be presenting a film that looked at the bloody conflict. "I was trying to say: we, at this moment can create a non-violent revolution" he explains "we can create a non-violent cinema that resembles us."
Al Beik sees himself as a modern day existentialist. Everything he says, shoots or paint has a higher meaning and a deeper purpose other than to just portray life as a Syrian. "The aim of my work is to play with my inner psychology" he says "to accept, to deny, to demolish and to construct, to find new questions, to trigger a new excitement. "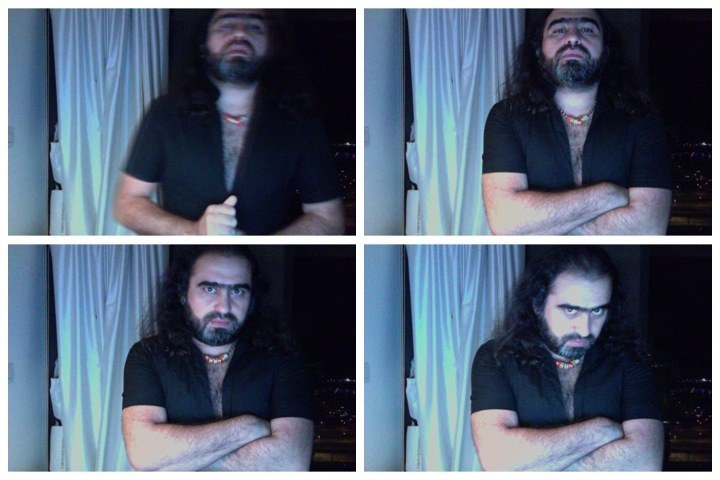 He says that he originally became an artist "to be able to scream in the face of the world" and it's a dream that has been realised. Represented by the Ayyam Gallery, which focuses on contemporary artists from the Middle East his work now sits in many important collections including the Los Angeles County Museum of Art (LACMA). Still true to his provocative stance on answering questions he also maintains that he became an artist because he was "lazy at school" and in part because he is "infatuated by women and the excitement" they can generate in him.
These rather cryptic explanations of his work and process can be hard to follow. He claims that his "not interested in educating", nor in "promoting discussion" but rather in "expressing what comes out" of his "inner existence."
That said it's certainly not the case that his work is inaccessible to all those that are not attune to deciphering what Al Beik says. His work speaks for itself. His photographs and films toy with the manipulation of light, contrast and delve into the art of visual storytelling. "Behind each one of my projects are true life stories" he says "sometimes the people who experienced those true stories are the models/actors of my films, and sometimes I choose normal people whom I meet in my life to be the actors of my films."
A theme that runs throughout Al Beik's work is the feeling of obligation to talk about Syrian issues."
Certainly I have a moral human commitment. I dream of freedom and the deprived rights in my country by a dictatorial" he says.
"All this makes me committed. I am defending my big house, its history, its future, its people and its culture that's been spanning over thousands of years. "
This post was created by a member of BuzzFeed Community, where anyone can post awesome lists and creations.
Learn more
or
post your buzz!
Looks like there are no comments yet.
Be the first to comment!