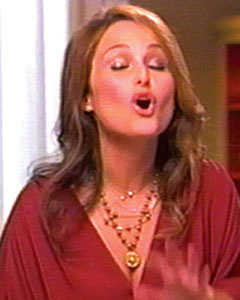 SHARE THIS PAGE
View Viral Dashboard ›
Some mistakes just aren't worth making. Especially when they run you a few million dollars.

In her first 19 months as Governor, Palin spent 312 days away from her desk. Most of us can't even get out for lunch.

Ten great ways to make sure your visiting guest load lightens up a bit.

Wan't someone at a bar to go away? Give them the number of The Rejection Line (212-479-7990), and they'll handle the rest for you.

Law enforcement deemed the standoff "not kosher."

Michael Moore is releasing his new film "Slacker Uprising" for free, in its entirety. So, instead of going to a movie theater, you can sit at your computer and watch it, without playing, while playing flash games. "Slacker Uprising," indeed. Watch Video ›

LeBron James gets schooled by a warehouse worker at H-O-R-S-E. It just goes to show that you - yes, you! - can beat the best player in the NBA in an insignificant schoolyard game. Watch Video ›

Companies have different ways of holding their higher-ups accountable. Some give them a multi-million dollar pension. And apparently, some get killed.

NASA's cameras took a picture of a nebula that looks like a heart, somewhere in the far reaches of space. Your girlfriend still does not want to indulge in your astronaut fantasies. View Image ›

A single serving site that gives what it asks: the up-down on Barack Obama's polling leads, and the number of days before the election. Keep it bookmarked.

The cops. Gave. It back. To him. The Colorado University student says he was just "holding it for his brother." Do you know how many times that hasn't worked?! Cheers to the new excuse.

A University of Georgia study notes that untrained observers correctly identified narcissistic traits in Facebook profiles. It might be time to take your Glamour Shots down.

Play just about any original, 8-Bit Nintendo game inside your browser, instantly. Be prepared to waste an abundance of time.

DaScratch might be the smallest, coolest thing to hit digital DJing for a while: the centerpiece is a touch-sensitive controller that gives you the full range of technique only a mixing board four times the size of it could typically provide. Awesome. Watch Video ›

Designer Milto isn't missing any bricks after completing construction of these full-size motorcycles, decked out with Lego-built stylings. View Image ›

The prolific writer's recent death yields an incredible document to the internet: his college class syllabus, which appears to be from the best lit class anyone has ever taken, anywhere.

A slideshow asking the question of 15 "O" faces - are they Food Network hosts in epicurean bliss, or porn stars getting their day's work in?
---