Disclaimer
Some of the projects below can cause you serious injury, or damage to property. I don't recommend you try these at home, only watch the videos. I take no responsibility for damage that may occur to you and others around.
Make sure you know what your doing before taking part in any of the projects and always remember to use the proper protective equipment. If you don't, then you could end up looking like Two-Face and no one will want to have sex with you.
Lecture over, time for science.
Make you own fireworks.
Rubens Tube
I was going to include in this article a description on how to make one of these yourself, but seeing as I haven't had chance to make one myself I didn't feel safe putting an untested theory out there for the internet to see. If you have the time, money and patience to build this then please research it properly and be safe about it.
If you don't, then just watch the videos out there. Let other people take the risk.
Gallium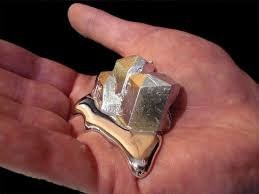 As you can see, they really don't play nicely together.
I still don't recommend you try these, but if your that guy who will then please be safe.
This post was created by a member of BuzzFeed Community, where anyone can post awesome lists and creations.
Learn more
or
post your buzz!