Meet 10-month-old Landon Lee, a baby Instagram star with nearly 42,000 followers.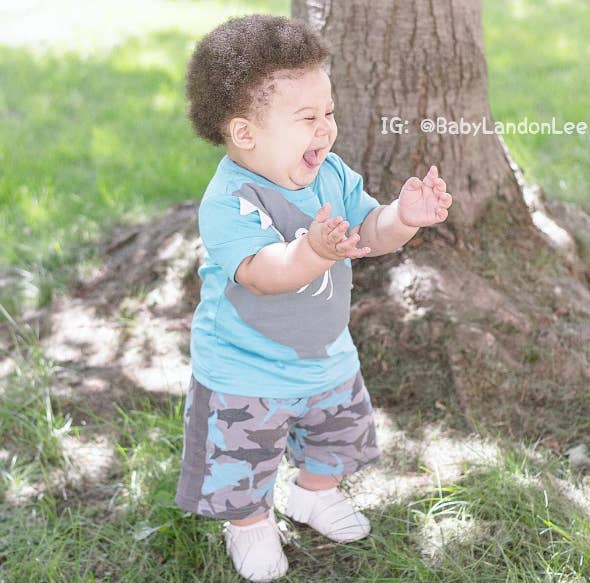 His mother, Jessica Benton, from Illinois, created baby Landon's Instagram account in October 2015 so she could follow other cute baby Instagram pages, trendy baby brands, and online baby stores.
"I wanted to dress him really cute, but I also didn't want to overshare photos of him on Facebook," she said. "On Instagram I didn't have friends and family following me [on] there, so I could put as many photos [of Landon] up as I wanted."
But then something horrible happened. Someone took a photo from Landon's Instagram account, posted it on their Facebook page with the caption "Stuff Curry", and encouraged others to make fat-shaming jokes about the baby.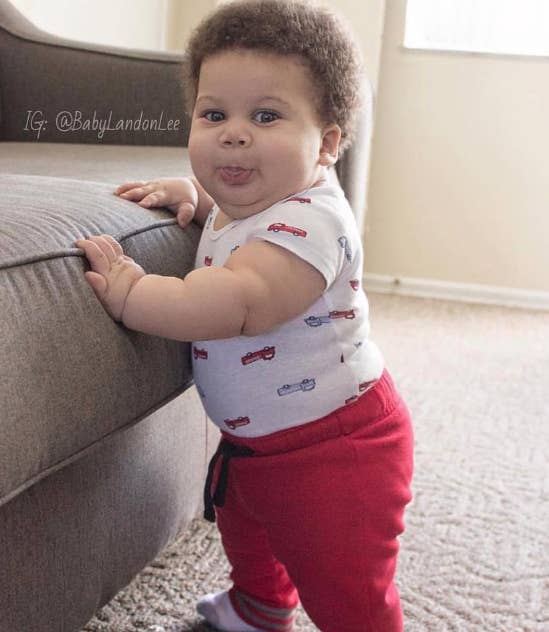 The photo, which has still not been taken down, has since been shared over 9,000 times. "And from there it went to [entertainment websites] WorldStar HipHop, Hood Vines, and all these other places," Benton said.
Benton, who is a member of a private breastfeeding group on Facebook, said another member recognised the photo of Landon and brought it to her attention.
The stay-at-home mum said she was initially confused about what "Stuff Curry" even meant but later learned it was a cruel play on the name of Warriors basketball star Stephen "Steph" Curry.
Benton was horrified strangers were saying hurtful things in the comments, including calling baby Landon humiliating names like "fat ass", poking fun at his weight, and making "ignorant comments" about her parenting skills.
She said she reached out to the person who uploaded the photo to Facebook and asked him to take it down, but was subsequently blocked. She said she then reported the situation to Facebook, but was told no terms or conditions had been breached and so nothing could be done.
However, a Facebook spokesperson told BuzzFeed News it was now investigating the incident.
Under pressure, Benton decided to set all of her social media accounts to private hoping "it would all go away".
Benton said the situation was especially difficult because her 20-year-old son, a victim of school bullying in high school, killed himself while she was pregnant with baby Landon.
"I want to protect my children probably 100 times more than the average mum because our family has been affected by suicide, one of the worst things a family can go through," she said. "I don't want another child hurt."
But despite making baby Landon's Instagram private and hoping the sharing of hurtful memes would stop, it didn't. People kept on sharing the photo of the 10-month-old, leaving his mother with no idea what to do.
In desperation, Benton reached out to another mother who had been through a similar situation involving a stolen photograph of her baby being turned into a Kim Kardashian meme.
"They put a bottle in [the baby's] hand and a wine glass on her butt," she said. "The account has around 300,000 followers now."
After seeking advice, she decided her only option was to take control of the situation. "After a week I decided that I would turn it into something positive," she said.
From then on Benton decided to embrace the name "Stuff Curry" and even ordered baby Landon a Warriors jersey with "Stuff" written on the back. She told BuzzFeed News the response has been "amazingly positive" and that Landon's fans just keep increasing.
"I get messages from people who told me that they were having a really bad day, but then they saw a picture of Landon and it brightened up their day," she said. "And that makes me really happy."
She's also received messages from victims of bullying inspired by how she has turned a negative situation into a positive one.
"Landon is so loveable and so sweet. ... People often stop me in the street or grocery store and tell me 'that is a cute baby'," Benton said.
"You never know how deeply your words can affect somebody else – people have no filter online and it's really sad," she said. "I hope that when Landon gets older he stands up for other people who are bullied."