People Are Buying Copies Of The Sun Just So They Can Bin Them
Novelist and screenwriter John Niven told BuzzFeed News that he didn't want the average reader to be subjected to the newspaper's "nonsense", but others say it's akin to censorship.
During the early hours of polling day, this man bought the entire stock of right-wing tabloids at his local newsagent and set them on fire.
Novelist and screenwriter John Niven told BuzzFeed News he bought copies of The Sun, the Daily Mail, and the Daily Express because he didn't want people to be subjected to their "nonsense" and "lies". Their election day front pages all supported Theresa May and attacked Jeremy Corbyn.
"Every given day I'm upset with papers like The Sun and Daily Mail, but this was just beyond the pale," Niven said, adding that he didn't like the fact that The Sun had put an illustration of Labour leader Jeremy Corbyn in a bin on its front page.
Niven is not alone. Since his tweet went viral, other people have also gone to newsagents, bought the same newspapers, and destroyed them or put them in the bin.
One person decided to move a large number of copies of one newspaper to a different section of the supermarket.
Ex-Bake Off star Ruby Tandoh also got involved.
But not everyone was impressed. Critics of the trend – often journalists – suggested that hiding newspapers could backfire on workers, the very people the Labour party is traditionally seen as supporting.
Another journalist said destroying papers is "deeply sinister". She also described it as patronising and arrogant.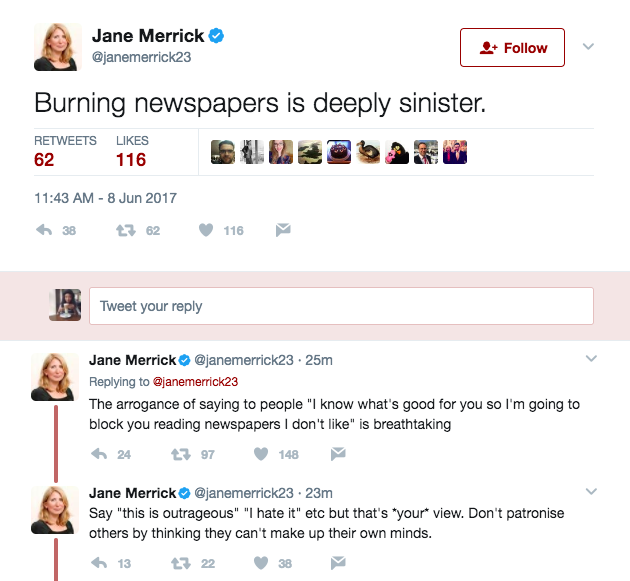 Journalist James Cook of Business Insider pointed out that by buying the newspapers, critics were still giving money to the companies that produce them.
Cook told BuzzFeed News that destroying newspapers because you don't like their contents might seem like an effective protest on election day, but the implications of it are quite worrying.
"I can understand why people don't like the tabloids and choose not to read them," he said. "But trying to prevent other people from purchasing them is a step towards censorship."
He suggested there were more effective ways to protest against a paper's political stance, such as boycotting them or donating money to fact-checking services like Full Fact.
"The availability of journalism, whether it's The Sun or The Canary, is super important," he said. "To burn or bin newspapers because you don't agree with them is arrogance – you assume you know best and want to stop other people seeing material that you disagree with.
"A more effective protest would be choosing not to buy tabloids and explaining in public why you've made that decision."
He continued: "There are also great fact-checking services like Full Fact in the UK that you can donate to instead of spending money on newspapers just to burn them. Those donations help to spread accurate information instead of withholding media from other people."
Niven acknowledged that the reaction to his tweets was pretty mixed.
"There were some utterly cretinous right-wing people comparing it to Nazi book burning – they don't seem to understand the difference between burning literature and burning something that is clearly propaganda," he said.
"[But] as you can imagine, there were lots of people saying 'fantastic', 'good work', and 'good on you'," Niven added.
Despite criticism, some, like Tandoh, said they were aware of other points of view on the subject but felt they were "protecting" undecided voters on a day when many would be heading to the polling station.