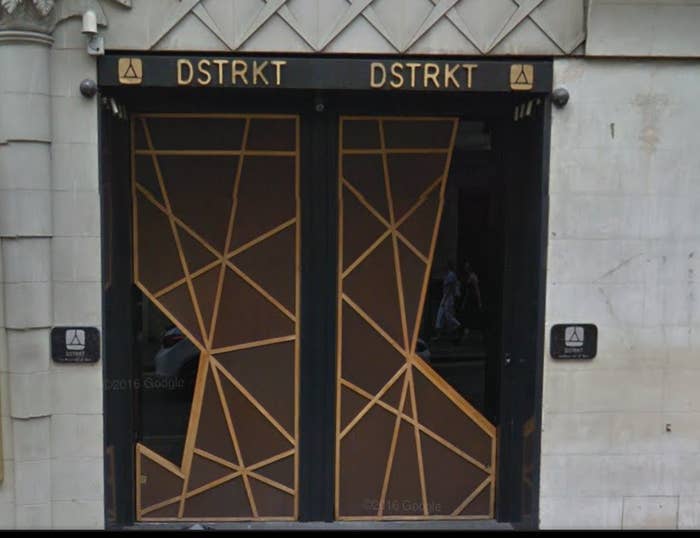 London mayor Sadiq Khan has said he will look into accusations of racism at a nightclub that has become synonymous with allegations of discriminatory door policies after fresh claims emerged at the weekend, BuzzFeed News has learned.
Khan has asked his night czar, Amy Lamé, to raise the issue with DSTRKT to ensure the club's door policy does not discriminate. He has also urged partygoers to report any incidents of suspected racial discrimination to police.
His decision comes after a woman claimed in a series of tweets that she witnessed some people being turned away from the West End venue early on Sunday morning because of their skin colour, which the nightclub denies.

Though the tweets have since been deleted, they led to another woman, who also claims she has also been on the receiving end of discrimination at DSTRKT, penning an open letter to the mayor urging him to take action on practices that are "disrupting the confidence of young people who are simply out to enjoy themselves".
In the letter, Cindy, 24, whose last name we have withheld, wrote: "When will the humiliation end? When will DSTRKT London be called to justice?"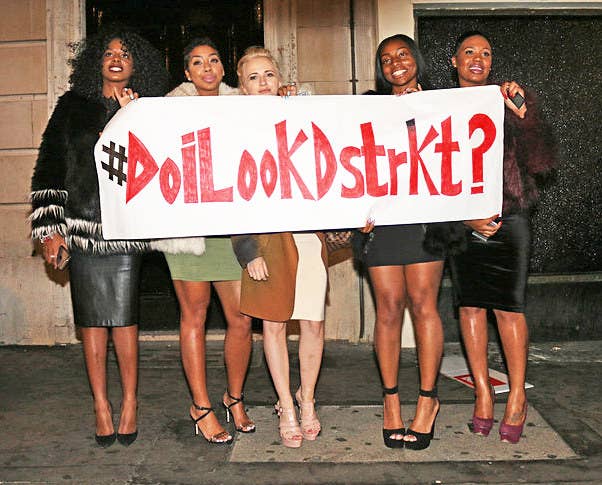 In a statement, a spokesperson for City Hall said: "London is a diverse city, open to people from all backgrounds, races and faiths. We cannot tolerate racist behaviour anywhere in the capital. Sadiq would urge anyone who has witnessed or experienced racial discrimination in London to report it to the police immediately."

BuzzFeed News understands that Lamé, who was appointed as the mayor's first night czar late last year, is working with police and nightclub owners to ensure best practice is shared across the night-time industry.
DSTRKT became the target of protesters in October 2015 after a group of young women claimed they were turned away from the venue after a promoter said two of them were too dark-skinned and too overweight to get in.

He explained his decision in a series of messages that were then shared on social media, prompting other people to share similar stories of being treated differently to white partygoers.

A number of celebrities chose to boycott the venue, and around 100 people held a demonstration next to the so-called pick wall where, according to one protester, "the managers would check the girls out to see if they were hot enough".

The response was seen as a watershed moment for black clubbers who say discrimination at nightclub doors across the capital – such as the use of quotas for how many black people are allowed in a venue on any particular night, and the prioritisation of black women with lighter skin – is a well-known reality.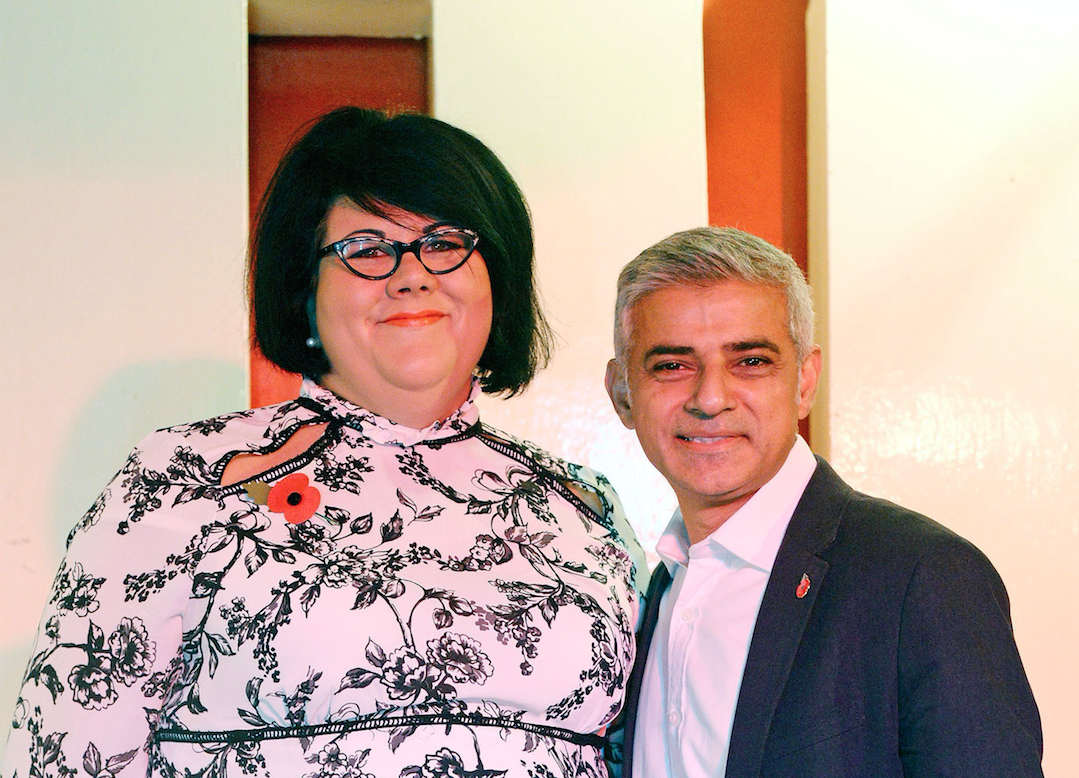 At the time of the October 2015 incident, one of the partygoers at the centre of the row, Zalika Miller, told BuzzFeed News that a DSTRKT promoter told her friend Lin Mei that "if she was going to bring black girls they needed to be really pretty".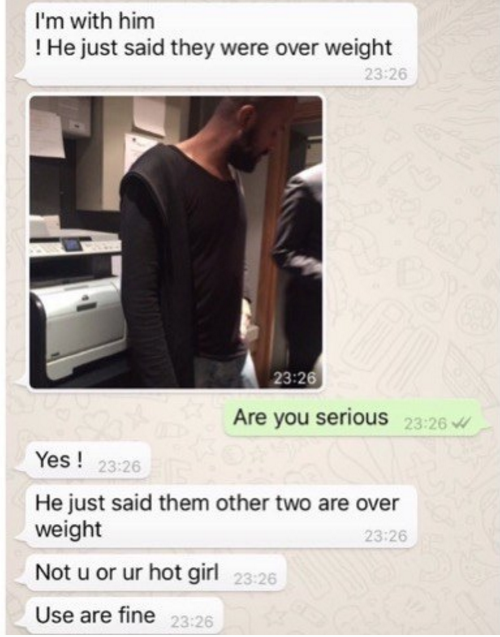 Another clubber who came forward at the time, Miki Rangasamy, claimed to BuzzFeed News that a DSTRKT promoter admitted that her two friends were turned away from the club because the manager thought the "two dark-skinned girls were rowdy".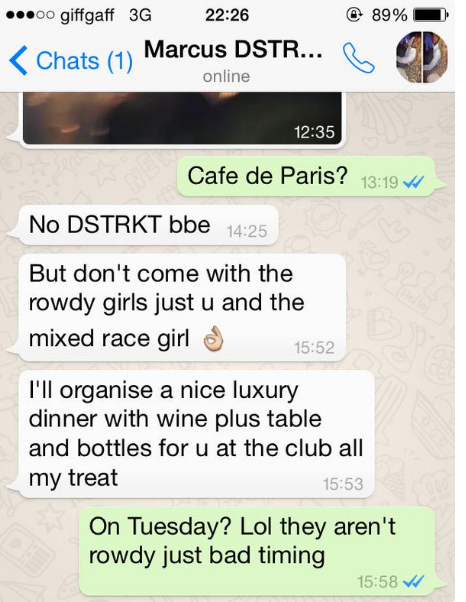 "The next day he messaged me on WhatsApp … and he told me to come back to DSTRKT on another night," Rangasamy told BuzzFeed News.
"He then offered me a free dinner and free wine as an apology for not getting in, [and] he specifically asked me to bring my other mixed-race friend and not the 'rowdy' ones. As my other two friends were dark-skinned I found this really suspicious."
People have also pointed out that the venue has a considerable number of poor reviews on TripAdvisor that reference claims of racist door policies and other forms of discrimination.

Cindy, a postgraduate student from Kent, told BuzzFeed News that seeing the most recent allegations on Twitter over the weekend brought back memories of how "humiliated" and "isolated" she felt after being turned away from DSTRKT.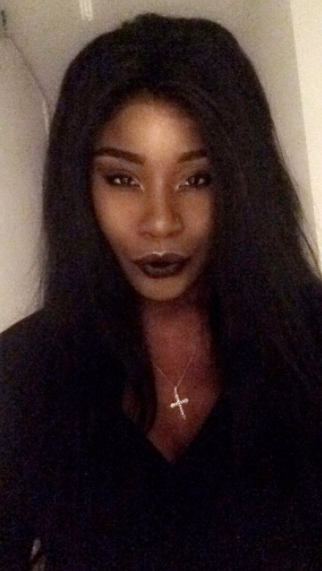 Cindy said that just over a year ago she and her friends – all black women – were left queuing outside DSTRKT for more than an hour while other, non-black people in the queue were allowed entry. "It was very plain to see that it was because of our race," she said. "They were letting all the non-black people in."
She said there was no explanation from management and door staff about why they were left waiting outside for such a long time and were eventually denied entry altogether.
The experience was "dehumanising, demeaning, and soul-destroying", Cindy said. "You go out for a good night with your friends just like every other person, and you get to the door and your heart starts pumping because what you see around you is discrimination. You realise it's because of the colour of your skin, something I cannot change."
She added: "There was nothing that was even said to us. It was just a wordless hand gesture for us to step to the side."
On Saturday Cindy wrote the open letter to the mayor. In it, she accused the government of failing to take action despite longstanding allegations that the club holds a racist door policy.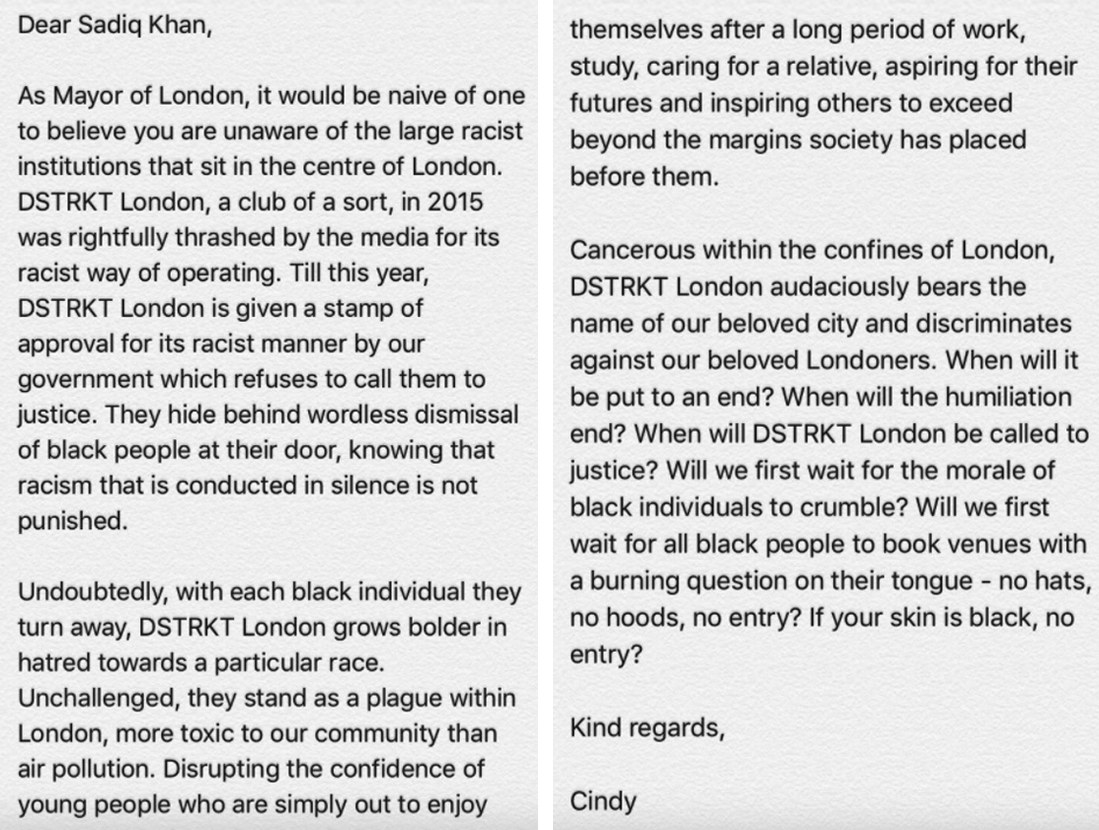 "I felt like I had to put something out there for anyone who has ever suffered discrimination like this," Cindy said. "You don't have to suffer in silence – you can have a voice."

After Cindy shared her open letter on Twitter, the official DSTRKT Twitter account replied directly to her, strongly denying the allegations. "This is completely false and extremely sad by your part to say this," the tweet read.


In a statement to BuzzFeed News a spokesperson for DSTRKT nightclub said the venue has has always operated an "anti-racist door policy".

"The colour of someone's skin has never been and never will be a factor for who is allowed in the venue," the spokesperson said, adding: "We operate a zero tolerance policy against any racist comments or behaviour in the venue by customers or staff."

The spokesperson also said the venue is usually fully booked on the weekends, and that they often have to deny entry to people of all races.
"We understandably can't accommodate everyone into to the venue since our capacity it's limiting to 250 guests," the spokesperson said. "People from every race are refused every week at the venue."
Cindy told BuzzFeed News she is pleased the mayor has pledged to look into the allegations. She also said that racism and discriminatory door policies have become an accepted part of the London clubbing scene, and unless action is taken against nightclubs judged to be racist nothing will change.

"I think the attitude has probably built up over a long period of time where the overall culture in the London clubbing scene tolerates racism," she said. "I feel that people who are black are just accepting this behaviour, and then just going to other [nightclubs] instead, but we should be free to go anywhere and we shouldn't be hindered by our race."