A nightclub in the West End of London is at the centre of a social media storm over allegations that women were refused entry because they were considered too dark-skinned or overweight.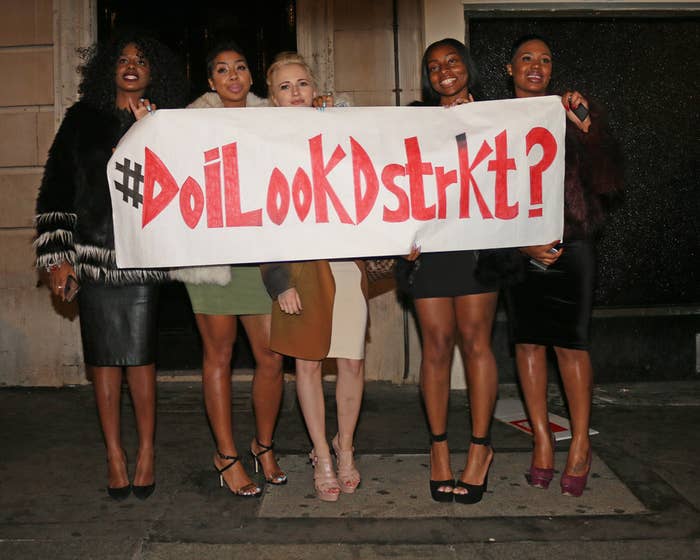 The club, DSTRKT, which has hosted celebrities such as Rihanna, Drake, and Jay Z, became the target of protests after an incident on Saturday night when a woman claimed on social media that her two friends had been turned away because they were black and staff had decided they were not attractive enough.
On her Facebook page, Lin Mei posted: "Manager of DSTRKT stated I and my thinner friend fine but other two girls are too fat ‬ and if they are black women or dark skinned they need to be very hot to gain entry."
She also shared her text exchange with the promoter and her posts quickly went viral, prompting similar allegations against the club from other women.
At a protest outside the club on Tuesday night, one of those refused entry told BuzzFeed News that the protest was about raising awareness of the discrimination that goes on at nightclubs.
Zalika Miller, a 26-year-old actress, said: "It's about standing up for the perceptions of black women and curvy women ... and countering the perception that black women are rowdy, not good enough, and will bring down the standard of their club."
After several days of silence, the club has now denied the allegations. In a statement released on Wednesday, it said it operated an antiracist door policy and that the women were turned away because the club was too busy.
Even though Mei is alleging that it was her friends who were refused entry, not her, the club said the fact that she had previously posted pictures on social media of herself enjoying other nights in the club proved that racism had not played a part in Saturday's decision.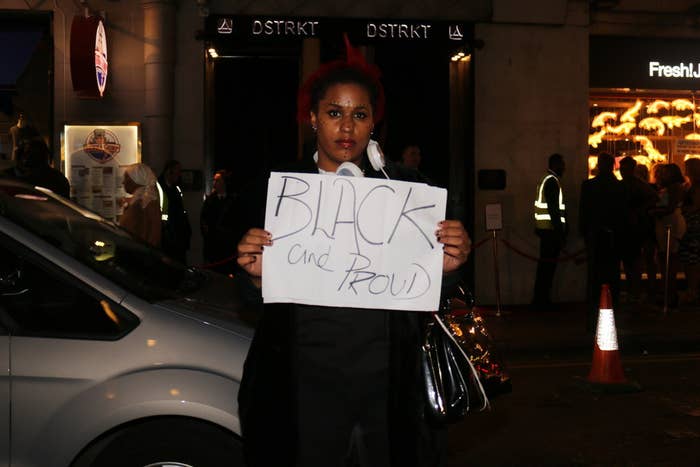 Around 100 people turned out for Tuesday night's protest. They stood along the so-called pick wall, where, according to one protester, "the managers would check the girls out to see if they were hot enough".
A protester who claimed to have worked for the club as a DJ, told BuzzFeed News that he quit due to "sophisticated racism" inside the club.
"It's sad that they employ black people to enforce their racist rules," he said. "They've even told promoters to try and get as many black girls here as possible tonight."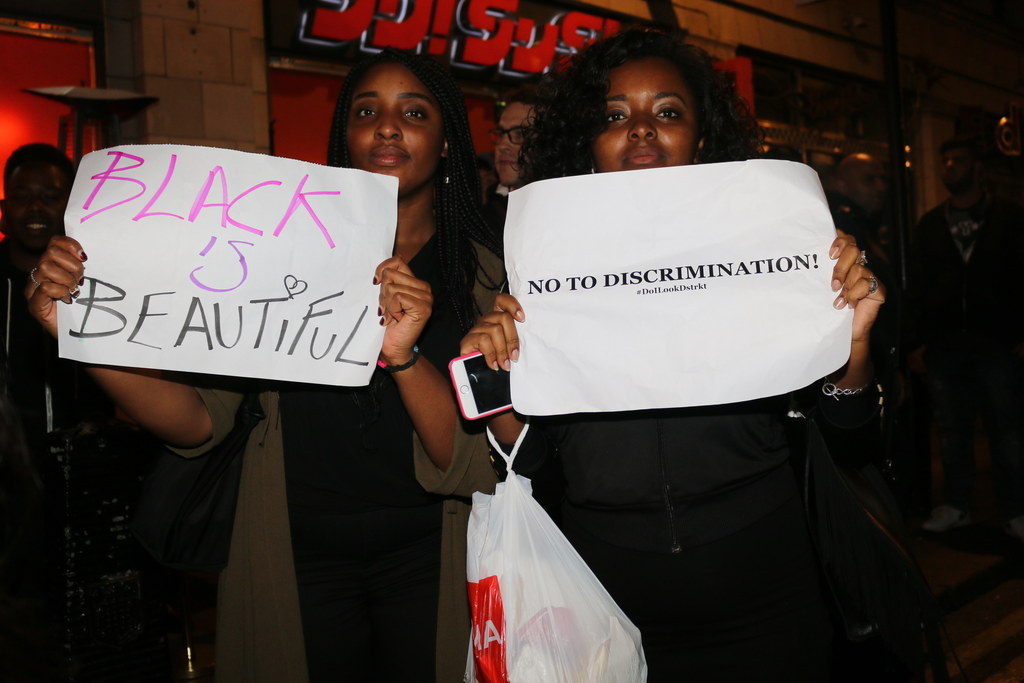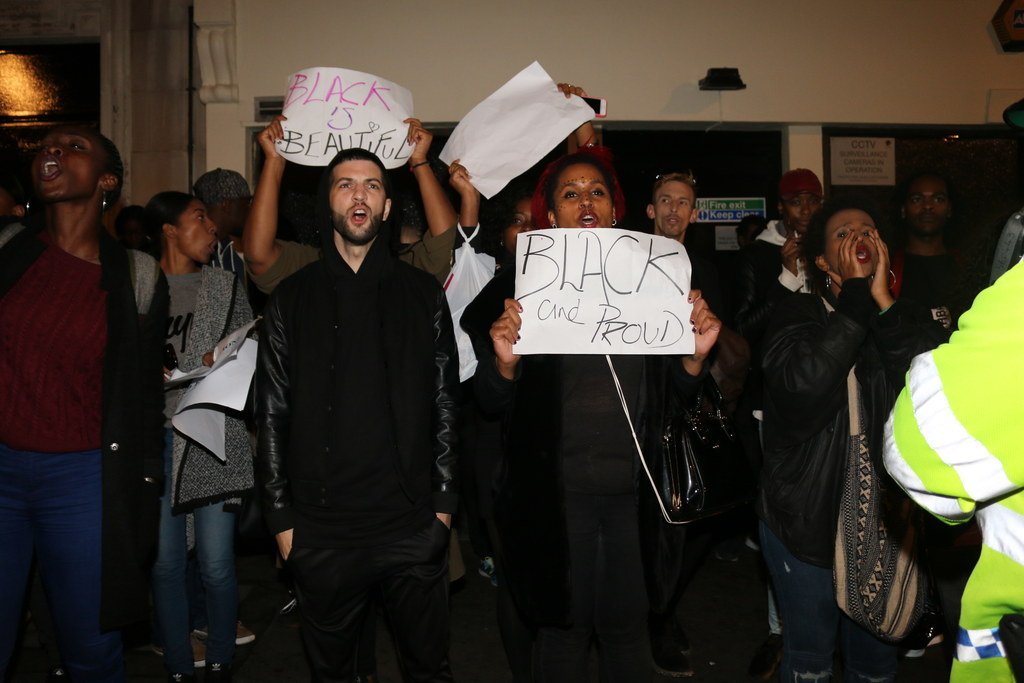 Saturday night's incident began, Miller said, when one of the club's promoters invited Lin Mei to the club but warned that "if she was going to bring black girls they needed to be really pretty".
"She sent pictures of us to him, almost to get his approval," Miller said. "When we got to the front of the line, the door girl asked us which guest list we were on."
After the women gave the promoter's name, the staff member went inside, Miller said. "I don't know what she was doing but she was probably talking to her manager. They have a monitor just by the door, so they can see who's in the line."
The women were then told that the promoter's table was full and refused entry, Miller said. "That was impossible," she said, "because [the promoter] hadn't even turned up yet – we'd just been talking to him via text."
Mei claims that later on in the evening she received a text from the promoter explaining that her friends were refused entry because the manager thought two of them were overweight. She shared the screenshots on social media.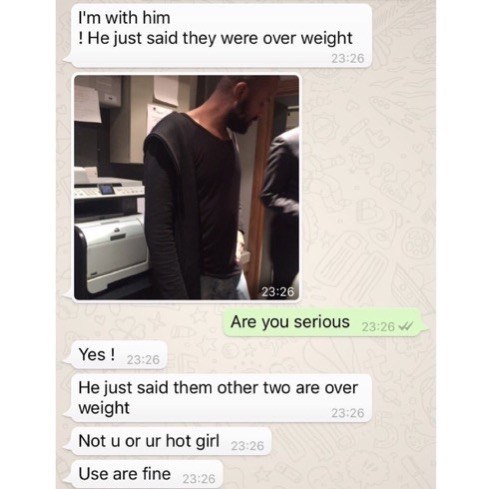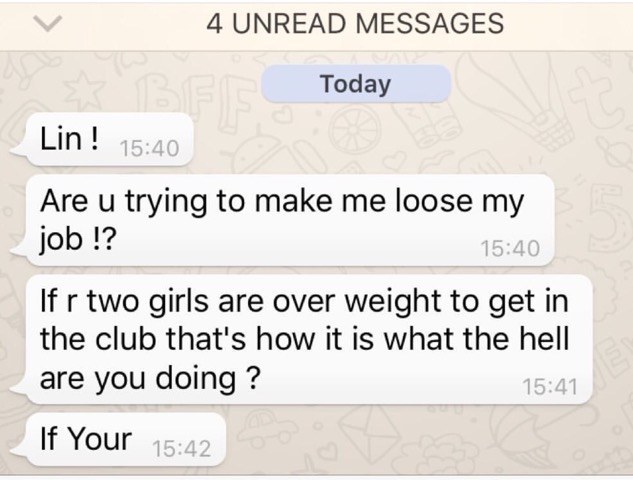 Miller told BuzzFeed News that this was not the first time dark-skinned women have been discriminated against by nightclubs.
"This is not anything new ... This has been going on for years and years," she said. "Before they would come up with an excuse like the club is at full capacity, even though it's only 10.15pm.
"It's quite sickening, and it happens all the time. Whenever I go out to West End clubs, I always have to prepare myself for the fact that I might not get in."
Since Mei's posts went viral, many women and men have been sharing similar experiences on social media, including 22-year-old Miki Rangasamy.
Rangasamy said she and a group of friends, two of whom were dark-skinned, had planned a night out at DSTRKT but were turned away. The next day she received a text from a promoter who said they were turned away because the manager thought the two dark-skinned girls were "rowdy" – which she said was a reference to their colour.
"The next day he messaged me on Whatsapp ... and he told me to come back to DSTRKT on another night," she said. "He then offered me a free dinner and free wine as an apology for not getting in, [and] he specifically asked me to bring my other mixed-race friend and NOT the 'rowdy' ones.
"As my other two friends were dark-skinned I found this really suspicious."
Rangasamy told BuzzFeed News that she stopped talking to the promoter after this exchange, but kept the screenshots of the conversation because she was "so shocked by it".
A woman who claims to have worked as a promoter for DSTRKT has also alleged the club's door policy is racist.
In a video posted on Instagram, Brooke Norton said: "Two white girls in the queue in front of us got in for free, but they made my black friends pay to get in."
In its statement, DSTRKT's management said it condemned "any type of racism or discrimination by customer or staff". It denied any staff members had been involved and distanced itself from any comments made by external promoters to the women.
The statement said the women had arrived on a busy night without a reservation and had been turned away solely because the club was going to be full: "From our advance bookings we knew that DSTRKT would be completely sold out and the venue has clear health and safety guidelines set out by Westminster Council and cannot exceed our capacity numbers under any circumstances," the statement said.
It said management had conducted a "thorough investigation into this alleged event and found that at no stage did any of the DSTRKT staff said to the women they were not to be allowed in on any the basis of their skin colour or size. Comments made by an external promoter to the women had nothing to do with DSTRKT."
It also denied employing anyone called Brooke Norton.
Westminster council has also responded to the allegations. In a statement, a council spokesperson said:
We are concerned to hear allegations of racist behaviour at any nightclubs within Westminster.

We have been advised that this could be dealt with by making a complaint under the Equality Act to the Equality and Human Rights Commission.

Alternatively, if there are allegations of criminal conduct these should be referred to the police. The police would then be able to investigate and if appropriate initiate a review of the premises license, which we would take very seriously.