A New Film Captures What Life Is Like For Two Black Men In Tottenham
BuzzFeed News spoke to George Amponsah, director of The Hard Stop, a documentary following two friends of Mark Duggan, whose shooting by police sparked the London riots of 2011.
On the evening of 4 August 2011, Mark Duggan, a 29-year-old black man, was travelling as a passenger in a minicab through Tottenham. Armed police surrounded the vehicle and he was instructed to get out.
Soon after he exited the minicab, Duggan was shot twice by a police officer, and died instantly at the scene. The police suspected him of being a member of Tottenham gang Man Dem, and believed he was carrying an illegal firearm; no gun was found on his body. A handgun in a sock was found a few feet away, but neither his fingerprints nor his DNA were on the gun or sock.
His killing moved Duggan's family and friends to hold a peaceful protest two days later, marching through Tottenham to the police station. That peace soon gave way to something else – a riot broke out that evening that would last six days and spread through cities and towns in England, including Birmingham, Bristol, Liverpool, and Manchester. The riots resulted in more than 3,000 arrests for burglary, criminal disorder, and various other offences, and now stand alongside other civil uprisings in modern British history.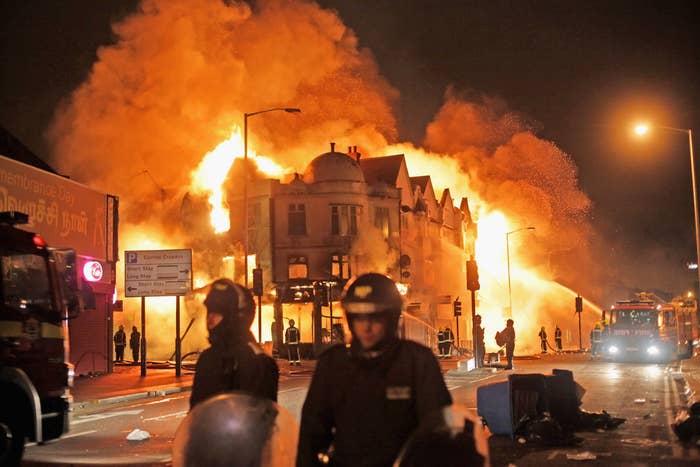 Decades before this incident, a police officer was stabbed to death during the Tottenham riots of 1985, just outside the Broadwater Farm estate, where Duggan grew up. The estate had become notorious for high levels of crime and deprivation.
The day before the 1985 riots started, four policemen raided the home of Cynthia Jarrett, a Broadwater Farm resident. Her son had been arrested hours earlier. During the raid, Jarrett suffered a heart failure and died inside her home. Her family demanded an inquiry into her death, and the late Bernie Grant, Britain's first black council leader (who in 1987 was elected as one of the first black MPs in the UK), condemned the way Jarrett was treated by police.
During the riots that broke out following her death, police officers were pelted with bricks, bottles, and cans, and buildings were set alight. By midnight, PC Keith Blakelock was in hospital with stab wounds, and he later died of his injuries.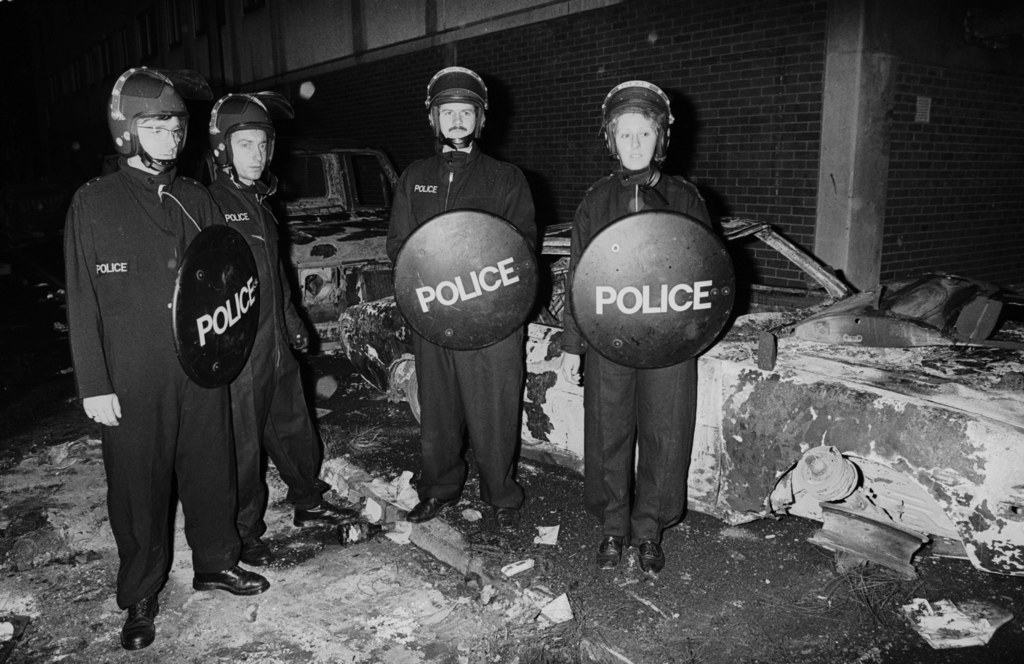 George Amponsah, a 46-year-old film director from west London, was abroad on the evening of Mark Duggan's killing, but returned to London on 6 August, the day the 2011 riots started. "I turned on the news, and it felt like history repeating itself," he told BuzzFeed News. "I remember the 1985 riots, when I was a teenager; I just thought. 'I can't believe this is happening again in Tottenham.'"
That feeling of déjà vu inspired Amponsah into action. His new feature-length documentary The Hard Stop follows the lives of two young men, Marcus Knox-Hooke and Kurtis Henville, who were childhood friends of Duggan's – they grew up with him on the Broadwater Farm estate in Tottenham. Amponsah's film documents their lives over a period of two years following Duggan's death, exploring how they dealt with bereavement, anger, and a sense of injustice surrounding the way he died. It also raises the question of whether much has changed in terms of the tension between the community and the police.
This tension is something that goes back several decades, Amponsah told BuzzFeed News, and his film deliberately portrays one perspective that is not reflected in mainstream media. "It's not meant to be a panoramic view," he said. "[And] there's certainly a tension in terms of [Knox-Hooke and Henville's] experience of the police."
Black people are 17.5 times more likely to be stopped and searched by police in rural areas of the UK and 2–3 times more likely to be stopped and searched in urban areas and cities such as London, Greater Manchester, and the West Midlands, which contributes to the strained relationship between minority ethnic communities and the police.
Latest figures for England and Wales show that a disproportionate cases of black and other ethnic minorities die in police custody following the use of force, and many of these cases have been viewed as controversial deaths. Since 1990 there have been 10 "unlawful killing" verdicts, none of which has led to a prosecution.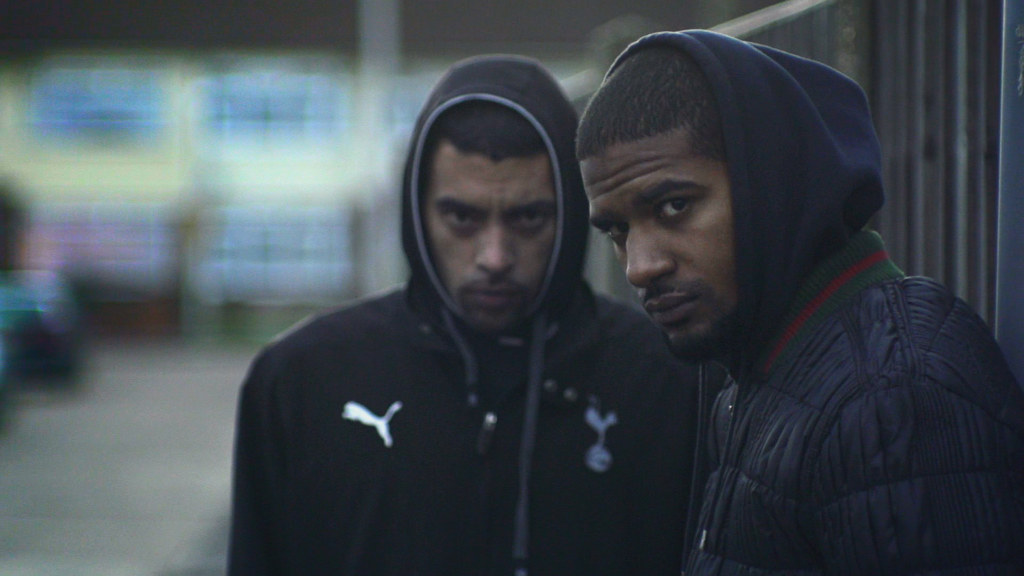 By getting to know Duggan's friends, Amponsah believed he would discover the truth about what kind of person Duggan really was. "If you look at the actions of Marcus and Kurtis in The Hard Stop, I think the truth is right there," he said. "We need to reconsider the idea of Mark Duggan being this thug and menace to society who deserved to be shot in broad daylight like that. He didn't even have a criminal conviction, so based on that, really serious questions need to be asked about why he ended up losing his life."
He described Knox-Hooke and Henville as "deep, complex, and multi-dimensional" characters, and said he was "constantly surprised" by the kinds of things they revealed to him.
The documentary opens with a Martin Luther King quote: "A riot is the language of the unheard." Amponsah remembered it while making the film: "[It] became a guiding light, in terms of the process of making this film and the reason why I was doing it," he said.
The choice to forgo a narrative voiceover as a guide for the viewer was a deliberate one, said Amponsah. Instead, the director decided to tell the story in the words of Duggan's friends. "The voice of the film is the voice of the people who grew up with Mark, who come from the same background as him, [and] who grew up on the same estate," he said. "So it's their language you hear. … My agenda, in many ways, was to give those voices a platform to be heard."
Amponsah felt that in the midst of the media storm surrounding the Tottenham riots, Duggan's story was lost, so this documentary was about giving the people closest to the man whose death sparked the most recent UK riots a chance to speak.
Knox-Hooke had moved away from the Broadwater Farm estate in 2009, and having found peace in religion, wanted to start a new life. But after the killing of his friend, he found himself drawn back into a life of crime. During the peaceful protest prior to the riots, Knox-Hooke and a group of others were caught on CCTV kicking a police car. He was later charged with violent disorder, robbery and burglary. He admits his guilt, and the film shows his journey from waiting to be sentenced while living in a bail house, going to prison, and his release. Henville is searching for employment (in March, Labour reported a 50% rise in long-term unemployment for young ethnic minority people in the UK), but his criminal record is impeding his progress. In the film you see him struggling to support his wife and children.
In January 2014, an inquest into Duggan's death took place. Although his fingerprints were not found on the gun in question, the jury proposed that he could've thrown it out of the vehicle before the police stopped the minicab. His death was found to be a "lawful killing", and the police officer who shot him was cleared of any wrongdoing.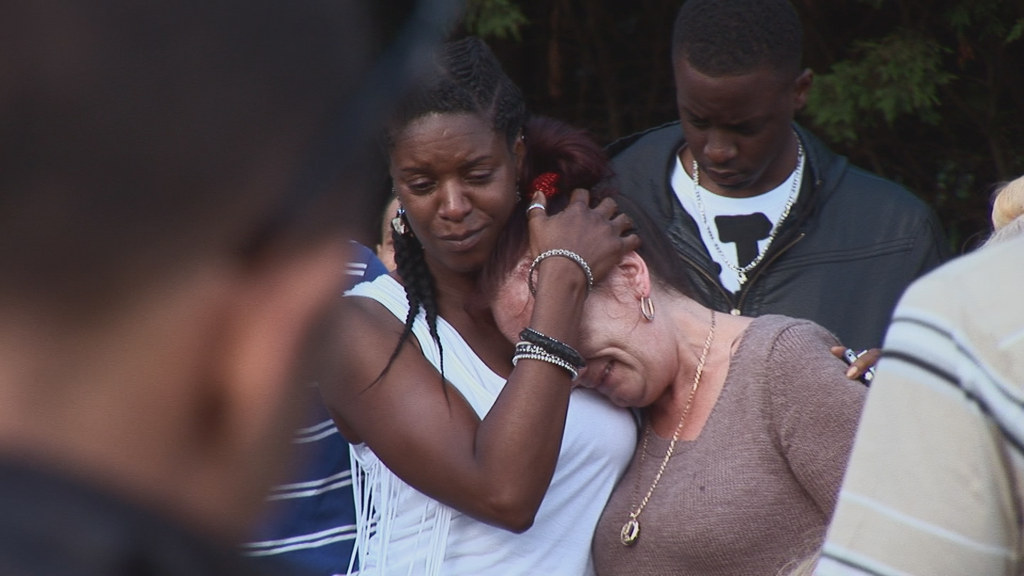 In the film, we see people in Duggan's Tottenham community react to the news of the inquest's findings. People were initially "shell-shocked", Amponsah said, and one community member told him off-camera that the verdict felt as though "they were killing Mark all over again".
Getting those community members to open up was a challenge in itself. Amponsah noted a deep distrust of anyone who represented the media among locals – including his two subjects. This distrust, he believes, stemmed from the fact that many media outlets incorrectly reported Duggan's killing as the result of a "shoot out" between himself and police. It was later confirmed that the only shots fired were by the police officer, who was referred to in the inquest as V53. "It wasn't easy for them to open up to me," said Amponsah. "It was a process. It took a while for them to trust me, and they had good reasons to feel that way."
Tottenham is in many ways an "open wound", Amponsah said. He is concerned that without closure, another riot is inevitable. "If you're going to tackle this problem, then the police and the Tottenham community need to come together to prevent it from happening again."
The documentary is named after the tactic armed police deployed in order to pull over the minicab Duggan was in before he was shot dead. It also serves as a reference to something more personal for Knox-Hooke and Henville, Amponsah said: The Hard Stop is about two young men reflecting on pivotal moments in their lives.
"They've got a lot of love around them, they're family men, and both of them are fathers who are very committed to ensuring their children don't go down the wrong path," Amponsah said. "Specifically the kind of paths that could lead you into the same path as Mark. They don't want to see a repeat of the 2011 riots."