Here's What "Romeo And Juliet" Would Look Like As A Queer Love Story
"Two households, both alike in dignity. In fair Verona, where we lay our scene."
We're all familiar with Shakespeare's infamous tale of Romeo and Juliet, right?
Well my friends, I'm about to show you what Romeo and Juliet would look like as a retelling on Instagram. Yes, you read that correctly.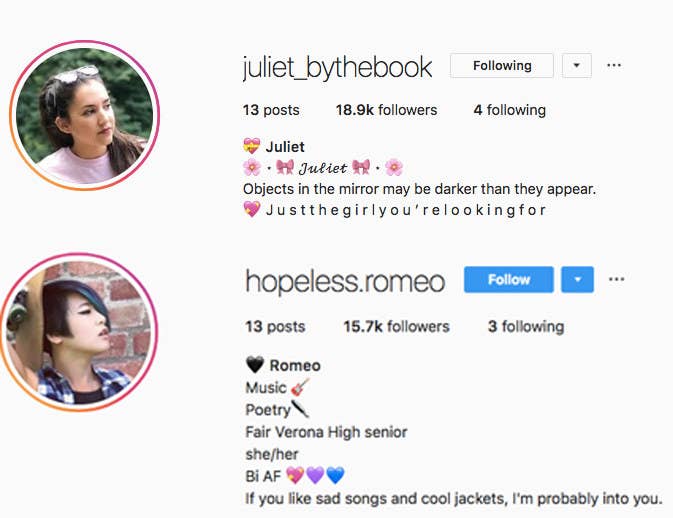 But not only is it a retelling on Instagram, it is a QUEER retelling of the infamous Shakespeare play!!!!
Here's what's going on so far. Romeo is pretty pissed at Senator Capulet's actions and viewpoints on a lot of things, especially minorities. Romeo goes to high school with Juliet, who's the senator's daughter.
Tybalt, Juliet's cousin, mockingly made fun of LGBT rights in front of Romeo and her BFF, Mercutio — and that's how Mercutio and Tybalt ended up in a brawl at school that resulted in detention for everyone involved. DRAMA.
THEN Tybalt announced a Masked & Furious party happening at her place, where Juliet also lives.
Which means she's basically forced to attend, even though she'd really rather not.
And who has the daily tea, giving us a play-by-play on the drama of these characters? Rosaline and Paris, of course. Full recounts of all the characters are summed up here.