Here Are My Thoughts On The First Episode And Finale Of "The Bachelor" Without Having Seen Anything In The Middle
"Peter, can I steal you for a second?"
Hey guys, it's Farrah! So with all the hype surrounding The Bachelor every year, I figured, why not watch only the premiere and finale without any context from the middle?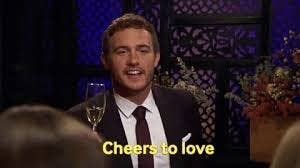 I've seen both The Bachelor and The Bachelorette in the past. The last seasons I watched were Ben's, then Rachel's. I don't really know why I stopped, but I cannot believe I'm about to watch a THREE-HOUR season premiere. What. In. The. World.
Here's the thing: I love the drama this show creates! Real or fake. As they say...the devil works hard, but the crew of The Bachelor works harder. I'm ready for a premiere with LOTS OF DRAMA. Bring it on.
One last thing: I don't know much about Peter or Hannah Brown (who I know was the Bachelorette last year). I'm only bringing it up because I saw the trailer for this season and I know Hannah returns.

Here we fucking go!!!!!!!! It wouldn't be a season premiere without Chris Harrison going, iT's dRaMaTiC aNd uNbeLiEvAbLe! Like, we get it, Chris. Every goddamn season is. You better not be lying to me.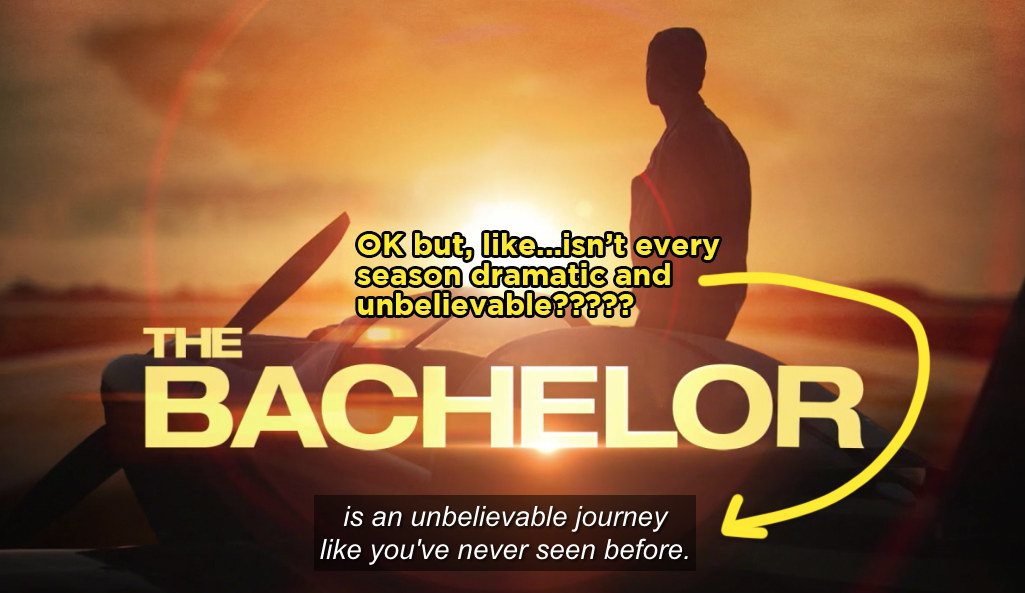 I was pretty surprised to learn that Peter's part Cuban! He also really seems like he's genuinely looking for love, so either he's a good actor or he believes this TV show will find him his forever person.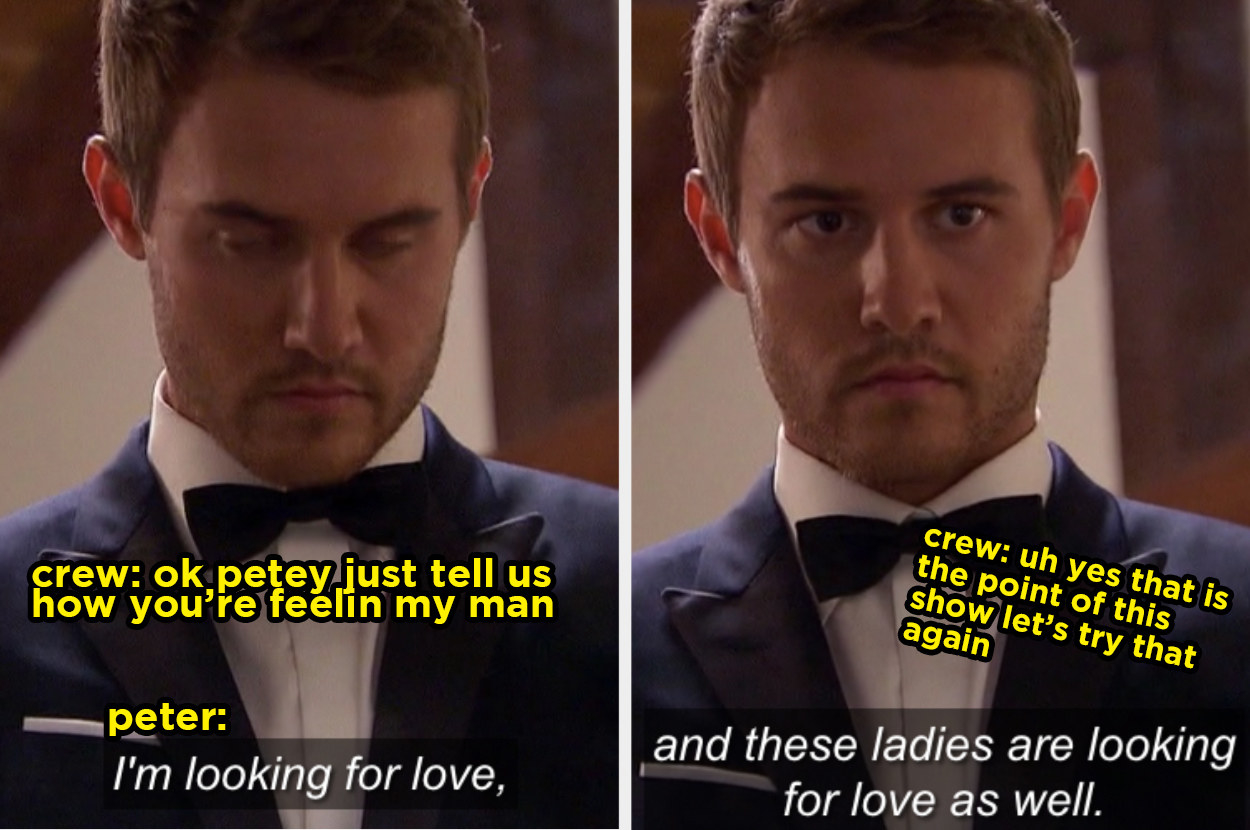 We get a few background stories on some of the women, which makes me believe they will be sticking around for a while. I would not be surprised if the nurse makes it to the final two. But anyway, here's my favorite part: the arrival and first impressions! I love how ~original~ all the women were.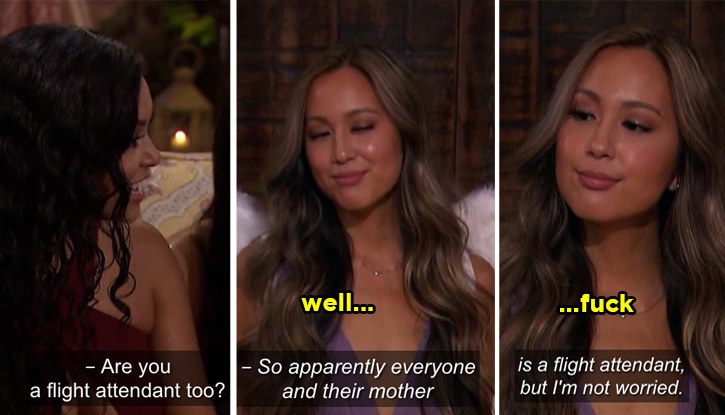 There was a lot of...creativity involved.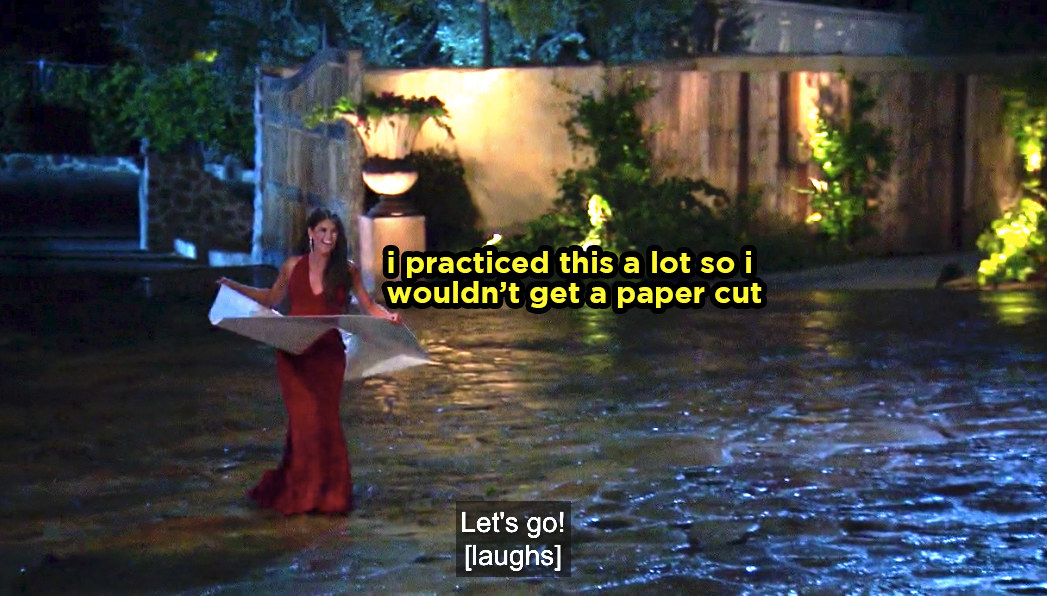 Can you imagine retelling this as the story of when you first met?????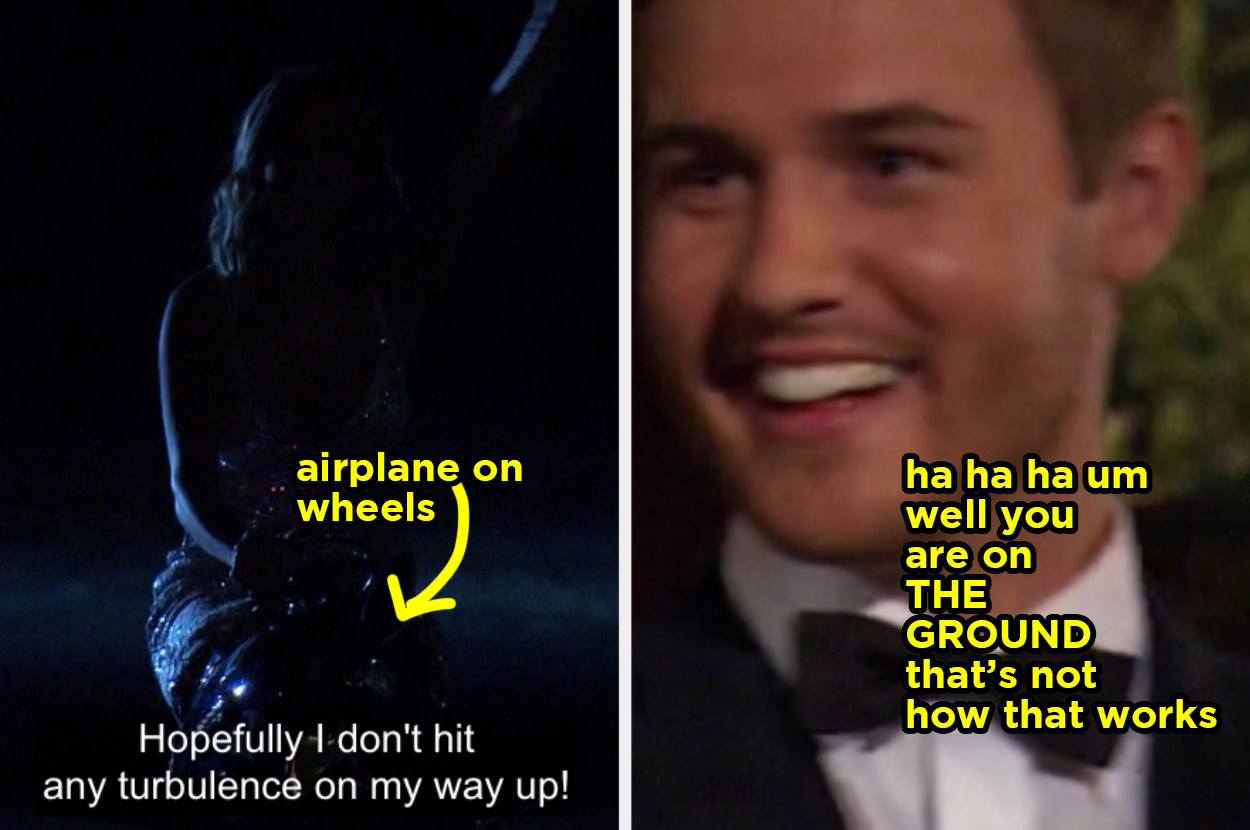 Anyway, an important piece of information I've learned so far is that Hannah Brown and Peter had sex in a windmill four times. So, naturally, someone dressed up as a windmill. Nothing says romance like bringing up your past partner!!!!!!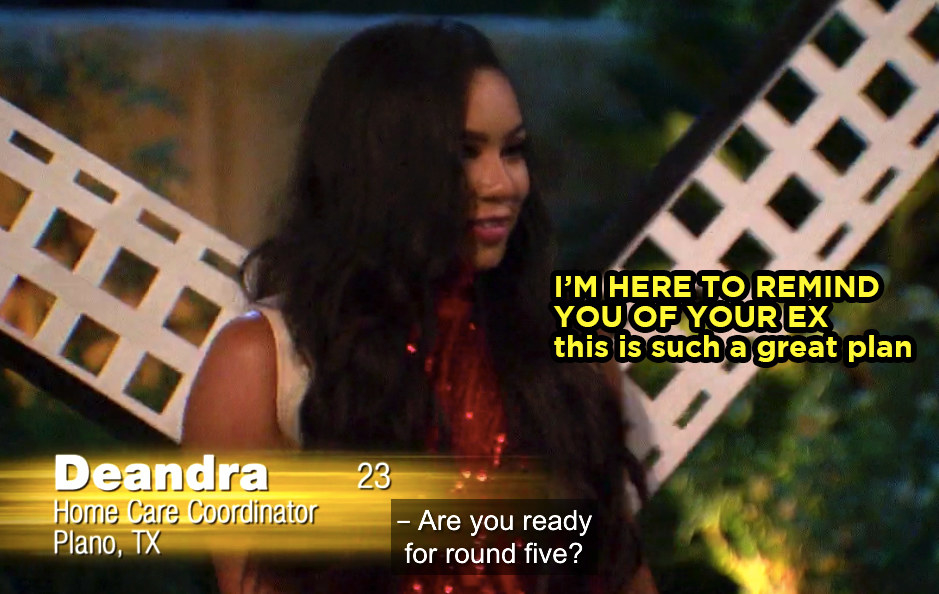 One girl brought an emotional support cow for Peter. I had to pause the TV here because I was crying from laughing so hard. A FUCKING PONY.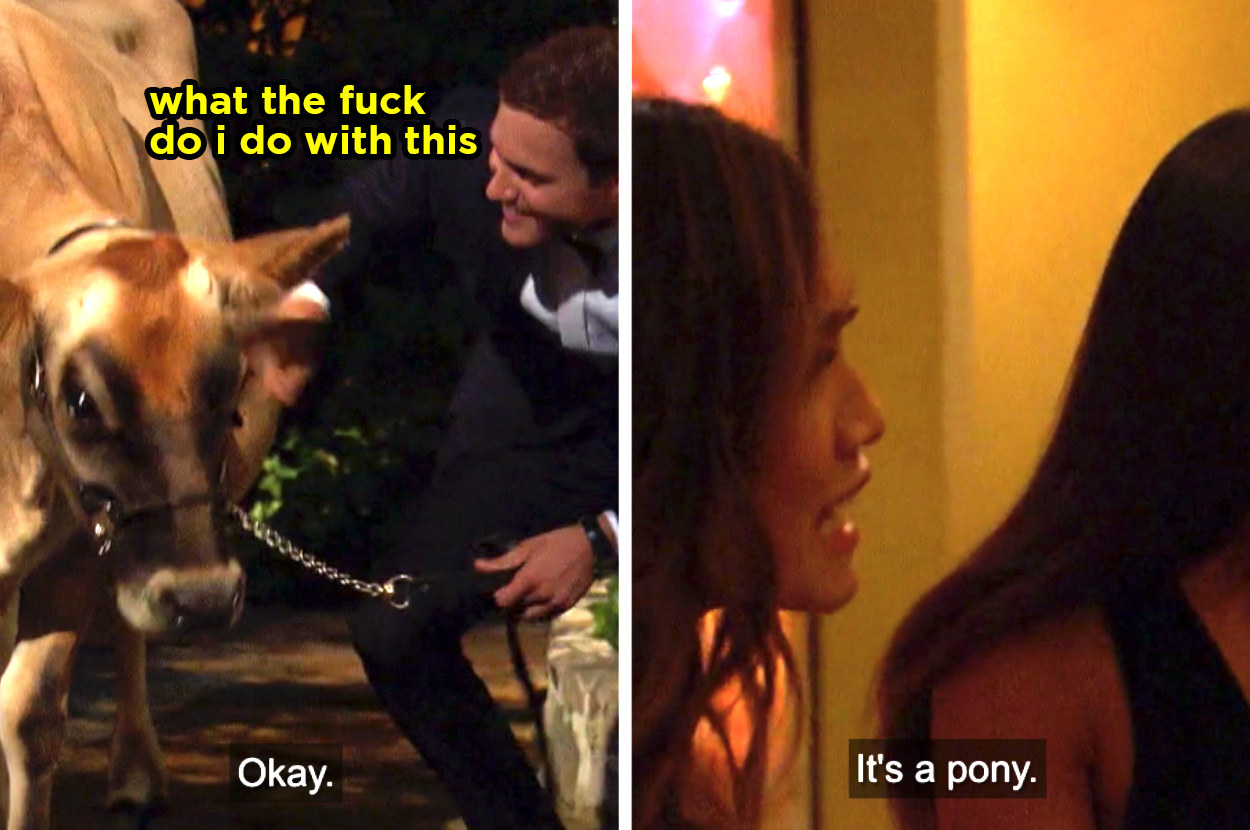 HERE IT IS. THE DRAMA THAT I'M LIVING FOR. Hannah Brown came back to the house. Honestly, out of context, this could be a still from a horror movie: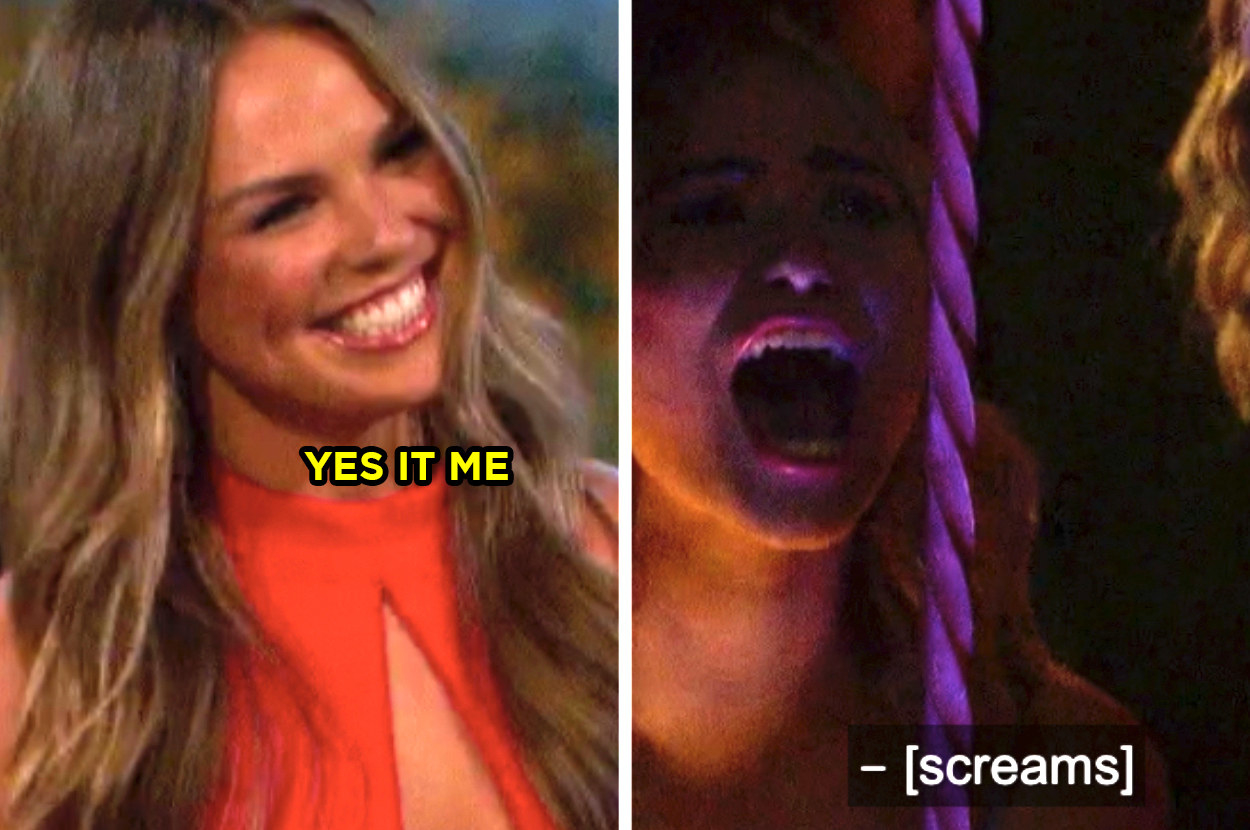 OK, all the girls are here. Now all 30 of them must compete for Petey's attention to hopefully win the first-impression rose. Stakes are high! Cattiness is alive!
So far, I really believe Hannah Ann and the blonde nurse will make it to the top 10. Hannah Ann is causing the most drama tonight because she talked to Peter THREE times, and not everyone has had a chance.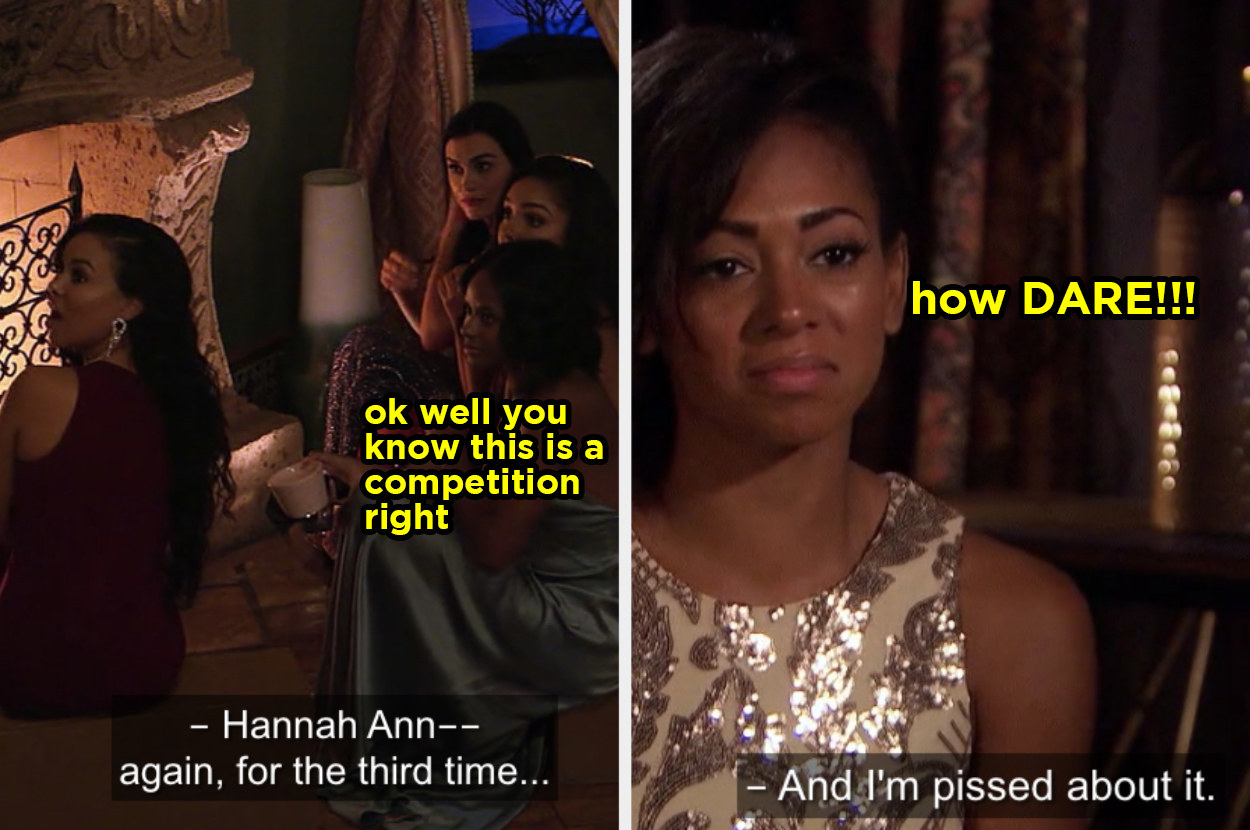 Peter is into Hannah's aggressiveness, so she gets the first-impression rose. Sometimes you gotta shoot your shot. And then shoot it again. And again!!! Anyway, Hannah was all, HELL YES, and all the other girls were sad.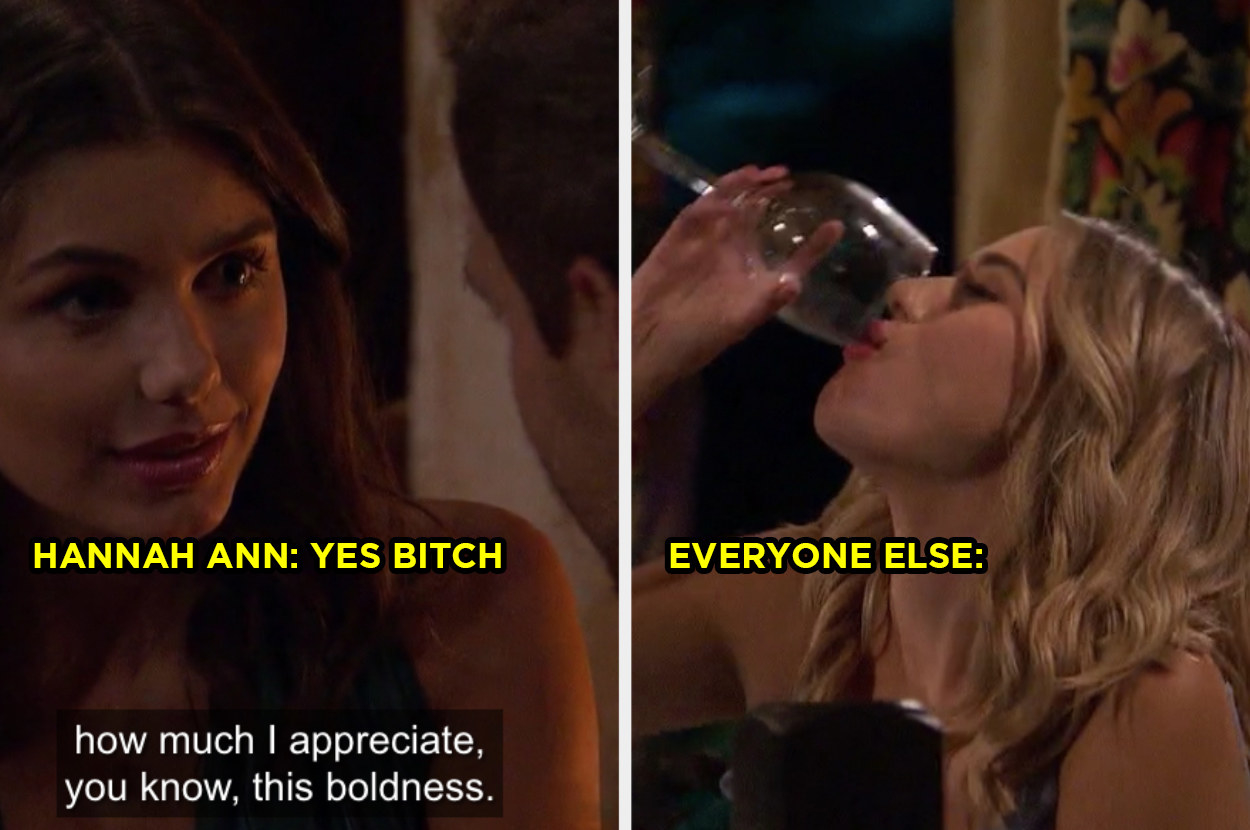 The rose ceremony happens, girls go home, blah, blah, blah. Stakes were low, since it was the first ceremony. The audience isn't attached to anyone just yet, so...MOVING ON. Half the girls have to complete an obstacle course to win a one-on-one date with Peter, and Kelley cheats!!!!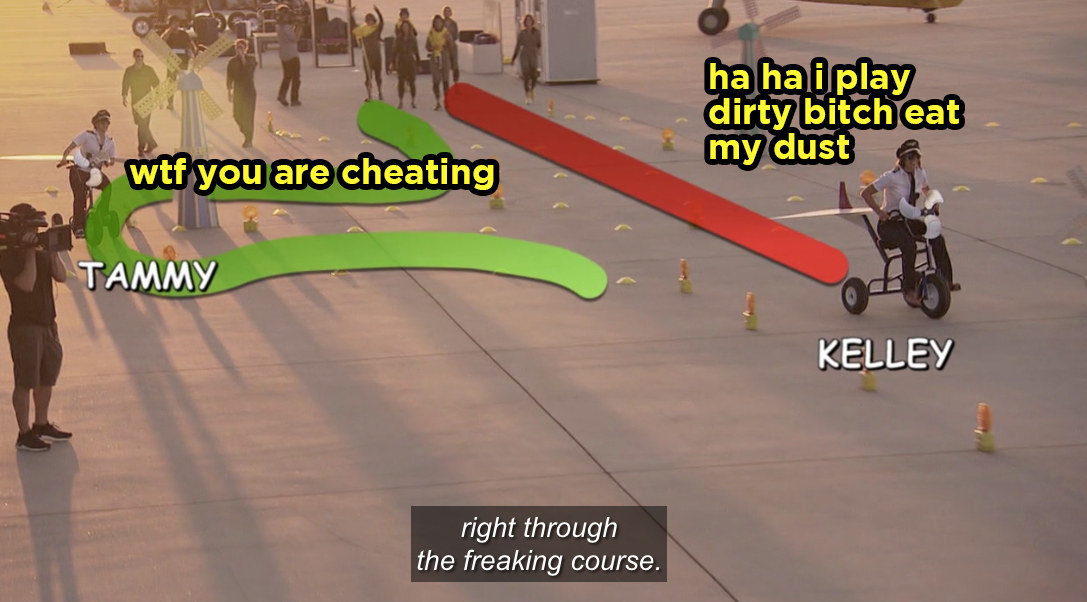 Kelley and Peter already have a history (kind of) because they met at a reunion. I feel bad saying this, but there's something about Kelley I don't like?! Maybe I don't like cheaters? Anyway, I don't think she's going to make the final two, but she will come close.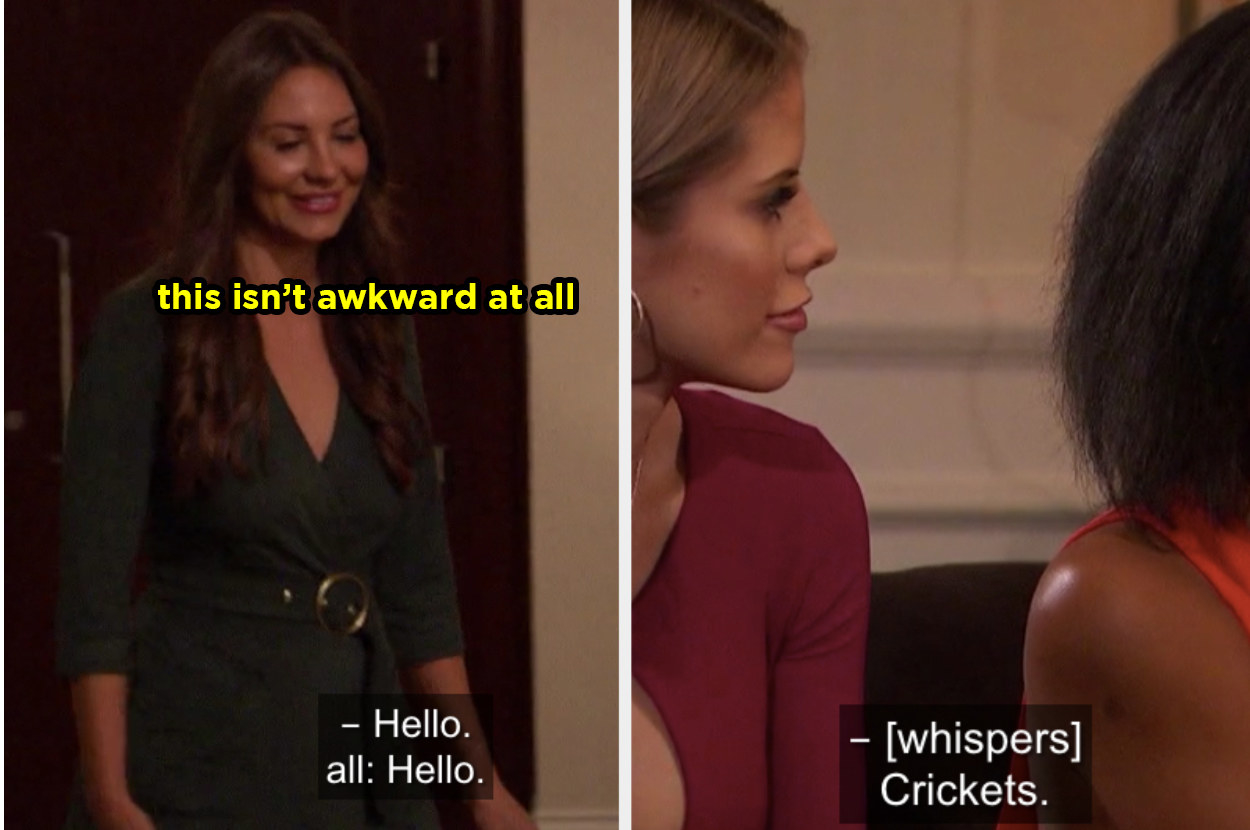 Next, Madison is invited on a one-on-one with Peter, and BLAHHHHH, I'M BORED. I WANT SOME DRAMA. Like, she seems sweet, but at the same time, she's just OK. If this were any other first date, it would have gone great. But this is The Bachelor, baby. I wanna see some VULNERABILITIES.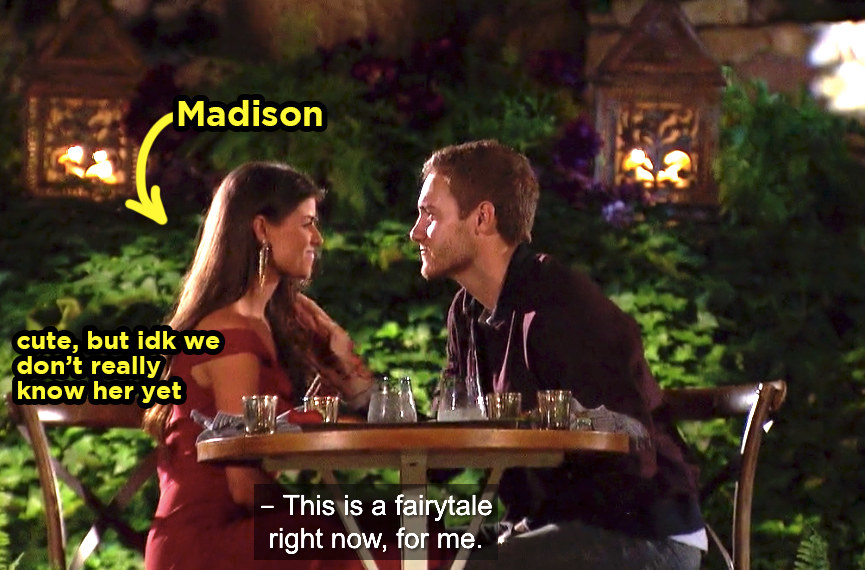 OMG. YES. HERE WE GO!!!!! Peter takes the second group of girls on a group date, and Hannah fucking Brown is there!! She tells ALL THE GIRLS, with Peter standing there, about the time she had sex with Peter four times in a windmill. As a date activity, she wants the girls to get onstage à la open mic and tell a story about sex. WHAT ON EARTH!!!!!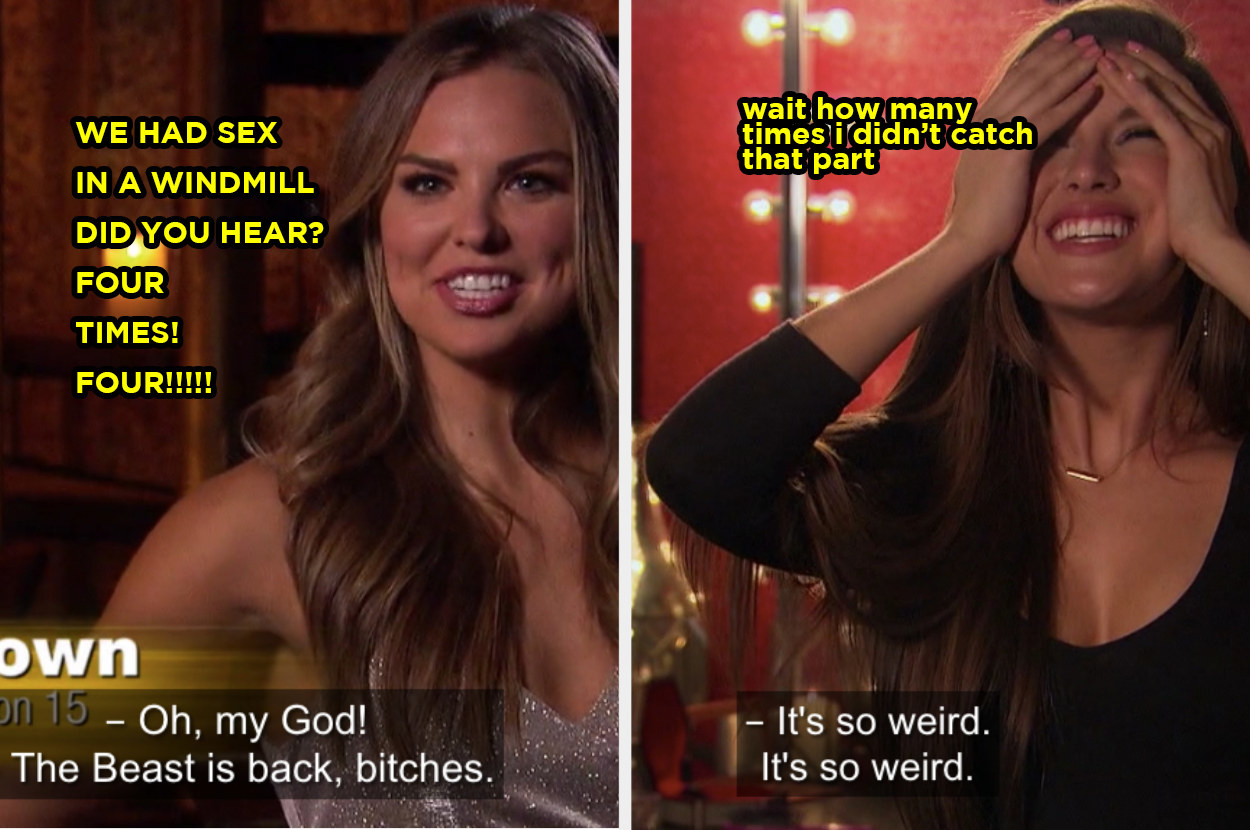 Then we cut to some kind of greenroom where Hannah's sitting all by herself. Peter comes in. She's clearly upset and has some regrets about sending him home. THIS IS THE KIND OF DRAMA I'M HERE FOR!!!!!!!!!!!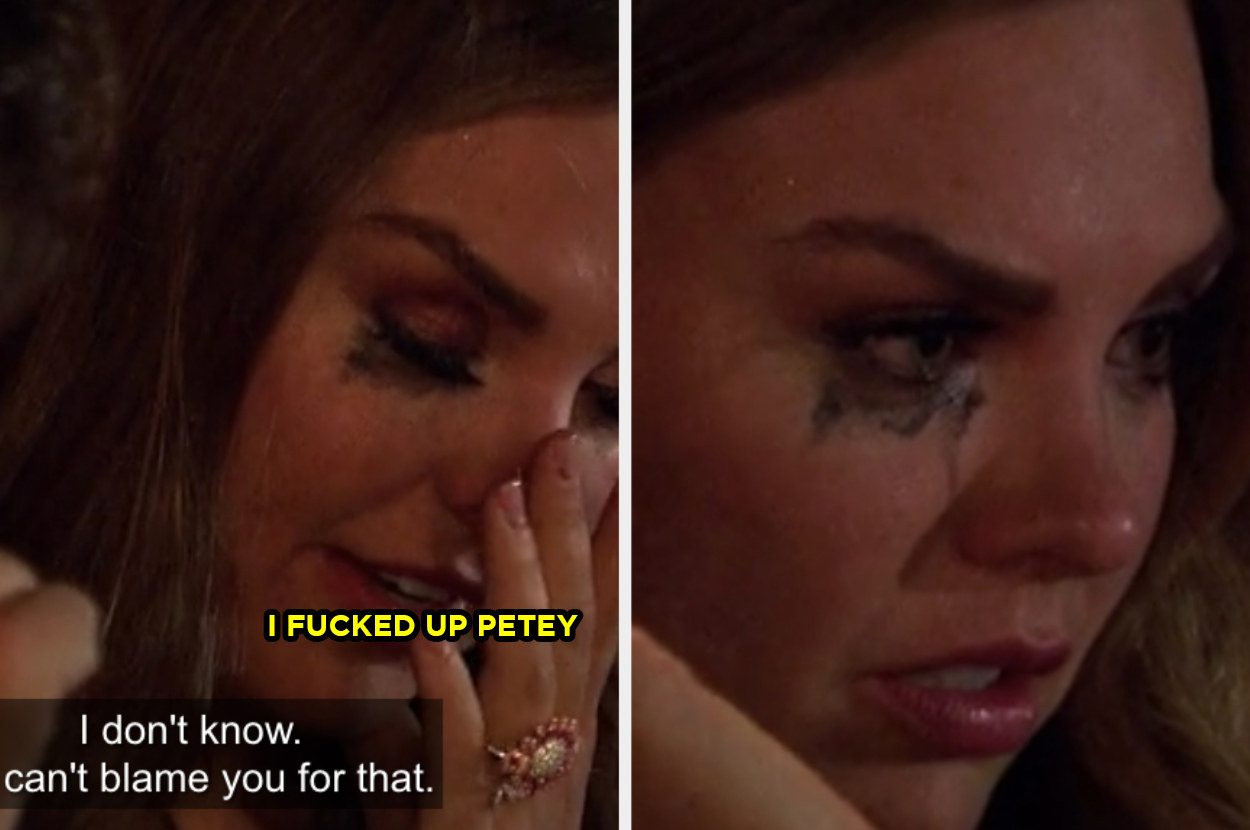 It seems as if Peter's heart is super confused. He clearly still has feelings for Hannah, going so far as to INVITE HER ON THE SHOW AGAIN. OH. MY. GOD. CAN YOU IMAGINE?????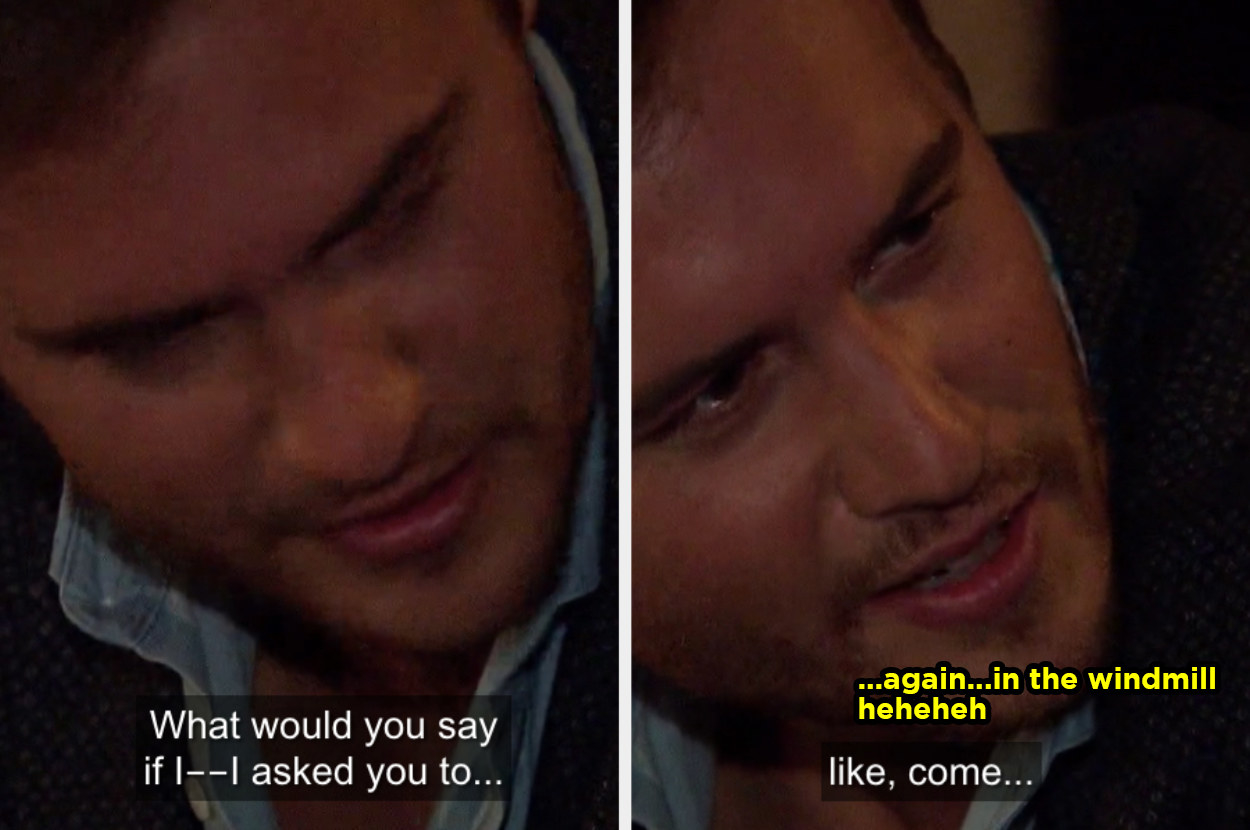 Goddamn it. I'm pissed that I'm not going to watch this season after seeing this premiere. Chris Harrison, you HOOKED ME. But — for the content, right?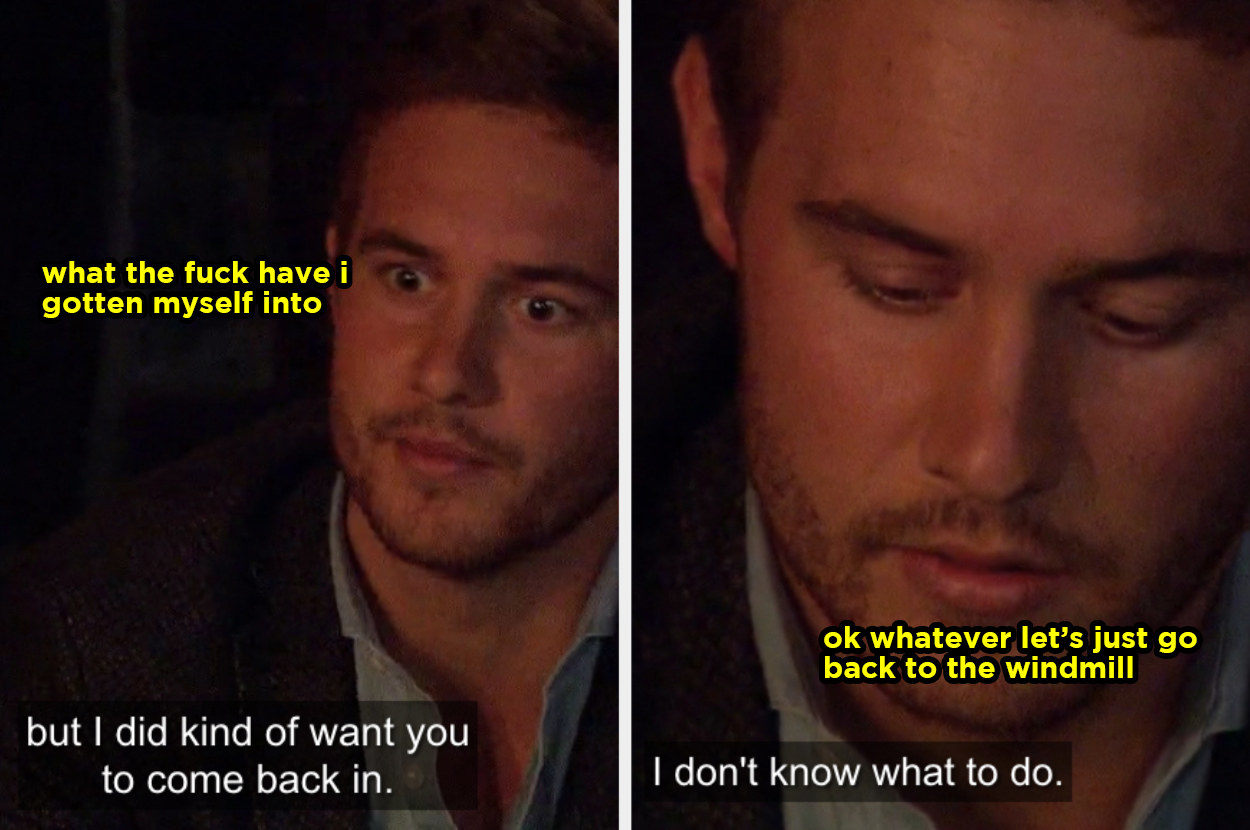 Then it ends.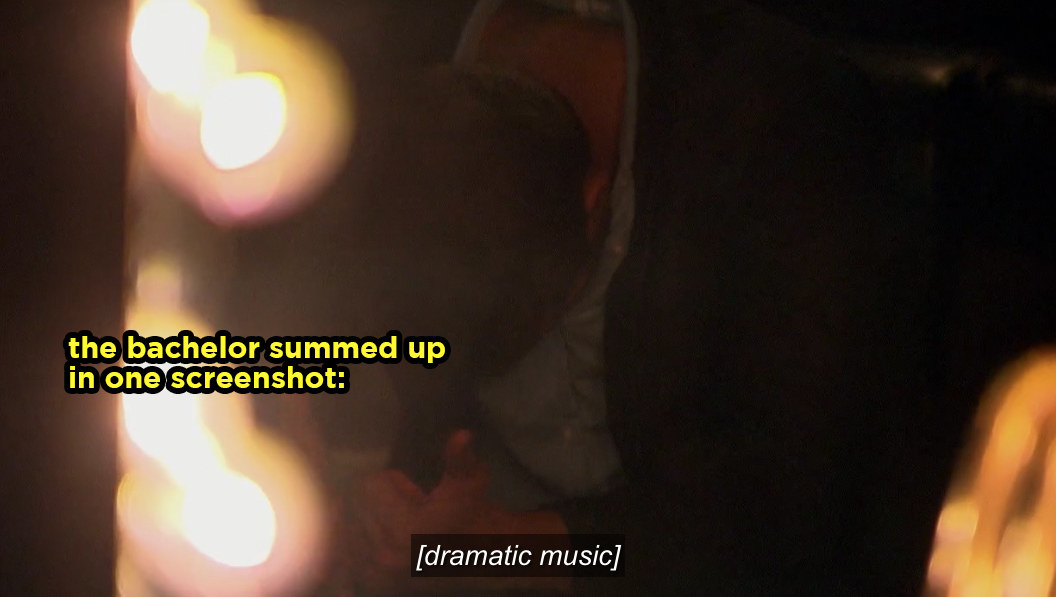 OK! With only the knowledge of the first episode of Season 24, here is my official list of my top 10 predictions:
1. Mykenna D.
2. Victoria F.
3. Victoria P.
4. Lauren J.
5. Tammy L.
6. Hannah Ann
7. Alexa C.
8. Kelley F.
9. Madison P.
10. Hannah Brown??????
And finally, here are my picks for TOP TWO, solely based on who received the most screen time this episode:
1. Hannah Ann
2. Madison P.
Now, before I get to the finale, I need to say this: I know the finale is two parts, but I'm only watching the second one. Like, you guys, this is altogether a six-hour finale. That's like watching six episodes of a regular TV show!!! Anyway, let's do this.

We open with Chris Harrison hyping up the drama, of course. He's SO SURE nobody knows what happens, but I don't find that 100% believable.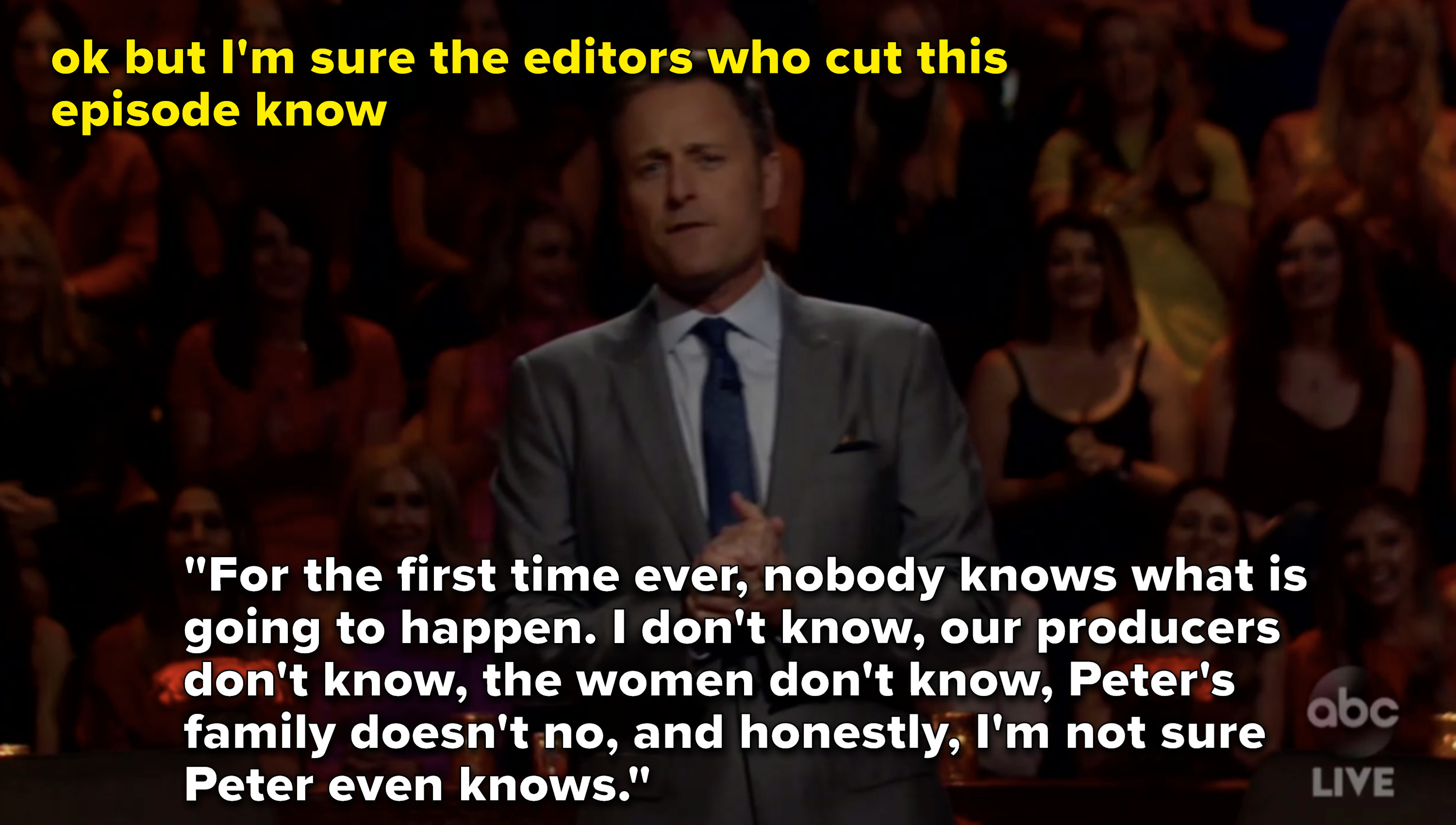 OH MY GOD!!!!! I was right about Hannah Ann being one of the top two!!!! Madison left, I guess, so who else is there?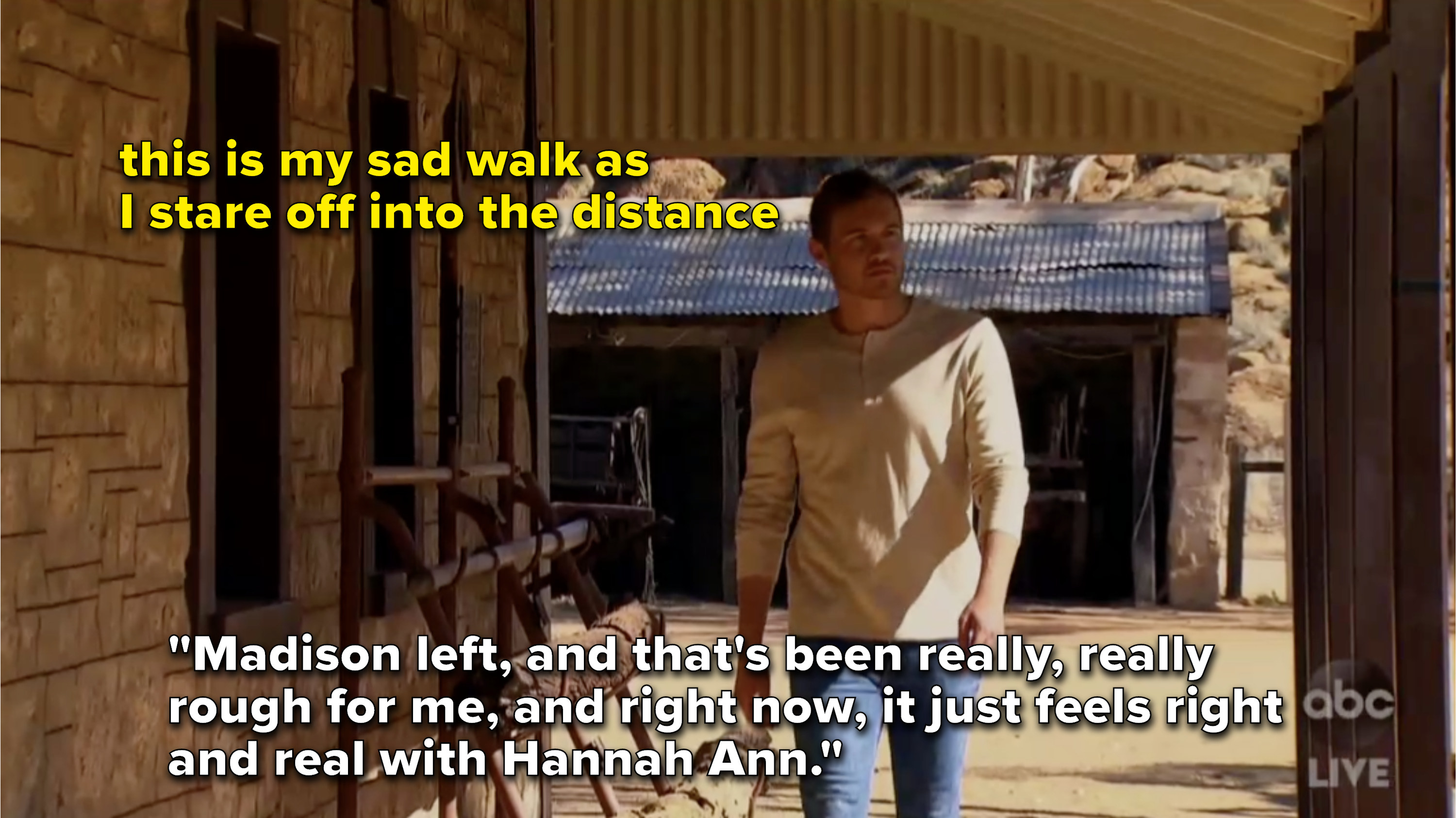 I love this b-roll of a random windmill. There's no escaping it. Does that mean Hannah Brown returns? Is this foreshadowing?
Oh! Peter is going to propose to Hannah Ann?! I should have joined a Bachelor pool, honestly.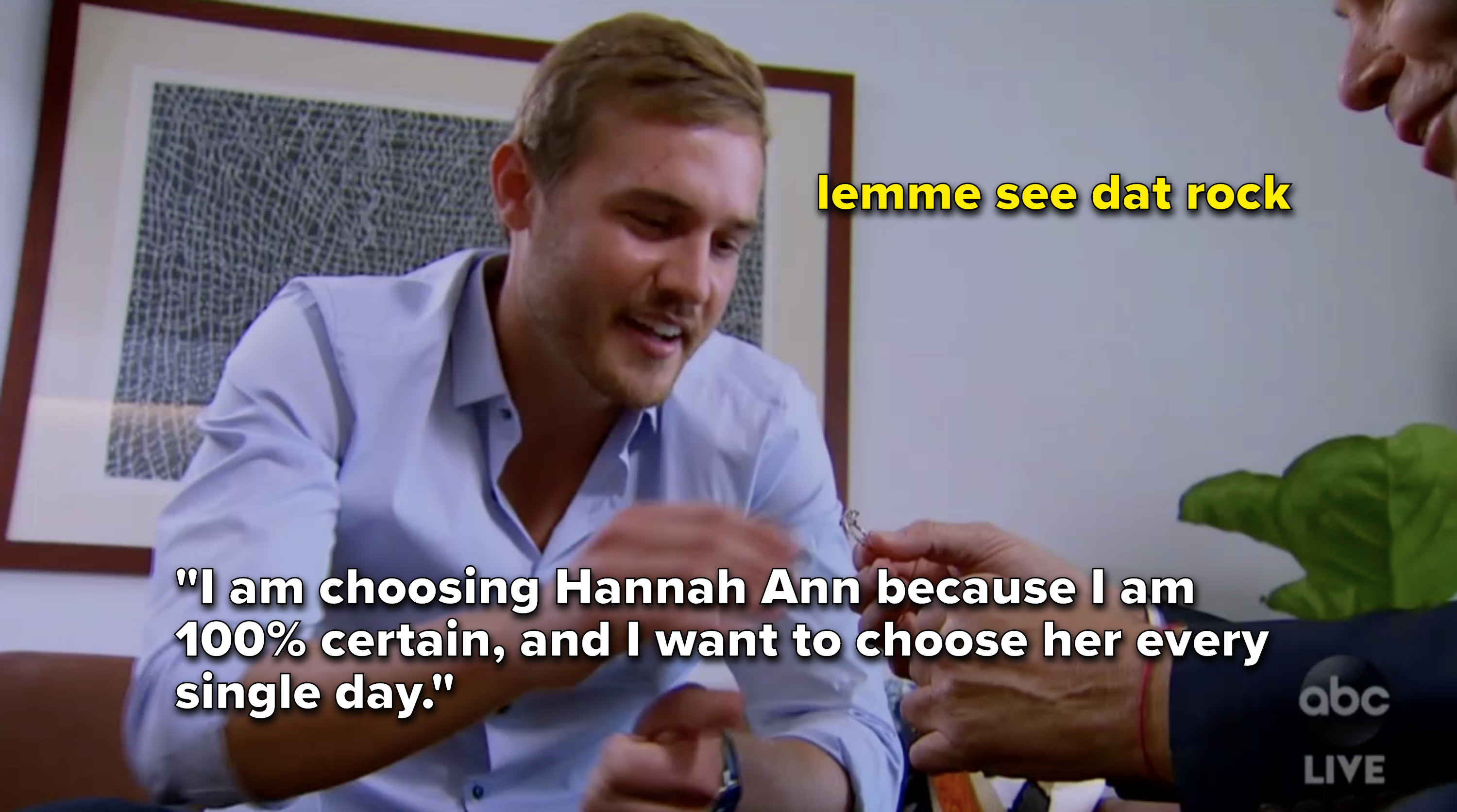 This girl...looks miserable. Like, honey, I really don't think he's worth it if you're having these kinds of thoughts.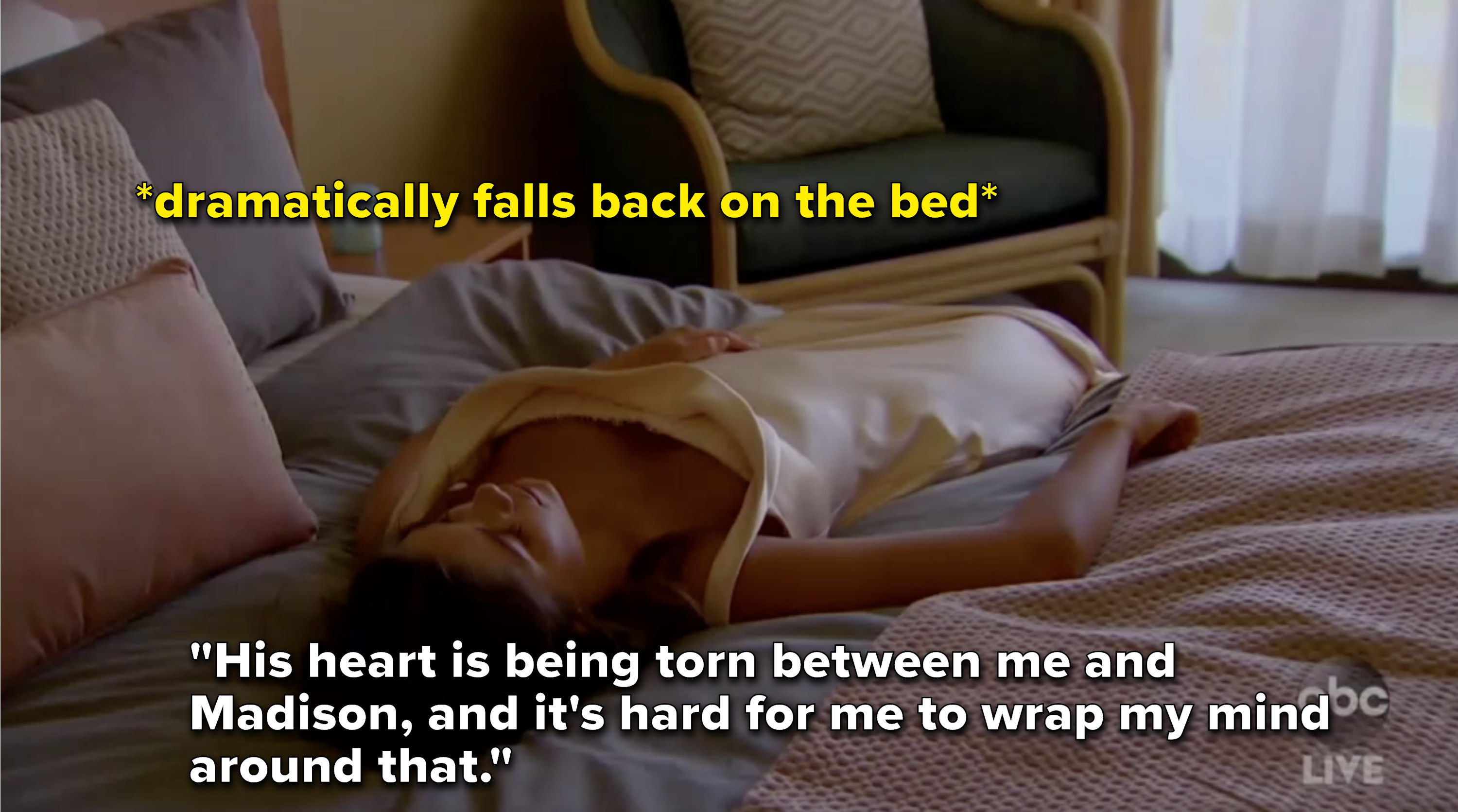 Damn, they really hyped up this moment in the trailer, and all Chris says is that Hannah isn't coming?!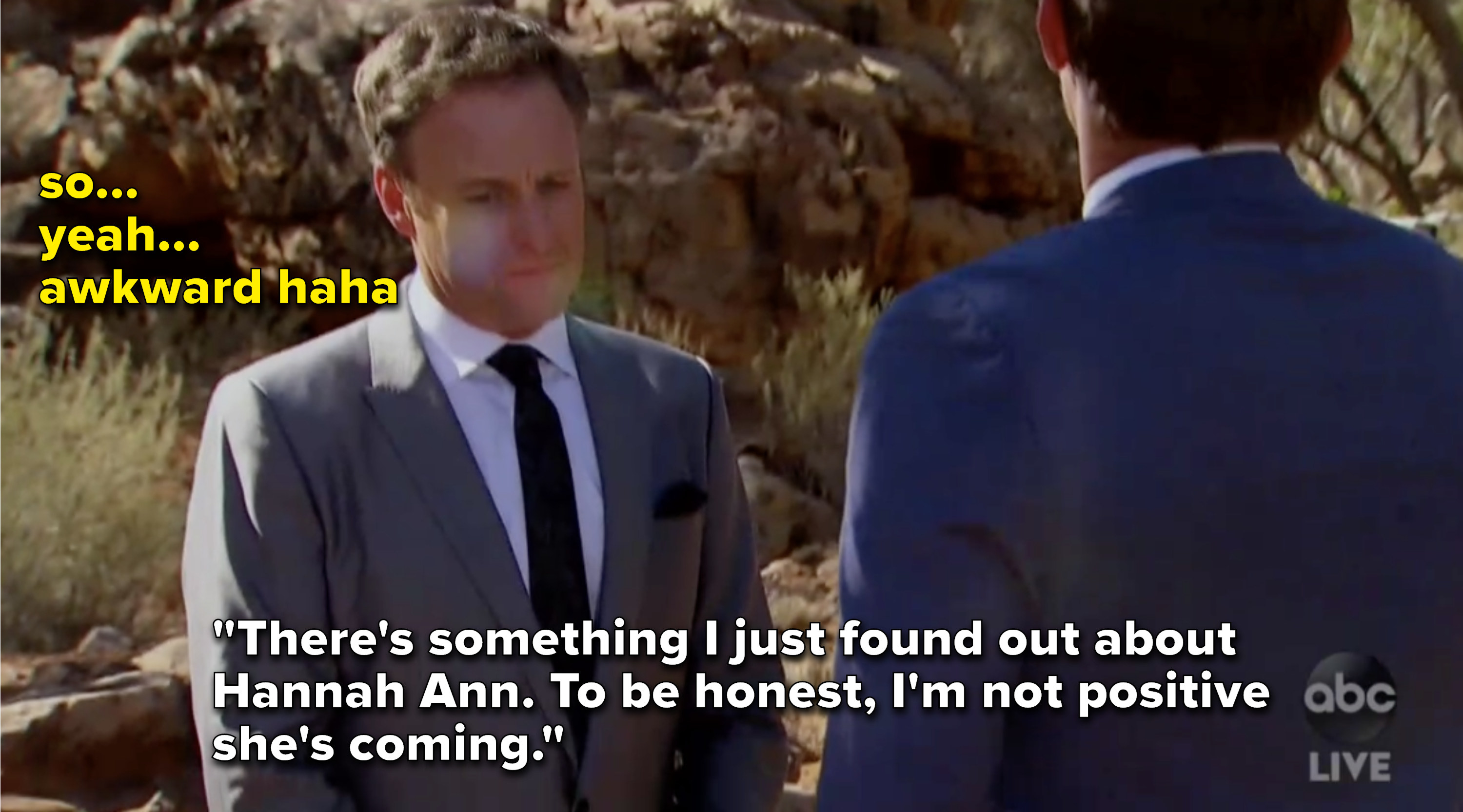 Peter gets sad, but then we cut to...
...Hannah Ann on her way to meet him. And, like, wow. She still looks deeply unhappy?!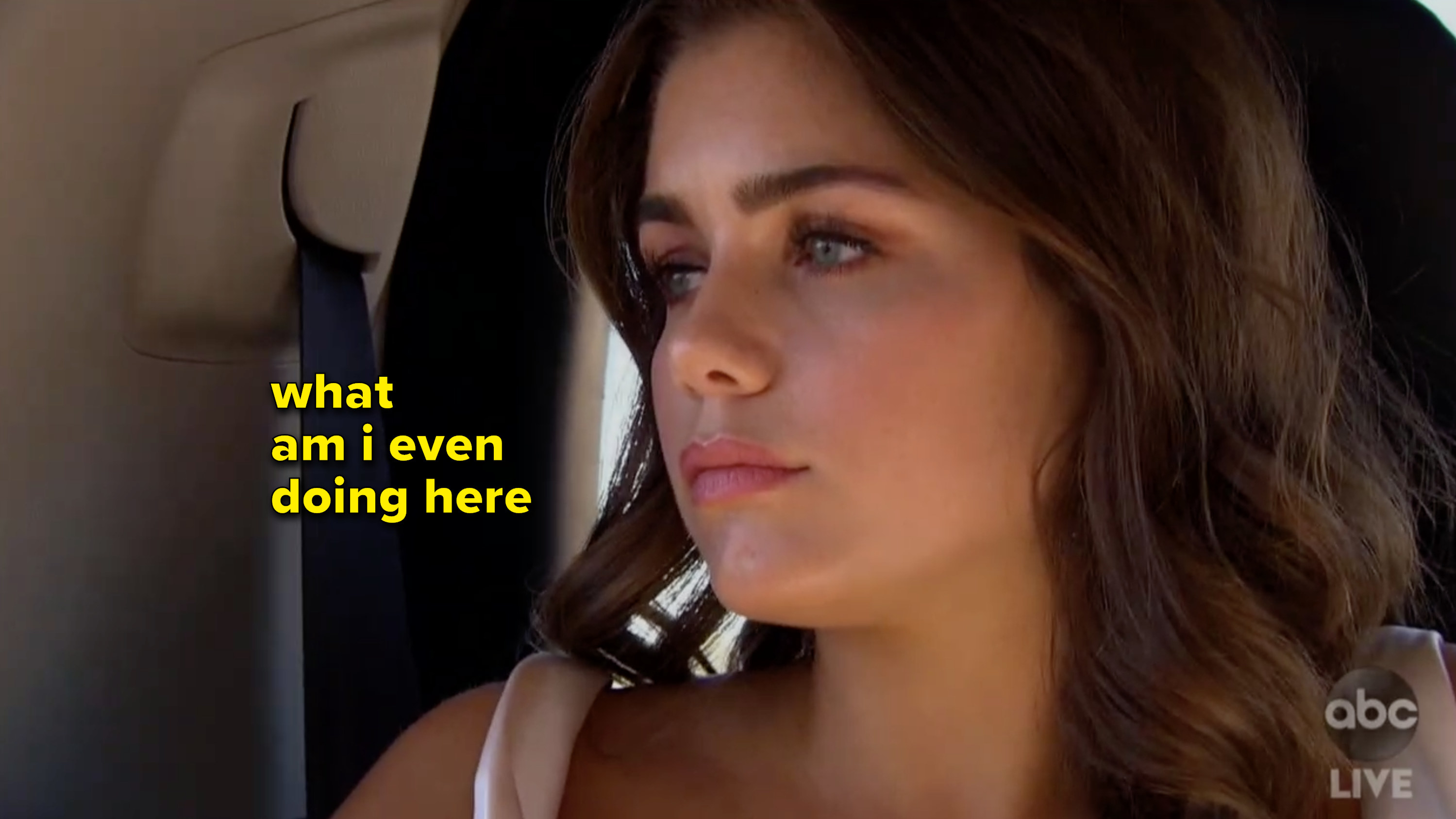 OH MY GOD. Literally, HANNAH ANN is the ONLY GIRL left. Because Madison P. dumped him?! So wait...my top two choices were right for the final two girls!!!! But also, wow. Hannah Ann just marries him by default?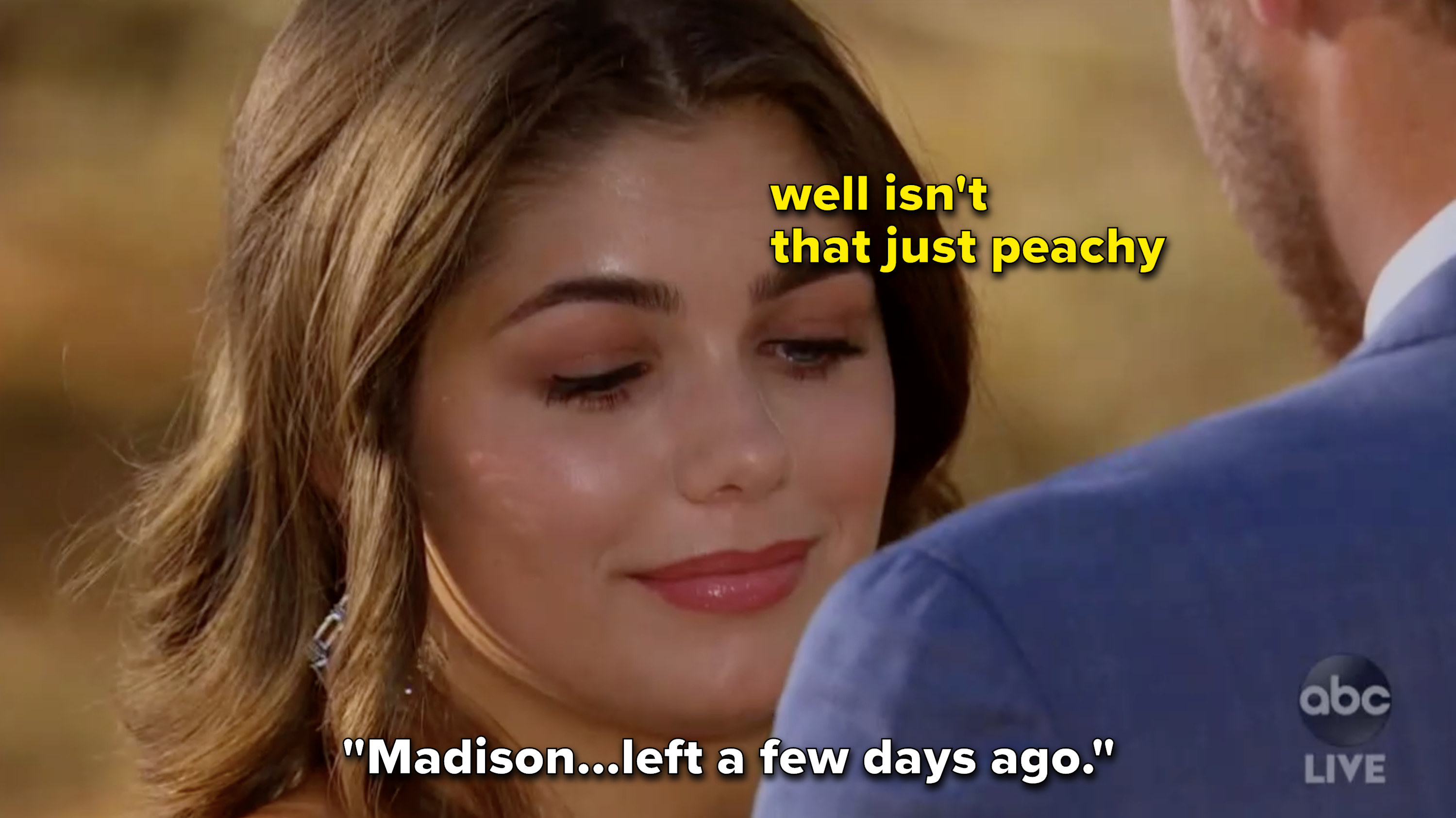 Then Peter proposes. (Jeez, there's, like, hours left still.) But Hannah Ann seems like she's fake happy? And so does Peter? It feels so forced, idk!!!! Maybe this show is always this way, though.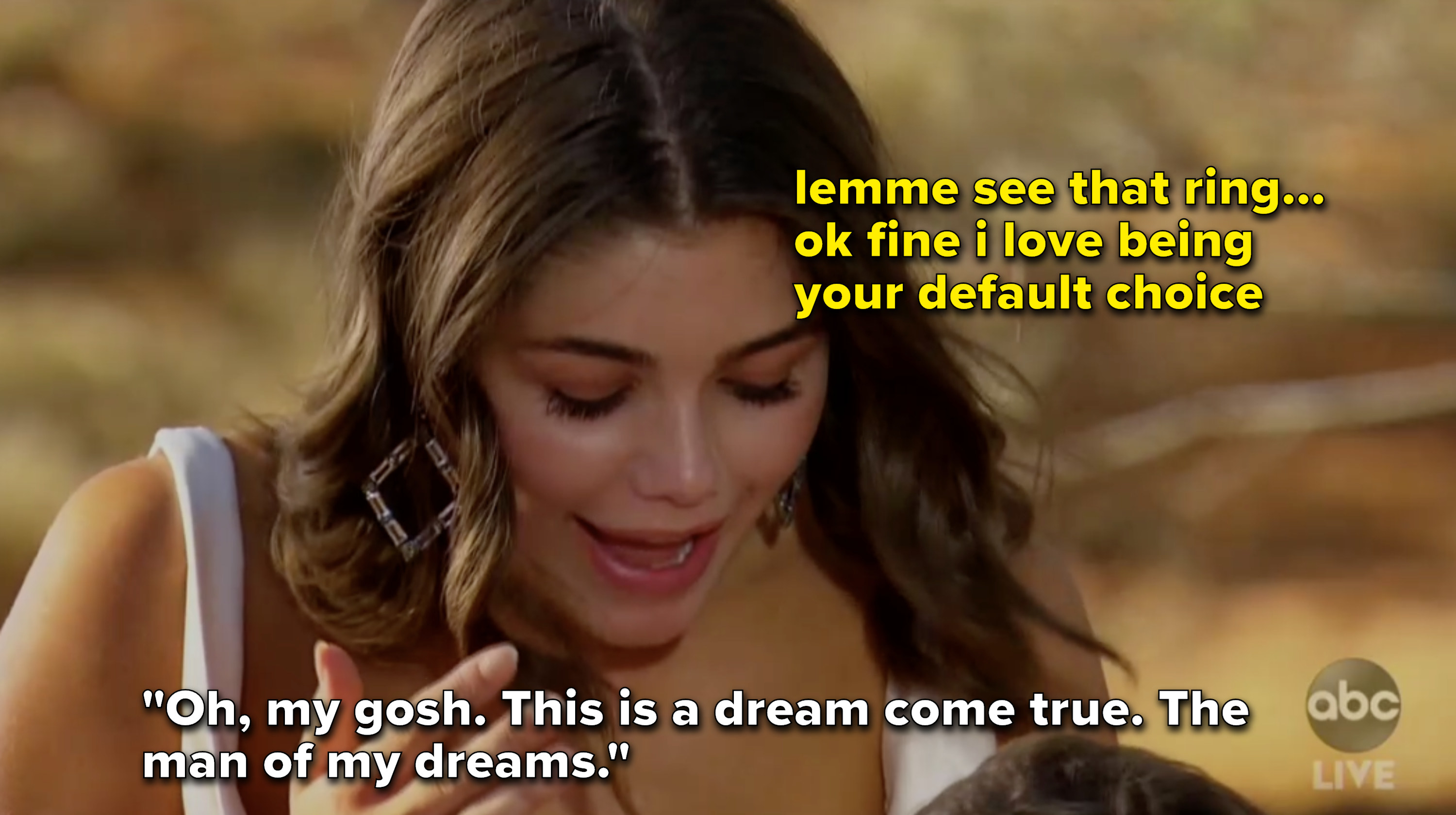 Right, so then Peter goes to tell his mom and dad who he proposed to. He really drags it out.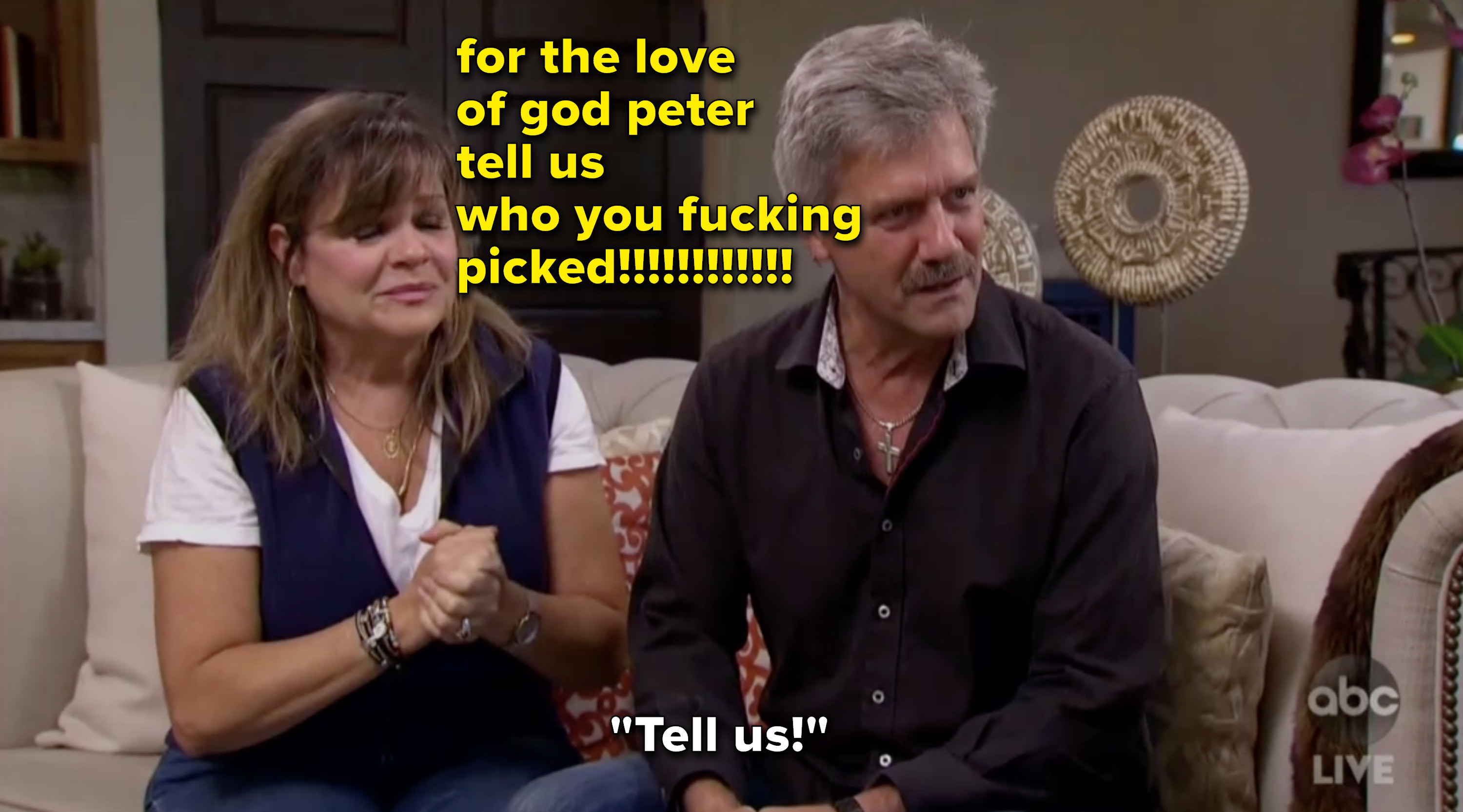 Then we skip to a month after the proposal, when we learn Hannah Ann and Peter haven't seen each other in 30 whole days. Hannah senses that Peter is still conflicted.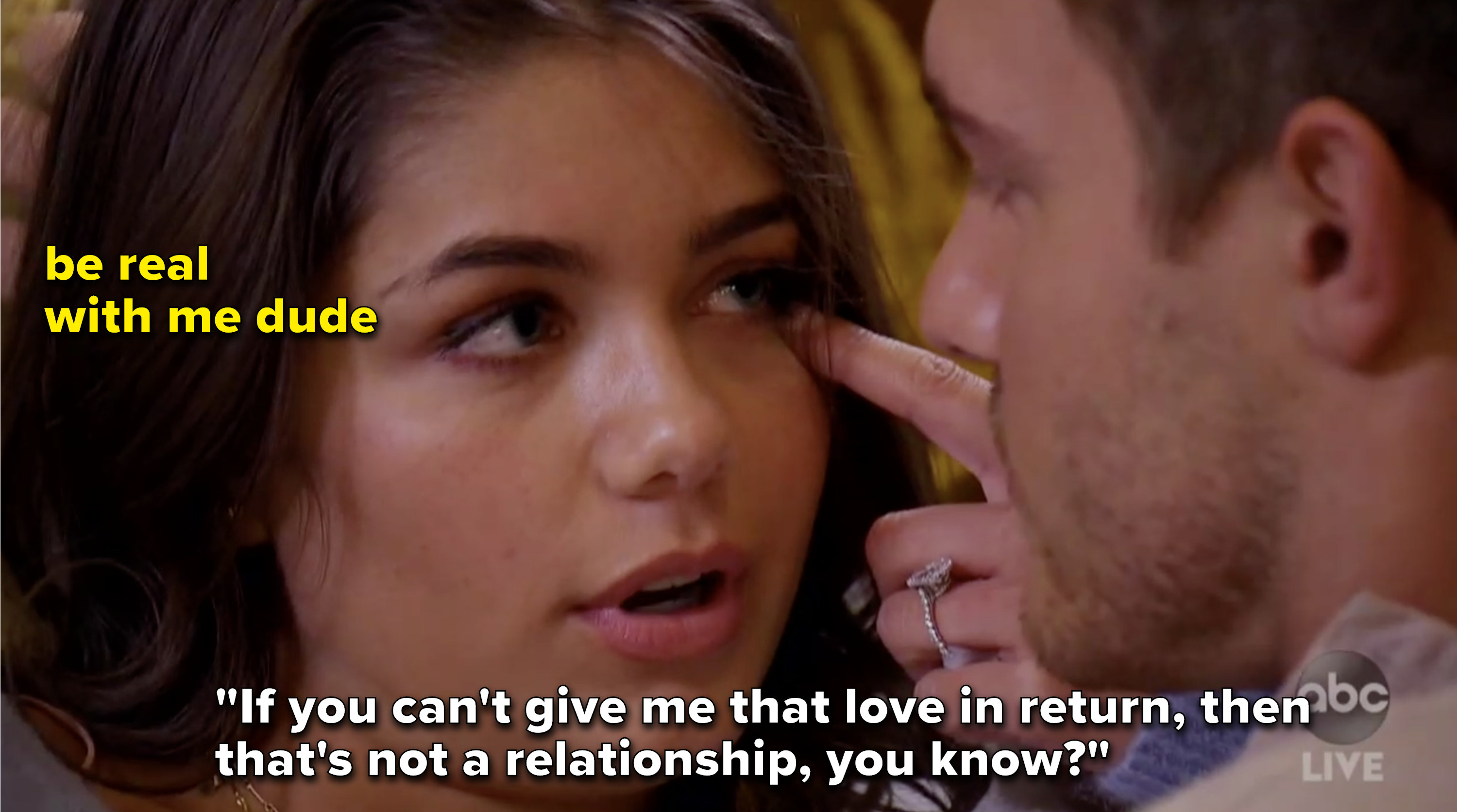 Yiiiiiiiikes.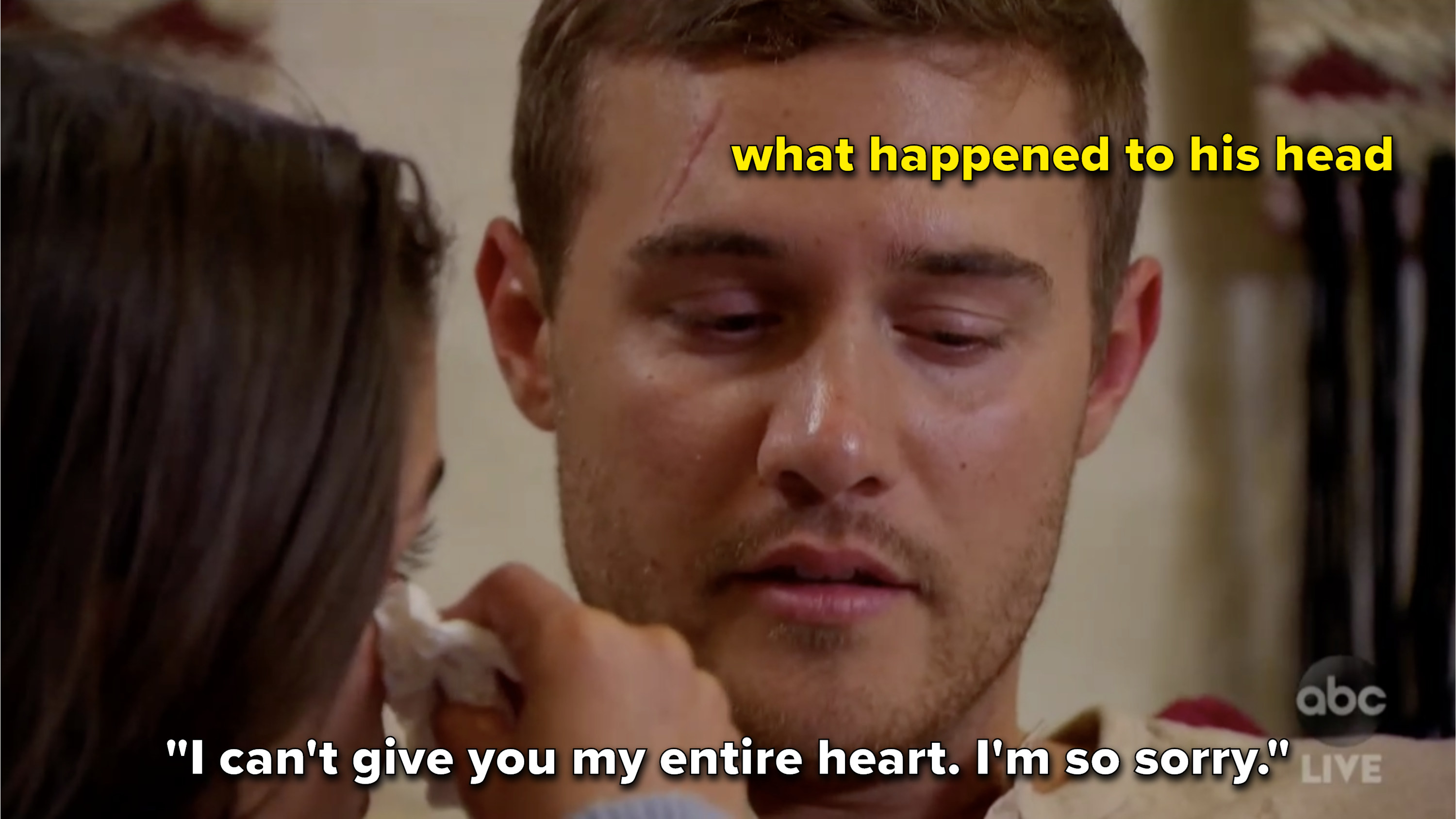 THIS IS THE DRAMA I WANTED. Tell him, Hannah Ann!!!!!!!
Honestly, she's bringing up some good points. Peter sounds like trash. Why did any of you last so long watching him?!!? (Oh. Right. For drama like this!!!!!)
She's saying this more eloquently than I would have. No more messy men in 2020.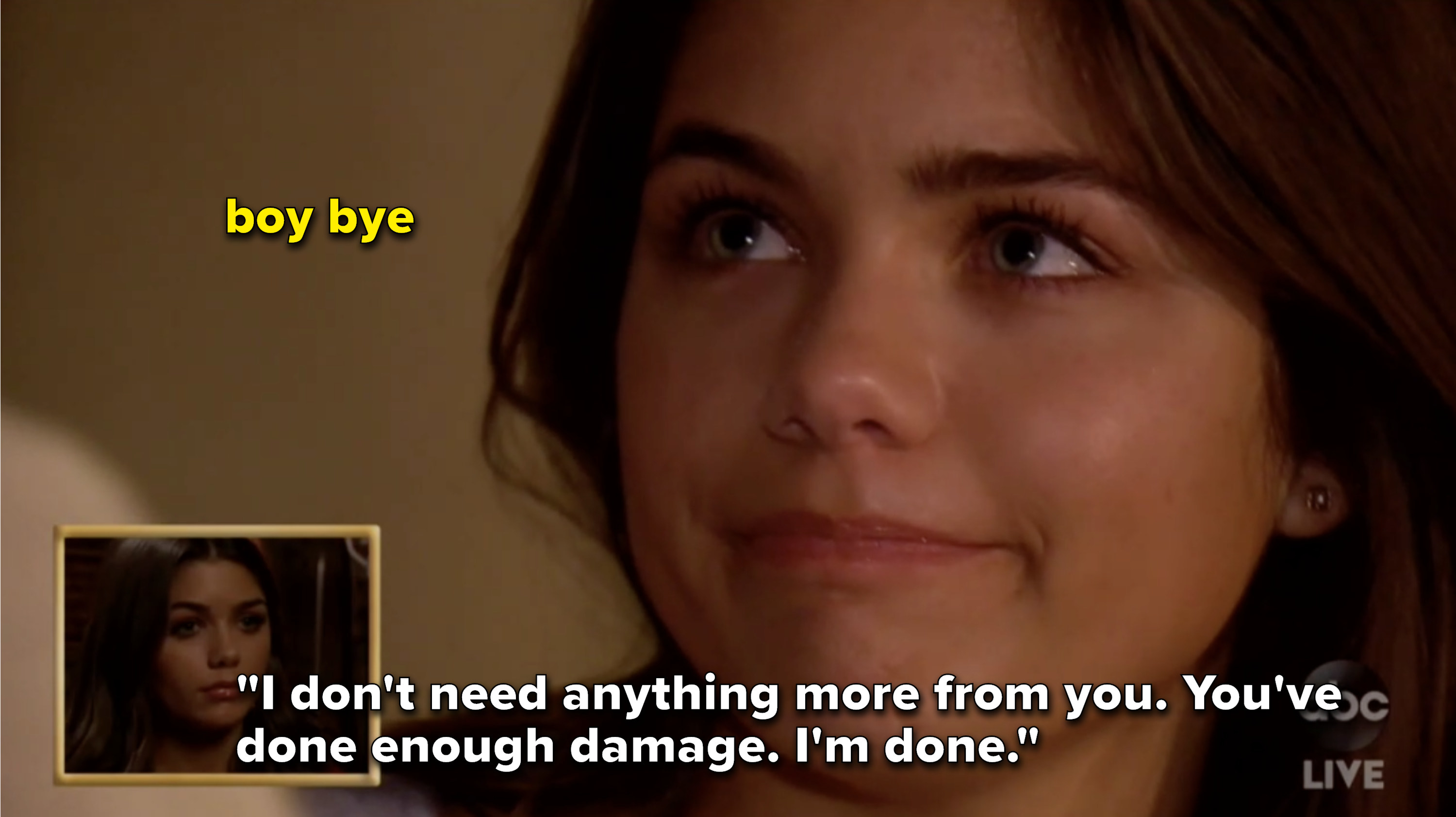 Then, since this finale is also happening live, Chris invites Hannah Ann BACK for another conversation with Peter. I hope they paid her well because he ain't worth it!!!!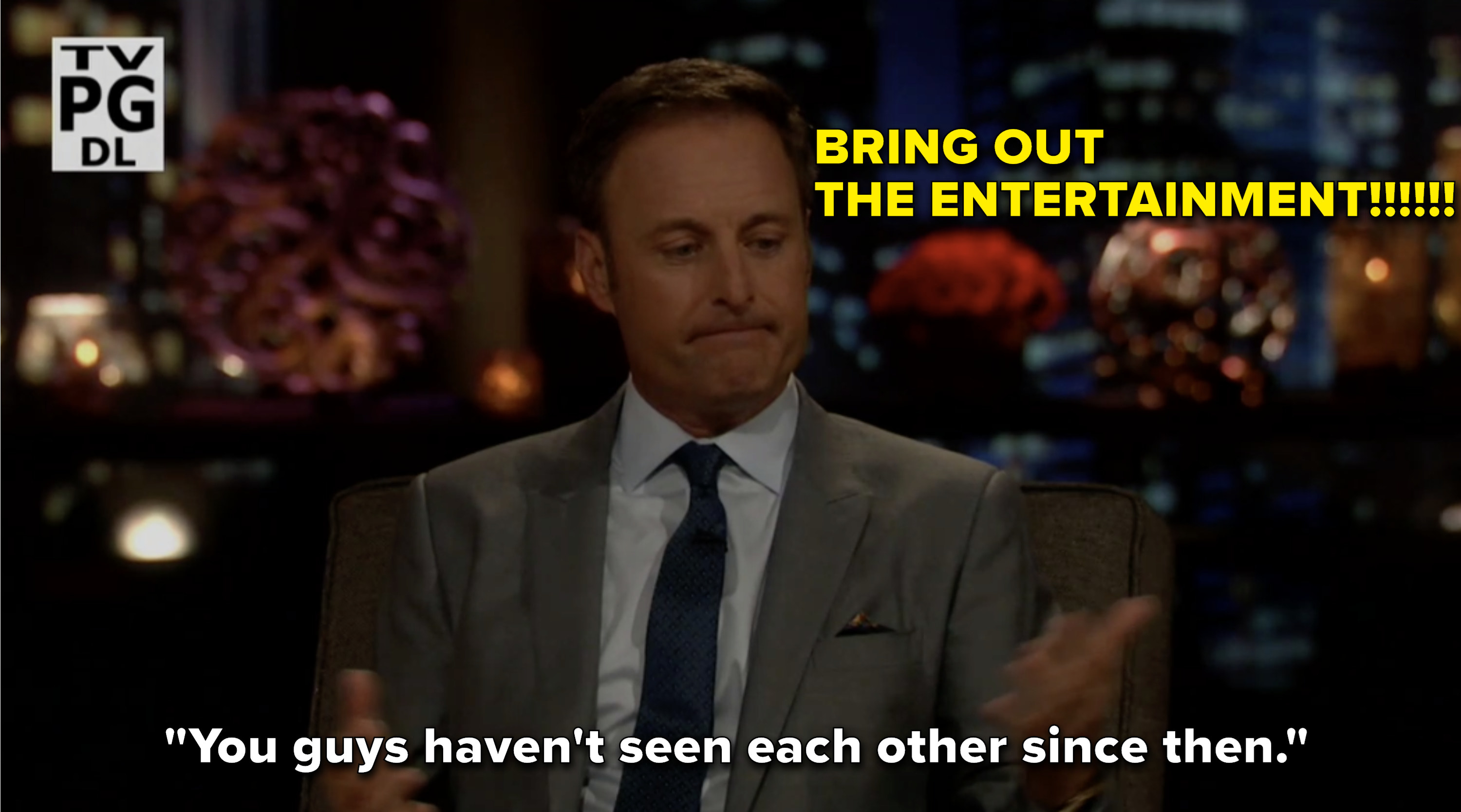 Hannah Ann greets him with the ole awkward one-arm hug!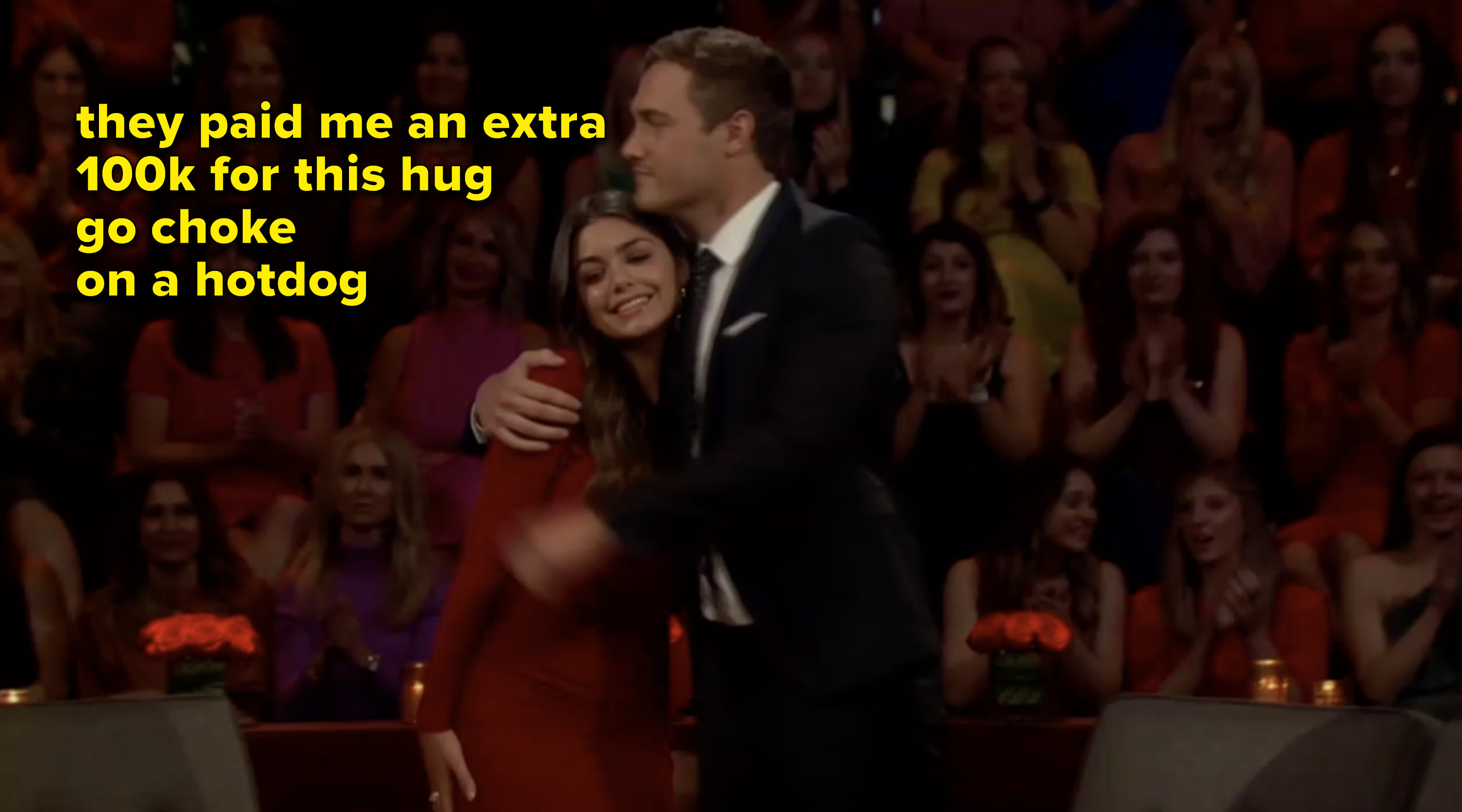 Again, she has some VERY VALID POINTS for Peter, and all he can do is keep apologizing.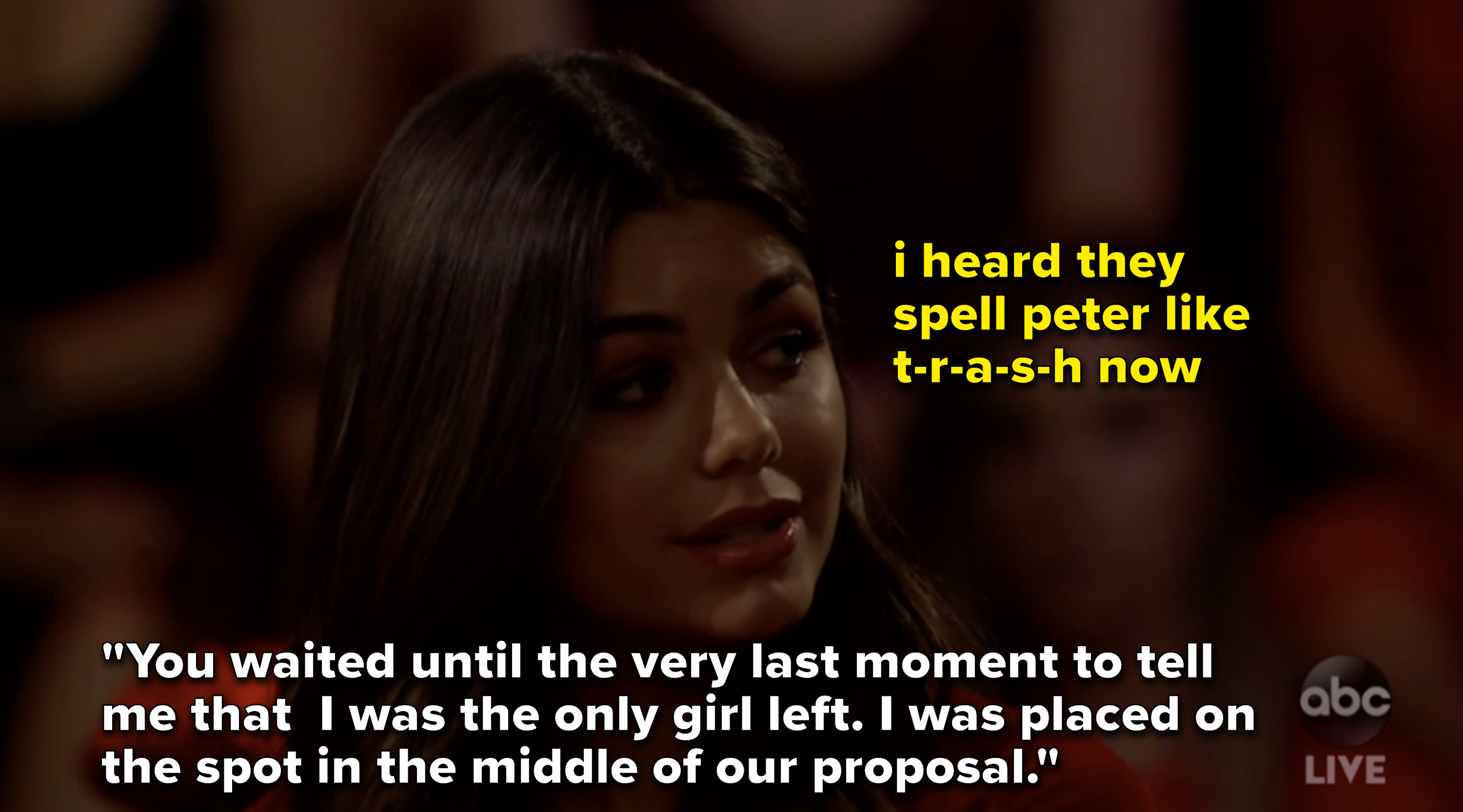 Hannah Ann sounds like she found a really good therapist, and I'm proud of her.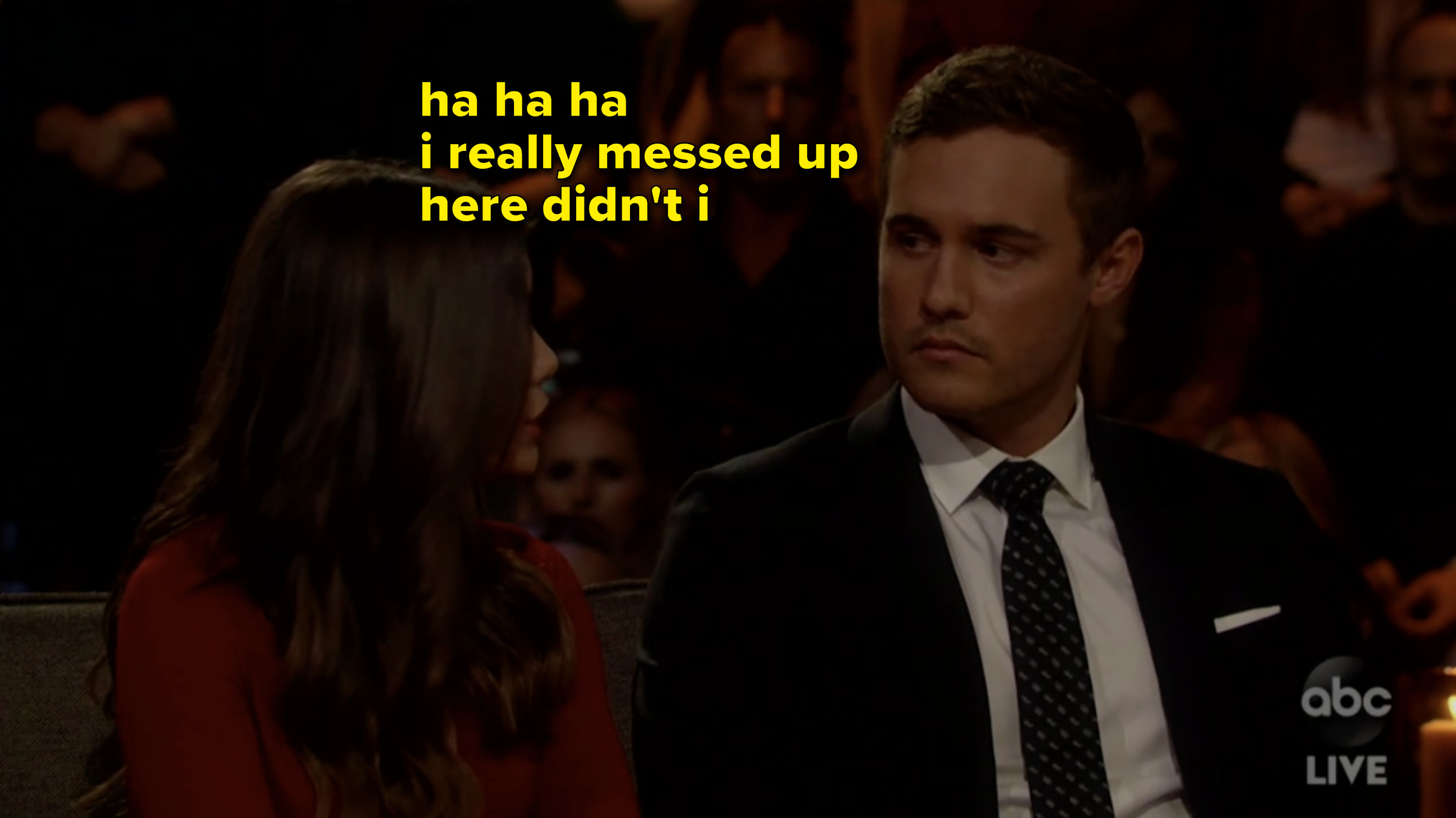 Anyway, Chris tells Peter that he flew to Alabama to talk to Madison behind his back. All Chris wants in this world is some piping-hot tea.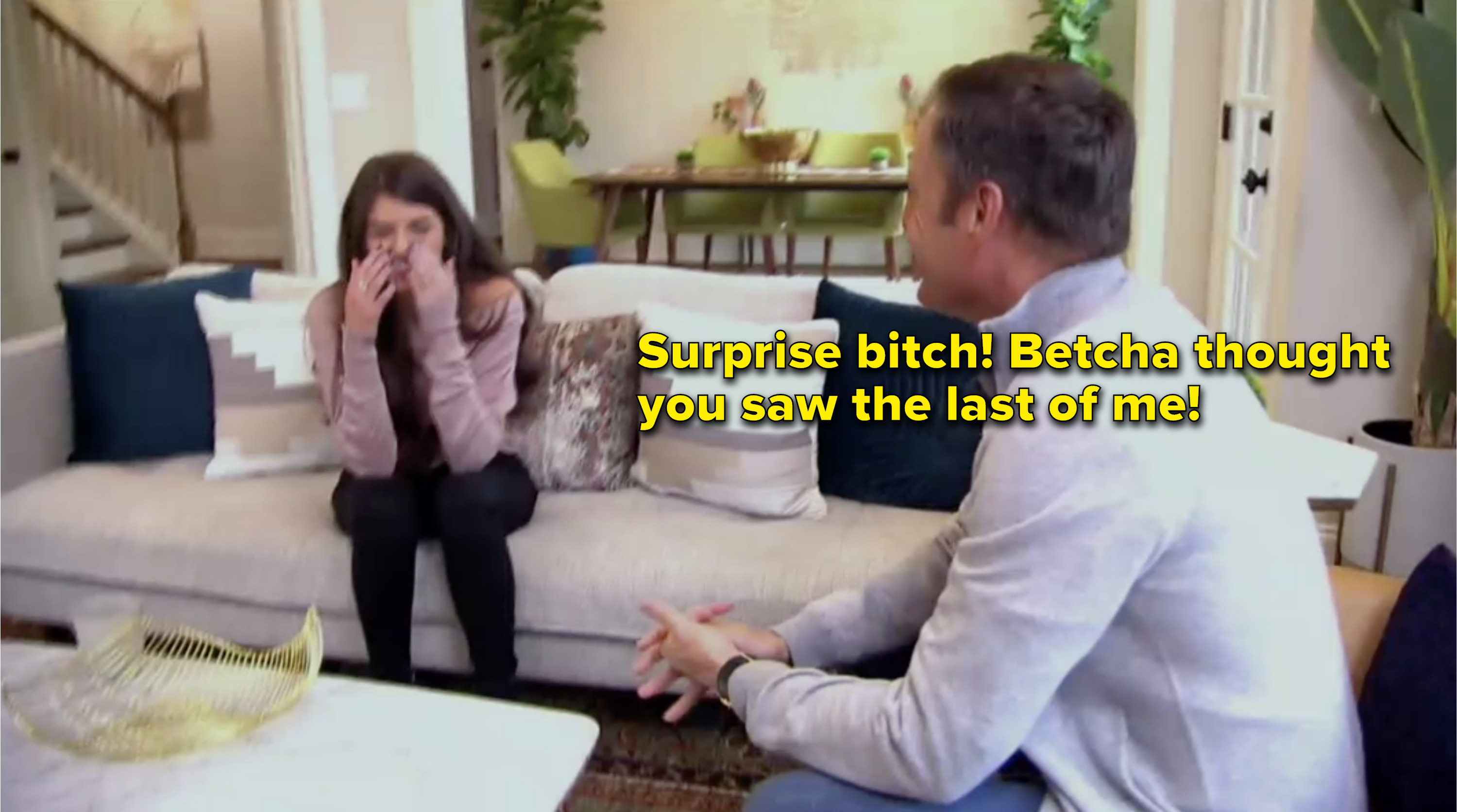 I mean...why DID Madison leave? Clearly she had some good instincts, but I guess she still loves him.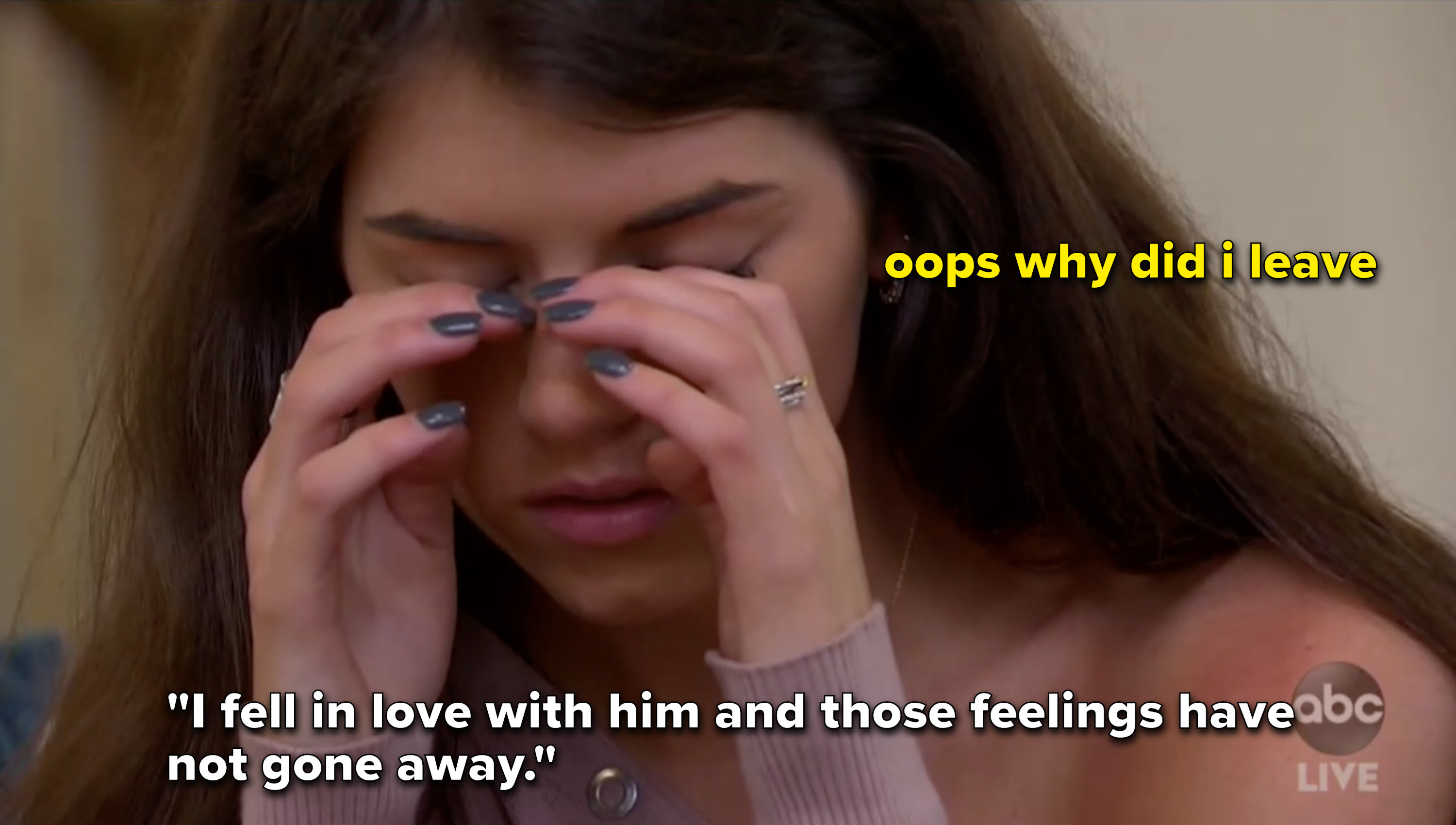 Then Chris basically says, "Welp, if I had to guess, I'd say he'd pick you!" OH MY GOD. An instigator.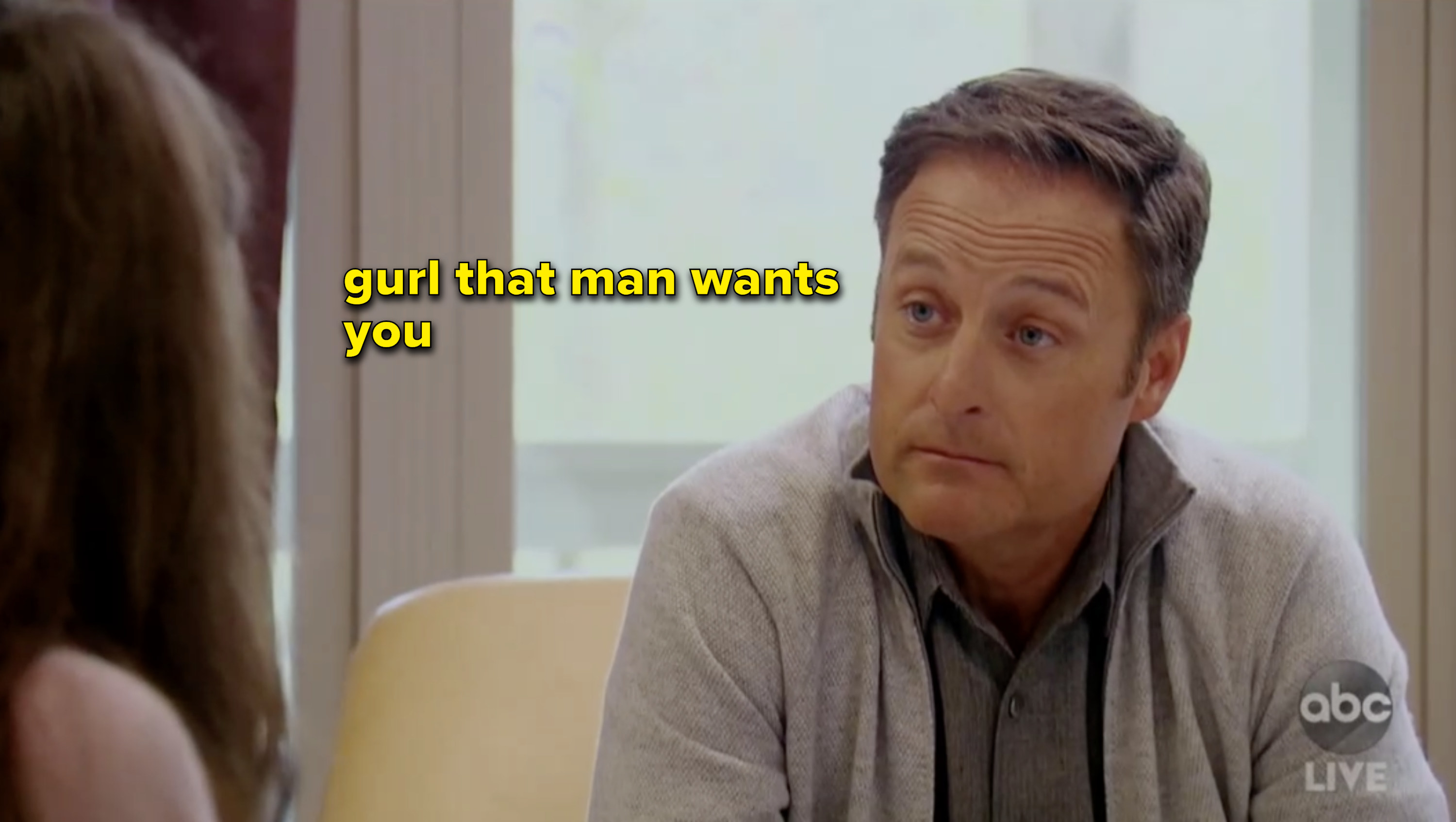 Then Madison and Chris fly back to Los Angeles, where Madison breaks into Peter's backyard and surprises him.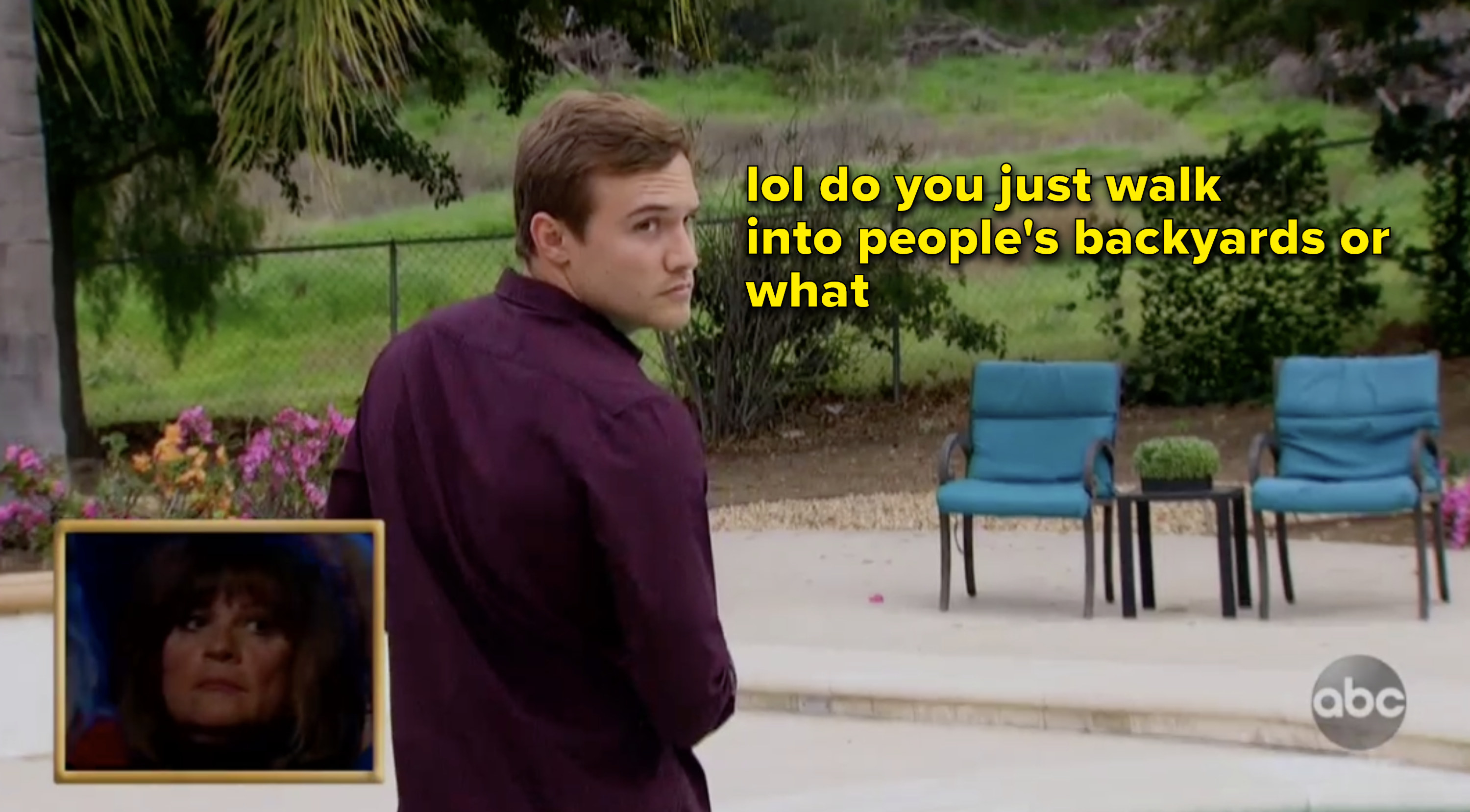 I need to know what kind of magic Madison uses on her eyelashes because WOW, they are long. Anyway, Madison still loves Peter. In the corner screen, we see Peter's mom live. She's not impressed.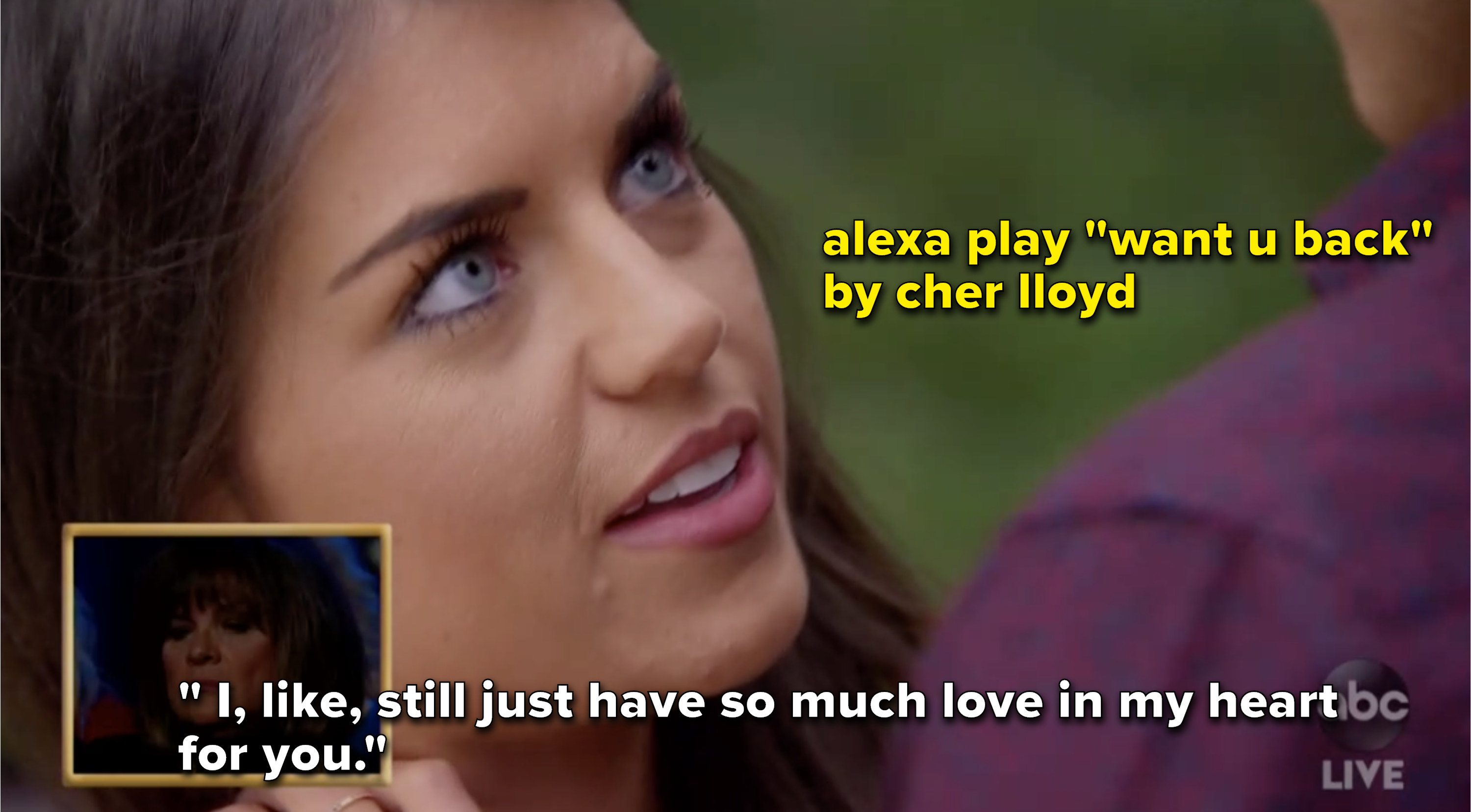 It then cuts to Chris, who's like, "WELL, DO YOU WANT HER OR NOT?"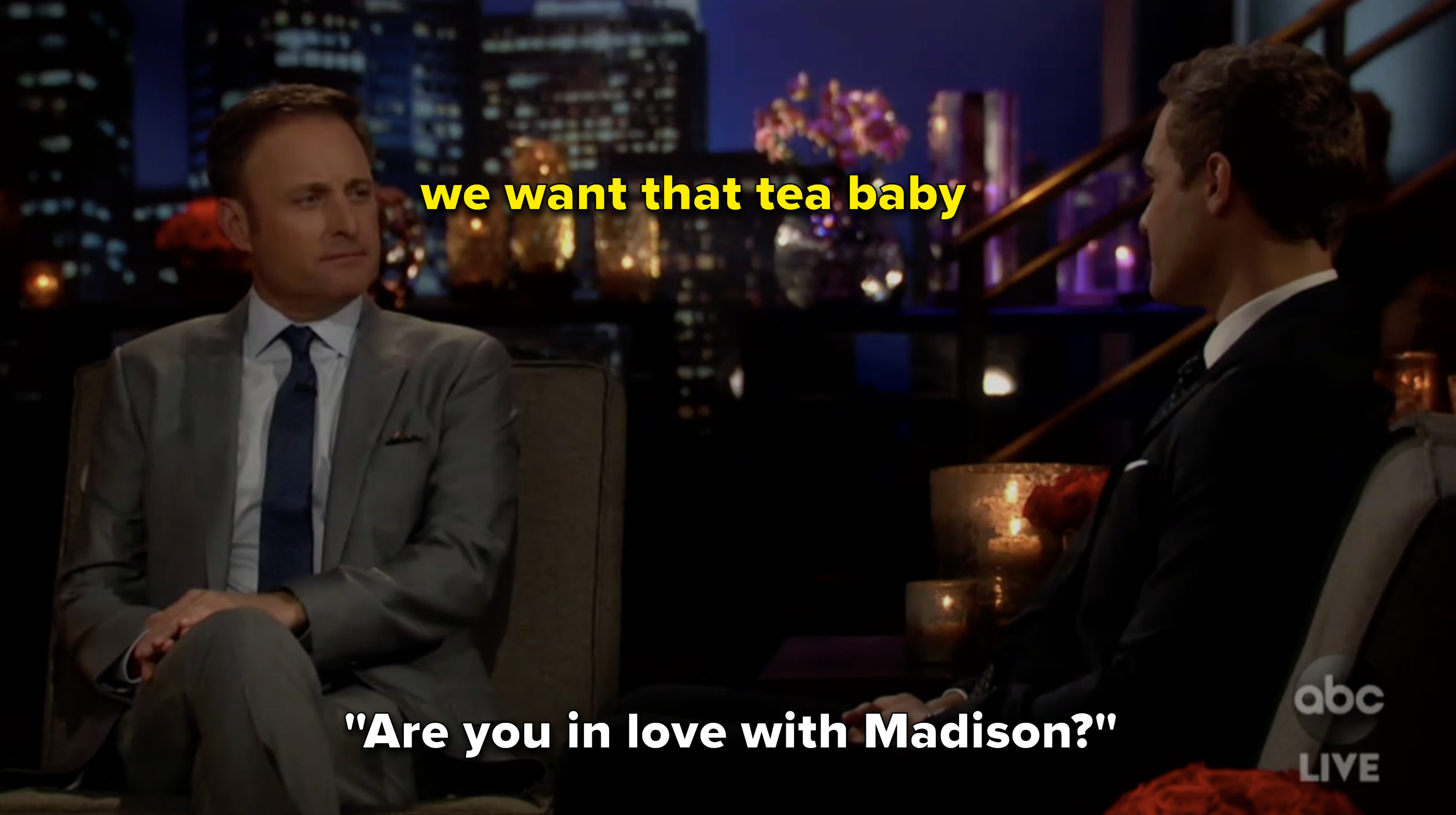 Peter's realistic about what their relationship might look like, but ultimately he's into Madison. BUT THE CAMERA KEEPS CUTTING AWAY TO HIS MOTHER...
...WHO CLEARLY ISN'T HIDING THAT SHE'S NOT HAPPY.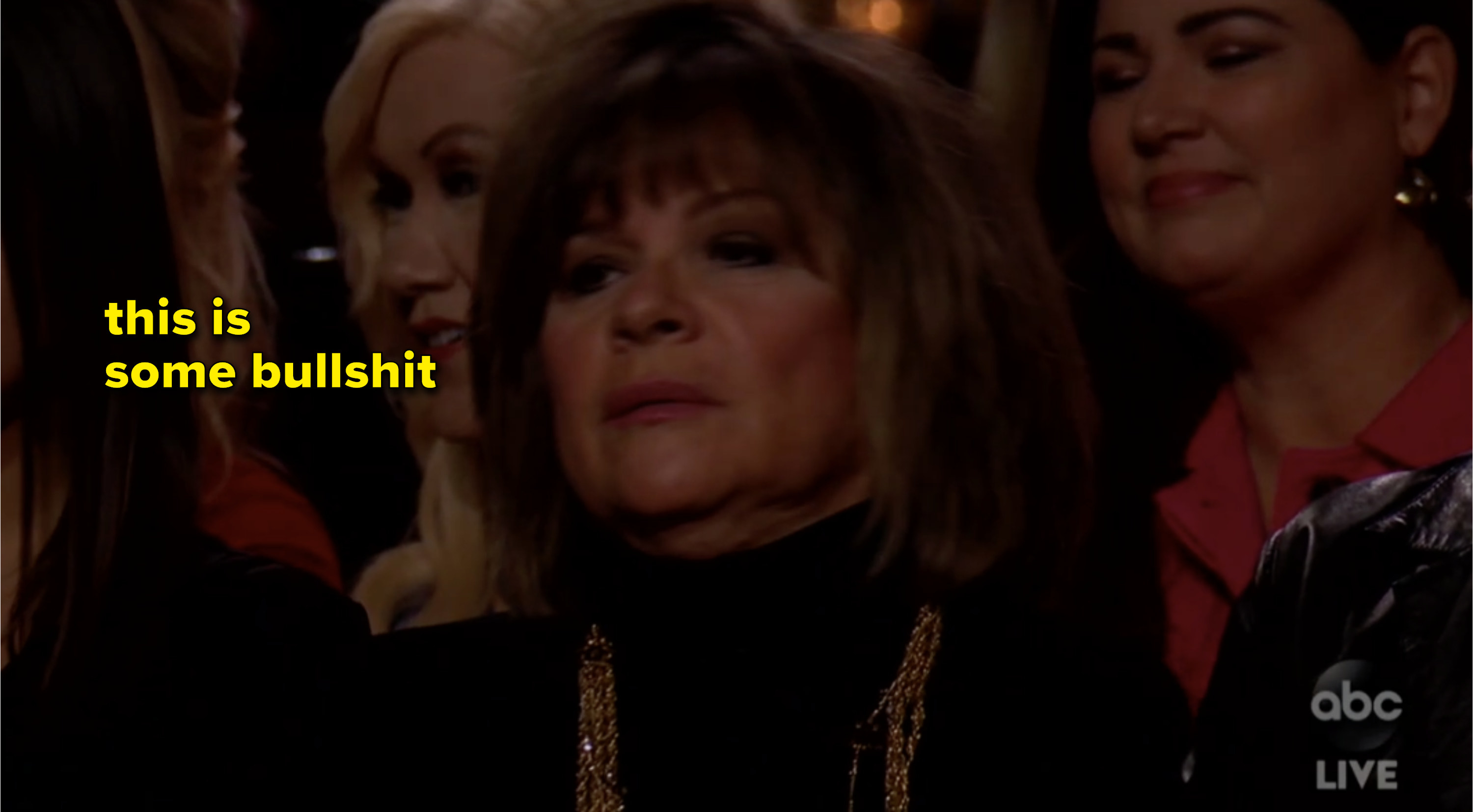 BUT THEY DON'T PICK UP ON IT.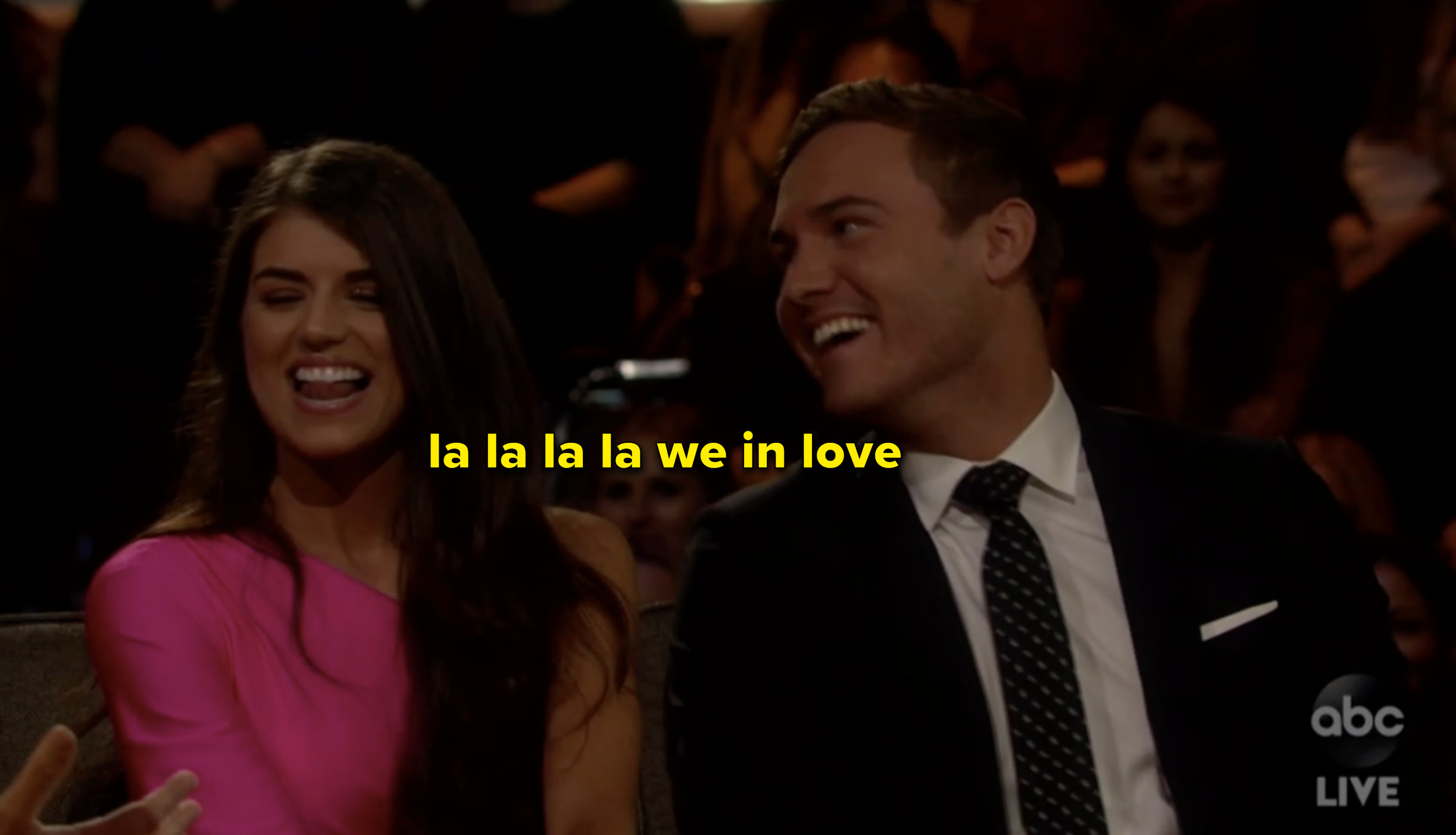 So, of course, Chris is like, "Hey, Barb? You got some thoughts on this???"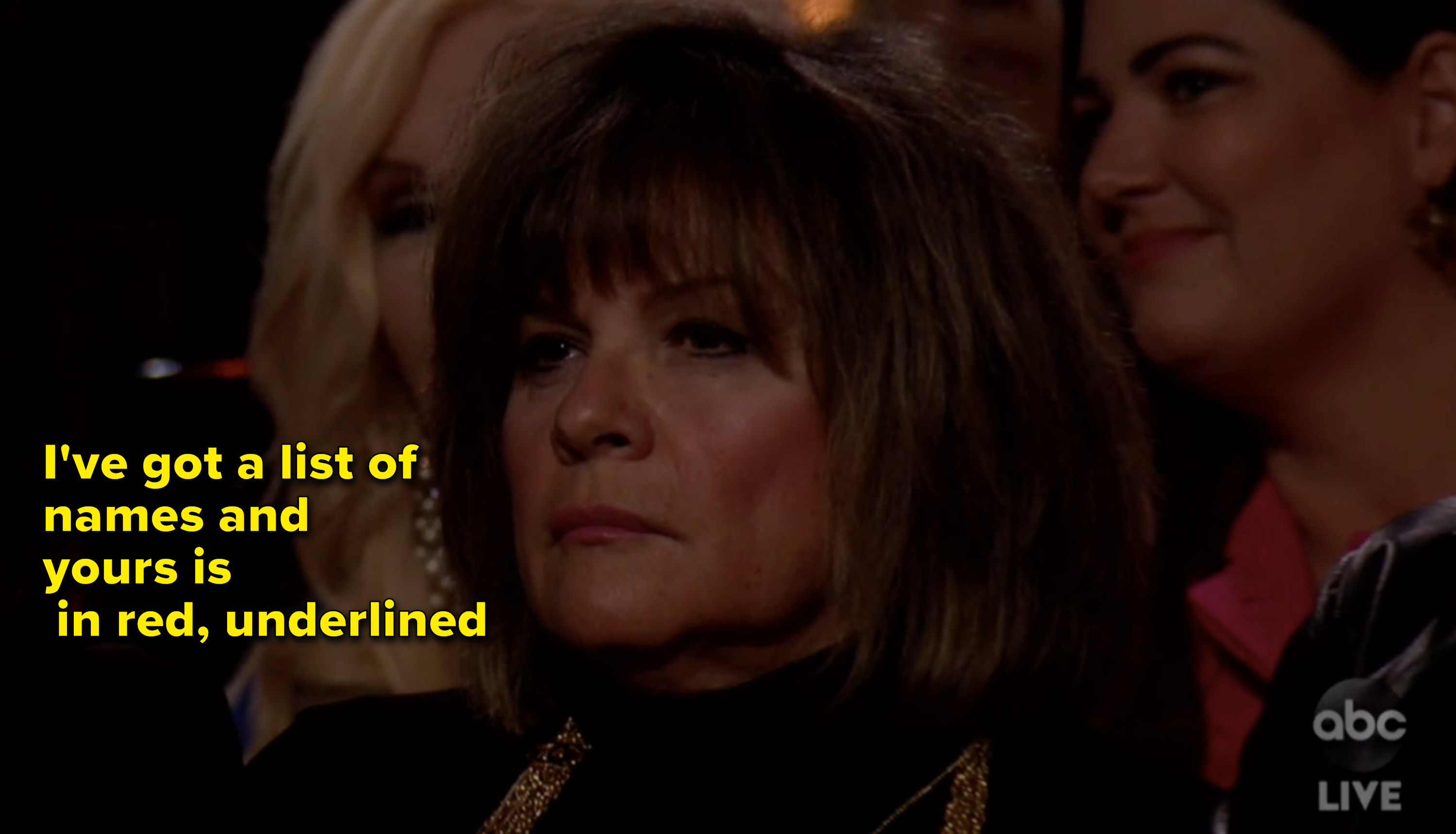 AND THEN BARB POPS ALL THE WAY OFF. Did Madison not want Peter's proposal? Why would she say no?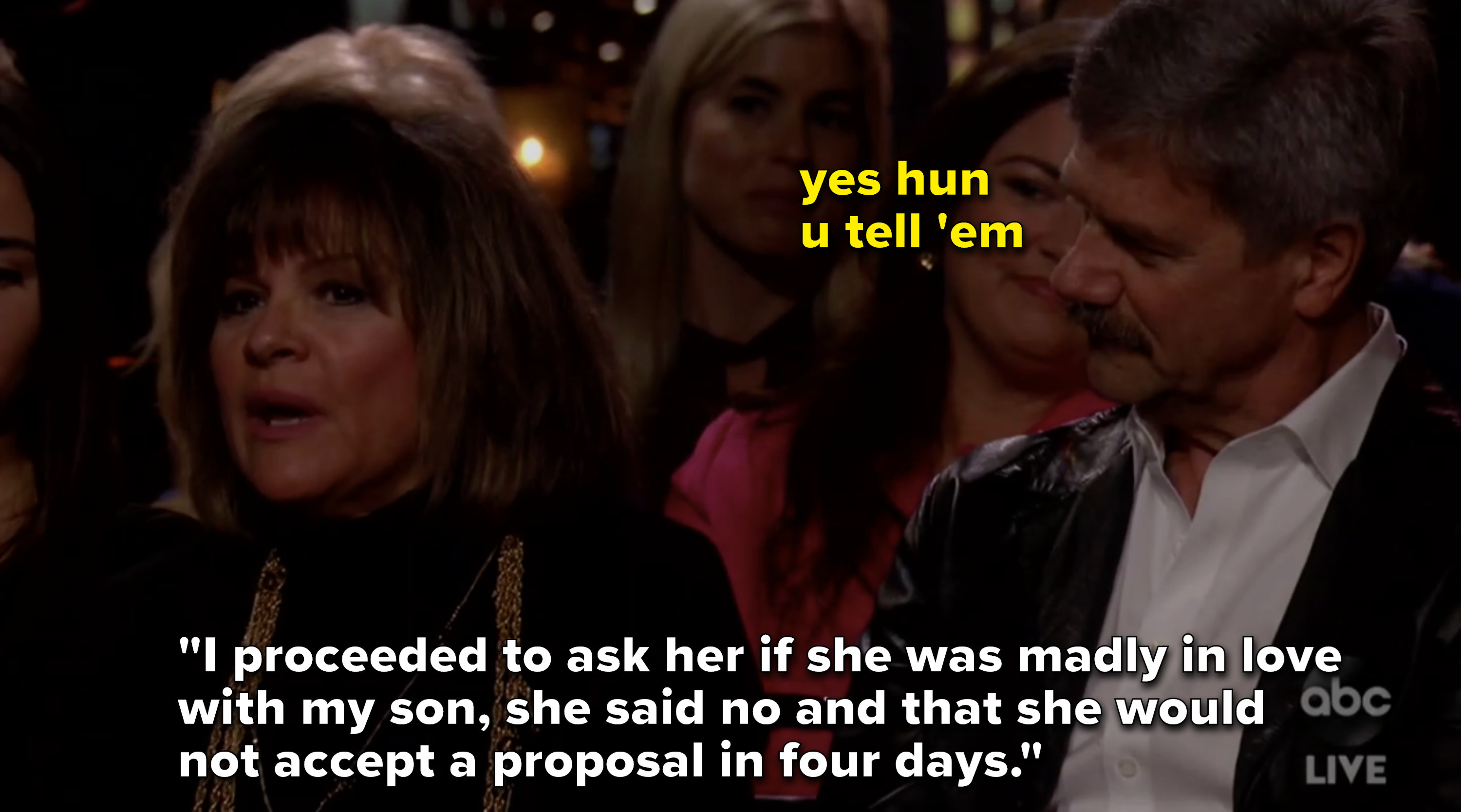 During Barb's speech, Madison is all: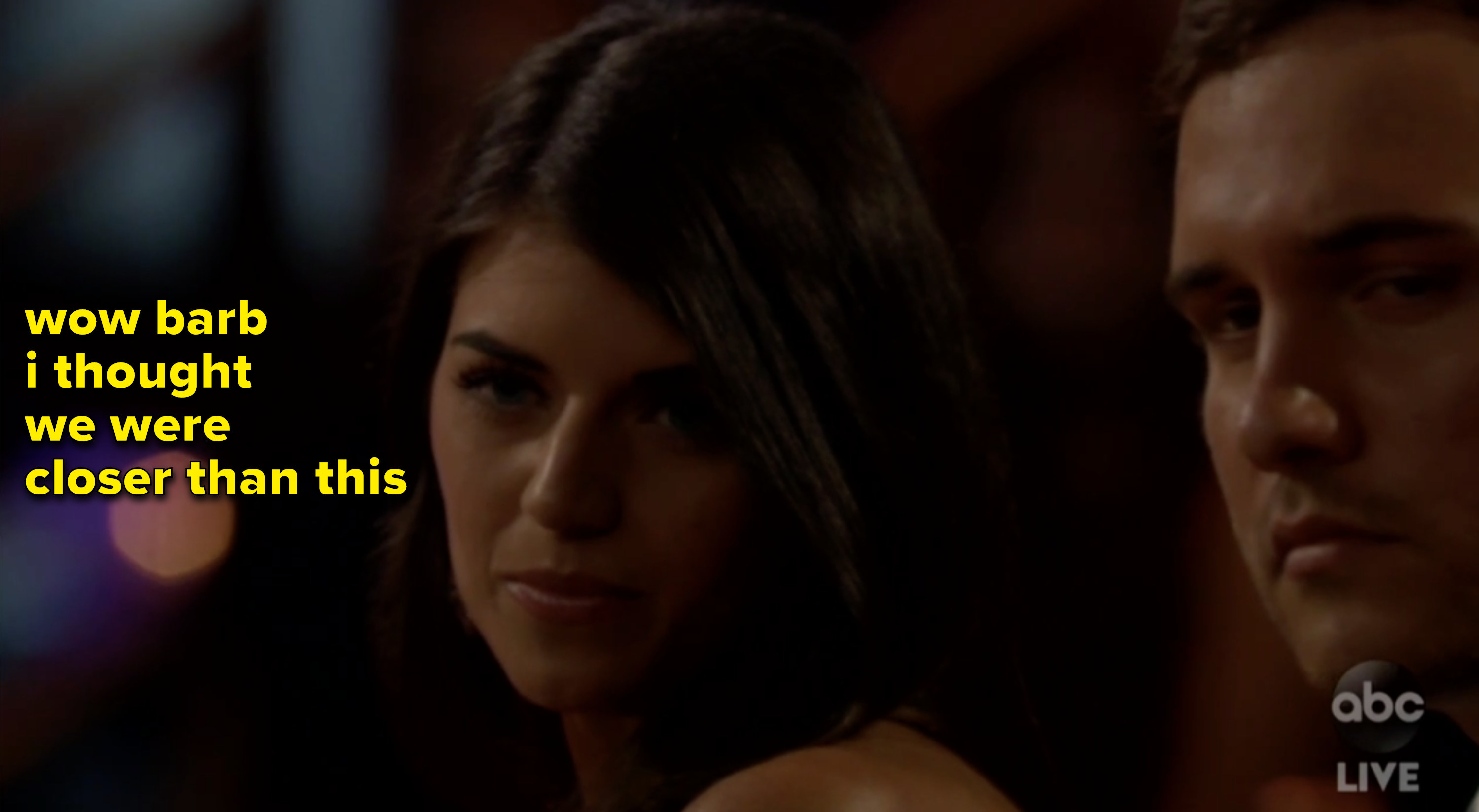 And then Chris asks for her thoughts, which she is very vague about, even though you can TELL she has feelings.
A quick cut to Barb shows her talkin' shit to her husband. LMAO, I'm here for this.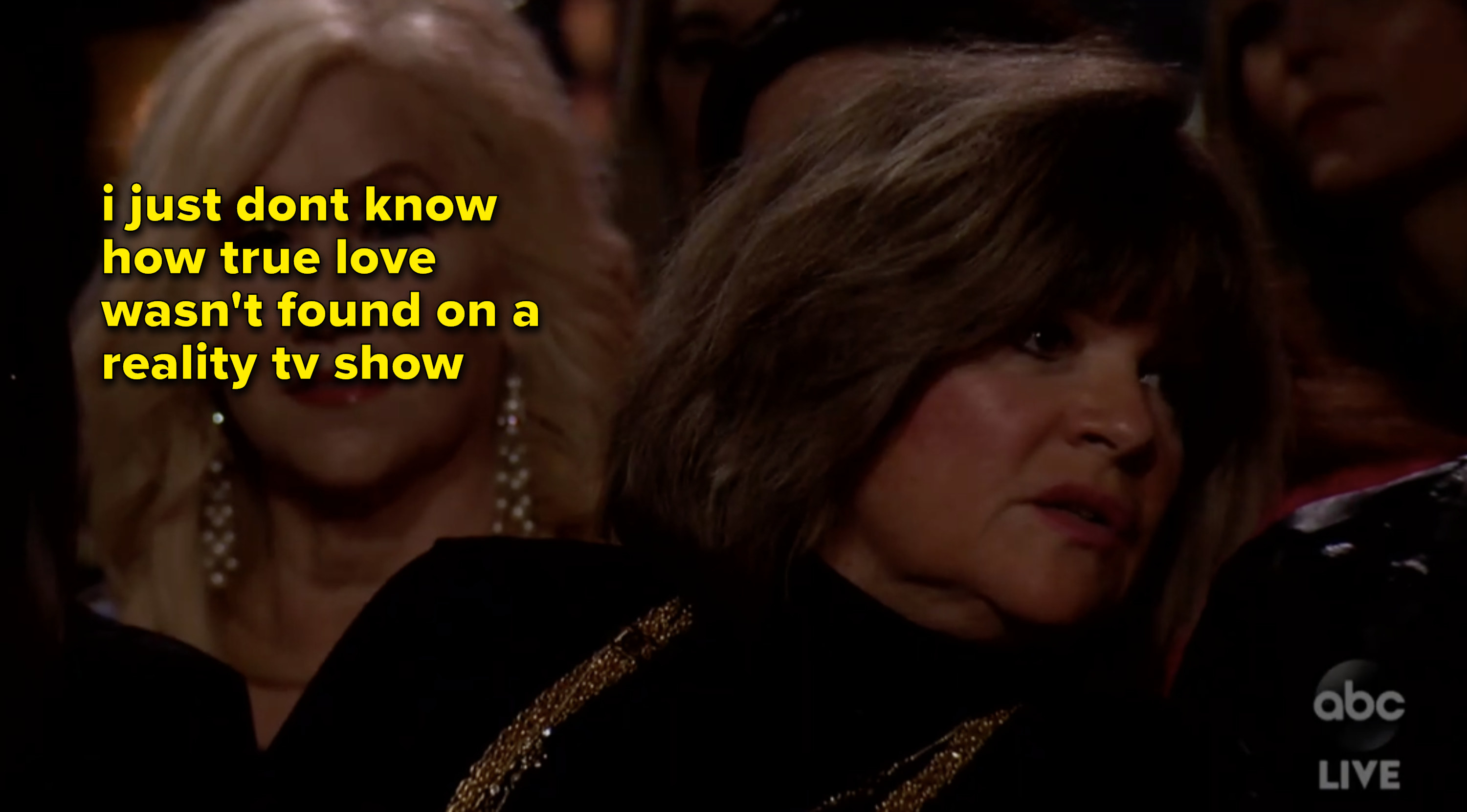 Peter tries to jump into play mediator, but...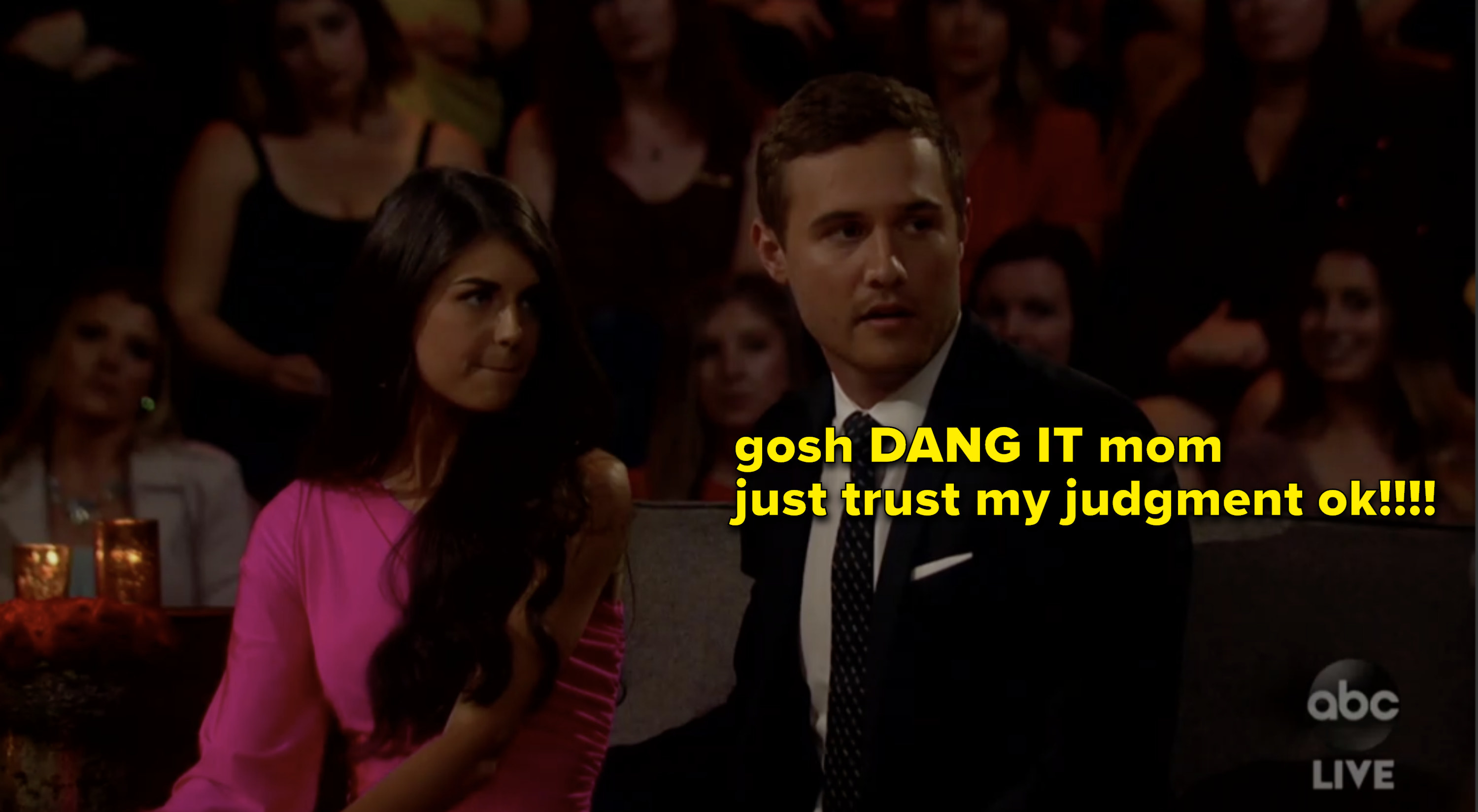 ...BARB HAS MORE FEELINGS!!!!!! WOW. Wow. I just. If looks could kill!!!!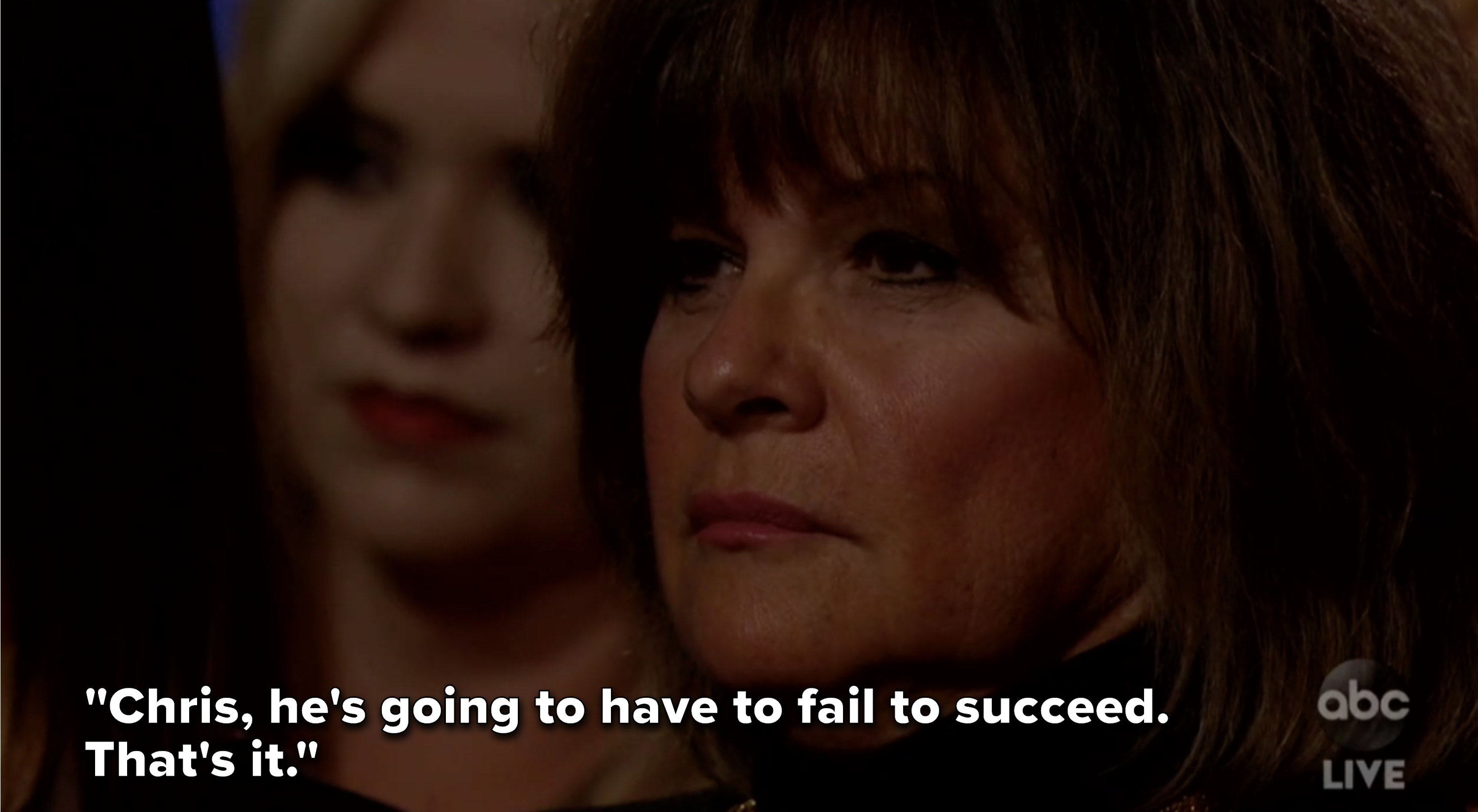 She's direct. She's savage. She's out for blood.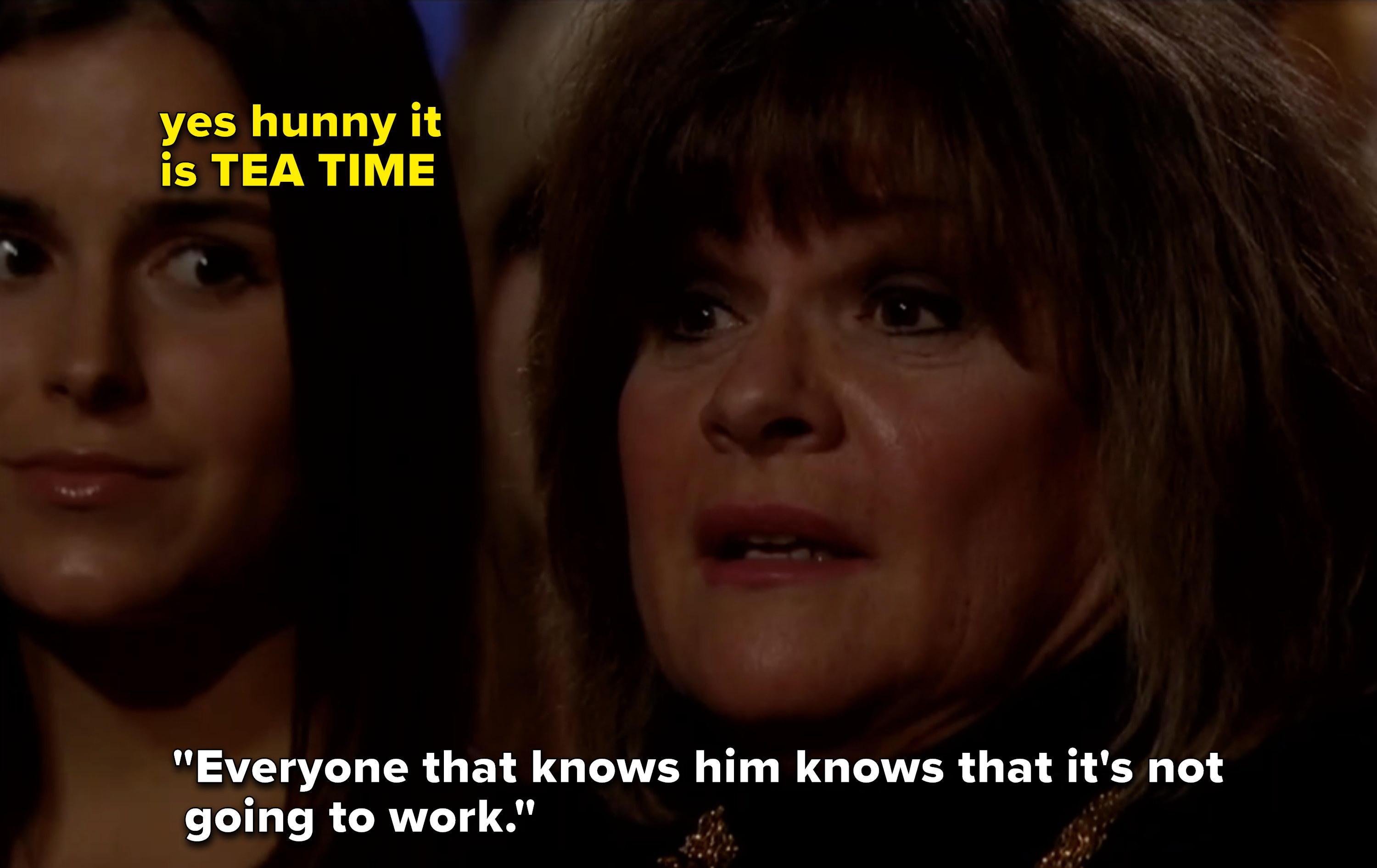 And Peter's just like: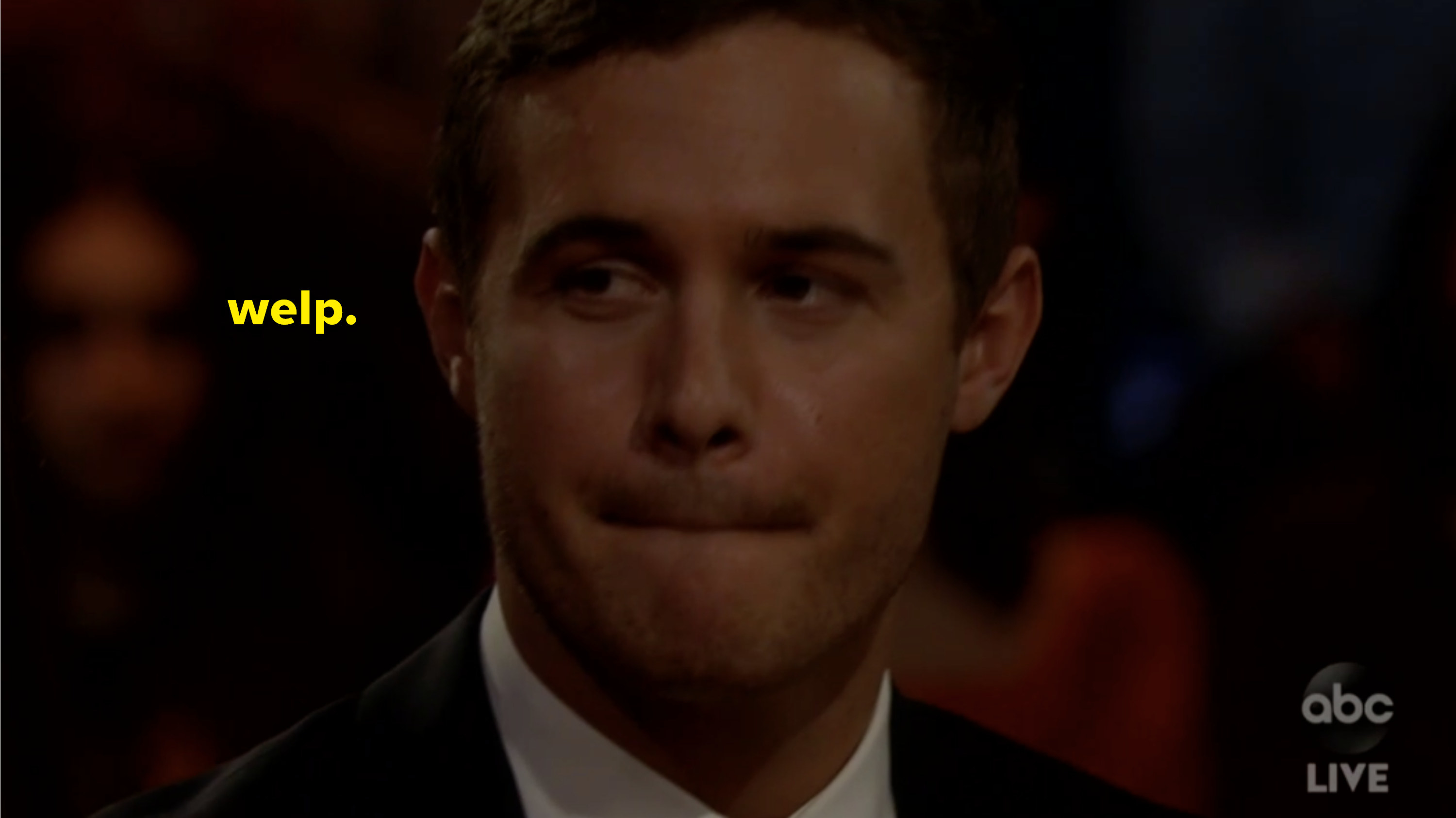 And then Chris is like, "You need all the help you can get! But we've run out of time, so byeeeee!"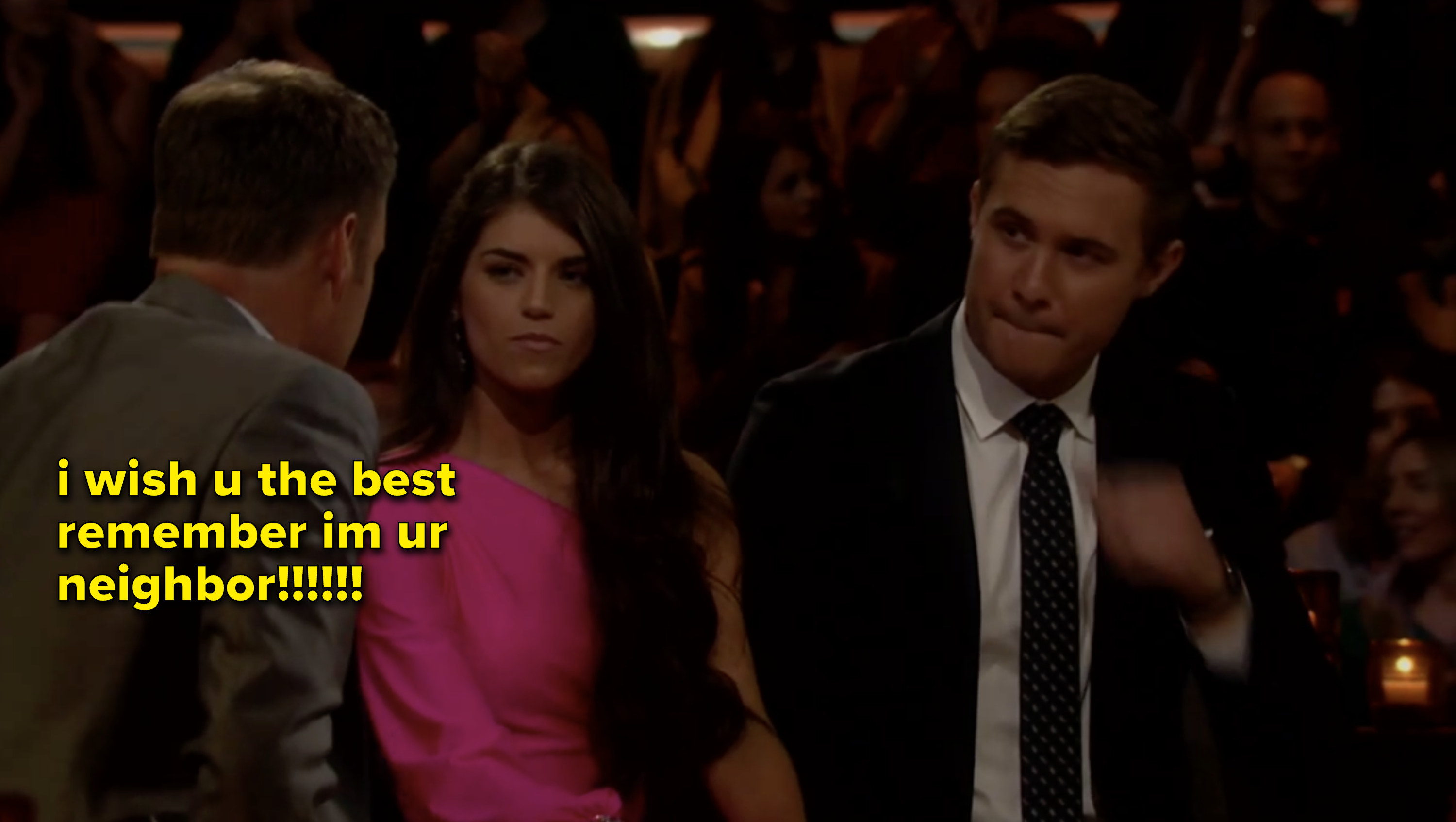 And then the camera pans out to where this one girl in the audience has the best reaction to all the drama that just went down.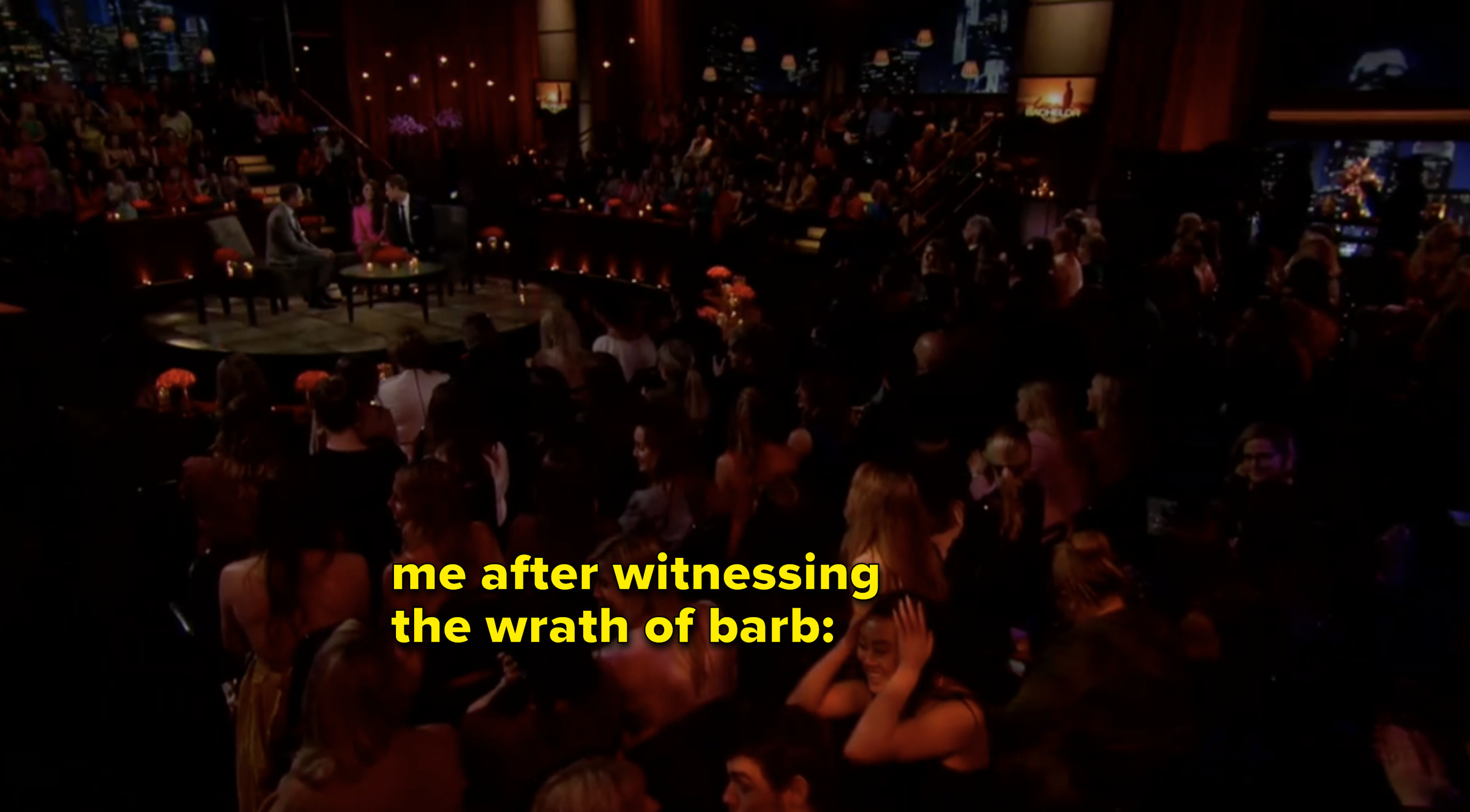 I have so many questions. Like, what happened to Peter's emotional support cow? He's really going to need it after making this mess. How did Peter get that forehead scar? Also, what happened to Hannah Brown? And Kelley?! Wasn't Madison the one who arrived in a giant paper airplane? Who knew that shit works? And, most importantly, will Peter and Madison stay together...even after Peter literally proposed to Hannah Ann and claimed to love her? It's...A LOT, GUYS. Tell me how you feel in the comments.