Hi everyone, we're Farrah and Chris. On our trip through Belfast, we stumbled upon the Game of Thrones touring exhibition. Because we're big fans, we purchased tickets and ~basically~ stepped into Westeros to see what it was all about. Here's what we saw!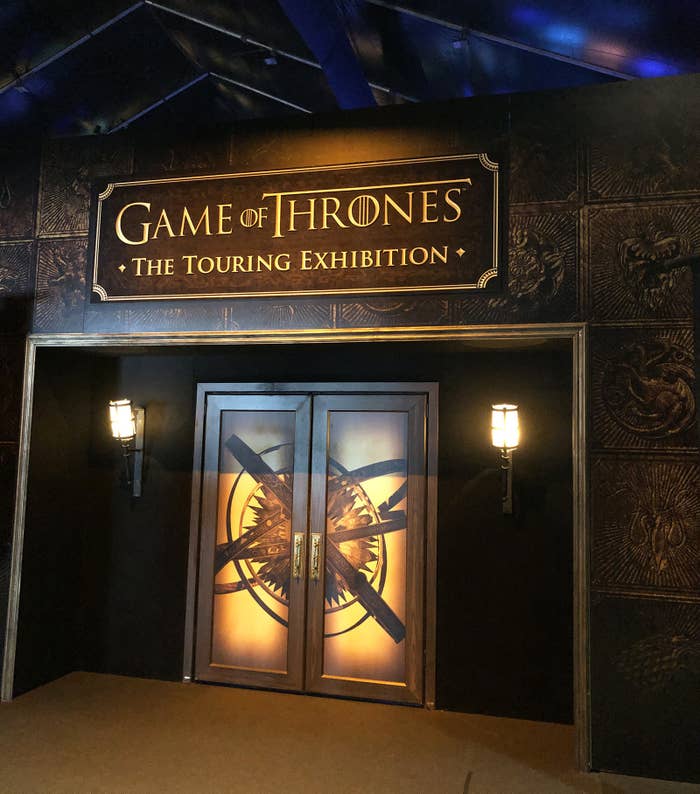 First, there's a really fun opening introduction to the exhibit to get you in a Game of Thrones mood, then you're whisked off to explore at your own pace! You'll be ogling over all the details and props HBO has preserved from the show.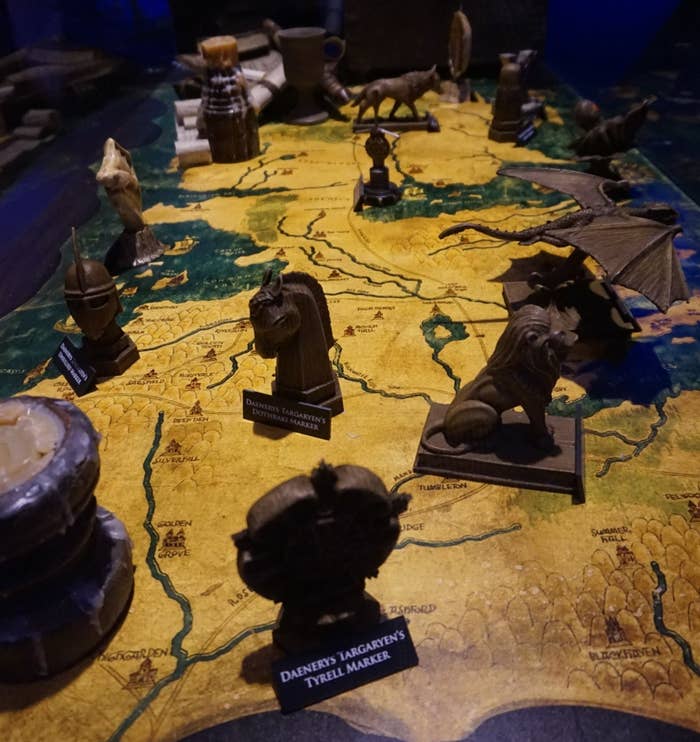 You get the opportunity to admire the stunning work the costume designers put into each outfit, like the dress Margery Tyrell wore during her marriage to Joffree in Season 4...
...as well as the costumes Arya and The Hound wore in Season 3!
There are tons of accessories on display, like Sansa Stark's necklace used in the killing of Joffrey, and Jaime Lannister's famous golden hand.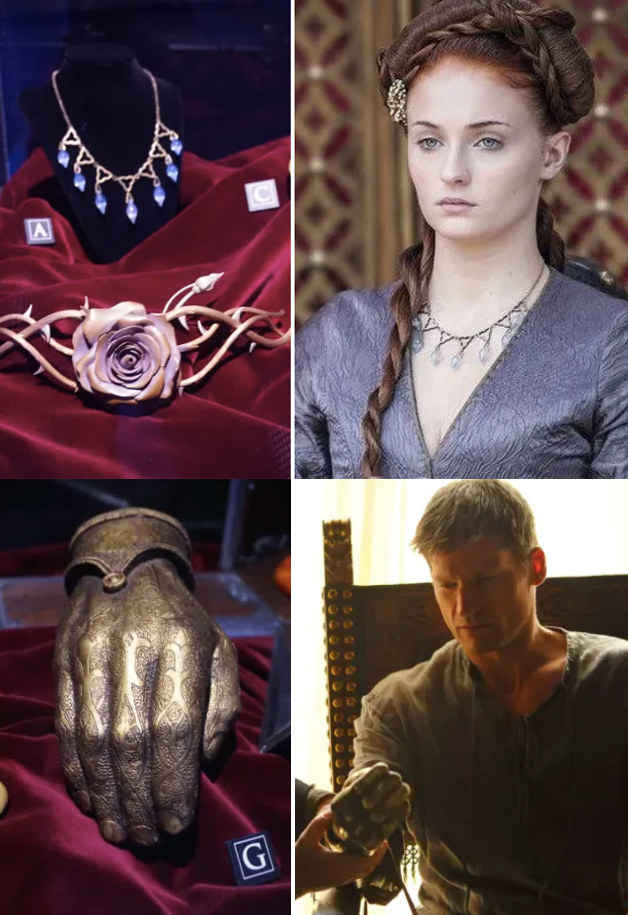 It's worth noting that each costume's display has a brief description, and you often learn things that give you new appreciation for the wardrobe. For example, this one says, "The muted color of the gown worn by Cersei Lannister in Season 4 suggests a weakened position of power."
You'll also see some throwback looks from your favorite characters in Season 2. According to the sign, the one on the left belongs to Robb Stark and is similar to that worn by Ned. The one on the right was worn by Catelyn, and the Tully trout pendant on it signifies her origins.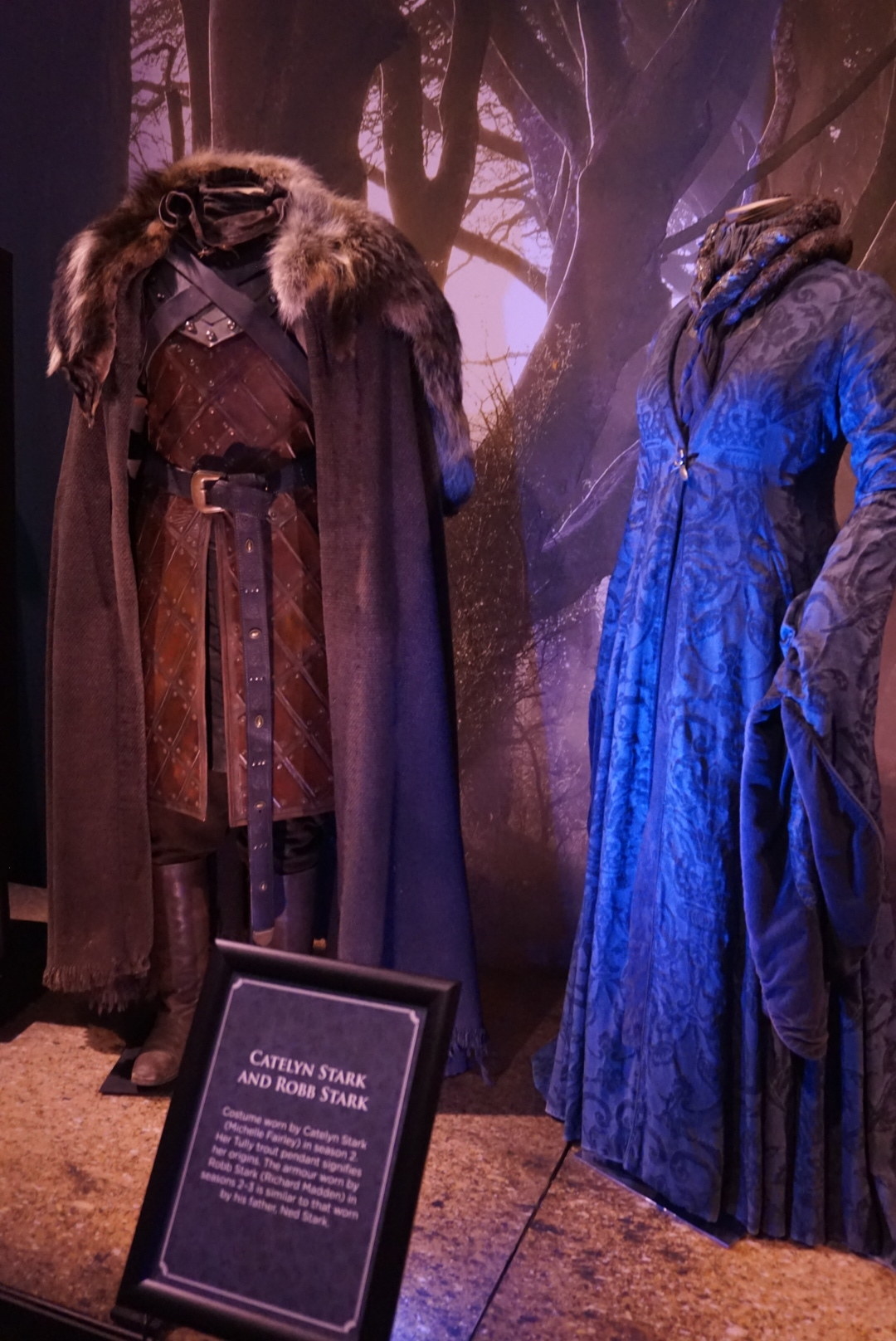 There are plenty costumes from several other characters and houses, like Varys, House Bolton, Stannis, Melisandre, and House Martell — just to list a small sampling of ALL you'll see.
There are also some VERY key accessories that were used in the show! Like the dragonglass blade all the way from Season 1.
From start to finish, the whole exhibition is interactive. You can add yourself to the Hall of Faces, which was both eerie and rad. AND you can even make it look like you're climbing The Wall.
There are also PLENTY of other photo ops, like this one that lets you do your best Jon Snow impression.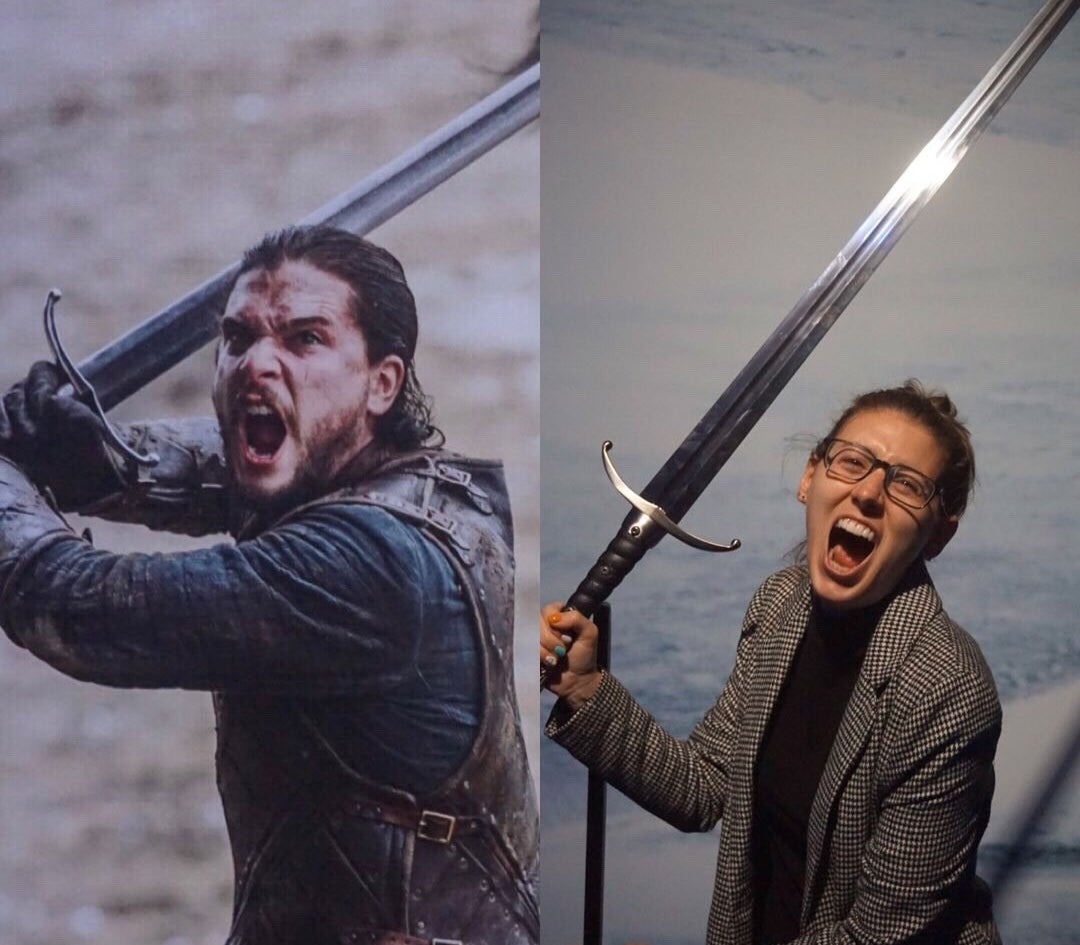 Prepare to freak out a little bit every time you see a cool prop, like Arya's Needle.
Or DANY'S DRAGON EGGS!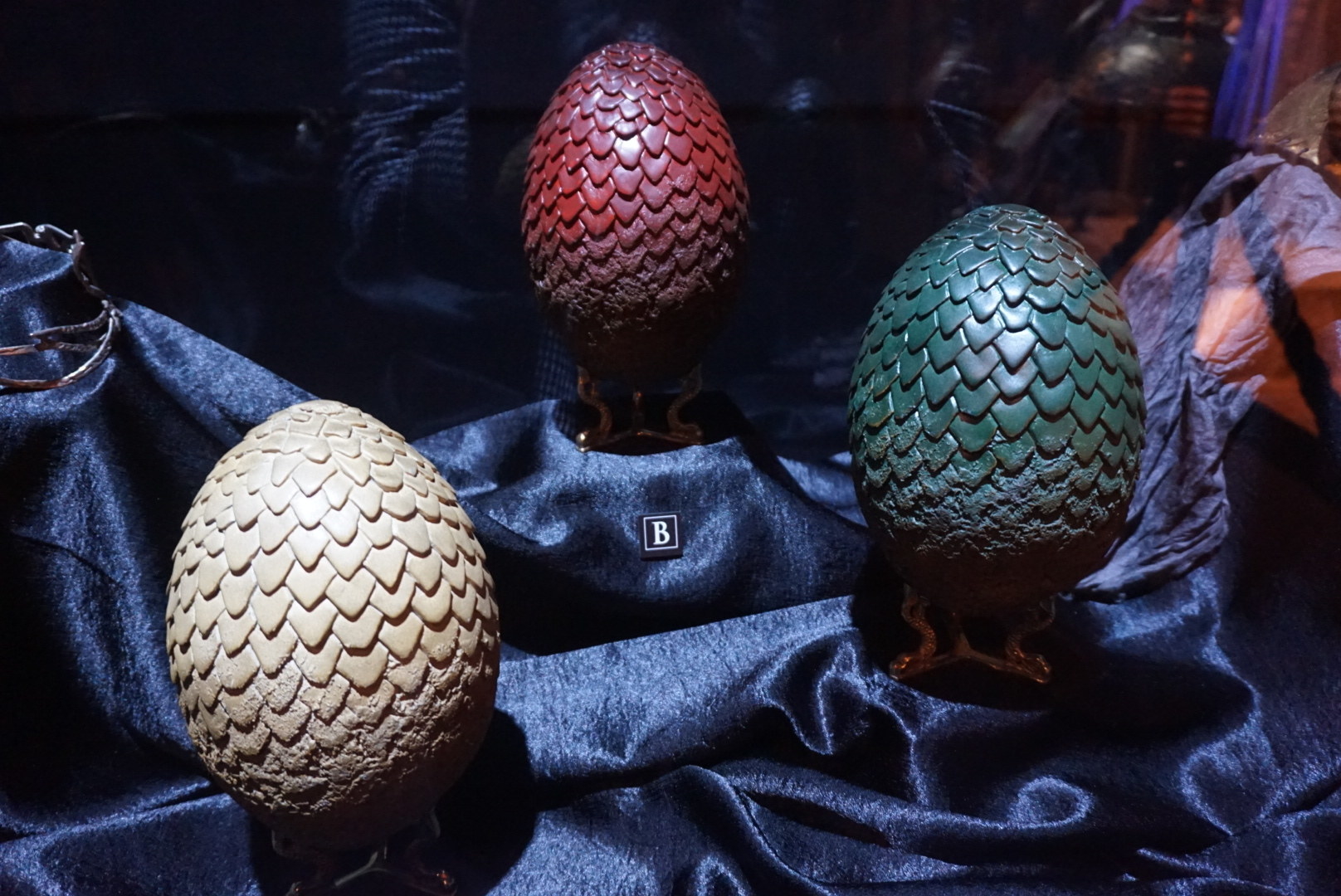 Depending on how thoroughly you've watched the show, you might recognize costumes without even needing a description! Would you recognize this costume Jon Snow wore beginning in Season 2?
This Dany costume might be fresher in your mind, since she wore it in Season 8.
You really do see SO MUCH, from the Crypt of Winterfell...
...to White Walkers and dragon skulls!
Of course, our experience wouldn't have been complete without having feasted our eyes on the Iron Throne. You can't sit on the one used in the show, but there are TWO MORE Iron Thrones available for photo ops. You have to pay for professional photos (props included) for the second throne, but there's a third throne at the very end where you can sit and take your own pictures.
Overall, the tour provides about 45 minutes to an hour of pure Game of Thrones entertainment that fans will thoroughly appreciate. Prepare to learn a thing or two, and who knows, you might even run into Andrew McClay, star of Game of Thrones: The Last Watch as we did on the way out!
The Game of Thrones Touring Exhibition wraps up in Belfast on September 8th. You can see if it's coming your way here!