After almost a three-year break, Stranger Things Season 4, Volume 1 premiered on Netflix last month — and now, fans are on the edge of their seats waiting for Volume II to be released on July 1.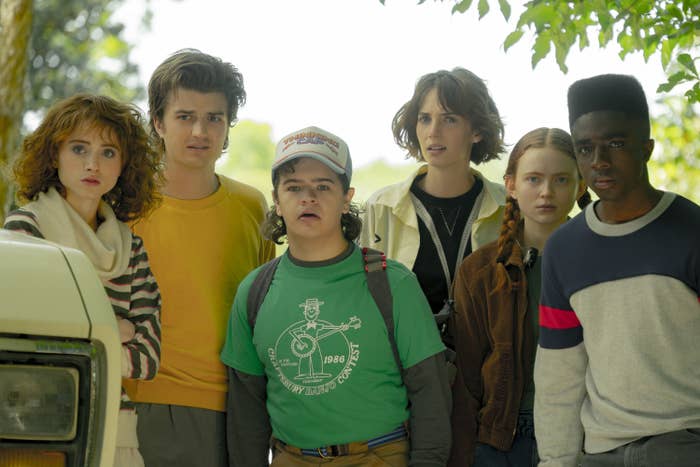 Although fans had to wait quite awhile to see their favorite Hawkins crew again, this fourth season DELIVERED in many ways — especially in the beauty world.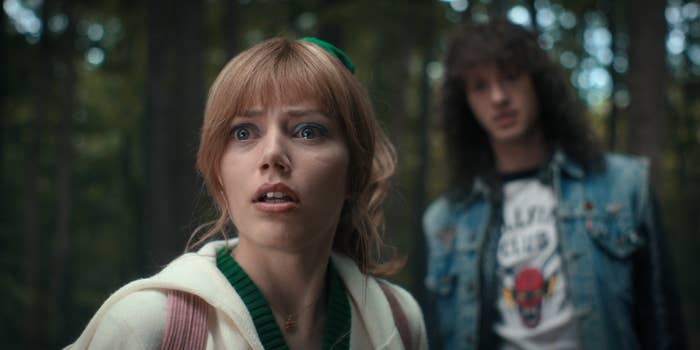 I was lucky enough to get my hands on all of it — and decided to test everything in two parts. I created a daytime look using the Hawkins-inspired products and a nighttime look using the Upside Down-inspired products. I then tested the lip gloss shades separately.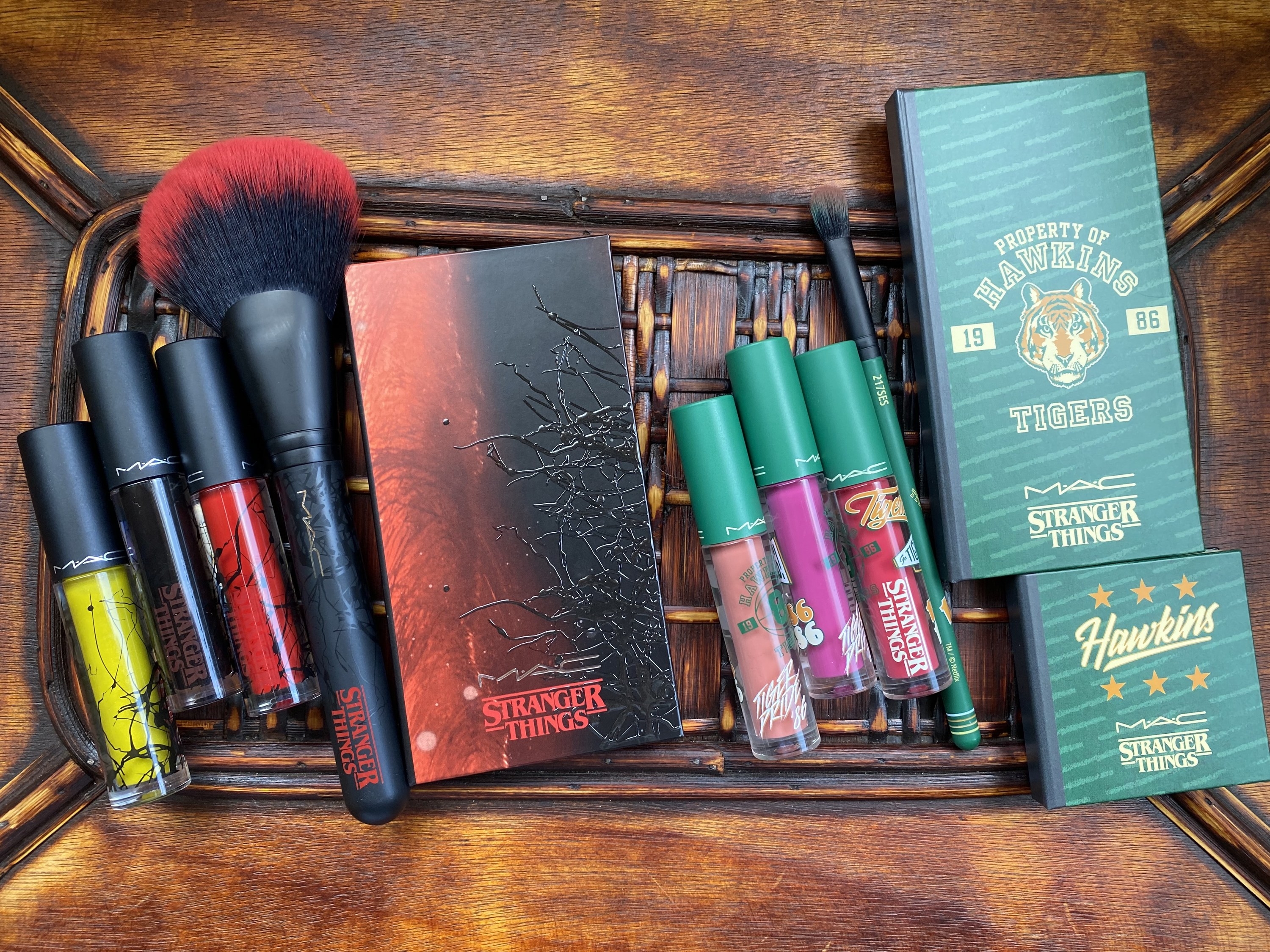 The Hawkins Collection | Daytime Look:
In all honesty, I didn't know how I was going to make these bright '80s colors — which looked very vibrant at first glance — work together on me because I typically stick to my wheelhouse of neutral colors when doing my makeup.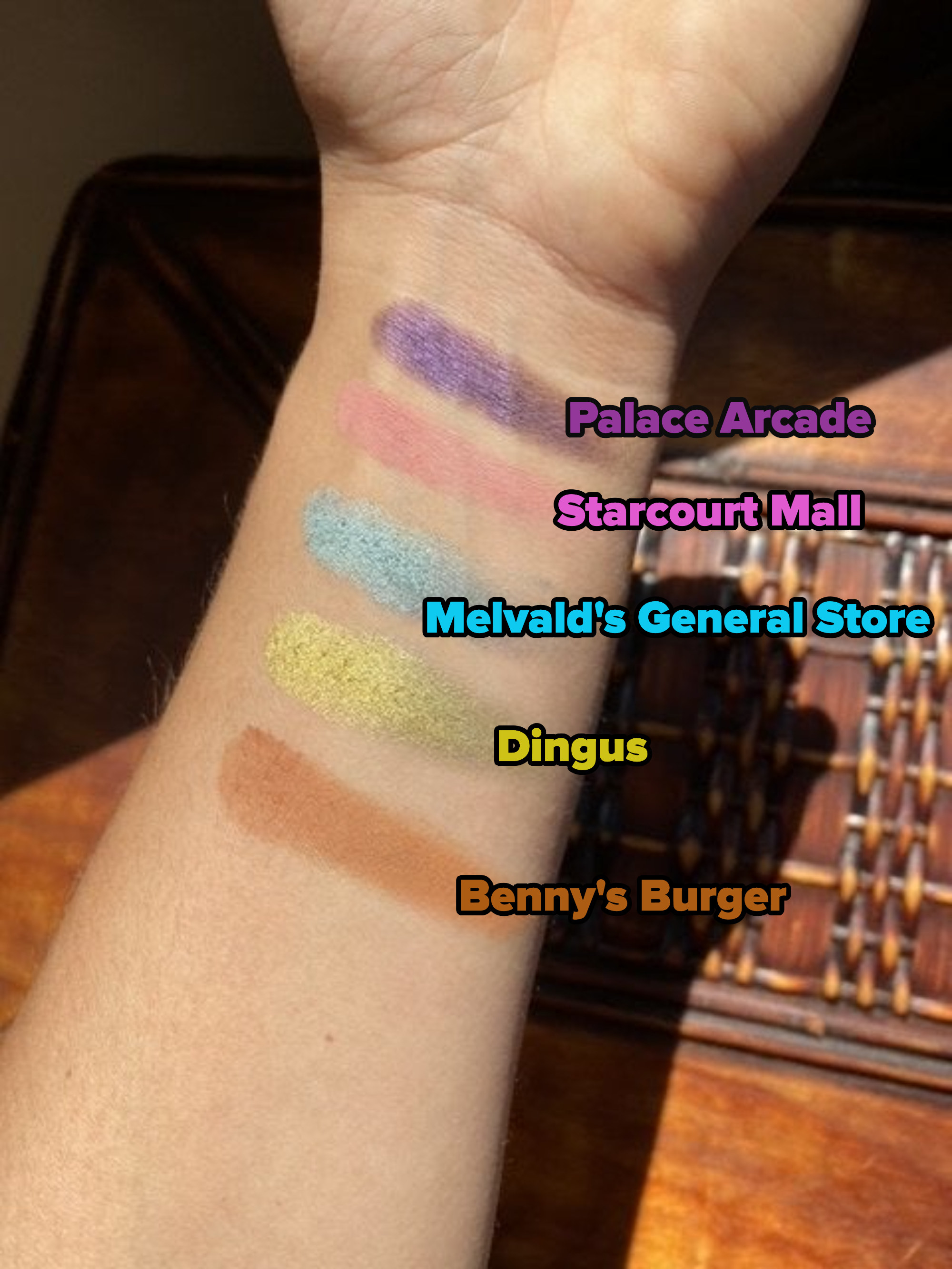 All of that is to say, when I started to apply the eyeshadows to my lid, I was VERY surprised at how soft the bright colors transferred. Once I saw that, I felt more confident with adding in the greens, blues, and purples.
The shades were also easily buildable, depending on how vibrant I wanted the color to be.
I ended up using almost all of the shadows in the palette — except for a few colors — to create a fun and playful look. There wasn't any rhyme or reason to this shadow look, I really just went for it and hoped for the best! 🙏🏼 I decided not to add any eyeliner and just took the green shadow and lined my lower lashline with it.
After curling my lashes and applying mascara to my top and bottom lashes, I took the bright pink blush 'Friends Don't Lie' (another intimidating bright-looking color) and lightly applied it to the apple of my cheeks. The blush was very pigmented. I at first was a little heavy-handed with it, so I had to really blend it out not to look like a doll.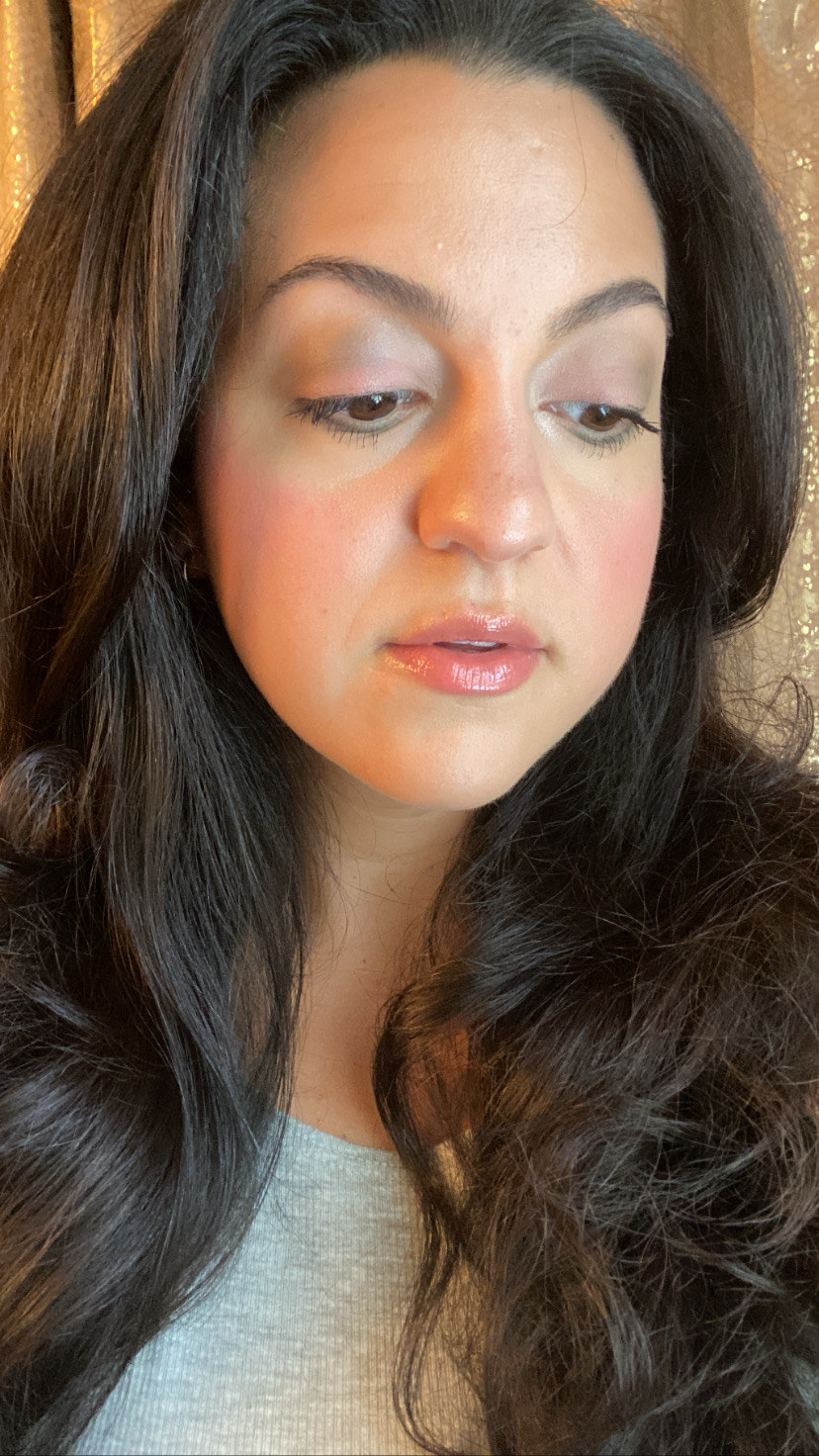 Voila! The eyeshadow ended up lasting all day, and only creased a little bit. The densely pigmented blush also had great wearability, once I got the hang of applying lightly and blending thoroughly. I loved how the peachy Eerie El lipglass looked against my skin tone, and I plan on adding it to my lip collection going forward.
The Upside Down Collection | Nighttime Look:
Now that I saw how beautifully the bright colors of the Hawkins palette blended, I was excited to take the Upside Down-inspired palette for a spin — which was darker and more dramatic.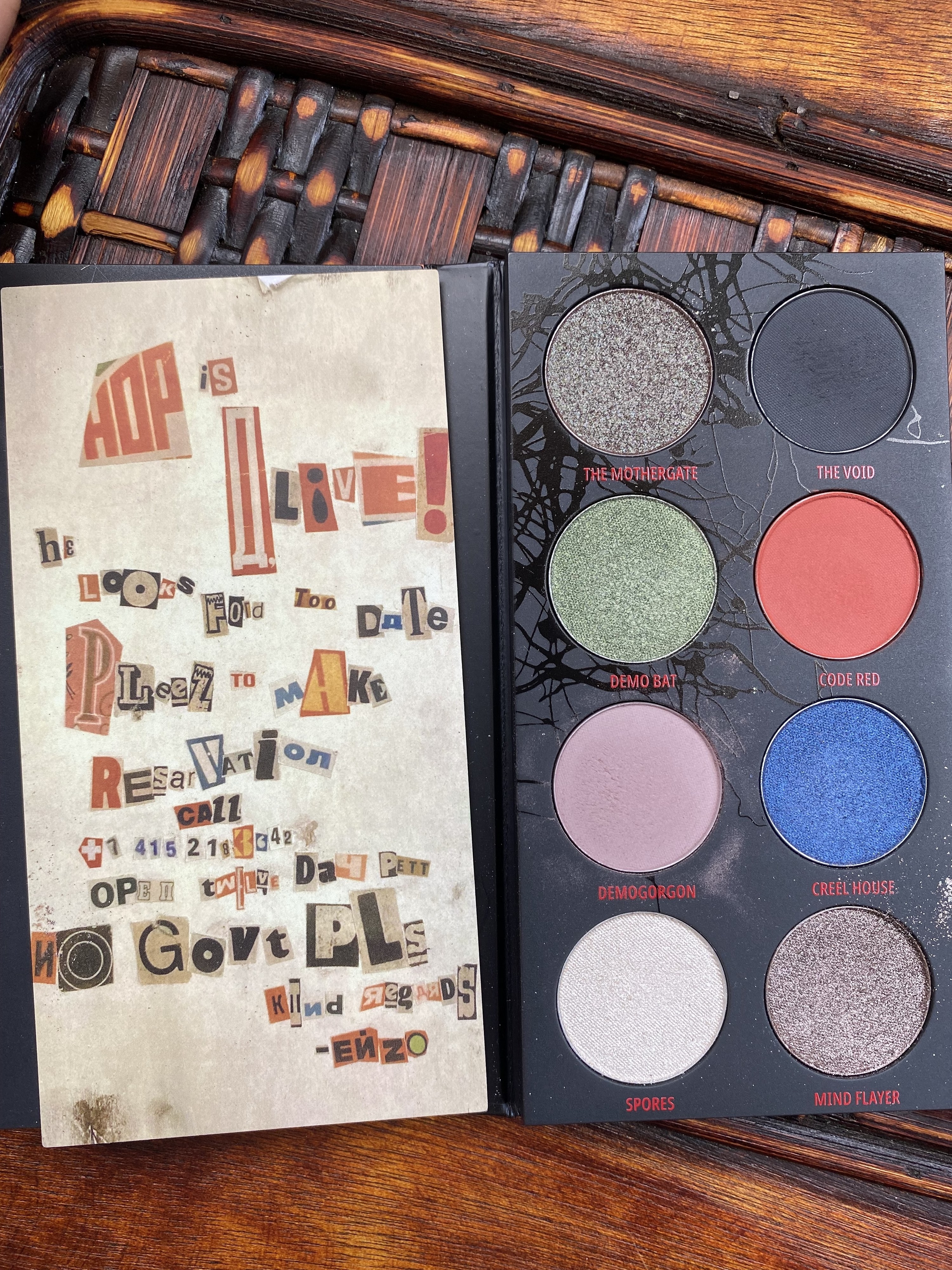 I had more of a game plan for this look: a dramatic dark smoky eye with a pop of red in the center of my lid. Again, the shadows were very buildable — which made them easy to play around with. Since this was a nighttime look, I lined my upper lashline with liquid eyeliner and then took the red shadow that was on my lid and lined my lower lashline with it.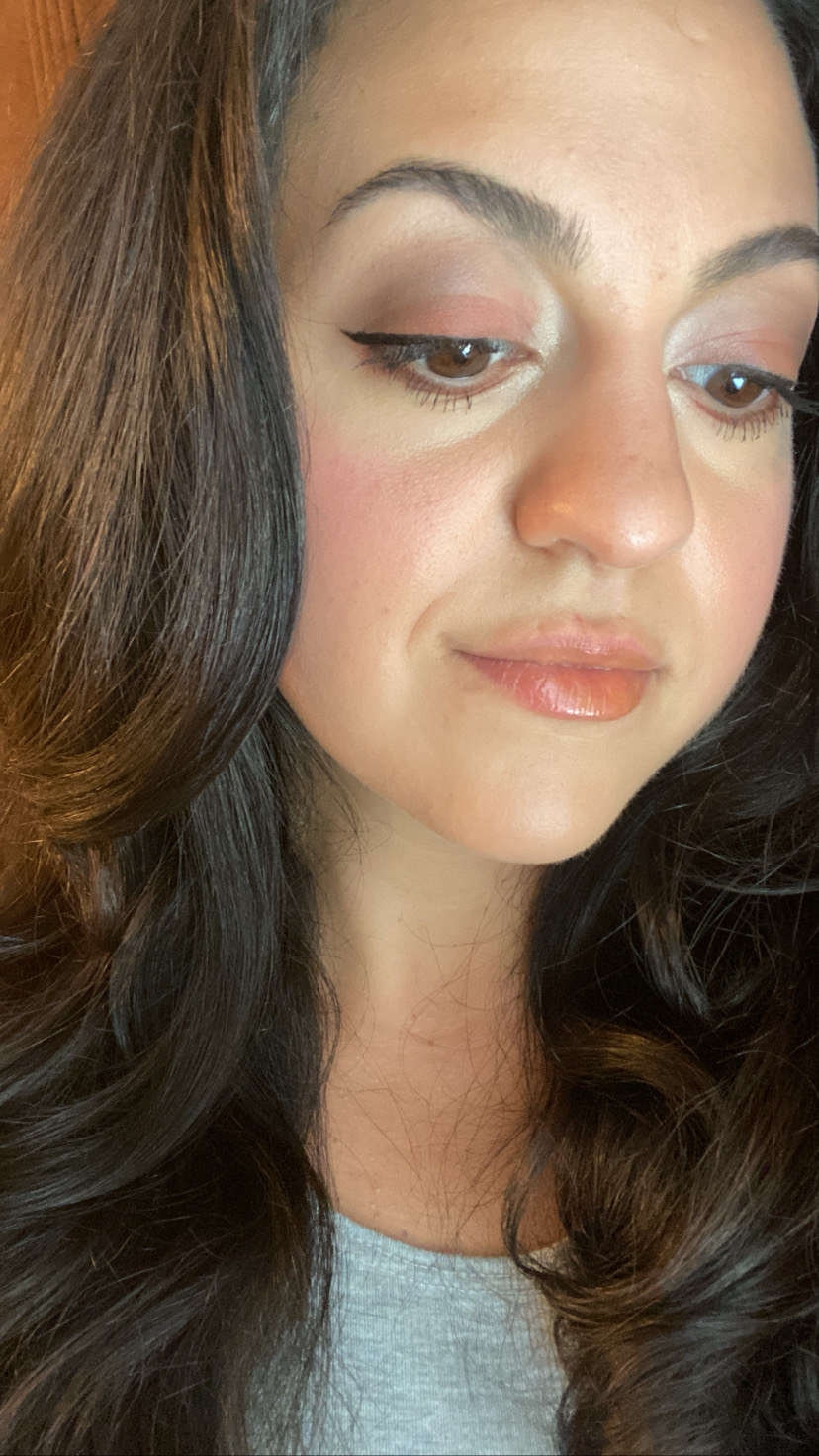 I added mascara and very lightly applied some of the pink blush from the Hawkins-inspired collection to my cheeks. For lips, I used the lipglass in the shade 'Marvelous Max,' which was way sheerer than I expected — in the tube, it's legit bright yellow.
Voila! Considering the array of dark colors I used on my lid, this smoky eye was still subtle and soft. This palette was just as pigmented yet buildable as the Hawkins-inspired one. The gloss wasn't as bright as I expected it to be — although I probably won't wear it again because there are other colors in this collection that I liked better.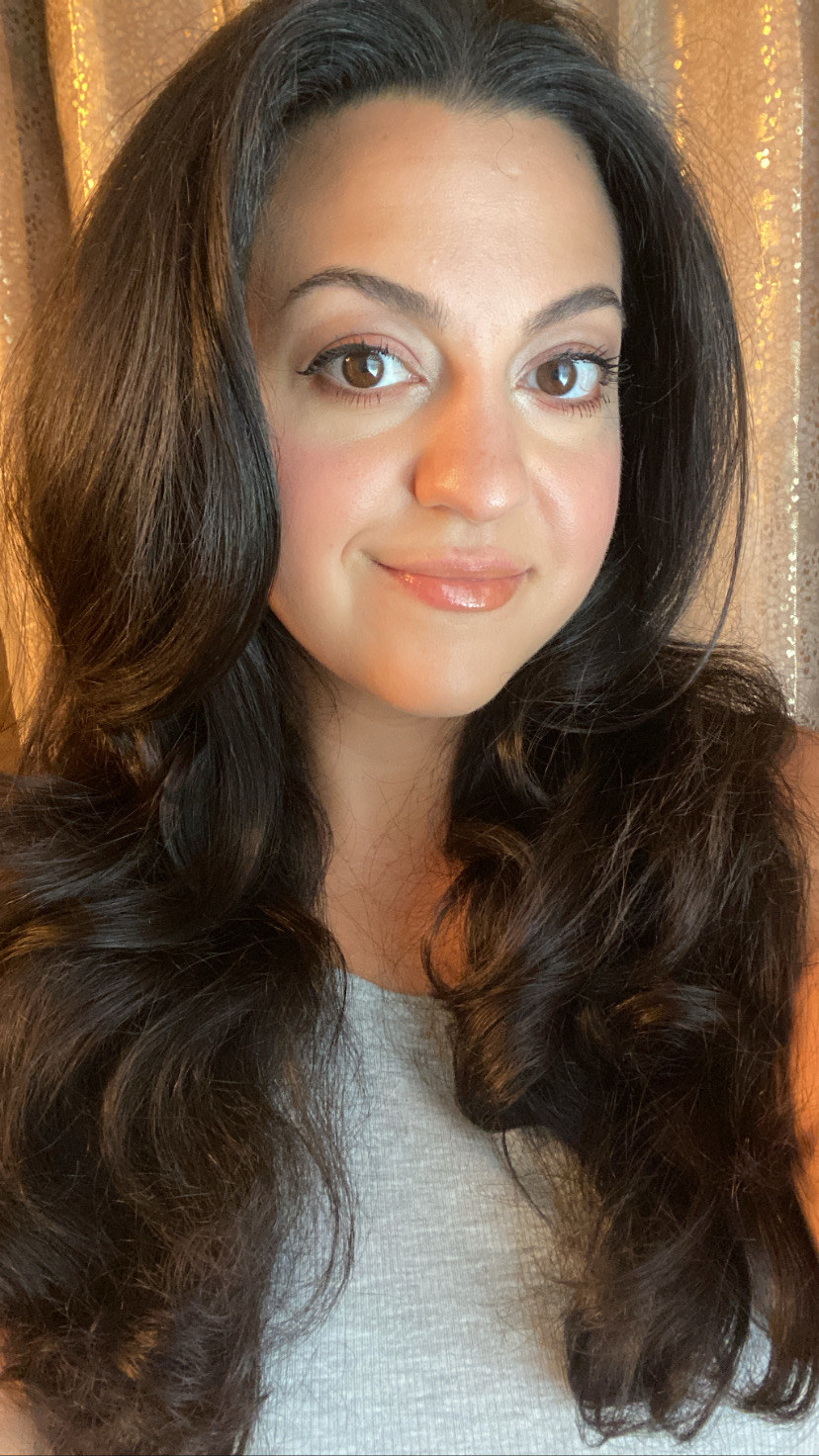 For an even more dramatic look, I took off the 'Marvelous Max' lipglass with a little makeup remover and applied the shade 'Rockin' Robin' for a nice pop of red. I'm kind of obsessed with how this eye pairs so nicely with the red lip!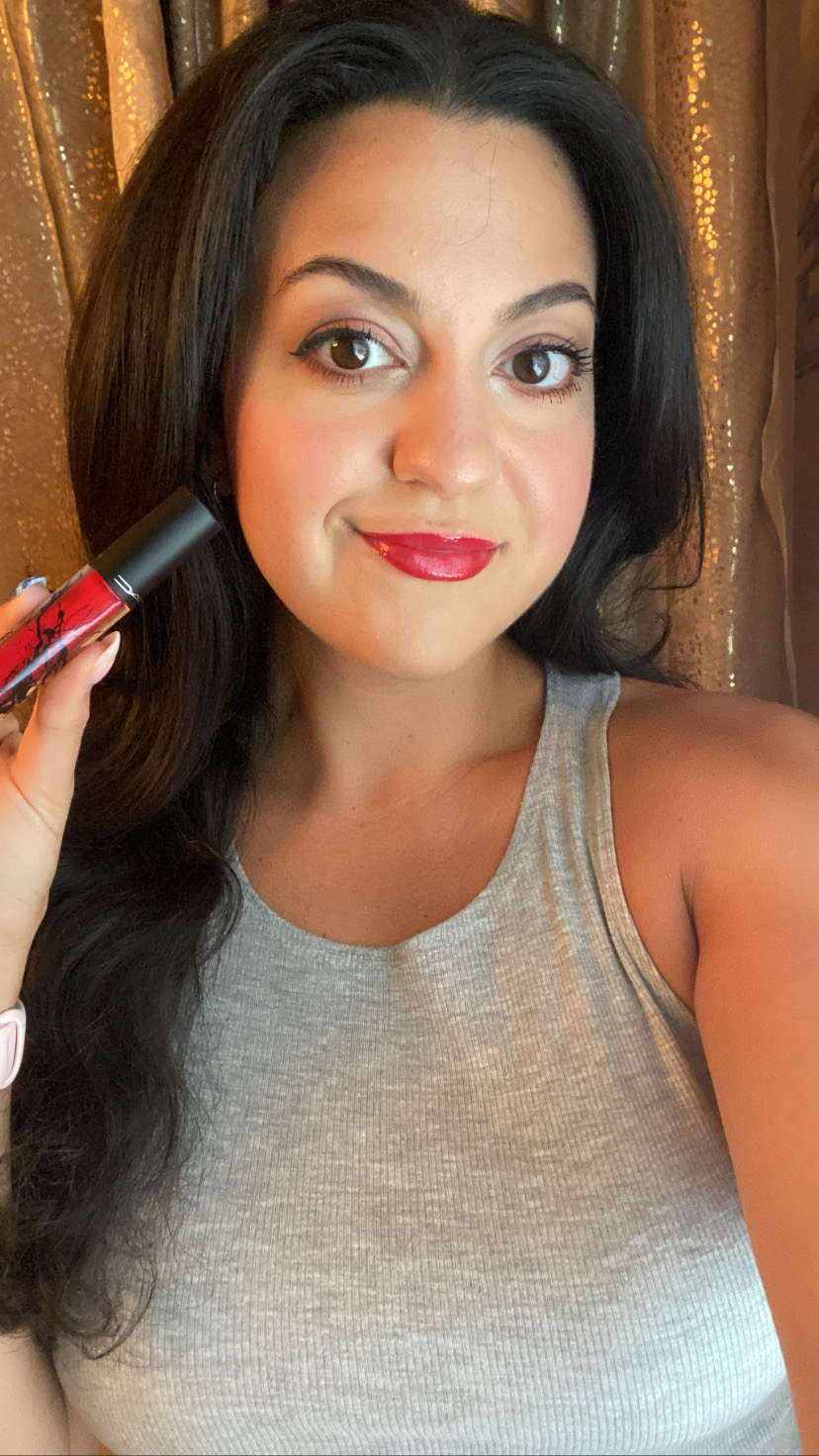 Lips:
Since there are a total of six lip colors in this collection, I figured it was only fair to let the other two lipglasses have their moment in the spotlight.

The 'Excellent Erica' lipglass wore as a hot pink — and I liked it. I usually lean more toward nude lip shades, but I thought this was a flattering bright color. The color lasted most of the day up until I ate, and then it wore off.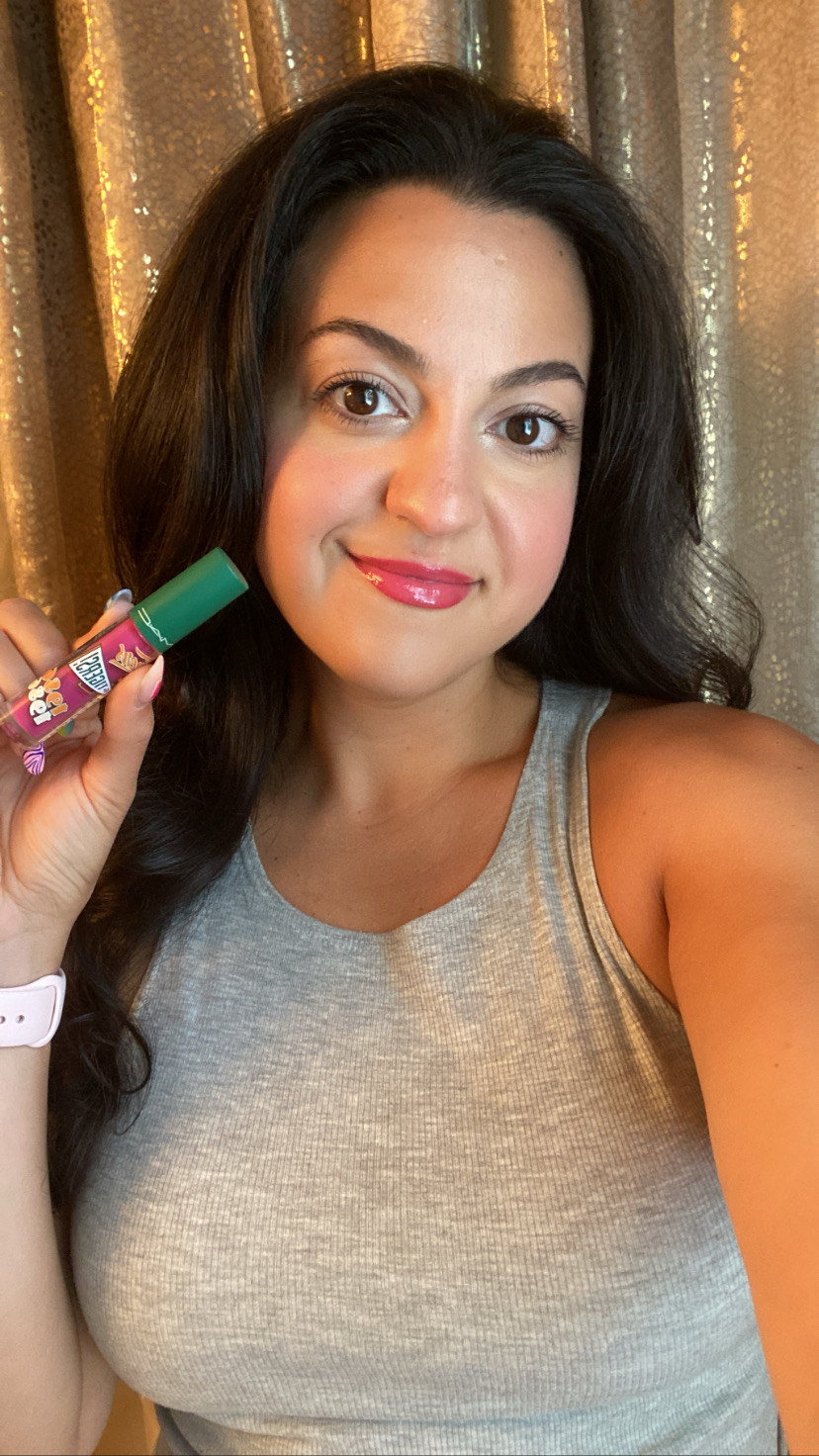 The 'Wild Wheeler' shade wore as a true berry, and it was one of my favorites. For me personally, it's a color that will give me a little variety in my lipstick collection without overdoing it.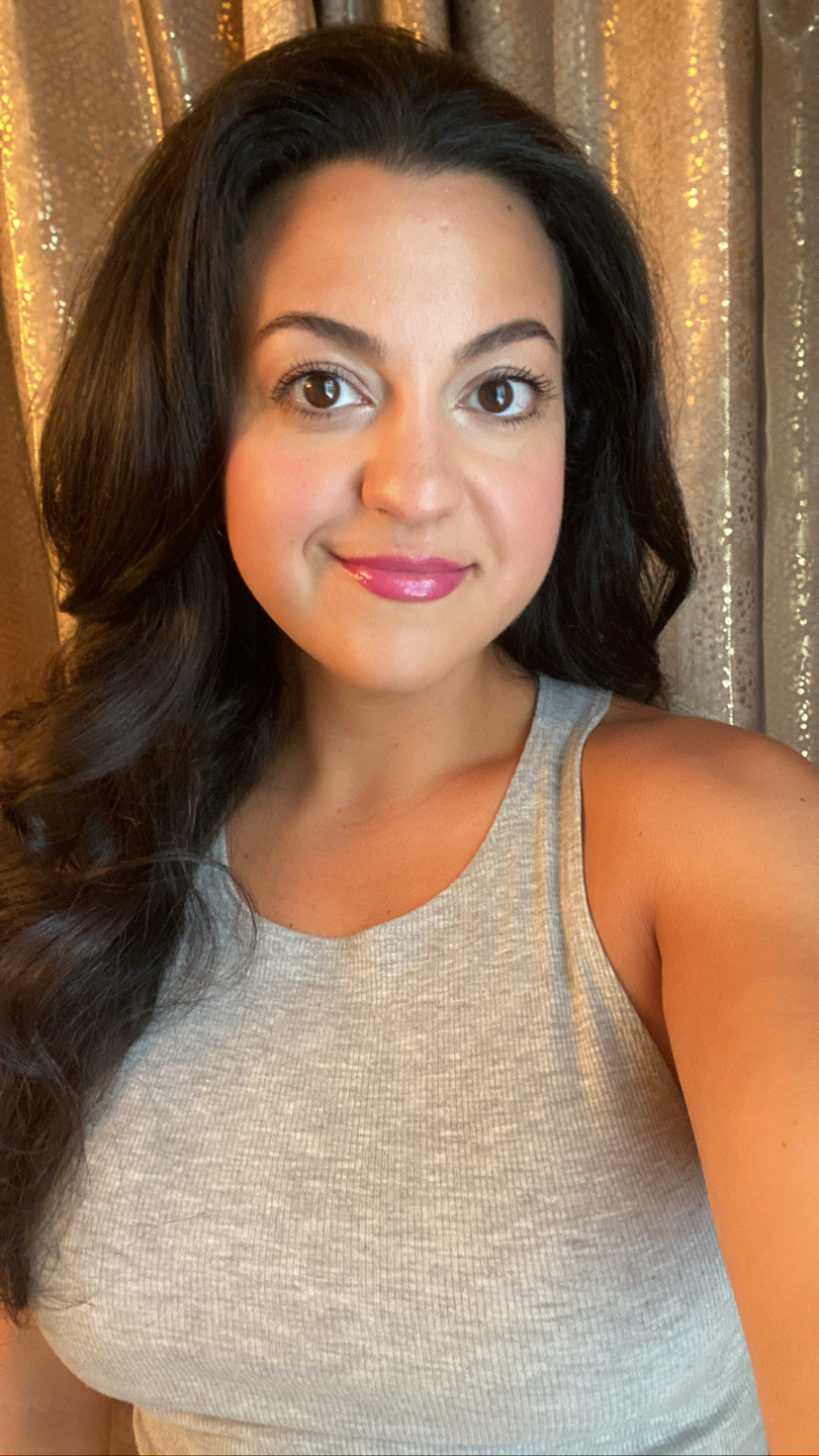 Lastly, there was 'Skull Rock.' This shade read as black (and very intimidating) in its tube, but once I swiped it on my lips, it was not nearly as dark as I expected it to be. Maybe for Halloween, I'd wear this shade again — but again, the berry color ('Wild Wheeler') was the extent of me stepping outside my nude lip comfort zone.
Overall? There are several products that I did enjoy using — and that I plan on working into my makeup routine — plus a few others that I wouldn't reach for again. Here's a recap:
• Hawkins Class of 1986 eye palette: 4/5 stars. I really loved how pigmented yet soft these shadows were and how well they blended out. I appreciate a palette that is buildable — especially one that has vibrant pink, green, purple, and yellow shades. This palette let me live out my subtle '80s makeup dreams. This eye look also lasted me all day and only creased a little bit. The palette did have some fall out, so that's the only reason I deducted a star. 

• The Void eye palette: 4/5 stars. I loved this palette just as much as I loved the Hawkins palette. The colors were just as pigmented yet soft and buildable, which is truly the perfect combo when it comes to what I look for in an eyeshadow palette. The shades in the palette are perfect for a nighttime look, and their longevity was impressive. My smoky eye looked just as pigmented when it was time to wash my face as it did when I first applied it earlier that day. Similar to the Hawkins palette, it only creased slightly on my lids. 
• Lipglasses: 5/5 stars. I've always been a fan of MAC lipglasses — so I wasn't surprised by how much I loved the shades in these collections. Each lipglass went on smooth and wasn't overly sticky, compared to other glosses. I specifically loved the Eerie El, Excellent Erica, and Rockin' Robin shades because they are colors I would reach for and wear again. Although I was surprised at how the other shades (especially Marvelous Max) looked on me, I'm a creature of habit and sadly won't be wearing subtle lime green or black lip gloss anytime soon. 

• Friend's Don't Lie blush: 4/5 stars. This bright shade of pink was beautiful, and it's a perfect summertime color. I would wear it again but will try to keep in mind to go lightly with applying it so it doesn't look too vibrant on my cheeks. It lasted through all of my makeup looks, and it didn't require a lot of touching up. 
BuzzFeed was sent this product free for review, but was under no obligation to give a positive one.