Dear French People: I Love You, But Please Explain Yourselves On These 20 Points
Does it ever feel awkward to kiss your boss?
Hi! I'm Evie, and I've been living in Paris since last March. My main goal in being here is to master the French language and stuff my face with baguettes, but as I've settled in, I can't help noticing all the differences between the US and France (like delicious baguettes, for example).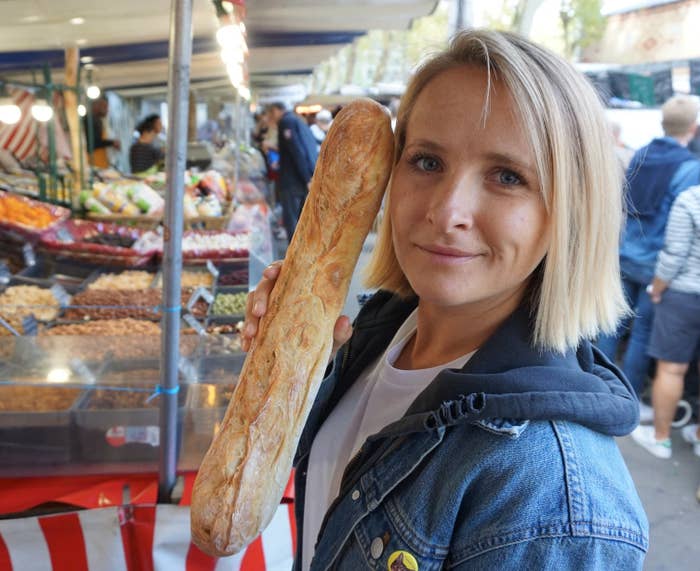 In addition to the carbs, here's a bunch of stuff I'm curious about.
1.
Does greeting people with a kiss ever feel awkward?
2.
Do you actually get any work done after that three-hour, three-glasses-of-wine lunch?
3.
How come you never eat on the go?
4.
How do you have time to go to the cheese shop for cheese, the meat shop for meat, and the bread shop for bread?
5.
Why the obsession with raw meat?
6.
How come every baked good you make is so delicious, but your cookies are so horrible?
7.
Why does everyone still smoke?
8.
Why do you always respond to tourists in English even if they're trying to speak French?
9.
Why don't you like to make small talk?
10.
And why do you love to argue?
11.
Why do you refuse to put in air-conditioning and then complain how hot it is all summer?
12.
Why does EVERYONE vacation in August?
13.
How come it's almost impossible to find recycling bins in public places? And how come everyone still uses plastic water bottles?
14.
How come you have beautiful parks — but don't let people sit on the grass?
15.
Why are there so many lost cats around Paris?
16.
Why does it take a pile of paperwork to open a bank account? Or, really, to do anything.
17.
How do you know when to switch from "bonjour" (good day) to "bonsoir" (good evening)?
18.
Why is it so important to say hello when you enter a store?
19.
Why do you always opt to sit outside — even in the middle of winter?
20.
And finally, how does everyone look so disheveled and so perfect at the same time?