Hey y'all! I'm Essence, beauty editor here at BuzzFeed, and I'm always looking for new stuff to try. When I first saw these backless, strapless push-up bras all over Instagram I thought, "ISSA SCAM!"... but I still tried them because my boobs have been the same size since I was 10 and I'll try anything that makes them look perkier.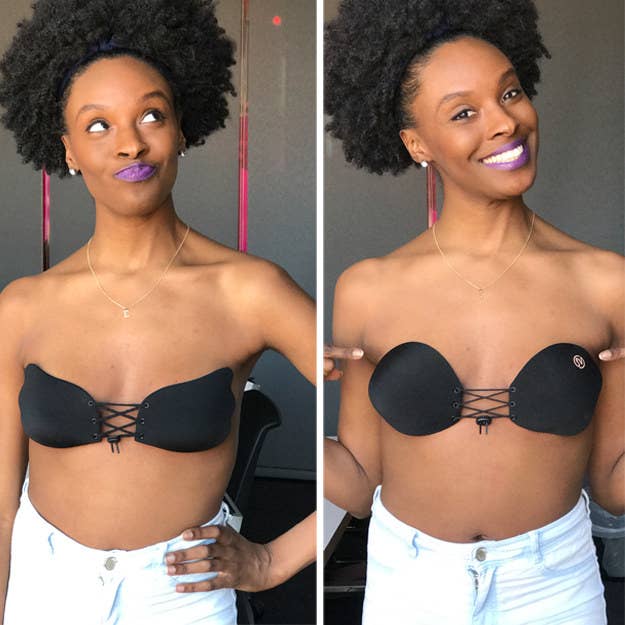 There are lots of brands out there making the bras, but a lot of celebs, like Rasheeda and Amber Rose, swear by the brand Sneaky Vaunt.
Sneaky Vaunt's Vaunt It Push Up bra costs $49, though, so first I tried the Beauty Trendz Instabust Push Up because it was on sale for $24.95. The Instabust bra claims to be "highly durable," made with "medical grade adhesive gel" to keep it in place.
Here's how it works: After you peel off the film lining each cup, you stick on the cups one boob at a time. After it's securely on, you tug the drawstring for a nice bust lift, like this lovely lady's.
So I tried it, and I was pretty underwhelmed. I'm a size A cup, and I was really excited about the idea that there was something out there that could give my little boobs a lift. Instabust, however, didn't really deliver for me.
You can see a little difference, but not enough that I'd ever consider buying one or wearing it out. It didn't feel that secure either, and every time I bent over, I felt like it was going to come off. The thought of this thing popping off as I bent over to shake my ass in the club made me shriek. No thx.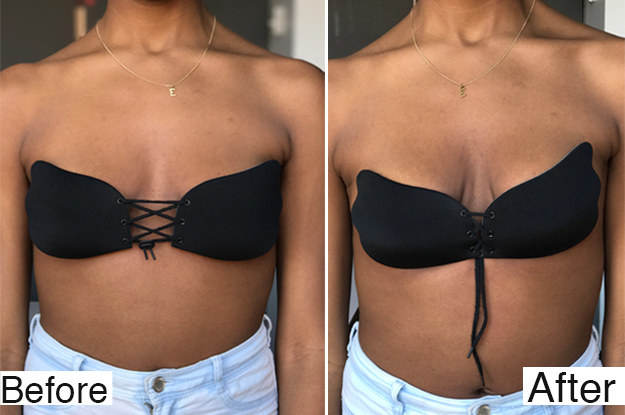 It didn't bring my boobs together or push them up as much as I was hoping it would, either. There was still a lot of in-between space.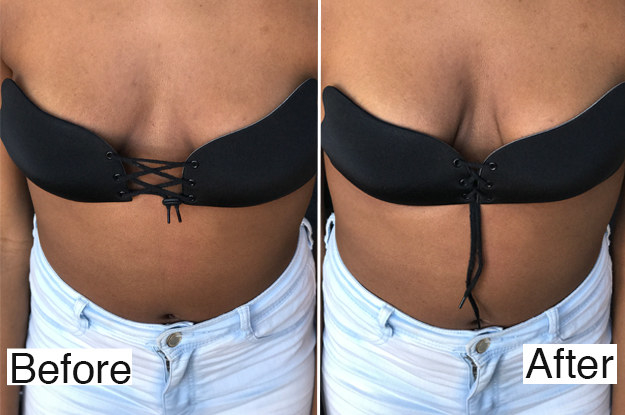 Next I tried Sneaky Vaunt. I thought that maybe it would work better since it was more popular among celebrities, even if they were getting paid to endorse it. It wasn't on sale, but perhaps the brand didn't need to put it on sale because it worked and people loved it so much they'd be willing to pay full price. Here's hoping.
Just like Beauty Trendz, and all the other brands that are now making the bra, Sneaky Vaunt is supposed to perk your cleavage after you pull a drawstring laced between the two cups. Here's a demo.
And here's me trying it IRL. No major difference, but I REALLY love this GIF.
I still didn't get the lift I wanted, and there was still quite a bit of space between my boobs.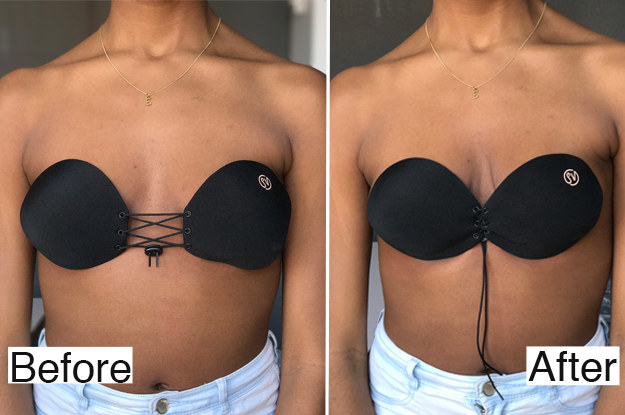 Here's a different angle so you can better compare the before and after. It slightly brought my boobs in closer together, but certainly not more than any of my push-up bras with straps.
So the question is: Is this miracle bra worth it?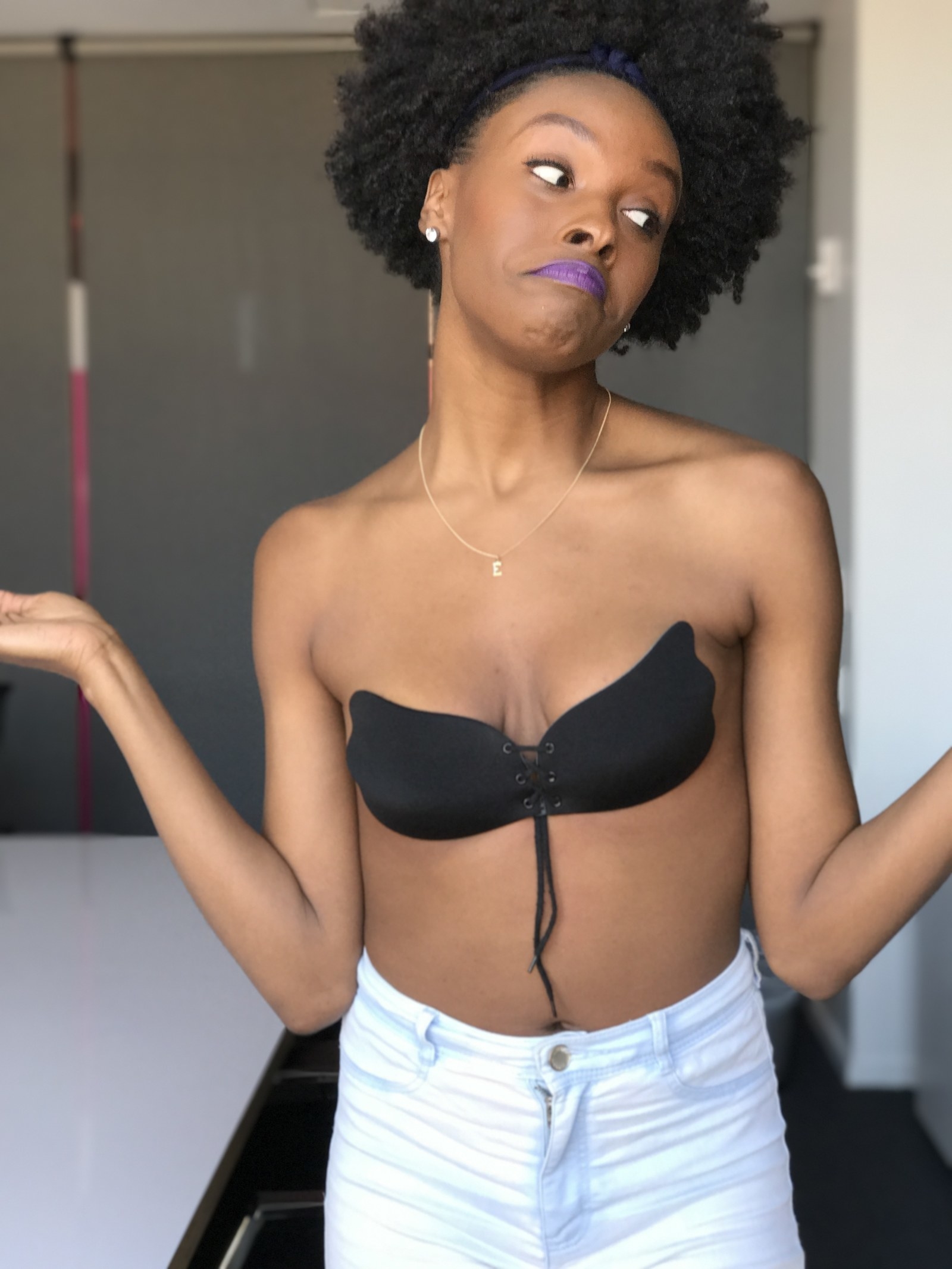 It's worth it if..
* (Maybe) if you have medium-sized boobs. It seems to work better if you're not super small or super large up top, like this woman.
* (Possibly) if you've had a breast lift. A lot of the influencers I've seen on Insta appear to have had boob jobs, so their breasts are already lifted and perky without a bra. In that case, you don't have to rely on the bra as much and the minimal lift is just enough.
* You're not looking for any major lift or support and just need a little something for a low-back outfit. It seems most practical in this scenario, as long as it stays on.
It's not worth it if...
* Your breasts are really small. This bra gives minimal lift, and if you're not that endowed up top, you're gonna need straps for a true power perk.
* Your breasts are really big. Have you seen this video of Amber Rose trying Sneaky Vaunt? I love Amber, but this bra was basically like little pasties on her. Also, it didn't lift her boobs at all or seem to bring them any closer together.
Until next time, folks. Let me know in the comments below if there's a beauty trend or product out there you want me to try before you spend your coins on it.