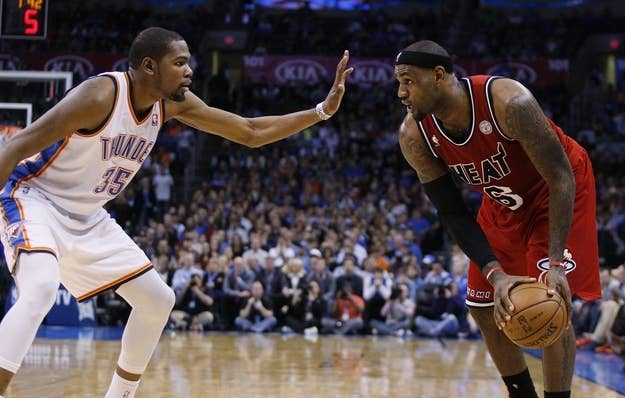 As the NBA prepared to commence its annual weekend-long sideshow of All-Star Game festivities, it also dropped a little bombshell in the pages of the New York Times. Starting today, the league's proprietary statistics database — one that previously teams and media were given access to — will now be available to the public for free. True shooting percentage, defensive efficiency, and all sorts of other next-gen metrics and methods of player comparison, which have struggled to reach beyond the brainier fringes of the hoops fan base, now have a chance to achieve mainstream critical mass with the league's official endorsement. This isn't ESPN creating a stat wholesale so it can be marketed (read: Quarterback Rating, Total) but a real attempt at transparency and education. The NBA has embraced the notion that its fans are not only smart but want to get smarter.
Not every league acts this way. Take FIFA, soccer's governing body, which is run by a cartoon-y cabal of villains so garish in their smarm and hypocrisy that they border on parody. There were enough botched goal calls in the run-up to the 2010 World Cup in South Africa that Sepp Blatter, FIFA's hilariously corrupt president, felt compelled to adress the issue in a preemptive press release titled "FIFA's position on technology in football." Here's what he said:
The human aspect: no matter which technology is applied, at the end of the day a decision will have to be taken by a human being. This being the case, why remove the responsibility from the referee to give it to someone else? It is often the case that, even after a slow-motion replay, ten different experts will have ten different opinions on what the decision should have been.

Fans love to debate any given incident in a game. It is part of the human nature of our sport.
Basically, that means "your complaints have been considered and will be ignored."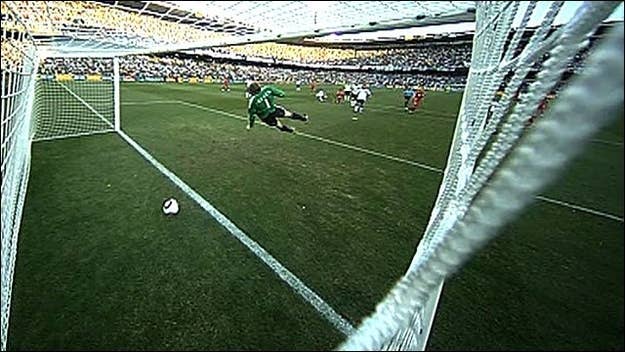 Soccer's "human nature" failed in a magnificent way in South Africa when England was not awarded a clear Frank Lampard goal during a Round of 16 loss to Germany. Afterwards, Blatter had an epiphany and issued an apology to English fans. "It is obvious that after the experiences so far at this World Cup," he said, "it would be a nonsense not to reopen the file on goal-line technology." By the summer of 2012, Blatter was calling goal-line tech "a necessity" and put FIFA's full support behind it. The two competing goal-line-tech systems, Hawkeye and GoalREF, have been extensively tested over the past year and both received a public thumbs-up from FIFA execs.
And yet, there is doubt that goal review will be in place for the 2014 World Cup in Brazil. The latest setback came yesterday in the form of an announcement from Major League Soccer that it won't be using goal-line technology for its upcoming season, a decision the league's executive vice president blames on FIFA's inability to get its act together. Apparently, FIFA requires that a representatives be onsite for every in-stadium installation — but has only authorized two people in the entire world to perform the job. FIFA has also been reluctant to endorse one system over the other. They're dragging their feet as much as they possibly can, trying to avoid the risks inherent in doing something new.
Thankfully, basketball's progression continues unabated. Buried deep within the Times' announcement today was the admission that the league is far from finished, that next season may herald the introduction of video-tagged box scores, akin to what NFL teams have had for years. The hope is that you'll be able to click any line in a play-by-play chart and a short video will pop up.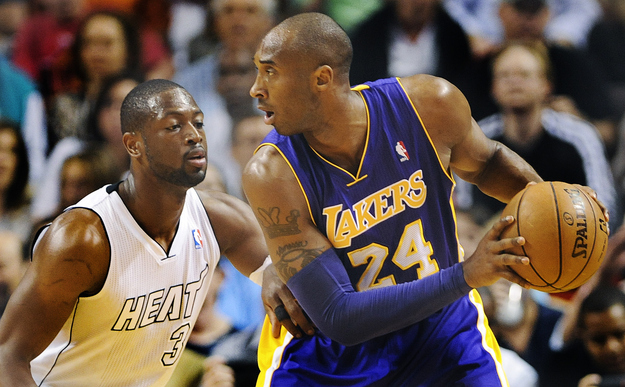 To be clear, the NBA is under no obligation to release any of this data to fans. Furthermore, it could charge a nominal fee — say, $10 a season — and thousands would pay such a price with no hesitation. But the league is betting that they'll be better off in the long run by making it free and available to those who aren't already diehards. "Allowing fans to see the play behind each statistic" is the how the Times describes the expectation for next season, when video might be integrated system-wide. That each and every sports league on the planet doesn't have the same sort of attitude regarding its product is far more unsurprising than disappointing. Whether it's proprietary statistics or on-field systems, the typical official reaction to any outside innovation is suspicion.
Maybe Major League Baseball, which has been glacial in its attempt to implement expanded instant replay, and the National Football League, which is still praying it'll find someone that can microchip a football competently, will be prodded by the NBA's action. In fairness, the NFL's decision this past season to make all-22 game footage available was a welcome gesture — but it requires an expensive online subscription, and the move came only after a long period of agitation by writers. Meanwhile, baseball is touting the obstacles stalling instant replay. There are always methods of foot-dragging available to any organization that's scared of trying something new, and the NBA should be lauded for foregoing excuses and taking a leap into the future.