Heat-Pacers Should Be A Great Series, And Miami Is Definitely Going To Win It
Indiana is going to put up a really tough, fun fight against Miami, and they are guaranteed to lose. 100%. Put it in the books.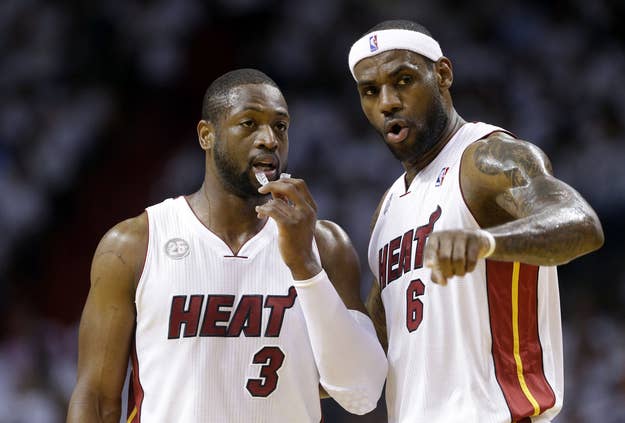 There's no reason to think that the Miami Heat won't eventually win this Eastern Conference Finals against the Indiana Pacers easily, because the Miami Heat have shown themselves to be, quite literally, almost totally incapable of failure. Erik Spoelstra's team has gone 45-3 in its last 48 games, which includes an 8-1 playoff run against Milwaukee and then Chicago. The story starts and stops with LeBron James, clearly, but he's doing his thing in a different yet equally compelling way this postseason, a precise and almost laid-back efficiency that makes you wonder whether he'll ever need to revert to the old, explosive LeBron James.
Compared to last year's title run, James is averaging fewer points, rebounds, steals, and blocks per game through the playoffs so far, but he's also playing 3.3 fewer minutes per game. And his True Shooting Percentage — a more meaningful metric that aggregates his two- and three-point field-goal percentage with free throws — puts him at 61.7%, a few ticks off his regular season level but also just a hair away from besting his all-time playoff best (61.8% in the 2009 postseason). In other words, LeBron has played exactly as his team has needed him to perform. It's as if he's saving up the mojo for when (and if) his team might really need an extra dose.
But the Indiana Pacers are a far more complete team than either of Miami's previous opponents. The Pacers frustrated and confounded the Knicks into playing some of their most uninspired basketball at a most inopportune time, and Paul George has been nothing short of a revelation, as his 19.1 points, 8.3 rebounds, and 5 assists are all marked improvements over the regular season. And an offense that has four starters averaging at least 14 points per game — Miami only has James (24.0) eclipsing that mark these playoffs — is perhaps cohesive and unselfish enough to find the gaps in Miami's D. If the Pacers are open to move the ball around and knock down the open shots that Miami may afford them, this series will be a scrap to the deciding contest, be it Game 5, 6, or even 7.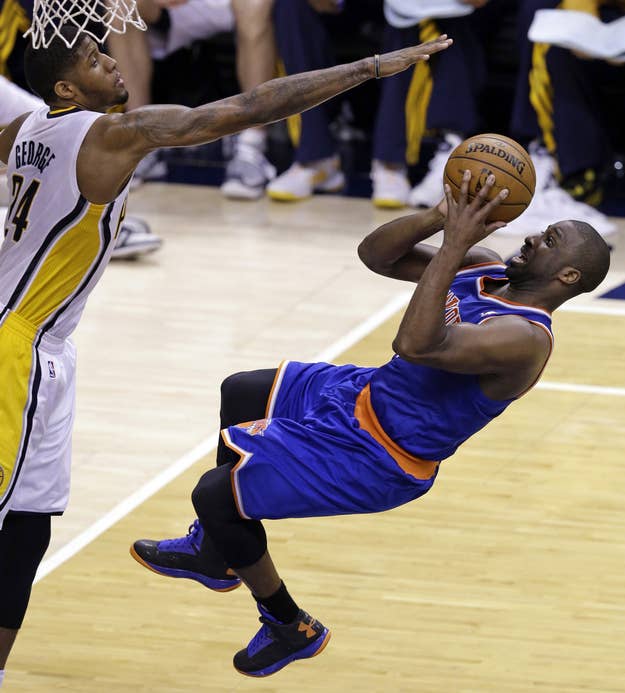 Moreover, the Pacers aren't going to fold. The entire ethos of their organization is to work hard and play tough, they've got nothing to lose at this point, and they aren't scared of LeBron, having taken a 3-2 series lead on the Heat in last year's second round. It's too bad that Miami has shown almost zero weakness this postseason and it's a mental impossibility to see Indiana winning, even in the most drawn-out scenario, four out of seven games, something that hasn't occurred in Miami's last 48-game sample size. To accomplish such a feat in seven games, let alone five or six, would represent one of the more remarkable upsets in NBA history. That doesn't mean the Pacers can't play exciting or competitive basketball for the duration of this tilt or even steal a game or two. They can do the former, and they will probably do the latter.
In the end, Miami will remember they're the champions and LeBron will remember that he's LeBron and a Finals defense of last year's crown will commence against either Memphis or San Antonio. But we can still enjoy watching him get there.