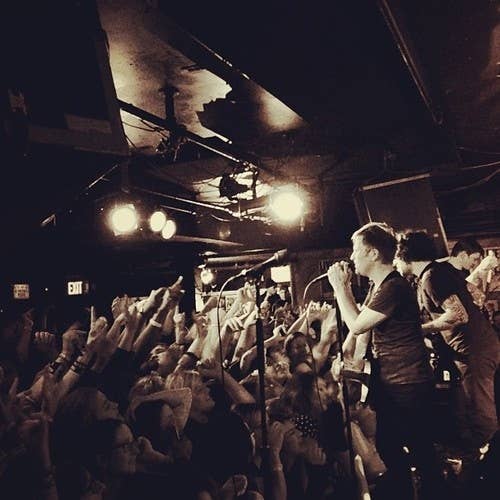 The band was mere inches away from the 300 or so fans at the show:
"When we were coming back, we wanted to do it like we were fans of Fall Out Boy," Pete told the crowd. When they first hit it big eight years ago, a large part of that was because the band (OK, Pete) were so great at calculating their every move for maximum appeal and reaction without seeming like they were actually calculating anything. And that's still true: They played an hour-and-45-minute set list that smartly mirrored the track listing of their 2009 greatest-hits album — a roundup of their biggest hits ("Sugar, We're Going Down," "Dance, Dance," "Thnks fr th Mmrs"), fan favorites ("Grand Theft Autumn (Where Is Your Boy?)," "A Little Less Sixteen Candles, A Little More 'Touch Me'"), and relatively deep cuts (two tracks originally from their 2008 mixtape: "ALPHAdog & OMEGAlomaniac" and "Lake Effect Kid").
Even better was that all of the little moments that make a Fall Out Boy show a Fall Out Boy show were still there. Pete still did this before "Grand Theft Autumn":
Patrick still did this during "Dance, Dance":
Joe still did this while playing guitar:
And Andy still killed it on the drums:
Peterick was also fully intact.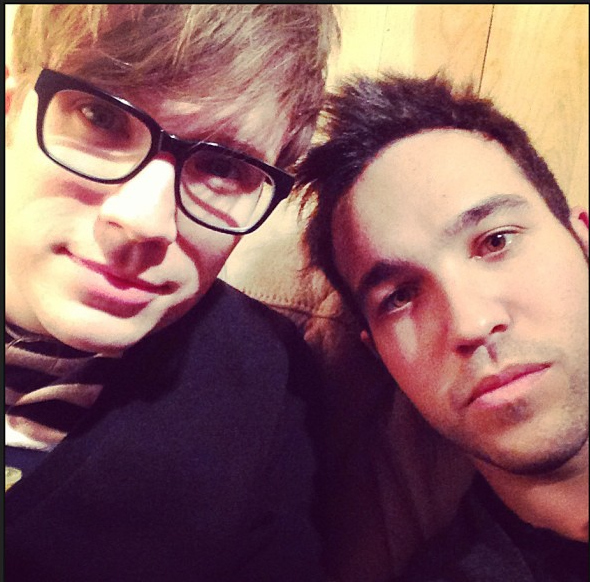 As for the new song? It fit right it, especially when you think about the sound on Folie a Deux. Everyone's hands went up, clapping along with Patrick and Joe as soon as "My Songs Know What You Did in the Dark (Light Em Up)" started, and the crowd started bopping in unison when the stunted groove of the chorus kicked in. Patrick talked about the band getting booed while playing new songs live during their last time on tour; this was anything but. Whether it's that absence made hearts grow fonder or that everyone's truly grown to love Fall Out Boy's evolution, it was just FUN.