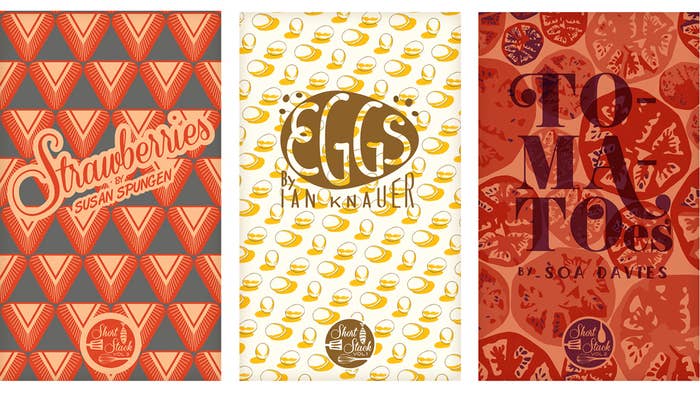 These three booklets are part of a new cookbook series called Short Stack, which just blew past its $50K funding goal on Kickstarter. Started by Brooklyn-based food writer Nick Fauchald, Short Stack is is a charming departure from the usual recipes sources of glossy food magazines, celeb chef cookbooks, and food blogs. And it's not alone in its mission: More and more indie print projects are getting traction — like the new Chicago-based Middlewest and the just-released Cherry Bombe, not to mention Lucky Peach, Gather, and Diner Journal.
A former editor at Food & Wine, Fauchald was previously founding food editor at Every Day with Rachael Ray and also at Tasting Table. Over time he became frustrated by the impersonal, quantity-driven approach to most recipe development and cookbook publishing. "It's hard for my friends in the industry and for myself to make a living creating recipes and writing about food," he says. "Our publishing model puts the author first so they get paid for each book we print, forever. Most cookbook authors never see a penny of royalties."
To kick off the series, Fauchald brought together a team of chefs and recipe developers that he most respects from his years in the industry. Each author will tackle a different subject in a 50-page booklet. The first three are "Eggs" (by former Gourmet food editor Ian Knauer), "Strawberries" (by former Le Bernardin cook Soa Davies) and "Tomatoes" (by Hollywood food stylist Susan Spungen).
While the recipes promise to be interesting, the other notably cool things about Short Stack are its design and production. Stitch-bound by hand using baker's twine and printed locally on high-quality paper, the editions feature fun graphic illustrations by Rotem Raffe. Aside from the fact that there are no recipe photographs at all in the book — "The best cookbooks never have photos," Fauchald says — this is all a dream come true for the DIY/Pinterest set.
The books will be printed and bound by the end of July, and will be packed and shipped in August. If you back the project on Kickstarter before it launches, there are prizes for various levels of funding. And, of course, you're more likely to actually get your hands on what seems poised to become a collector's set of recipes with a cult following.