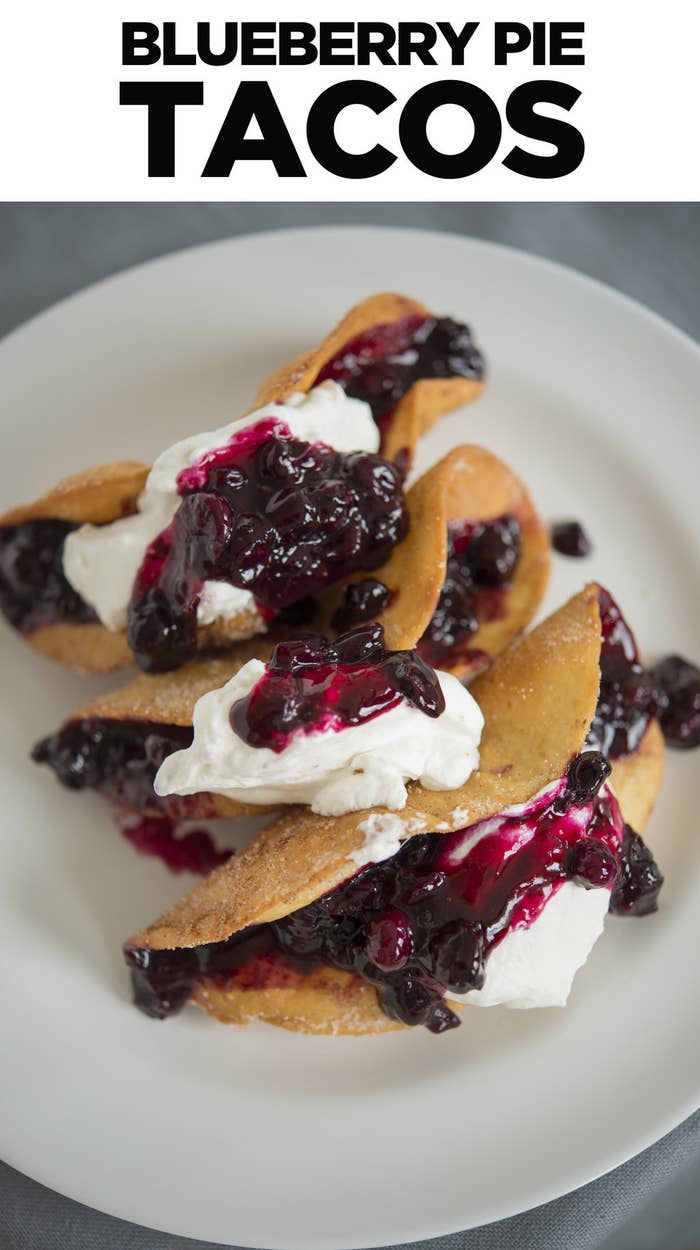 The original idea for this dish — since BuzzFeed's food editors were creating recipes for Good Morning America's three-day tournament of food hybrids — was to make the tacos out of pie dough. However, that was extremely difficult and unreasonable, and no one in their right mind would ever be able to replicate them at home. (But if you do, then let's talk/be best friends.) What works instead, and is actually doable, is to fry tortillas then dust them in cinnamon and sugar, and fill them with hot blueberry pie filling. And this is what you should do, and it's DELICIOUS.
BLUEBERRY PIE TACOS
Makes 8 tacos
INGREDIENTS
For blueberry filling
3 pints blueberries
½ cup sugar
zest and juice of 1 lemon
½ teaspoon nutmeg
½ teaspoon cinnamon
2 tablespoons cornstarch mixed with 2 tablespoons cold water
For whipped cream
1 cup heavy whipping cream
2 tablespoons confectioner's sugar
For taco shells
1 gallon canola oil, for frying
8 small (approx. 4-inch diameter) flour tortillas
¼ cup granulated sugar
1 teaspoon ground cinnamon
Special equipment
deep fryer or deep-fry thermometer
PREPARATION:
For blueberry filling
Combine blueberries, sugar, lemon zest, lemon juice, nutmeg, and cinnamon in a saucepan and bring to a boil over high heat (the blueberries will release lots of liquid), stirring occasionally with a wooden spoon. Turn off the heat and add the cornstarch/water mixture and stir just to combine. Let the filling cool, stirring occasionally, for at least half an hour before assembling tacos.
For whipped cream
Add confectioner's sugar to heavy cream in a cold bowl. Whip, by hand or with a mixer, until it holds soft peaks. Refrigerate until you're ready to assemble the tacos
For taco shells
Pour the gallon of vegetable oil into the deep fryer or large pot and heat it to 350°F. Set up a baking sheet lined with paper towels next to the fryer, for the finished tacos.
Stir together sugar and cinnamon in small mixing bowl.
Using the tip of a sharp knife, poke 10-15 tiny holes into each flour tortilla. Fry them one at a time by using tongs to drop half of the tortilla into the hot oil. That half will float so you can fold the other half over it (with the tongs) to get it in the shape of a taco shell. When the submerged half has started to brown, turn the tortilla over to fry the other half. If air bubbles start to form, try to squeeze them out with the tongs, but a few bubbles are fine. Once the tortilla has taken the shape of a taco shell, release it with the tongs and let it fry, fully submerged, until golden brown, about another minute.
When the taco shell is golden brown, carefully lift it from the fryer with tongs or a slotted spoon. Let any excess oil drip off into the fryer, then set it upside-down (open-side down) on the paper towel-lined baking sheet, and sprinkle the outside with cinnamon sugar. Repeat with the remaining tortillas.
To assemble tacos:
Divide the pie filling evenly among the fried taco shells, and top with whipped cream.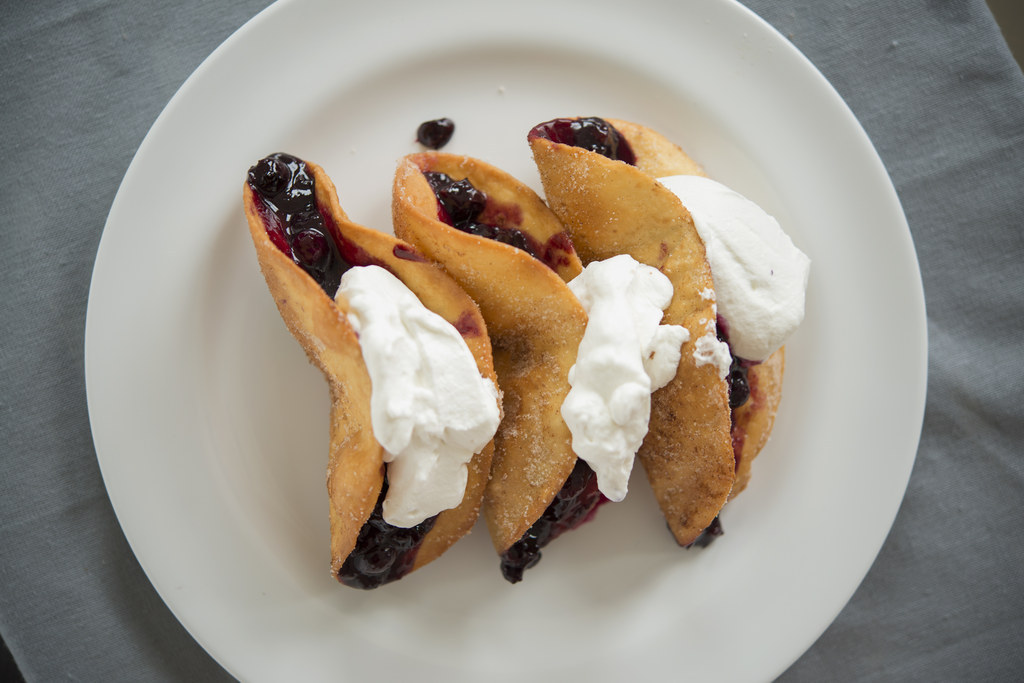 This recipe is one of the delicious contestants in an epic three-day Mix & Mash-Up food tournament happening this week on Good Morning America.