How To Make The Best Pancakes From Scratch
You need a go-to pancake recipe. One that always turns out perfectly. Here it is!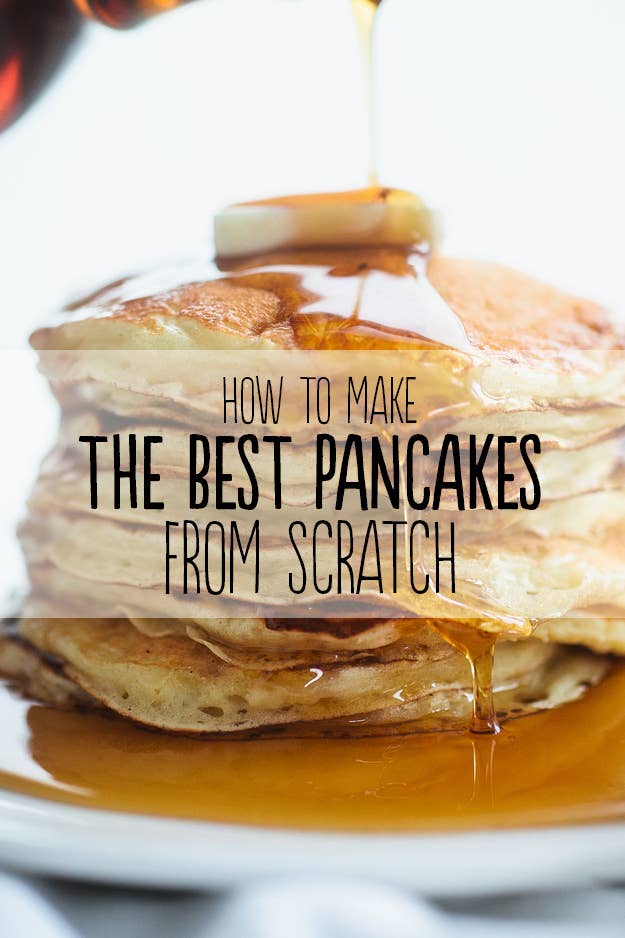 I make these weekend mornings when I'm at my parent's house. My dad is always trying unnecessarily complicated recipes that have you separate the eggs and whip the whites for ultra-fluffy pancakes, but it's really not worth the hassle. This recipe makes perfect pancakes.

The only change I've made to the original Martha Stewart recipe is to mix the wet and dry ingredients separately, then gently fold the wet into the dry. The mixing is the most important part to take care with — you DO NOT want to overmix. The more lumps the better. Also, keep the heat low on the griddle. I leave the oven on 200 and put the finished pancakes on a plate in the oven with a dish towel over them to keep warm while I cook the rest of the batter.

When I don't have buttermilk I do the trick of letting the milk sit with a tablespoon of lemon juice in it, or add yogurt to milk. The lemon juice with the milk imparted a really nice flavor, so now I like to add lemon zest to the batter. —Leah Adelman, 28, Frankfurt, Germany

Best Buttermilk Pancakes
Recipe from Martha Stewart Living, January 2001
MAKES 9 SIX-INCH PANCAKES
INGREDIENTS
2 cups all-purpose flour
2 teaspoons baking powder
1 teaspoon baking soda
1/2 teaspoon salt
3 tablespoons sugar
2 large eggs, lightly beaten
3 cups buttermilk
4 tablespoons unsalted butter, melted, plus 1/2 teaspoon for griddle
PREPARATION
Heat griddle, not too high. Combine flour, baking powder, baking soda, salt, and sugar in a medium bowl and whisk or stir with a fork. In a separate bowl, whisk together the beaten eggs, buttermilk, and 4 tablespoons of the melted butter. Add the wet ingredients to the dry ingredients and very gently fold them together. Do not overmix; the batter should have small to medium lumps.
Heat oven to 200 degrees. Test griddle by sprinkling a few drops of water on it. If water bounces and spatters off griddle, it is hot enough. Using a pastry brush, brush remaining 1/2 teaspoon of butter onto griddle. Wipe off excess.
For each pancake, pour about 1/2 cup of batter. When pancakes have bubbles on top and are slightly dry around edges, about 2 1/2 minutes, flip them over. Cook until golden on bottom, about 1 minute.
Keep the finished pancakes on a heatproof plate in oven.
Want more amazing recipes like this one? Sign up for the BuzzFeed Food newsletter, and we'll send them to you twice a week!