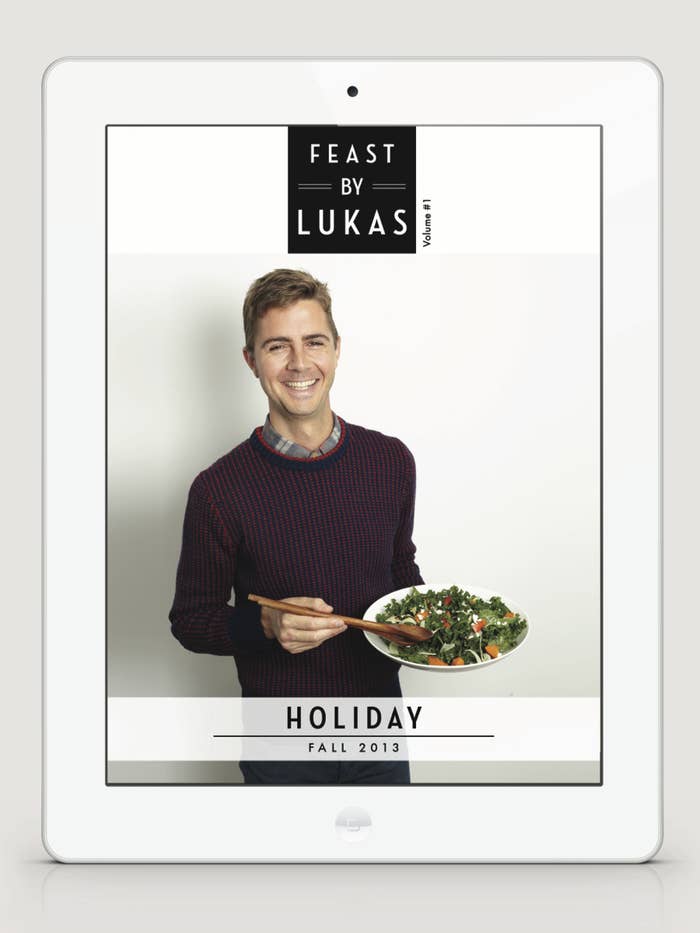 Let's say that you're sick of eating. This sounds impossible, but after a month of turkey, gravy, and rich casseroles followed by a month of hams and cookies, it happens. So what in the world to eat for New Year's Eve?! Certainly not more meat. We all have some torturous dieting plan that we'll "start in January." Why not ease into that plan? This menu will help; it's satisfying but also healthy in the way that doesn't make you feel like you're punishing yourself.
The recipes come from a new digital magazine/app called Feast By Lukas! It was created by Lukas Volger, an appealing, talented cook who throws the kind of dinner parties we all wish we could pull off and is sharing his most successful menus in this quarterly app. This holiday edition is his first; it's $3.99, and if you want access to the other three feasts as he rolls them out, it's $13.99.
Near Year's Eve Dinner: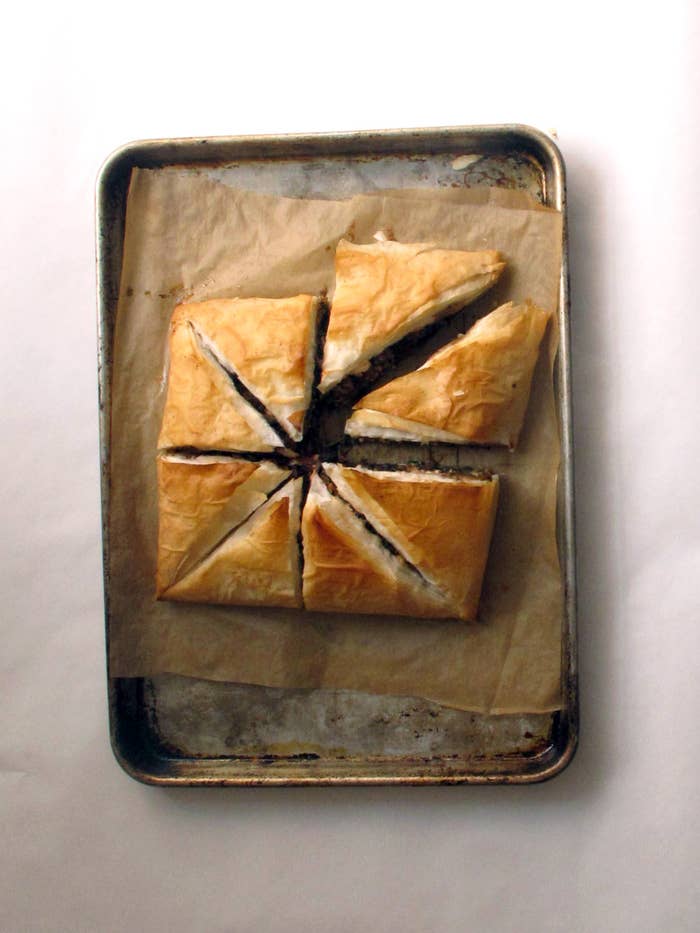 Filo with Swiss Chard, Ricotta, and Mushrooms
Recipe by Lukas Volger
This gorgeous parcel is a perfect vegetarian main dish. It's gone through a few iterations over the years, but it's based originally on a recipe in Annie Sommerville's terrific cookbook Fields of Greens. I serve it often at holiday dinners — or any kind of dinner party, really — and it's always a hit because it's so classically rich and filling, beautiful to behold, and keeps its meatlessness pretty quiet. For entertaining purposes, it's a helpful dish to keep in your repertoire, since it can be made up to a day in advance, then put in the oven just before it's time to eat.
Serves 6 to 8
INGREDIENTS
2 bunches Swiss chard (about 1.5 pounds) 3 tablespoons olive oil, divided
1 onion, diced
1 teaspoon salt
Freshly ground black pepper
5 garlic cloves, minced
12 ounces sliced mushrooms (crimini, button, shiitake, or a combination)
Scant 1/4 teaspoon crushed red pepper flakes
1/4 cup dry white wine
2 tablespoons roughly chopped parsley
2 eggs
8 ounces ricotta (about 1 cup)
Zest of 1 lemon
9 filo sheets, 14 inches by 18 inches
4 tablespoons butter, melted and slightly cooled
2 ounces crumbled feta (about 1/2 cup)
PREPARATION
Trim the stems from the chard and reserve half of them. Finely chop the reserved stems and roughly chop the leaves.
Heat 1 tablespoon of olive oil in a large skillet over medium heat. Add the chard leaves, a big pinch of salt, and cook, stirring, until wilted, about 3 or 4 minutes. If the pan seems dry, add a splash of water. Transfer the wilted greens to a colander to drain and cool. Grab the greens in handfuls and squeeze out as much liquid as possible. Finely chop the chard and set aside.
Wipe out the skillet, return it to the heat, and add another tablespoon olive oil. Add the onion, chopped chard stems, and a big pinch salt. Cook the onions and stems are until softened and translucent, 5 to 7 minutes, stirring occasionally. Add half the garlic and cook until fragrant, about 1 minute. Transfer to a bowl.
Wipe out the skillet, and return it to the heat. Turn the heat up slightly, to medium-high. Add remaining 1 tablespoon oil to the skillet and then add the mushrooms and a big pinch of salt. Sauté the mushrooms until they release their juices and it begins to cook off, 7 to 9 minutes. Add the pepper flakes and remaining garlic and stir until fragrant. Deglaze the pan with the white wine, scrape up the browned bits with a wooden spoon, and continue cooking until the pan is mostly dry. Transfer the mushrooms to the bowl with the onion. Add the parsley and several grinds of black pepper. Stir to combine.
Crack the eggs into a mixing bowl and beat lightly. Whisk in the ricotta, then fold in the chard, lemon zest, 1/2 teaspoon salt, and several grinds of black pepper.
Note: The next two steps sound complicated but they're not. Essentially you're simply brushing the centers of the layers of filo with melted butter, spreading the fillings inside, and wrapping the whole thing into a square-shaped parcel.
Unfold the filo on a cutting board and cover with a clean towel to prevent it from drying out. Spread a piece of parchment out on a work surface. Lay a sheet of filo on the parchment and, using a pastry brush, draw and fill an 8-by-8-inch square with the melted butter in the center. Lay another piece of filo over it, but rotated 90 degrees so that the rectangles crisscross. Brush the same 8-inch square with butter. Lay another piece of filo over, rotating it 90 degrees, and brush the 8-inch square with butter. Repeat this process, rotating the filo sheets and brushing the butter, with 5 more pieces of the filo. Scoop the ricotta mixture into the center and then spread to cover the 8-inch square. Top with the mushroom-onion mixture, spreading evenly, then sprinkle with the feta.
Now, working layer by layer, use the exposed, excess filo to fold over back over the fillings and seal them up. Fold the top layer of filo over the filling and brush with butter, gently tugging at the filo so that the edges overlap and seal over the fillings, as if you're wrapping a present. Repeat with remaining 7 layers. Lay the final, reserved sheet over the top so that you have a smooth, clean surface, and tuck the excess underneath the cake. Brush all over with what's left of the butter. Slide the filo and parchment onto a baking sheet.
Preheat the oven to 400 degrees.
Refrigerate for at least 10 to 15 minutes (and up to 1 day) to firm up the butter. Then, using a long, sharp knife, score the cake — by cutting only through the top filo sheets — into 8 wedges. Bake for about 40 minutes, until the filo is golden brown all over. Let stand for 10 minutes on a cooling rack, then slice into wedges and serve hot.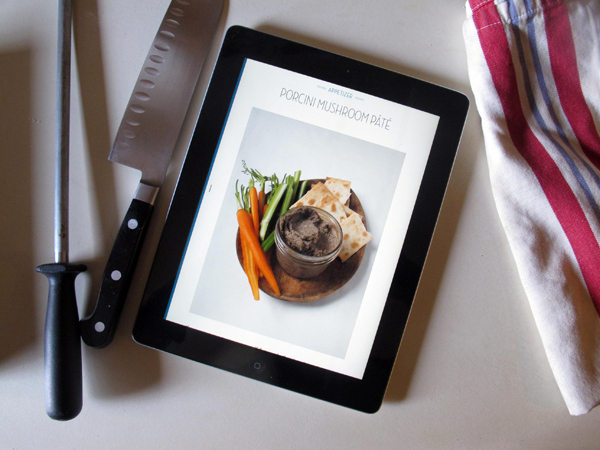 New Year's Eve Drink: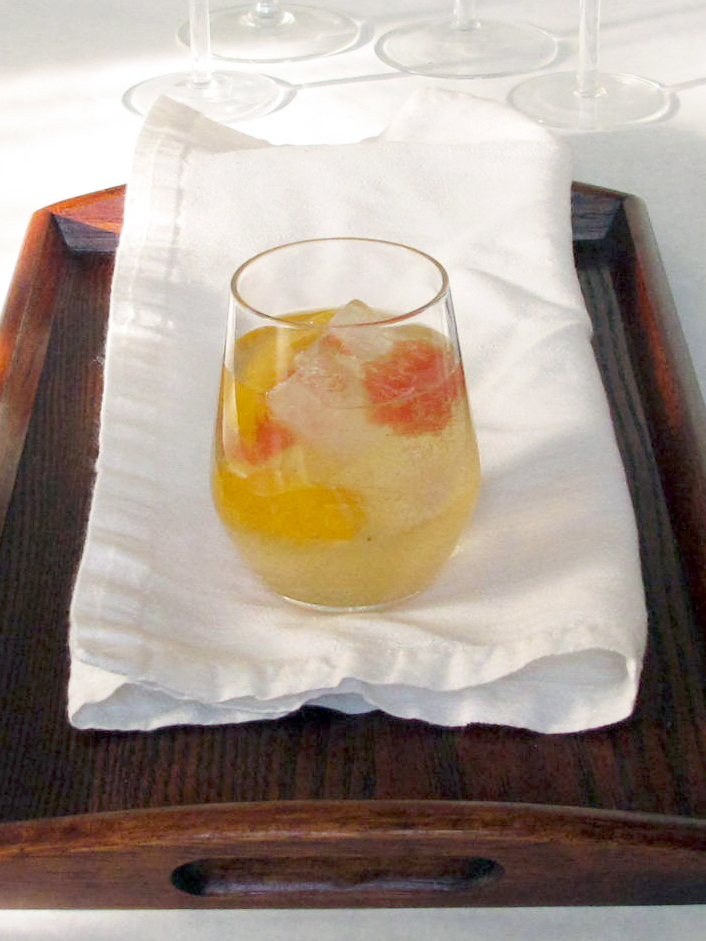 Sparkling Rosemary-Citrus Sangria
Recipe by Lukas Volger
Rosemary has many culinary uses beyond savory ones, such as in cakes, cookies, and cocktails. I especially like it when paired with citrus, like in this sangria where it adds just enough surprise to be intriguing but not so much as to be a distraction. The whole drink is easy to prep in advance of a party, and then takes only a minute to assemble once guests arrive. There's often a wonderful variety of citrus at the market around the holidays — feel free to mix and match here.
Serves 8 to 10
INGREDIENTS
For the rosemary syrup
2/3 cup water
1/2 cup sugar
Four 4- to 5-inch sprigs rosemary 2 black peppercorns
1 cinnamon stick
1 clove
1/2 cup brandy
For the sangria:
2 blood oranges
2 navel orange
1 grapefruit
Four 4- to 5-inch sprigs rosemary
Two 750-milliliter bottles of prosecco, or other dry bubbly white wine
PREPARATION
To make the syrup, combine the water, sugar, rosemary, peppercorns, cinnamon stick, and clove in a small saucepan. Place over medium-low heat and let simmer until the sugar dissolves. Remove from the heat. Stir in the brandy and let stand for 30 minutes, or until cool. Strain out the solids and discard them. You should have about 1 and 1/4 cups rosemary syrup.
Supreme the citrus: Slice off the top and bottom ends of the oranges and grapefruit. Place them on a cutting board, flat surfaces down, and with a sharp chef's knife cut off the peel in strips by slicing top to bottom, following the curve of the fruit. Holding each peeled fruit in your hand and working over a shallow bowl that will catch the juices, use a serrated knife to cut out the segments of the fruit, slicing carefully against the membrane of each section. Squeeze as much fruit juice into the bowl as possible and discard the membranes.
Just before serving, combine 1 cup syrup, the fruit and collected juice, and remaining two sprigs of rosemary in a wide-topped pitcher or punch bowl. Gently stir in in the prosecco. Add more syrup if necessary. To serve, ladle the sangria — and fruit! — into ice-filled glasses.
New Year's Day Hangover Buster: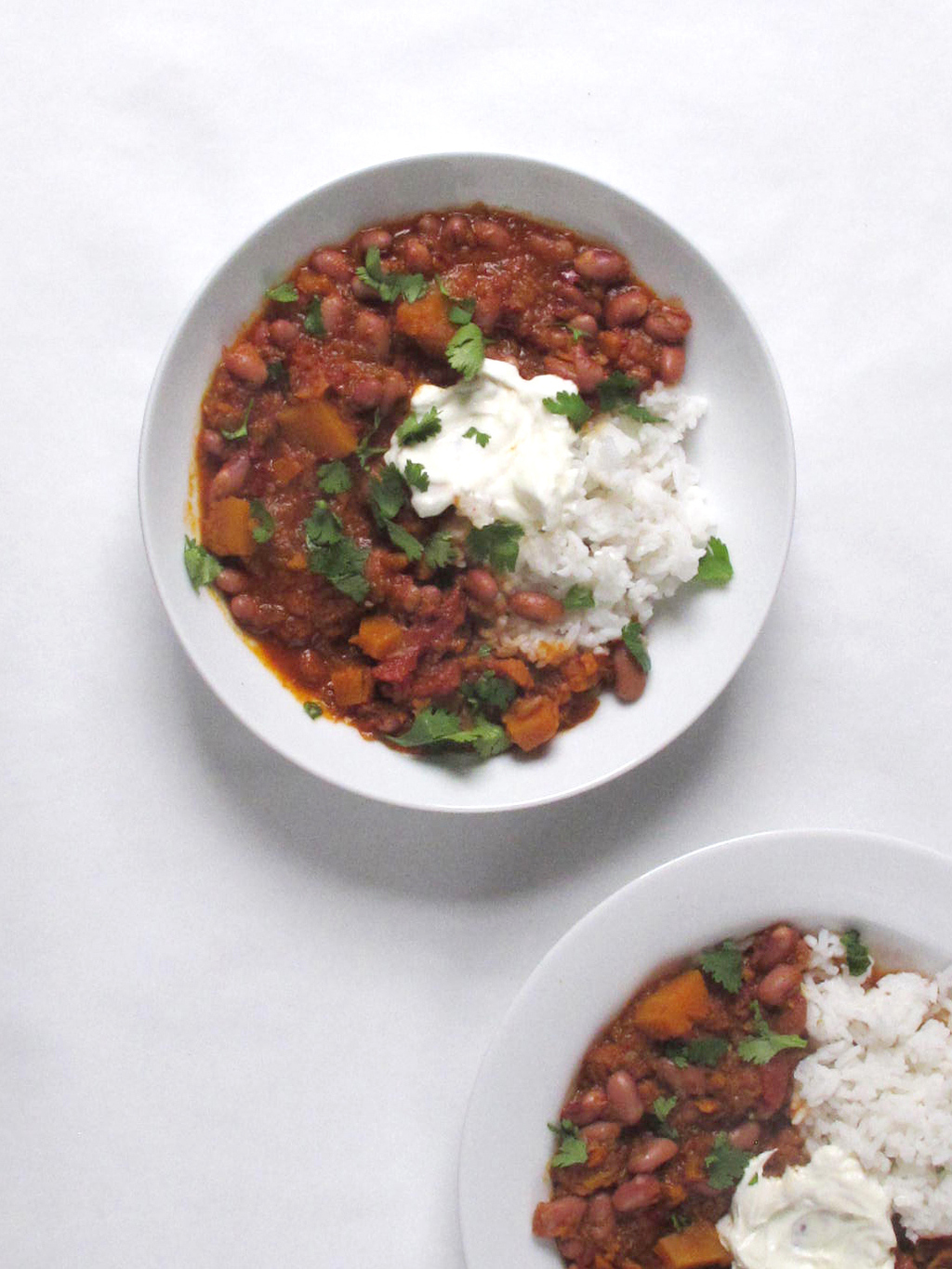 Vegetarian Brown Ale Chili with Winter Squash
Recipe by Lukas Volger
Lackluster vegetarian chili is such a bummer, and it's easy to understand why so many miss the mark. Getting rounded heat, depth of flavor, and balanced sweetness is much easier in meat-based chili because the richness of the meat offers a more forgiving backdrop; vegetarian versions require much more attention to detail. I've come up with a few guidelines. First, there should be different types of heat, offered in balance — fresh, dried, smoked, and sweet; the idea is that the chili heat be complex and rounded. Second, load the chili with abundant texture: beans and pulses, chewy grains, silky vegetables and chunky supple ones, and one way to do this is to think creatively about the garnishes and adornments when you serve it. Third, there must be a really good, deep, fragrant, and rich broth for it all to swim in; a good pour of olive oil will give it body. As with all chili, this one improves as it sits overnight.
Serves 8
INGREDIENTS
1 pound dried cannellini, kidney, navy, cranberry, or other similar, medium-size beans
4 guajillo or ancho chiles
1 large onion, roughly chopped
3 medium carrots, peeled and roughly chopped
3 stalks celery, roughly chopped
8 plump garlic cloves
2 small, hot fresh chilies like serranos, stemmed and seeded
2 tablespoons peeled and chopped ginger
1/4 cup olive oil
1 tablespoon tomato paste
2 teaspoons cumin seeds
2 teaspoons fennel seeds
1 teaspoon cocoa powder
1 teaspoon smoked paprika
1 1/4 teaspoons kosher salt
1/4 teaspoon cayenne pepper
2 cups (16 ounces) malty brown ale
One 28-ounce can whole tomatoes and their juice
3 tablespoons brown sugar
4 cups vegetable stock, plus additional if needed
4 cups cubed (1/2-inch dice) winter squash, such as butternut, acorn, or kabocha (about 1.5 pounds)
Suggested garnishes: Cilantro, Scallions, Yogurt, Cheddar, Steamed greens, Cooked grains
PREPARATION
Soak the beans overnight in plenty of cold water. Alternately, place them in a pot, cover them with plenty of cold water, bring to a boil, then turn off the heat, cover the pot, and let the beans stand for an hour. Drain.
Cover the dried chilies with hot tap water and let stand for about 20 minutes, until soft and pliant. Strain, reserving the soaking liquid. Trim off the stems then split in half lengthwise. Use a paring knife to cut out and discard the seeds and ribs. Coarsely chop the chilies.
Combine the onion, carrots, and celery in a food processor and pulse until everything is finely chopped but not liquefied.
Heat the oil in a large pot or Dutch oven over medium-high heat. Add the carrot-onion mixture. Cook, stirring periodically, until soft and it begins to stick to the bottom of the pan, about 10 minutes.
Meanwhile, combine the rehydrated chiles with the garlic, ginger, and fresh chilies in the food processor. With the motor running, pour in a few tablespoons of the chili water, as needed to achieve a smooth paste. This may take up to a minute depending on how finely you chopped the chilies to begin with.
Add the chili paste to the vegetables, along with the tomato paste, cumin, fennel seeds, smoked paprika, cocoa powder, salt, and cayenne. Cook for about 5 minutes, stirring frequently, until thick and beginning to caramelize. Pour in the beer and scrape up any browned bits.
Add the soaked beans, stir to combine, then add the tomatoes — first straining the juice into the pot, then fishing out the tomatoes from the can and crushing them with your hands one by one into the pot. Add the brown sugar and the stock. Bring to a boil, then reduce to a simmer, partially cover the pot, and cook for 30 to 60 minutes, until the beans are nearly tender. Add the squash and cook for another 20 to 30 minutes, until tender.
As the chili cooks, add additional stock, water, or reserved chili soaking liquid to the pot if it seems too thick. Before removing from the heat, ensure that the beans are fully cooked by testing several. Serve hot, garnished as you please.
For reheating, you may want to add additional stock or water to loosen the chili.